Keto Chicken Tenders
Keto Chicken Tenders are as crunchy and delicious as your usual chicken strips! Our recipe makes 4 servings of crispy, juicy chicken and a sweet, spicy sauce. It's all keto-friendly!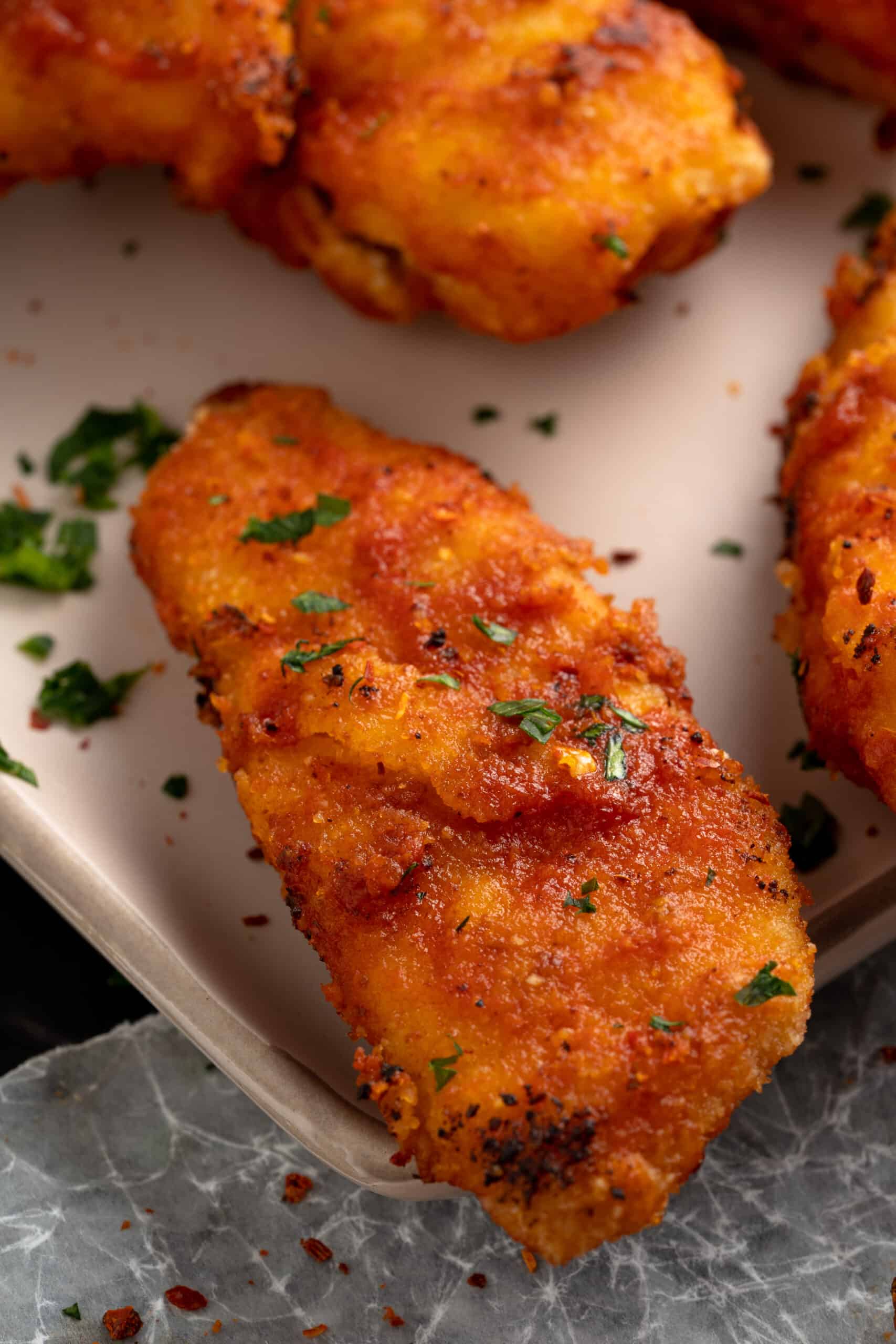 Keto Chicken Tenders
We don't need to give up the foods we love for the sake of our diets! In fact, we can have some of the tastiest versions of our favorites with just a few ingredient swaps.
Take our classic chicken tenders – almond flour chicken strips are just as flavorful and crunchy as any tenders you'd order off the menu. And combined with our homemade sweet hot sauce, they're even better.
Bewitchin Kitchen has a whole catalog of diet-friendly recipes for you to choose from. Low carb, gluten free, Whole30 – we've got you covered!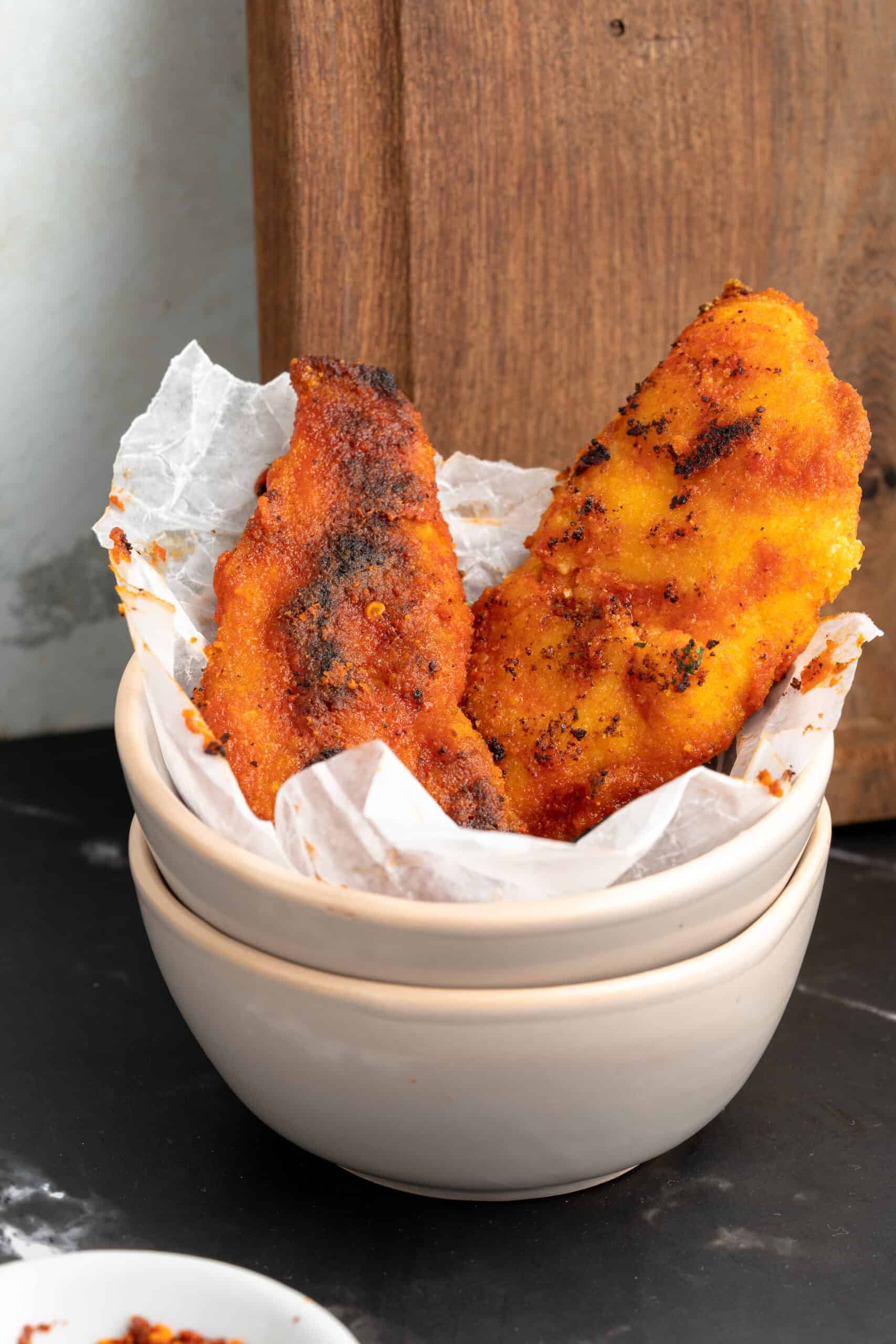 Why you will love this recipe
You have a couple of ingredient options and substitutions to keep these chicken tenders keto!
Our sweet and spicy sauce is entirely customizable – make it just the way you like.
This recipe is easy to freeze. Make it in bulk for an easy keto meal you can throw right in the oven!
One of the best keto chicken tenderloin recipes out there – it's so delicious and still diet-safe!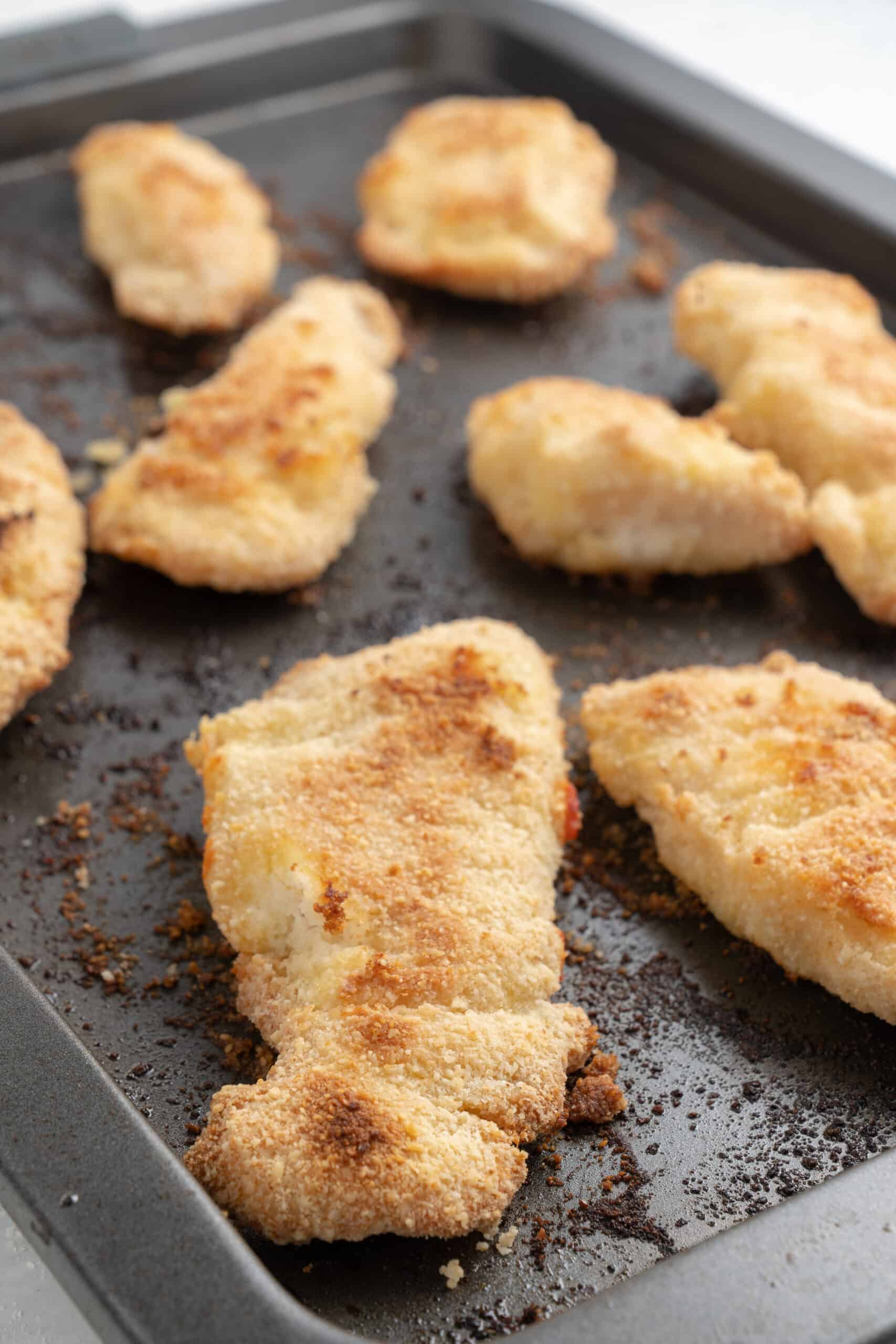 How to make perfect Keto Chicken Tenders
Prepare the chicken strips and coating: Slice the meat about 1" thick. Wash your hands before proceeding to the breading. Mix the almond and coconut flour together in a bowl. In a separate bowl, beat the garlic powder and salt into the eggs.
Coat the chicken: Dredge each chicken strip in the egg before tossing them in the breading, pressing the flour onto the meat for an even coating. Repeat, dipping in the egg and then the coating, to help the breading stick.
Bake: Preheat the oven to 375F while greasing a large baking tray with oil. Place the tenders on the tray and slide into the oven. After 15 minutes, flip each tender and bake for another 10 minutes until golden brown.
Make the Sweet and Spicy Sauce
Combine the ingredients: Add all of the sauce ingredients to a small saucepan and combine with a spatula.
Reduce the sauce: Bring it to a simmer on the stovetop for 8 – 10 minutes, allowing the flavors to meld and the texture to thicken. Adjust any of the seasonings per your liking.
Toss and serve: Once the tenders have cooled slightly, toss them in the sauce or plate with the sauce served on the side.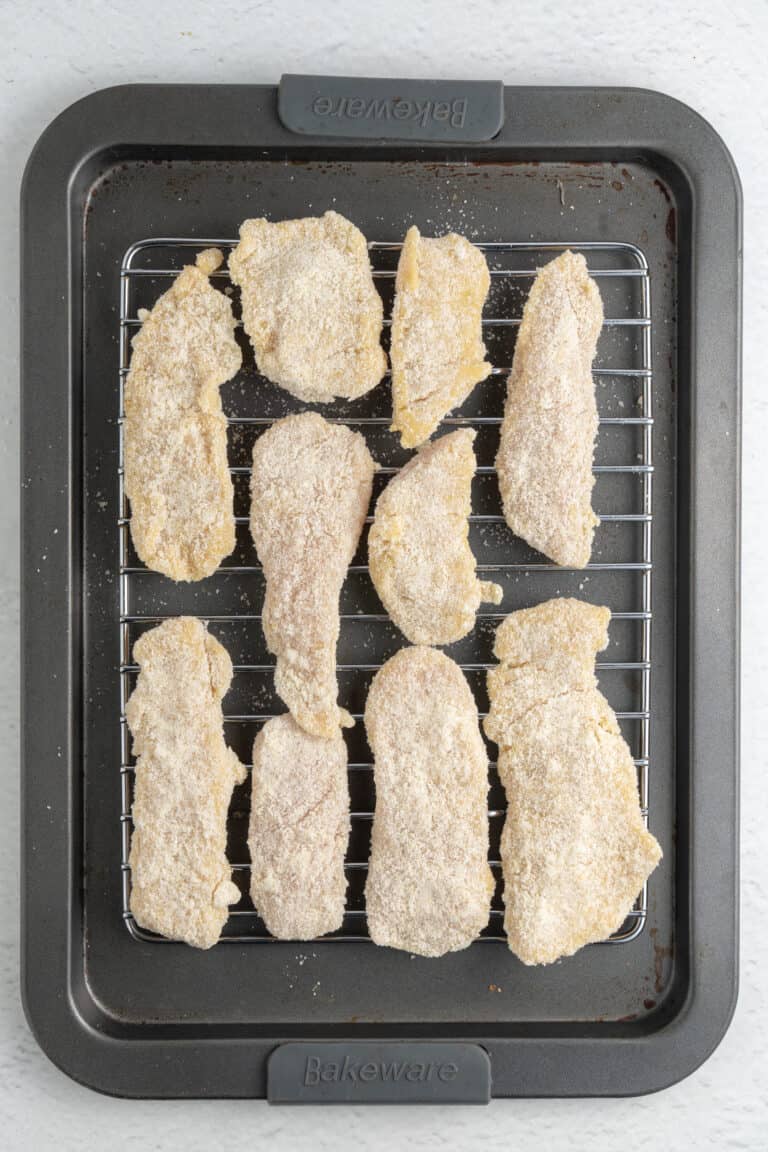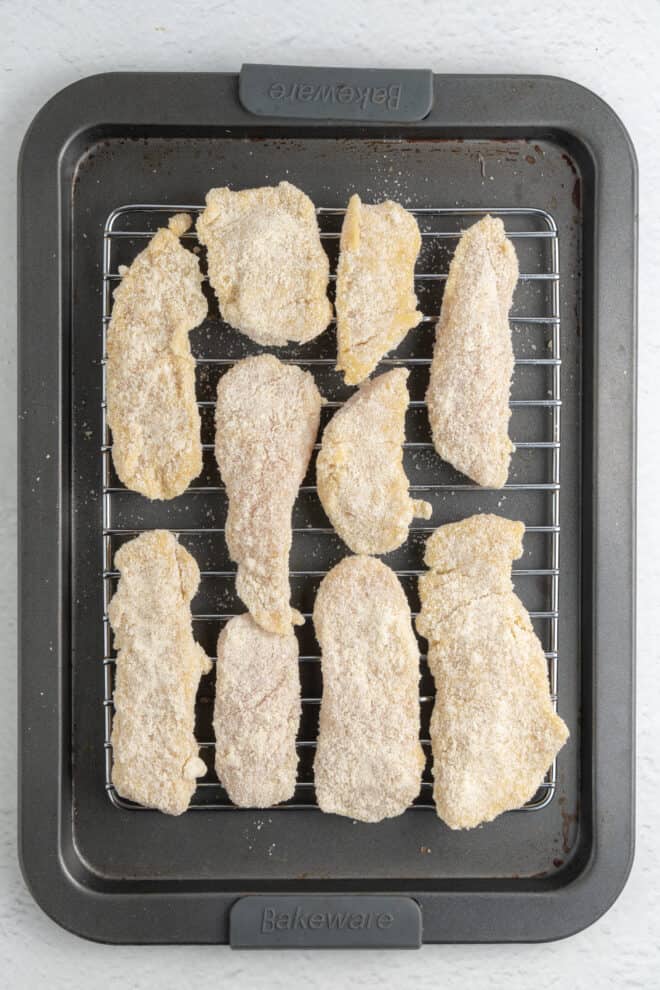 Pro Tips for Almond Flour Chicken Strips
Pro Tip 1: Throw extra crunch onto these keto chicken tenders by adding ground pork rinds, keto bread crumbs, or pork panko to the flour.
Pro Tip 2: Make the sauce extra rich and flavorful by adding butter once it's finished reducing. This is entirely optional, but gives the sauce something extra!
Pro Tip 3: The sauce for these keto chicken strips is completely customizable. Use as much hot sauce as you want, make it as sweet as you'd like, and reduce it to a thickness that suits you.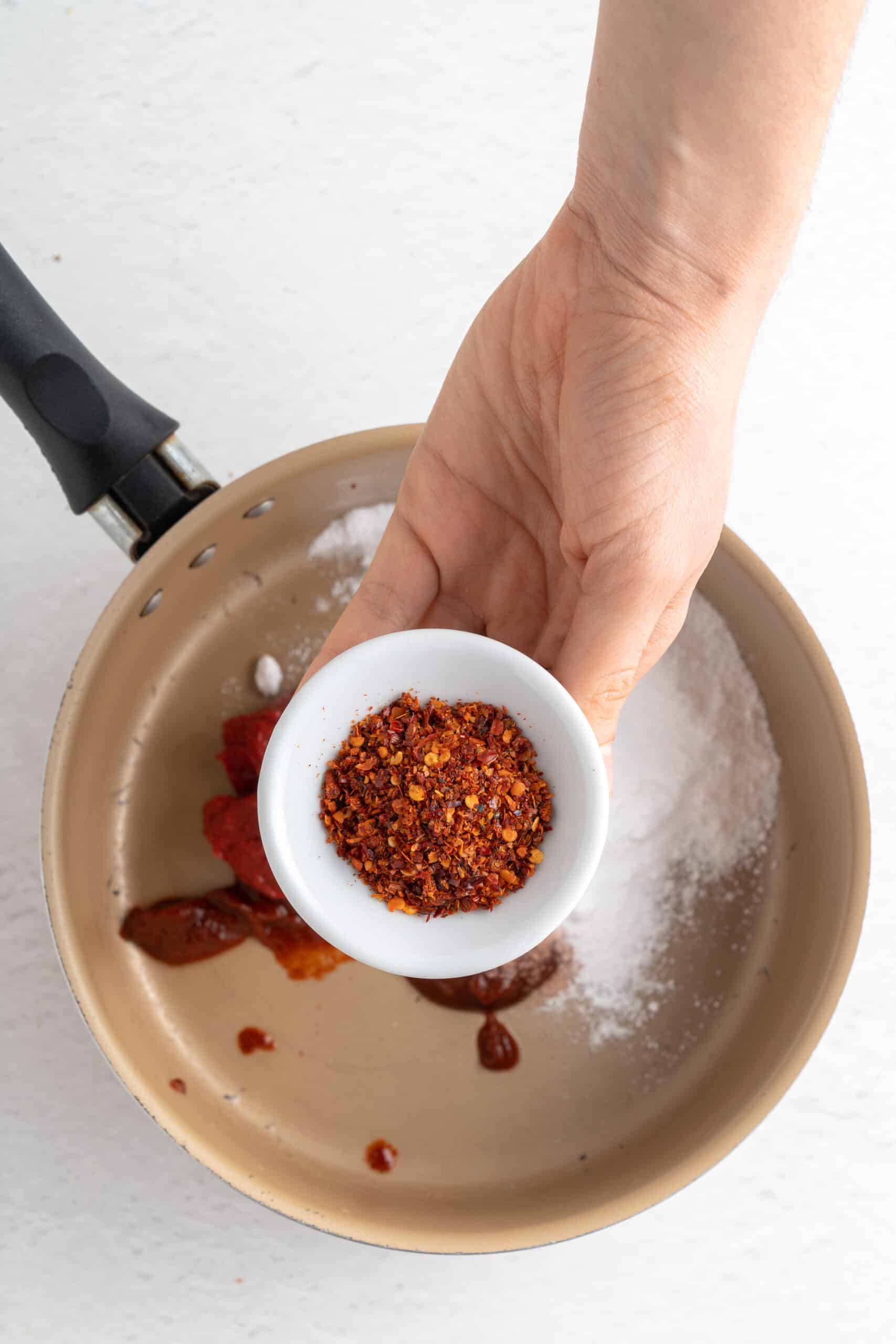 Key Ingredients and Substitutions for Keto Chicken Tenders
Almond & Coconut Flour: Almond flour is the most common keto flour choice. Possible substitutions for almond flour chicken strips include using entirely almond flour, entirely coconut flour, or ground flaxseed meal.
Hot Sauce: Use a hot sauce of your choice to make the sweet and spicy sauce. Sriracha, which is already on the sweeter side, is a good choice, as are Frank's and Tabasco.
Powdered Erythritol: This is a fantastic sweetener you can use on a diet. It lacks that artificial taste that so many sugar alternatives have. Your usual keto-friendly sweeteners can be used instead if necessary.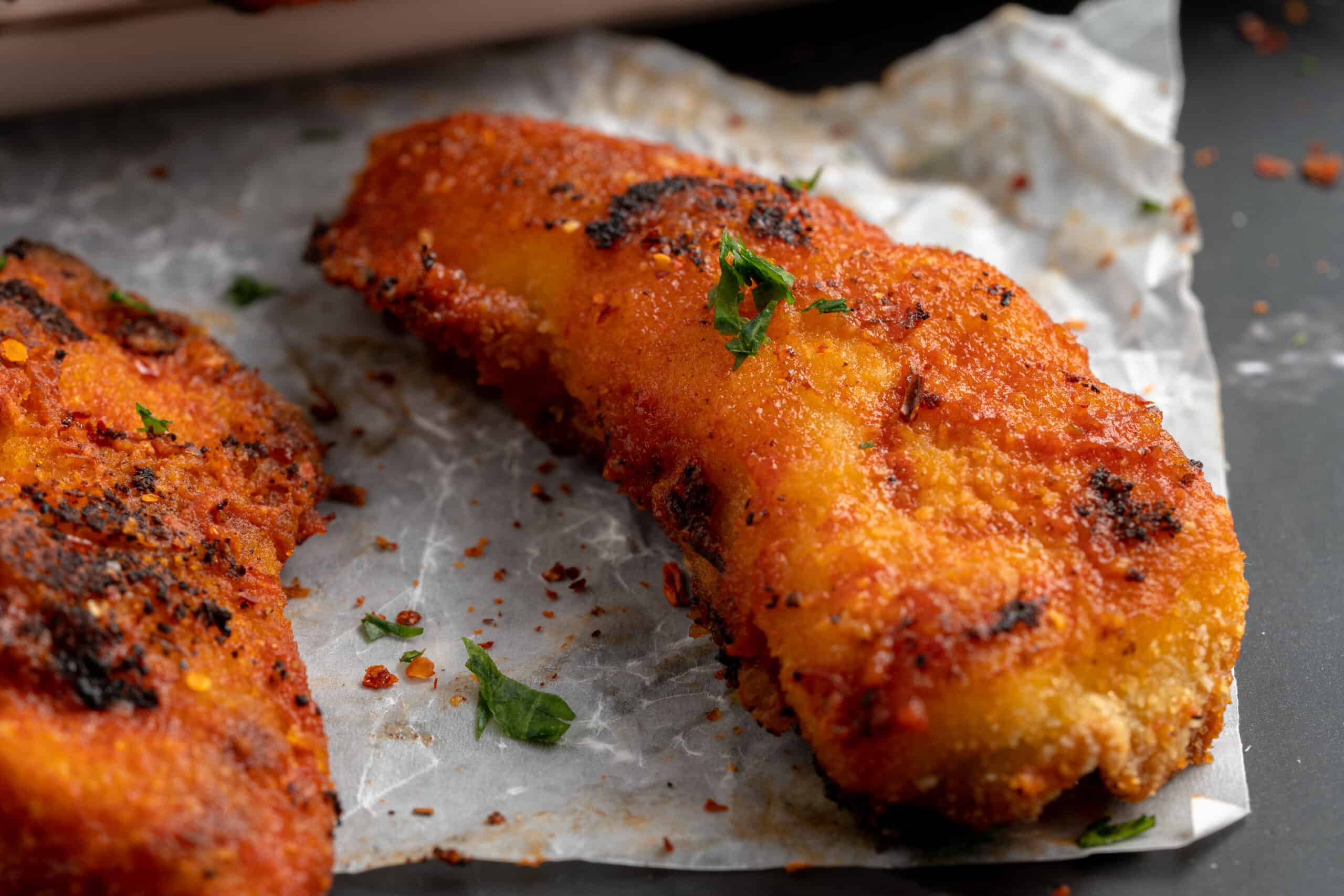 Frequently asked Questions about Keto Chicken Strips
Can you have breaded chicken on keto?
As long as it's made with keto-friendly flour and breading, tenders can be perfectly keto-friendly.
Your usual white flour and breadcrumbs are not keto. Therefore, you'll need to use substitutes like those listed here (almond and coconut flour, pork panko, etc.) to remain aligned with your diet restrictions.
How do you reheat almond flour chicken strips?
The same way you made them to begin with – right in the oven!
Reheat leftover keto chicken strips in the oven at 350F until warmed through and crisp. Initial leftovers can be refrigerated for up to 5 days, though bear in mind that they'll lose that crispiness with each day and are relatively soggy by the fifth.
Can I freeze chicken tenders?
Yes, keto chicken tenders are freezer-friendly! It's best to freeze them raw, prior to cooking.
We recommend having a divider between each strip to prevent them from cooking together. Try using a container with plastic dividers or pieces of parchment paper to separate them.
When cooking frozen keto chicken strips, don't thaw – follow the recipe as-is!
Keto Chicken Tenders
Keto Chicken Tenders are as crunchy and delicious as your usual chicken strips! Our recipe makes 4 servings of crispy, juicy chicken and a sweet, spicy sauce. It's all keto-friendly!
Servings 4 Servings
Calories 690kcal
Ingredients
Keto Sweet and Spicy Chicken Tenders
1.5 lb skinless chicken breast chopped into 1" width strips
3 medium eggs
1/2 tsp garlic powder
1/2 tsp salt
2 cups almond flour
1/2 cup coconut flour
Oil for cooking
Sweet and Spicy Sauce
1 tbsp hot sauce adjust to taste
1/3 cup powdered erythritol
1/2 cup water
2 tsp smoked paprika
1/4 cup tomato paste
1/2 tsp chili flakes
Optional
2 tbsp butter to make the sauce richer
Instructions
Cut chicken into 1'' with strips. Then prepare the breading by mixing almond flour with coconut flour in a medium-sized bowl. In a different bowl, beat the eggs with garlic powder and salt.

Coat the chicken tenders with the egg mixture and then toss them with the breading. Press the breading onto the chicken to cover evenly. Then repeat this process one more time. I like to make this double breading, so it doesn't unstick while baking.

Pre-heat the oven to 375F. Grease a large baking tray with oil and arrange the chicken tenders. Bake them from one side for 15 minutes, flip them once they are golden brown, and bake them for another 10 minutes.

In the meantime, mix all the ingredients for the sauce (except butter) in a small saucepan. Bring it over the stove for 8 – 10 minutes to bold flavors. Taste and adjust the spiciness. Optional: remove from heat and fold in butter. Adding butter will make the sauce richer and modify its flavor.

Coat the chicken tenders with the prepared sauce, or serve it as a dipping sauce.
Nutrition
Calories: 690kcal | Carbohydrates: 41g | Protein: 55g | Fat: 43g | Saturated Fat: 10g | Polyunsaturated Fat: 2g | Monounsaturated Fat: 4g | Trans Fat: 0.3g | Cholesterol: 247mg | Sodium: 833mg | Potassium: 880mg | Fiber: 12g | Sugar: 5g | Vitamin A: 1226IU | Vitamin C: 8mg | Calcium: 157mg | Iron: 4mg
Follow On Pinterest
Follow @bewitchinkitchen On Pinterest for more delicious recipes!