Sweet Potato Muffins
Sweet Potato Muffins combine rich, deep sweetness with bold cinnamon in a wonderfully moist dessert – or a quick breakfast! They're healthier than your average treat and use gluten-free ingredients.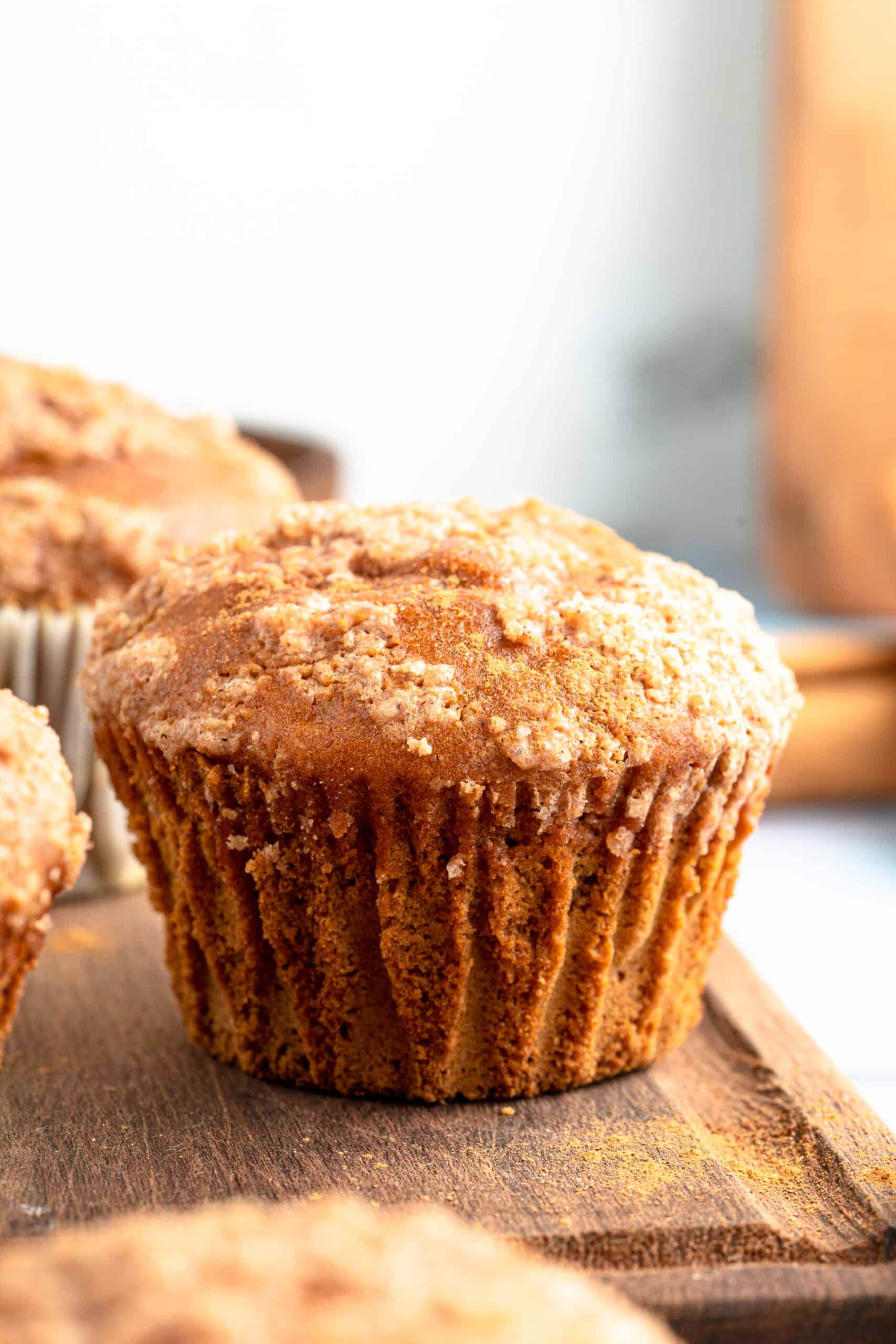 Simple Sweet Potato Muffins
It can be difficult to find a tasty gluten-free treat that you can make at home with little fuss. But these muffins are exactly that! The natural flavor and moisture of the potatoes do all of the work – a dash of warm cinnamon and a simple batter takes this recipe the rest of the way.
If you're interested in trying more homemade gluten free recipes, take a look at our recipe for oat flour – it's great for baking! You could use it in this recipe or some of our other gluten-free treats.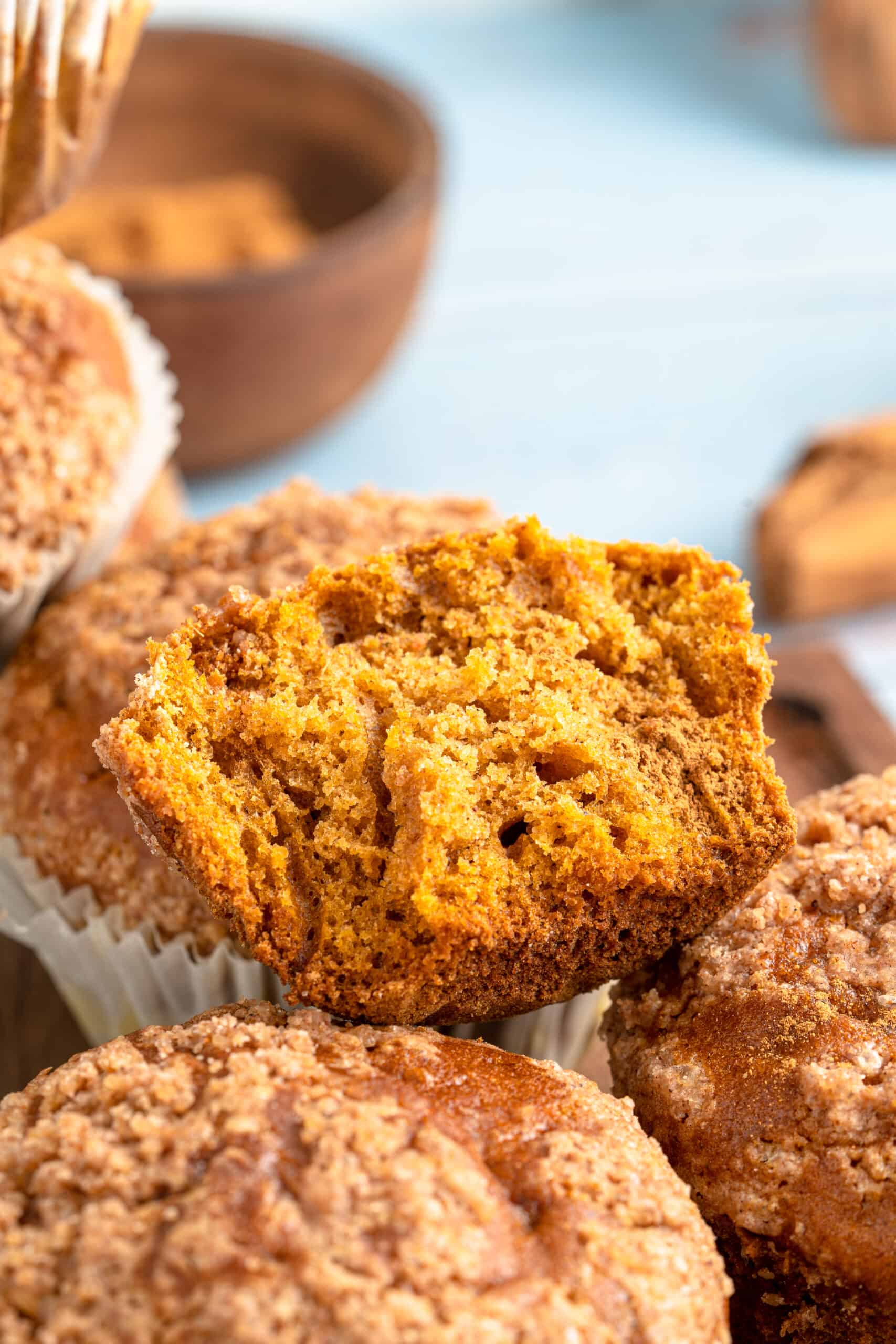 Why you will love this recipe
They're healthy, but still sweet and satisfying!
A rich and crisp streusel topping that couldn't be easier to make!
Natural, flavorful ingredients you can enjoy with minimal added sugar.
A super simple recipe – just whisk everything together and throw them in the oven!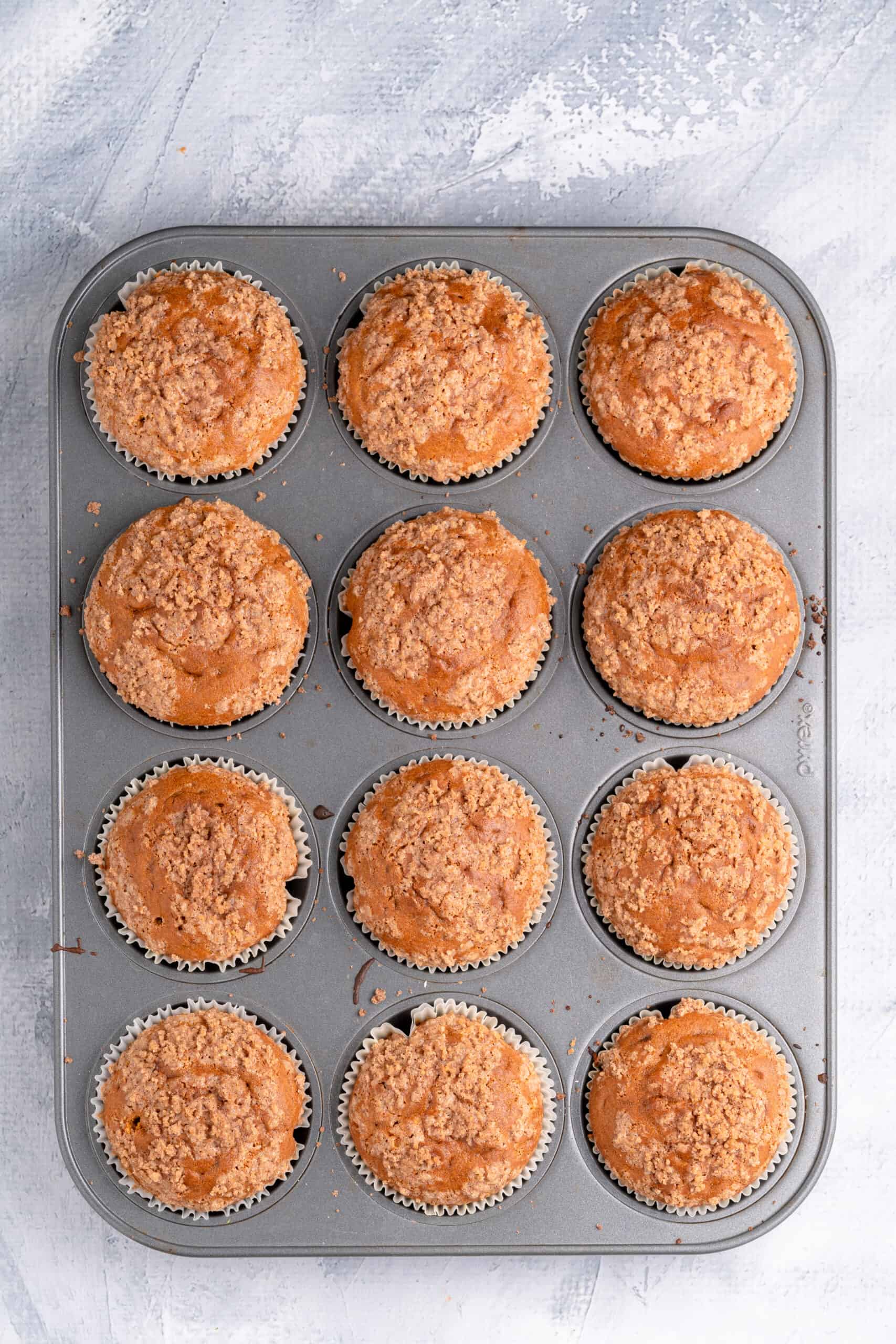 How to make Gluten Free Sweet Potato Muffins
Combine the wet ingredients: Whisk the eggs in a bowl. Pour the puree, vanilla, non-dairy milk, vinegar, and melted butter into the bowl and stir to combine.
Add the wet ingredients: Gently fold the sugar, flour, cinnamon, baking powder, and salt into the mixture. Don't overmix! Let it sit for 30 minutes.
Prepare for baking: Preheat the oven to 350F. Line a muffin pan with liners.
Make the streusel and top the muffins: Meanwhile, prepare the streusel topping by simply mixing all of the listed ingredients in a small bowl until well combined. The texture will still be grainy. Measure about 1 tsp of streusal for each muffin and sprinkle it on top.
Bake: These take a bit longer than usual in the oven. A toothpick should come out clean around the 30 minute mark, but give them an additional 10 minutes for the muffins to cook through completely.
Let cool before serving: Remove the muffins from the pan and transfer to a cooling rack or plate to avoid soggy bottoms.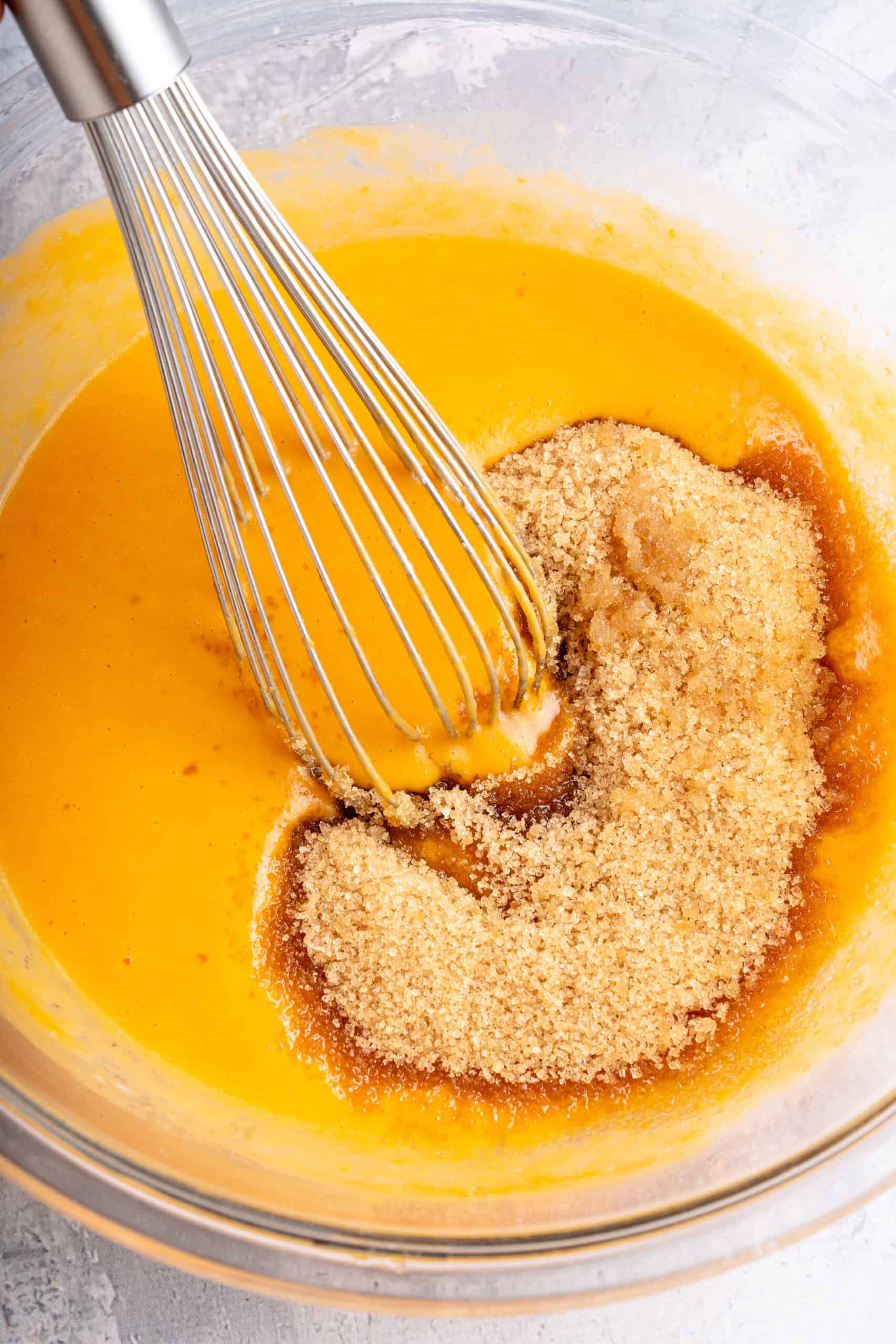 Pro Tips for Making This Recipe
Pro Tip 1: If you're making the sweet potato puree at home, account for additional time to boil and blend. And you have to clean them before cooking them! Take care to be thorough and remove the dirt from all the nooks, crannies, and other impurities on the surface.
Pro Tip 2: Allow the batter to properly rest for 30 minutes before baking. This gives the gluten-free flour time to take in the moisture from the wet ingredients. Rushing this process results in dry, crumbly muffins.
Pro Tip 3: Addings nuts, such as pecans and walnuts, adds both texture and flavor that complement the soft sweet potato. Chocolate chips contribute extra moisture and rich flavor as well – but somewhat take away from what makes these sweet potato muffins healthy. In this case, we recommend using dark chocolate.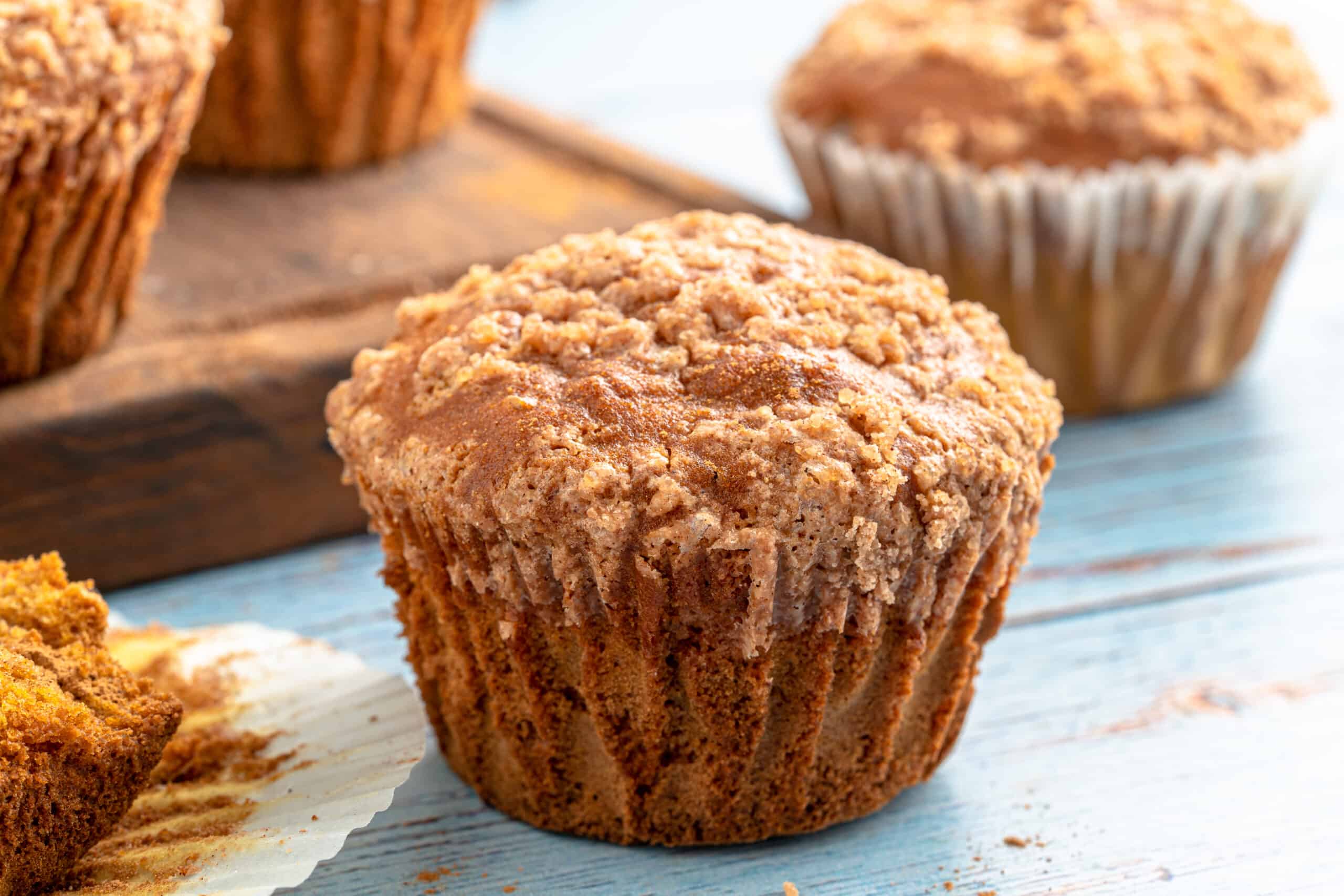 Key Ingredients and Substitutions for Sweet Potato Muffins
Sweet Potato Puree: To make 1 cup of puree, you'll need at least 1 large sweet potato. For medium or small sized potatoes, grab at least two or three to make sure you'll have enough. Of course, you can also find a premade puree at the grocery store.
Apple Cider Vinegar: The addition of vinegar helps the gluten-free batter rise. Red wine vinegar or white wine vinegar are both possible substitutes.
Non-Dairy Milk: There are plenty of options to choose from – oat milk, almond milk, etc. They all have their own unique flavors, so feel free to use the one with the flavor you enjoy the most.
Gluten-Free Flour: This can often be used as a 1:1 substitute for regular flour to make baked goods gluten-free.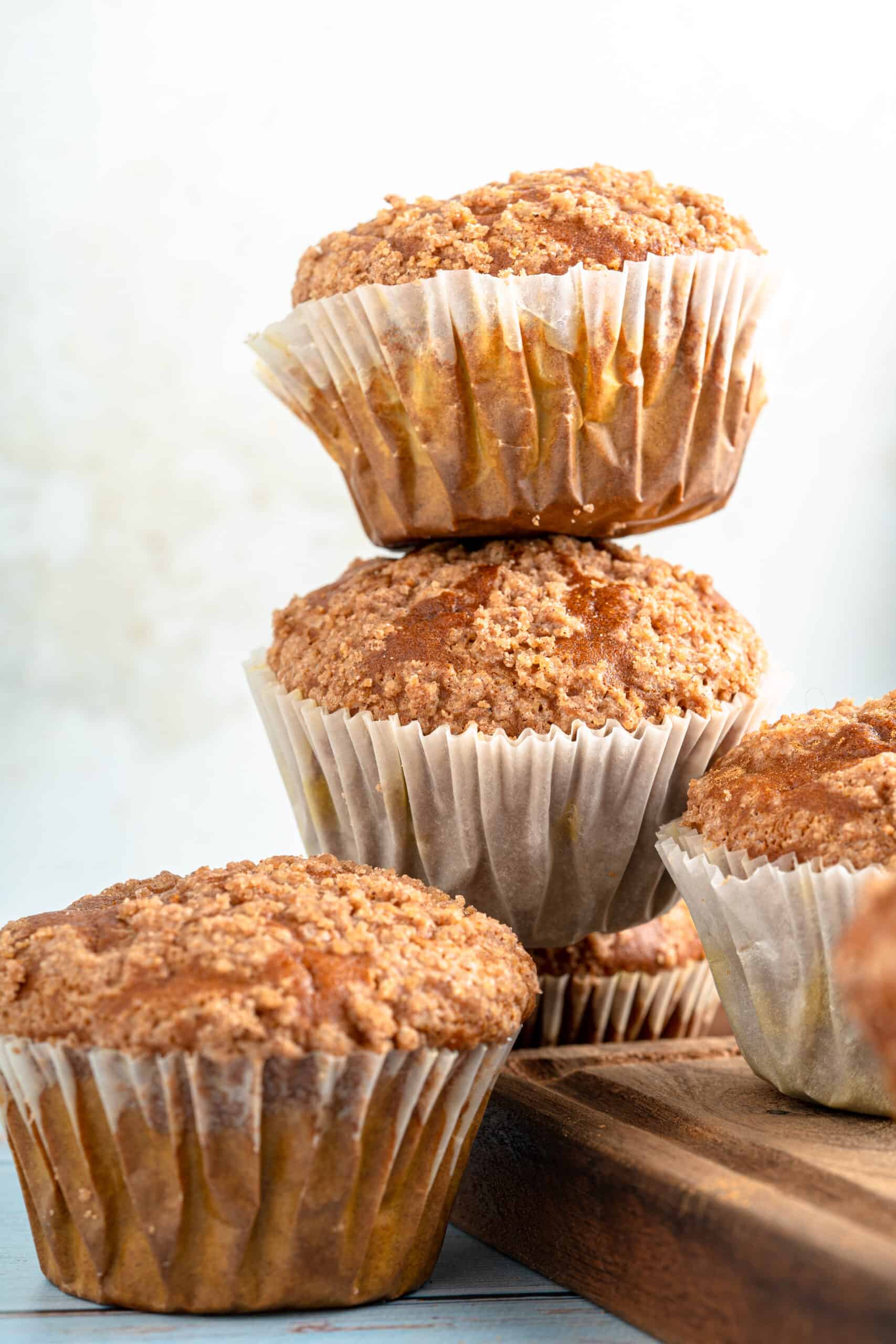 Frequently asked Questions about Healthy Sweet Potato Muffins
Are sweet potato muffins healthy?
When you look at regular muffins, often made with an excessive amount of sugar, sweet potato muffins are healthy in comparison. The sweet potatoes are naturally sweet, which helps a lot, and they have a great deal of moisture. We don't need to add any extra oil to get that beautiful moist crumb.
Sweet potatoes also aren't too high in calories, and you can enjoy a good amount of fiber from the potatoes as well!
How should you store sweet potato muffins?
Store leftover muffins in film paper or a sealed bag. Gluten-free pastries dries a bit faster than those made with regular flour, and this is the best way to keep leftovers nice and moist the next day!
Muffins can be kept on the countertop for five or so days – rather than going bad, they just tend to dry out and become unappetizing. Refrigerating them will help them stay moist just a bit longer!
Sweet Potato Muffins
Sweet Potato Muffins combine rich, deep sweetness with bold cinnamon in a wonderfully moist dessert – or a quick breakfast! They're healthier than your average treat and use gluten-free ingredients. 
Servings 12 Muffins
Calories 237kcal
Ingredients
Gluten-Free Sweet Potato Muffins
1 cup Sweet potato puree
3 large eggs
1/3 cup melted butter
2 tsp vanilla extract
2 tsp apple cider vinegar
1/3 cup non-dairy milk
3/4 cup raw sugar
2 1/4 cup gluten free flour
1 tsp ground cinnamon
1 tbsp baking powder
1/2 tsp salt
Streusel Topping
1 tbsp melted butter
2 tbsp raw sugar
3 tbsp gluten-free flour
1/2 tsp cinnamon
Instructions
Beat the eggs in a large bowl. Add sweet potato puree, vanilla extract, non-dairy milk, apple cider vinegar, and melted butter. Whisk to combine.

Fold in raw sugar, gluten-free flour, cinnamon, baking powder, and salt. This helps gluten-free batters develop soft muffins. Next, let the batter sit for 30 minutes for the flour to hydrate.

Preheat the oven to 350F and line a muffin pan with 12 muffin liners.

Prepare the streusel by mixing all its ingredients in a small bowl until a grainy consistency.

Spread 1 tsp of streusel on top of each muffin.

Place muffins in the oven, baking time will vary a little, but the trick is to bake these muffins long to avoid a gummy texture. In my experience, once you pass the toothpick test (around 30 minutes of baking time), you require 10 more minutes for these muffins to be entirely done.

Once out of the oven, transfer the muffins out of the pan so they don't get wet on the base. Let them cool to room temperature and store them in a sealed bag.
Notes
Hey there! If you are looking for an alternative to all-purpose flour, you must try these soft and fluffy Gluten Free sweet potato muffins! They're sweet and crumbly with a hint of cinnamon, perfect for any breakfast or snack!
Tips
To avoid dry muffins the next day, keep them in film paper or a sealed bag, as gluten-free flour tends to dry faster than regular flour.
Nutrition
Calories: 237kcal | Carbohydrates: 38g | Protein: 5g | Fat: 8g | Saturated Fat: 4g | Polyunsaturated Fat: 1g | Monounsaturated Fat: 2g | Trans Fat: 0.3g | Cholesterol: 63mg | Sodium: 281mg | Potassium: 146mg | Fiber: 3g | Sugar: 17g | Vitamin A: 4765IU | Vitamin C: 5mg | Calcium: 106mg | Iron: 1mg
Follow On Pinterest
Follow @bewitchinkitchen On Pinterest for more delicious recipes!