Apple Cookies
Apple Cookies are a fall-flavored treat with juicy, fruity flair! They're nice and chewy with a sweetly spiced bite. And these apple pie cookies are so easy to prepare!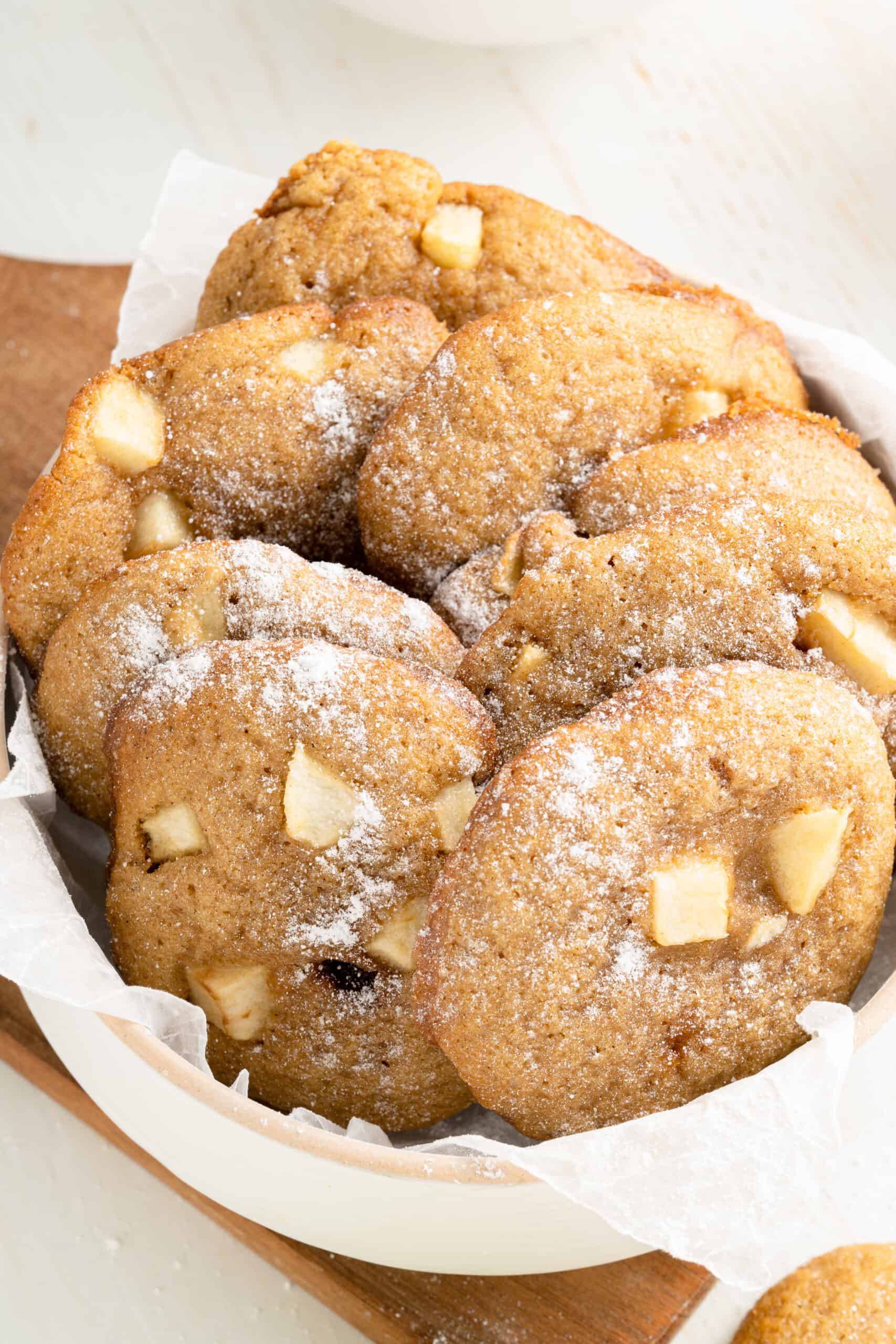 Amazing Homemade Apple Cookies
Nothing goes together quite like apple and cinnamon! If you can't get enough of this classic combo, you'll absolutely adore these apple pie cookies.
This easy dessert recipe is all about natural flavors. Naturally sweet apples, moist brown sugar, and just a bit of cinnamon are all we need to turn a normal sugar cookie dough into something truly spectacular.
Let the dough sit overnight to save time while chilling and whip these up fresh the next day! Just like our raspberry and icebox cookies, these apple cookies are great to prep ahead of time.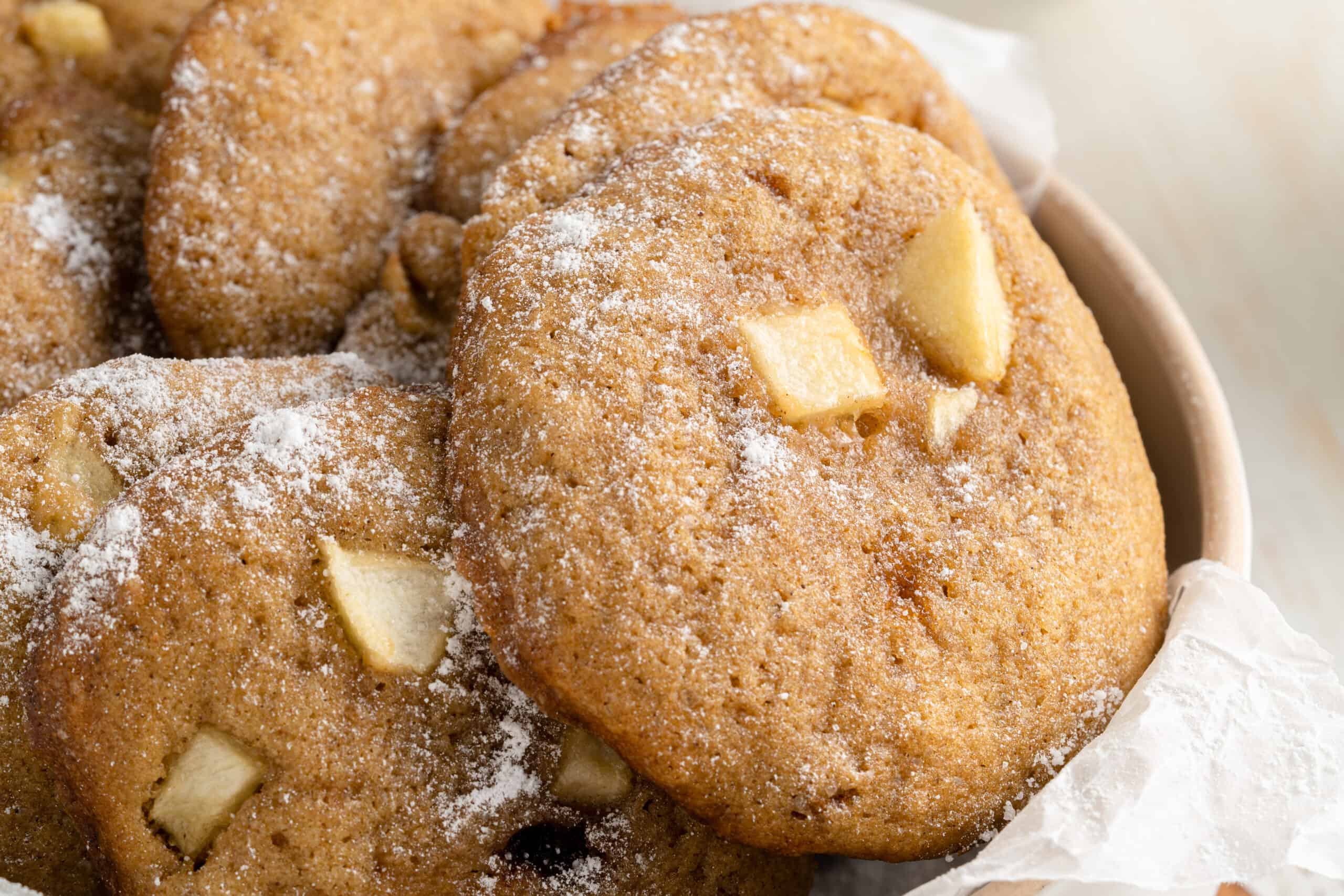 Why you will love this recipe
An overnight dough that you can bake at your leisure!
These cookies are mouthwateringly chewy and tender.
A spiced batter that compliments crisp apples just perfectly!
This simple recipe uses common ingredients you likely already have on hand.
These flavors are great for the fall but can be enjoyed year-round!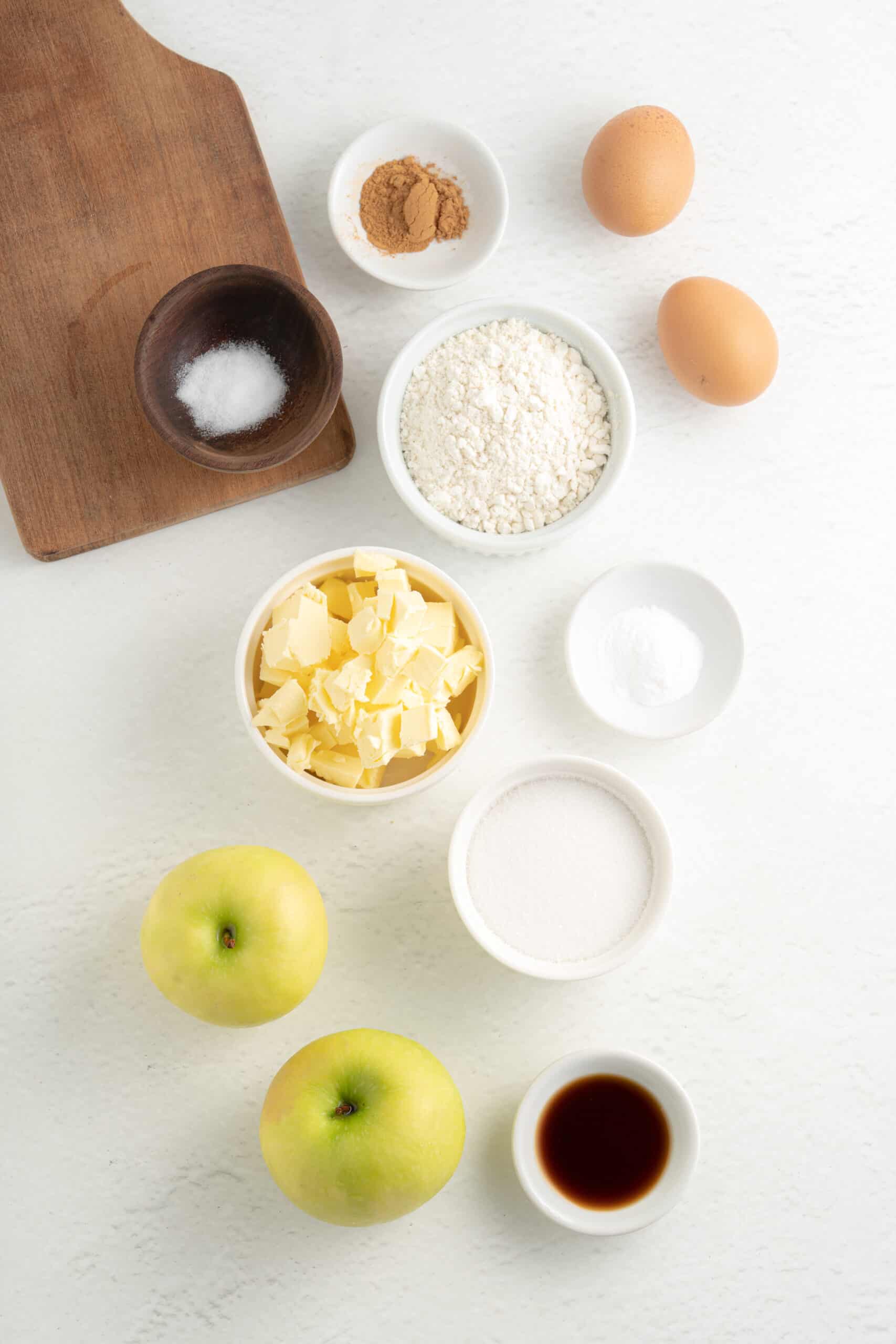 How to make perfect Apple Cookies
Cream the butter: Mix the butter with the white and brown sugar with an electric mixer. It's important to get a totally smooth cream before proceeding to the next step!
Beat in the wet ingredients: Add one egg and mix well. Repeat with the second egg. Add the vanilla extract and mix that in as well.
Add the dry ingredients: Combine the flour, salt, baking soda, and cinnamon in a separate bowl before pouring the mixture into the batter. Combine well with a spatula. Once a stiff batter has formed, fold in the diced apples.
Chill the dough: Cover the batter and refrigerate for at least 2 hours before baking. Chilling overnight is even better!
Prepare for baking: Once you're ready to bake, preheat the oven to 350F. Line at least two baking sheets with parchment paper. Scoop the dough onto the tray at least 2 inches apart and flatten each cookie with the bottom of a glass.
Bake for 13-16 minutes. Keep it closer to 13 minutes for chewy apple cookies or let them go all the way to 16 minutes to make them crispier.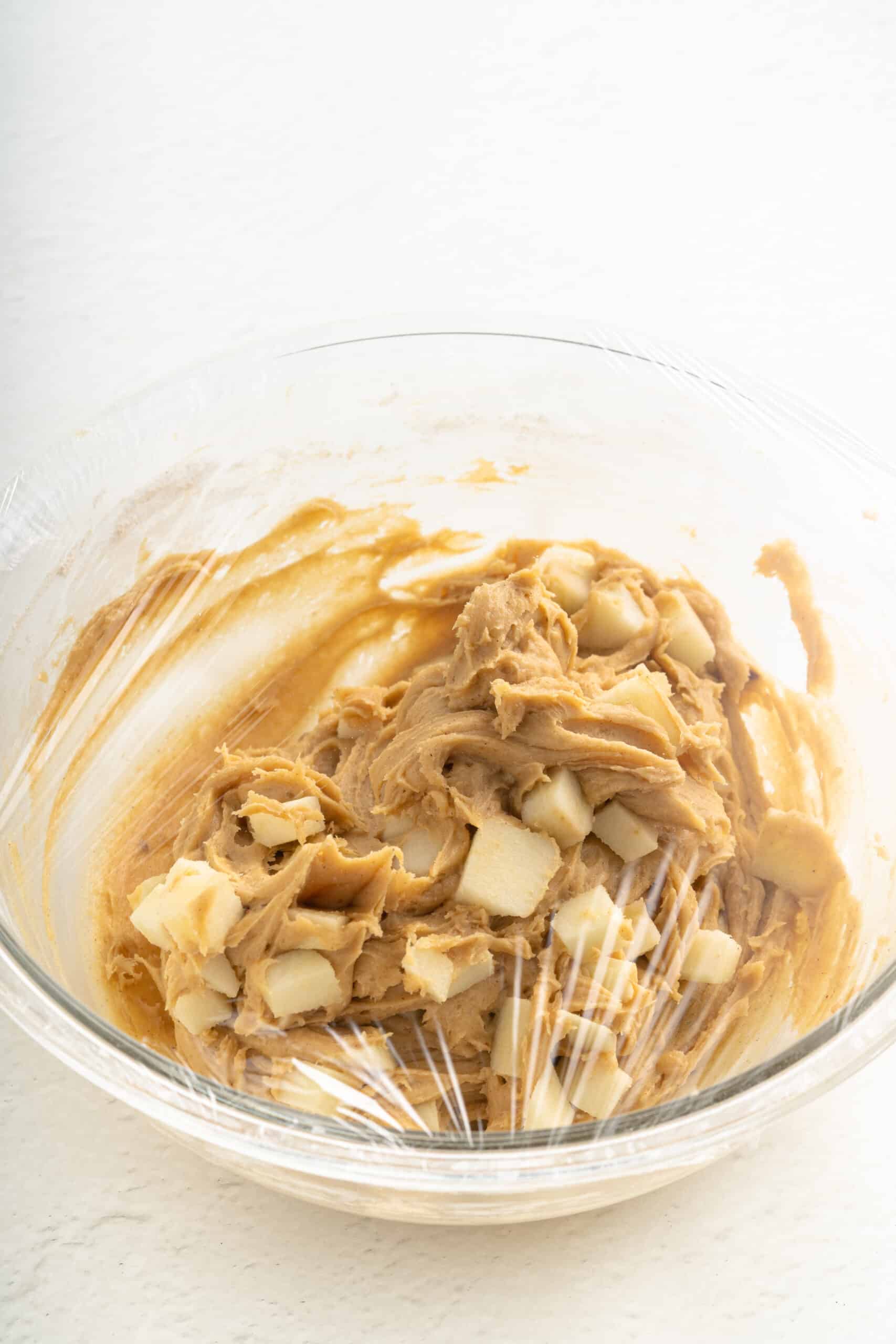 Pro Tips for Making Apple Pie Cookies
Pro Tip 1: Let the eggs come to room temperature before adding the batter. Otherwise, they'll interfere with the butter emulsion and result in hard cookies.
Pro Tip 2: Don't shorten the chill time! A properly cooled batter is key for a chewy texture and bold, spiced apple flavor. An overnight chilling gives the flour in the batter more time to hydrate and take in those delicious buttery apple and cinnamon flavors.
Pro Tip 3: Rotate the baking sheets in the oven while baking to help the dough cook evenly. Let sit before serving – they will harden as they cool.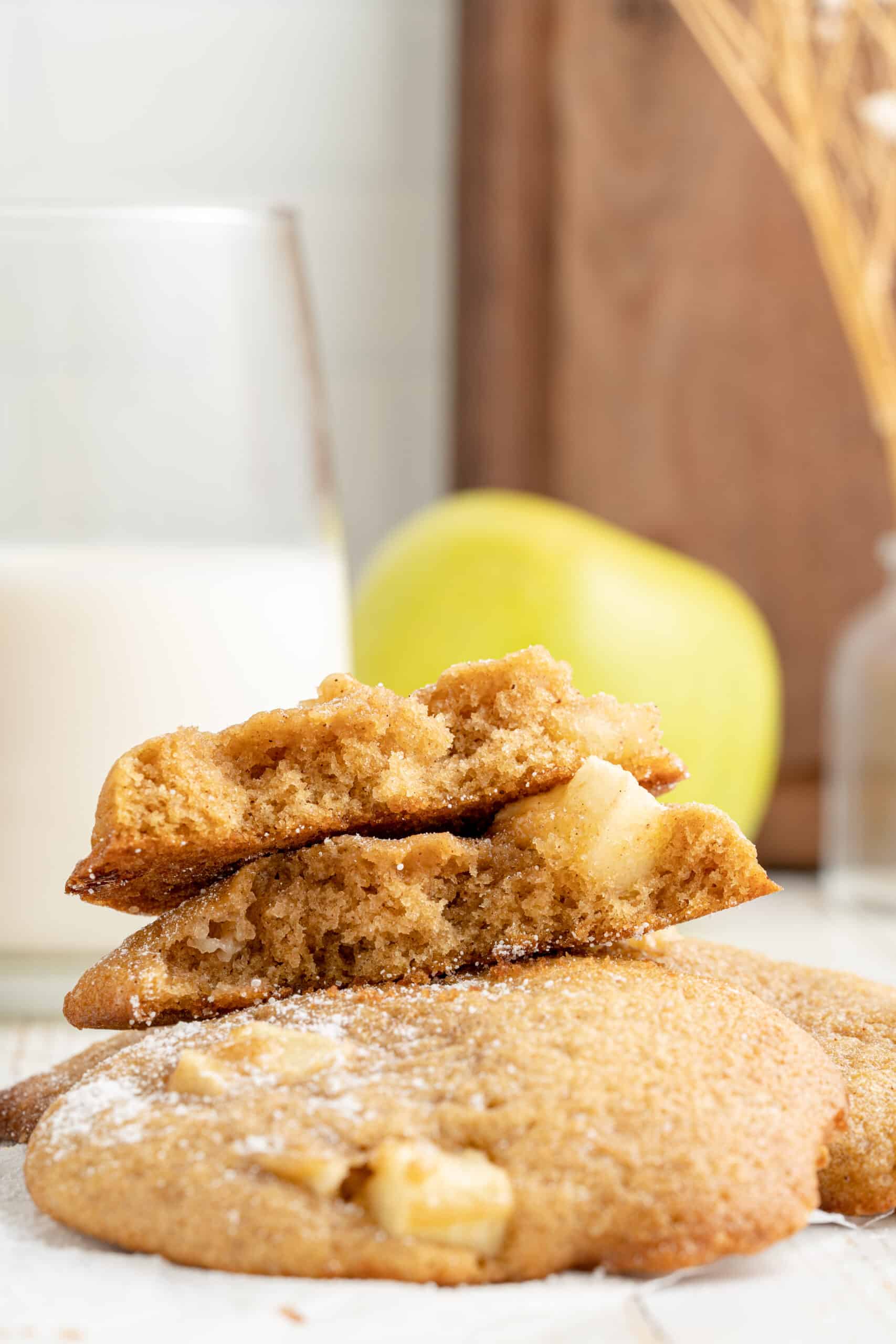 Key Ingredients and Substitutions for Apple Cookies
Apples: You'll need either one large apple or two smaller ones – cleaned, peeled, and diced.
White & Brown Sugar: Brown sugar results in a moister cookie. You can use entirely brown sugar if desired, but don't use only white sugar if you want tender apple cookies.
Butter & Eggs: Allow both of these ingredients to come to room temperature to ensure a smooth, thoroughly combined and creamy dough.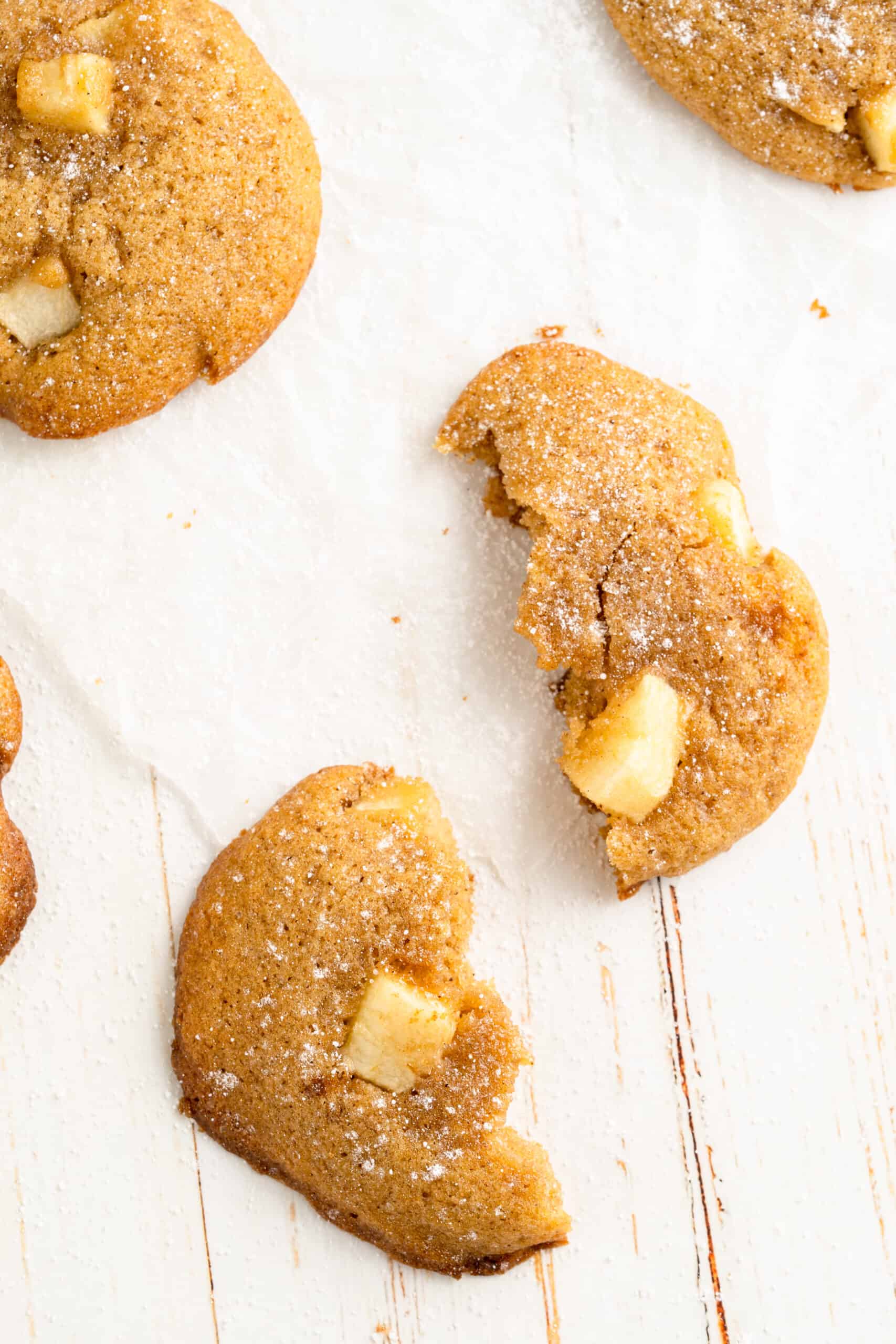 Frequently asked Questions about Apple Pie Cookies
What are the best apples for cookies?
When cooking with apples, the most important things to consider are the temperature at which you'll be baking them and the overall flavor profile of the dessert.
Some apples are better at holding up to the heat than others. While sweet and juicy Gala are always delicious, they'll quickly turn to mush if baked too long. Even classic Red Delicious and McIntosh struggle when exposed to high heats!
We recommend using a tart apple for this recipe, like Rome red apples, Honeycrisp, or Granny Smith.
Do you need to use a mixer?
Ultimately, trying to cream the butter without a stand or electric hand mixer will be difficult. A soft cream is very important for achieving a moist and tender batter, and it's hard to get to that point mixing by hand. A manual hand mixer is the next best thing.
How long does apple pie cookie dough last in the refrigerator?
The prepared dough will last for up to four days in the fridge, so feel free to space out your batches throughout the week! Any longer and you'll start to see a change in the apple consistency and the dough will dry out.
The dough can also be frozen for two to three months. If freezing, we recommend scooping out and freezing the individual scoops.
Apple Cookies
Apple Cookies are a fall-flavored treat with juicy, fruity flair! They're nice and chewy with a sweetly spiced bite. And these apple pie cookies are so easy to prepare!
Servings 26 Cookies
Calories 155kcal
Ingredients
2 1/2 cup all purpose flour
1 tsp baking soda
1/2 tsp salt
3/4 cup white sugar
1/2 cup brown sugar
1 cup butter at room temperature
1.5 tsp vanilla extract
1 tsp ground cinnamon
2 medium eggs at room temperature
1 large tart apple peeled and diced
Instructions
Use an electric mixer to cream the butter, add white and brown sugar, and mix until smooth and creamy. It is essential to achieve a soft cream before following the next step.

Add both eggs, one at a time, mixing very well after each addition. Eggs should be at room temperature; otherwise, they will break the butter emulsion, resulting in crispy and hard cookies. Next, add vanilla extract and mix to combine.

Mix the dry ingredients (flour, salt, baking soda, and ground cinnamon) in a different bowl. Then add them to the creamy batter. Use a spatula to combine; the result should be a stiff batter. Finally, fold in diced apple and mix.

Cover the bowl in film paper and let it chill in the fridge for at least 2 hours. The chilling process is key to the flavor and chewiness of the cookies. If possible, refrigerate it overnight.

Before baking the cookies, preheat the oven to 350F and prepare at least two baking trays with baking paper. Scoop cookie batter into the prepared baking tray, leaving 2 inches between them. Lightly flatten the top with the bottom of a glass.

Bake the cookies for 13 to 16 minutes or until the edges are set and lightly golden. More cooking time will result in crispy cookies, less cooking time more chewy cookies. For example, I baked them for 16 minutes, rotating the trays to get even baking in every cookie, and the result was chewy cookies in the center while crispy in the edges.

After baking, let the cookies cool on a cooling rack. They will slightly harden when cool.
Notes
Who can say no to buttery-chewy cookies? This time we've baked these apple-fallish-flavored cookies, which are way too good.
Taste-wise, they're sweet, packed with a good amount of diced apples (you'll get one piece in every bite!), and flavored with cinnamon and vanilla extract.
Texture-wise they're chewy, with a soft center and a slightly crispy base.
Tips
If you can make this cookie batter in advance to chill it overnight, you won't regret it. Refrigerating the cookie batter allows the flour to hydrate and absorb all the butter and ground ginger flavors.
Nutrition
Calories: 155kcal | Carbohydrates: 20g | Protein: 2g | Fat: 8g | Saturated Fat: 5g | Polyunsaturated Fat: 0.4g | Monounsaturated Fat: 2g | Trans Fat: 0.3g | Cholesterol: 31mg | Sodium: 149mg | Potassium: 35mg | Fiber: 1g | Sugar: 11g | Vitamin A: 241IU | Vitamin C: 0.4mg | Calcium: 11mg | Iron: 1mg
Follow On Pinterest
Follow @bewitchinkitchen On Pinterest for more delicious recipes!