Pumpkin Truffles
Pumpkin Truffles blend pumpkin puree, pumpkin spice, and vanilla with keto-friendly substitutions like dates, coconut flour, almond flour, and your choice of nut butter. This no-bake recipe is full of flavor and a breeze to put together.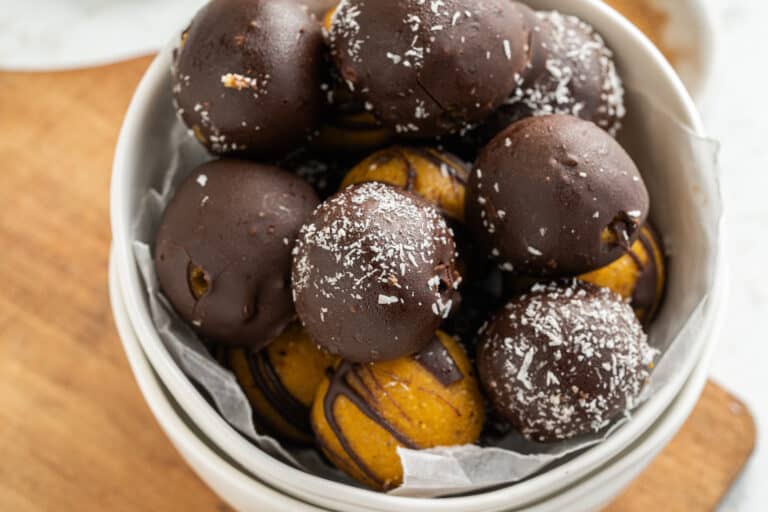 Pumpkin Spice Truffles
The low-carb, vegan ingredients in our Pumpkin Truffles combine to give you the traditional flavors of pumpkin spice that's keto friendly, too. Trying to use up that leftover pumpkin puree from another recipe? These pumpkin pie truffles are a great way to do just that, and it doesn't get any easier with this no-bake recipe. Whether you're looking for a light dessert or a sweet snack, these Pumpkin Truffles will hit the spot without any guilt!
Wait: do you have leftover cranberry sauce, too?? These Spicy Cranberry Chicken Wings are another amazing way to use those leftovers, plus they compliment these pumpkin spice truffles perfectly. Or try some Bacon Wrapped Chicken Tenders for more keto friendly flavors that are easy to prepare.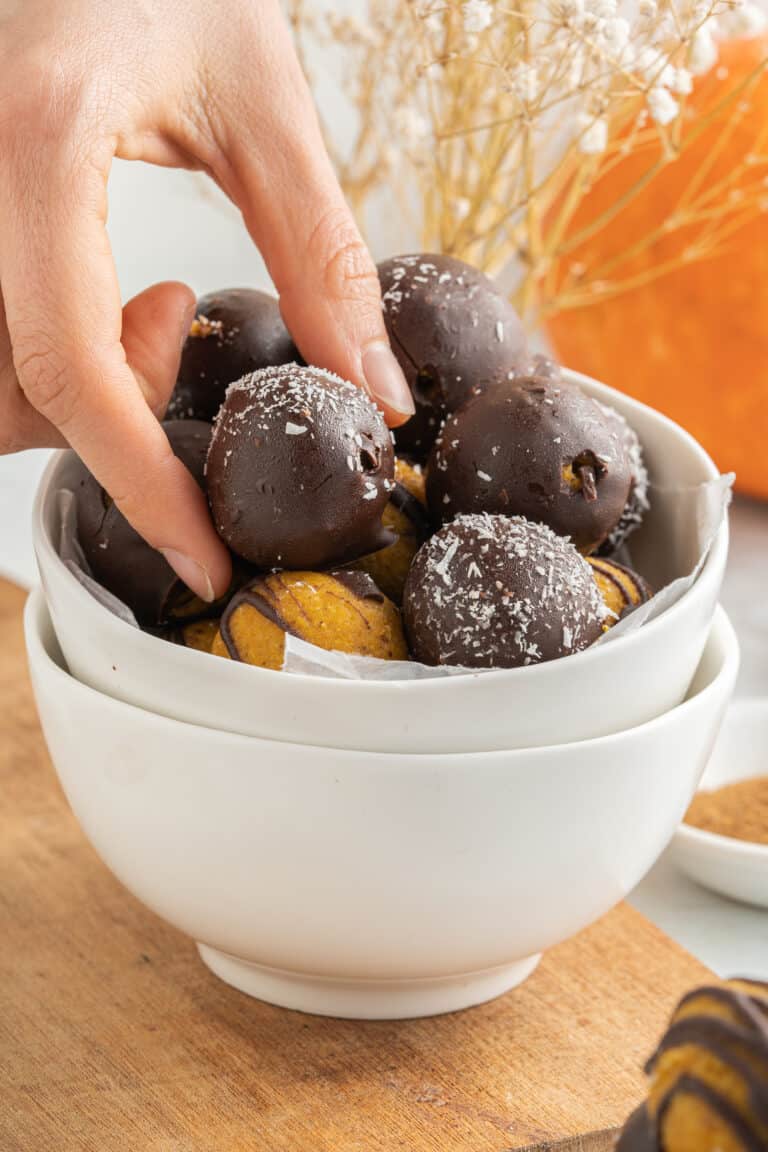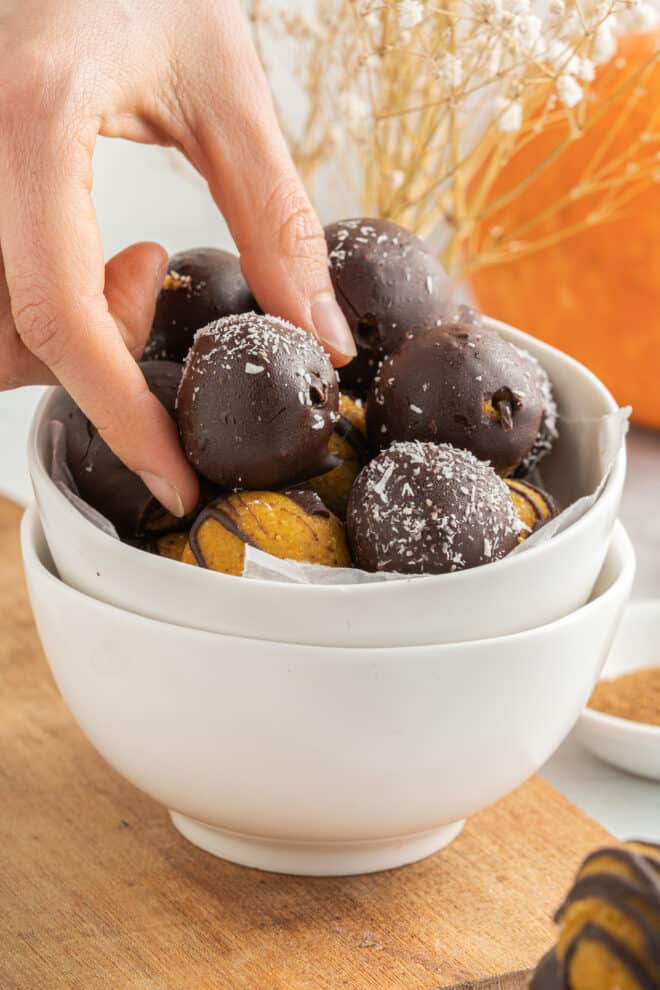 Why you will love Pumpkin Truffles
Easy to Make: No-bake pumpkin spice truffles are almost effortless to make! Use the time it takes to soak the dates and chill the truffles to read a book, enjoy a cocktail, or whip up another yummy dish.
No Sugar Added: These vegan truffles don't contain any white sugar. You won't be missing any of the sugary flavor in this pumpkin truffles recipe with the sweet substitutions that also contain nutrients and dietary benefits. Even the dark chocolate is vegan and keto-friendly.
Great for Entertaining: Pumpkin pie truffles are a fabulous finger-food when entertaining guests. Whether they follow a meal as a dessert or are served as a snack, these pumpkin truffles are easy to pop into your mouth without any mess.
Keto-Friendly: There's nothing simpler than a tasty treat to ease the transition to a keto lifestyle, or get you over the hump of struggling to eat better. After making these pumpkin spice truffles, you'll see how delicious and simple it can be to make some healthier, low-carb lifestyle changes.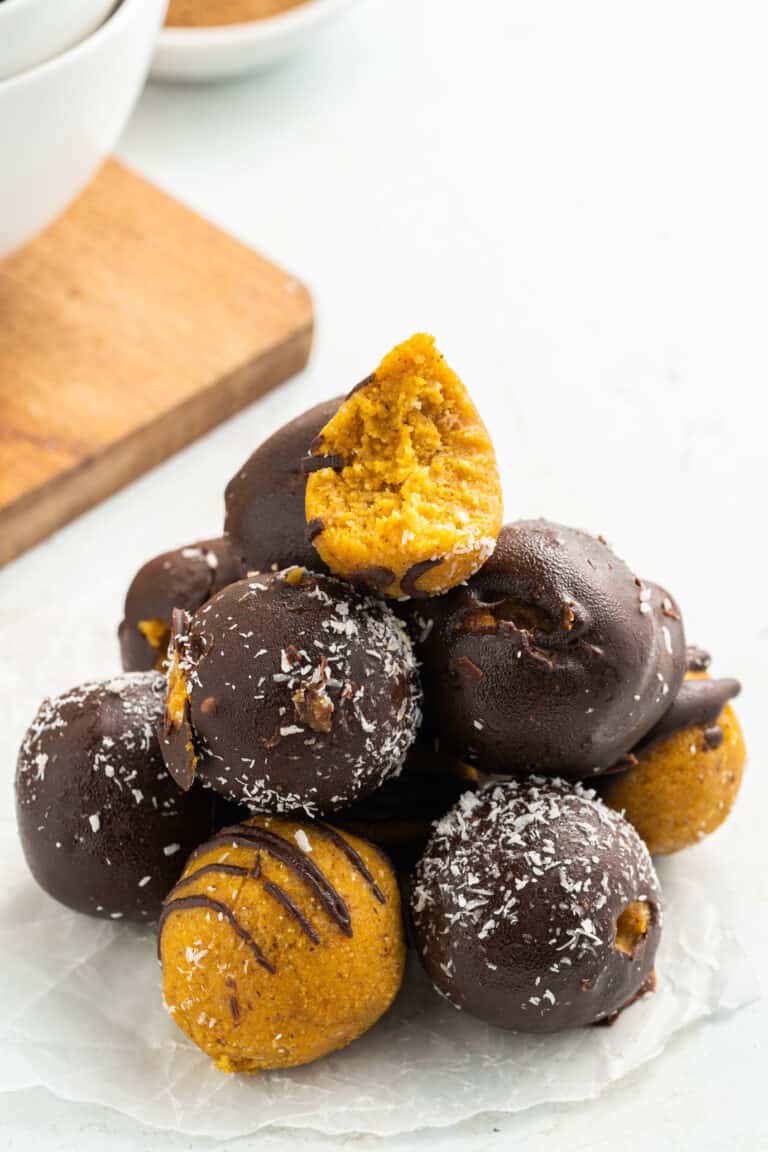 How to Make Perfect Pumpkin Truffles
Prepare Dates: Get your dates soaking at least 30 minutes before you want to assemble your no-bake truffles. The water must be hot so if it cools too much before the dates are soft enough to blend, refresh your hot water and let them soak a little longer.
Combine Ingredients: Combine the wet ingredients together, then add the spices. Only add the coconut and almond flours after the other ingredients have been blended together to avoid overmixing.
Roll into balls: If the truffle mixture is too wet to roll, dust your hands very lightly with coconut flour. Chill your truffles in the refrigerator for up to 30 minutes before coating them with the melted chocolate.
Coat with Chocolate: Dip, drizzle, or roll your pumpkin truffles in the melted chocolate. Don't worry about achieving perfection and don't be afraid to get a little creative! Sprinkle a pinch of sea salt on your pumpkin spice truffles before the chocolate cools completely.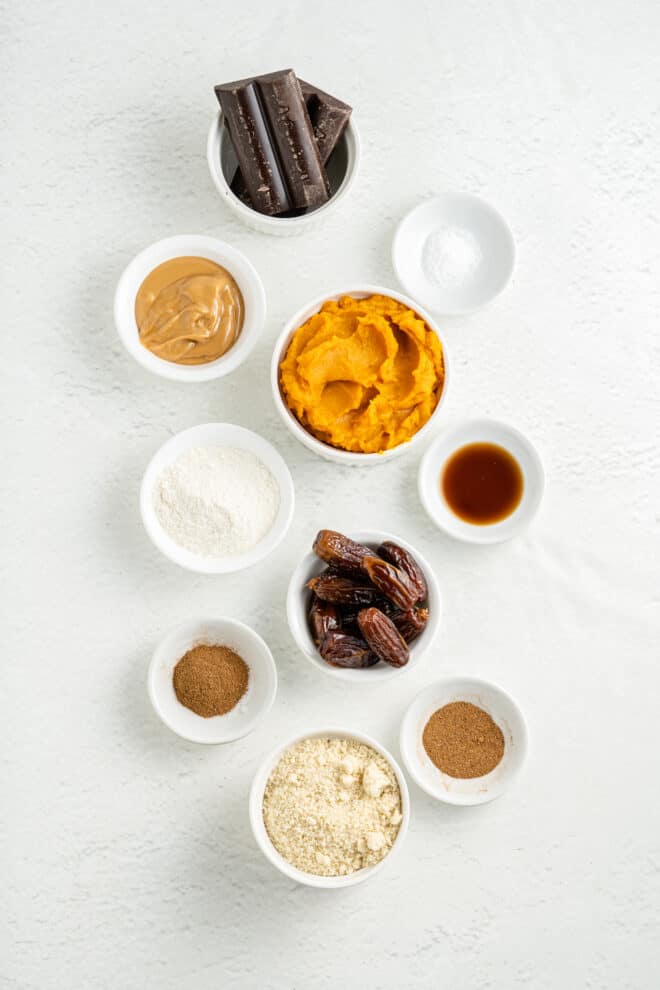 Pro Tips:
If you don't want to make your own date paste, you can use a keto-friendly powdered sugar. More nut butter will be needed to keep the truffles together since this will eliminate the binding properties of the date paste.
These no-bake truffles can stay refrigerated for 5 days.
If you're loving the pumpkin flavors in this pumpkin spice truffles recipe, you should try these pumpkin balls from My Nourished Home!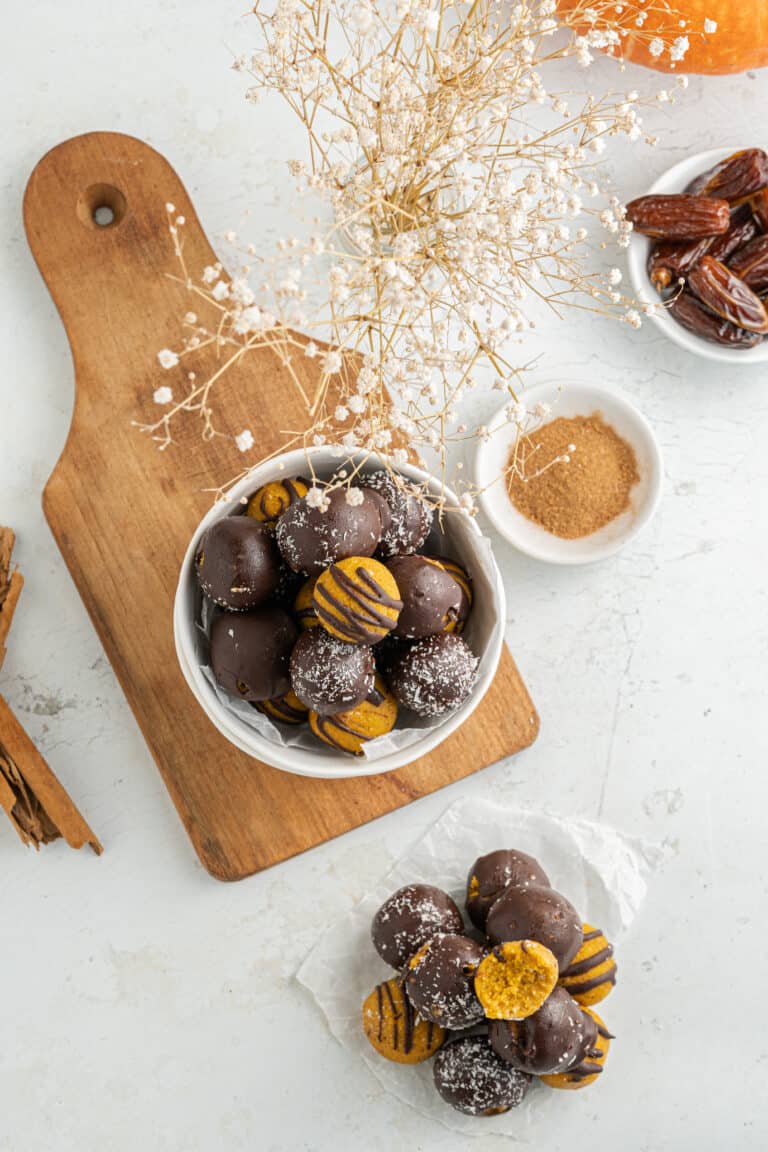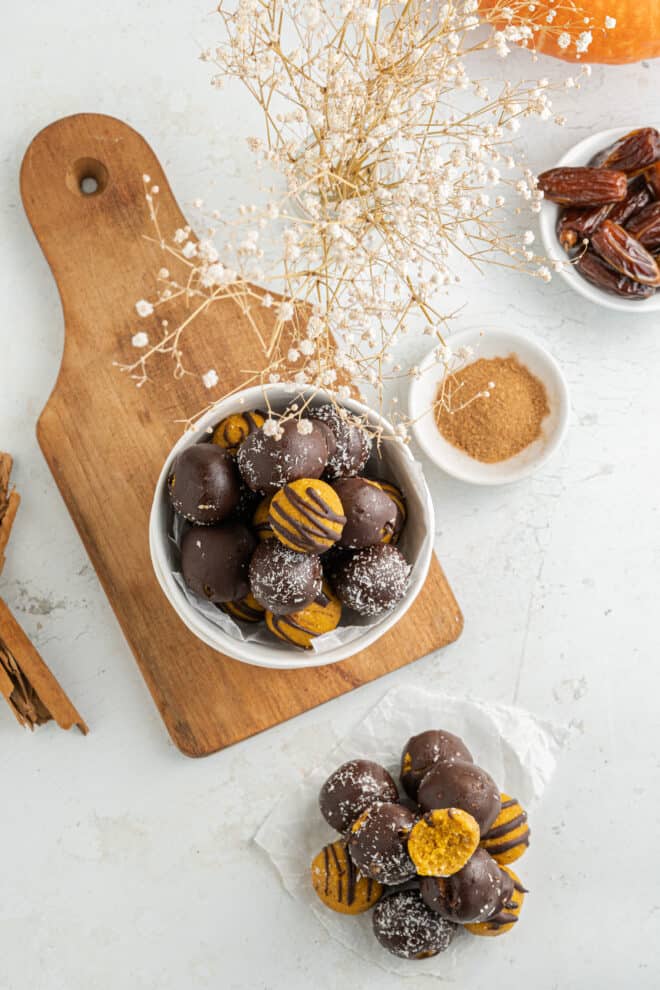 Frequently asked Questions about Pumpkin Pie Truffles
Why are dates used in baking recipes?
Dates are a healthy substitute for white sugar in recipes. In these Pumpkin Spice Truffles, dates create a paste that also acts as a binding agent to hold these no-bake truffles together. Adding dates also adds more fiber and antioxidants, boosting the healthy benefits and keeping these sweet treats vegan and keto friendly.
Is canned pumpkin the same as pumpkin puree?
Yes. Recipes will use either term and they mean the same thing. Pumpkin puree is made by scooping out the seeds and stringy bits from inside the pumpkin, cutting the pumpkin in half and sprinkling with salt, then roasting until the skin separates from the flesh. The flesh is then blended in a food processor until smooth. Since it is roasted before it's packaged, pumpkin puree is safe to eat right out of the can!
What spices are found in a pumpkin spice blend?
Pumpkin spice blends contain cinnamon, ginger, nutmeg, and cloves. These four spices on their own are high in antioxidants and also fight off bacteria, which is an added bonus as the weather gets colder and a lot of us crave the flavors and aromas of pumpkin spice! Allspice and black pepper can also be found in some pumpkin spice blends, adding another layer of flavor and warmth.
Pumpkin Truffles
Pumpkin Truffles blend pumpkin puree, pumpkin spice, and vanilla with keto-friendly substitutions like dates, coconut flour, almond flour, and your choice of nut butter.
Servings 30 Truffles
Calories 64kcal
Ingredients
1 Cup Pumpkin Puree
12 Dates pitted and soaked in boiled water for 30 minutes
1 tsp Vanilla Extract
1/4 tsp Salt
1 tsp Pumpkin Spice
3 tbsp Coconut Flour
1/4 cup Nut Butter Any Type Will Work
1/2 tsp Powdered Cinnamon
1 cup Almond Flour
5 oz Vegan Dark Chocolate For Coating
Instructions
First, you'll need to drain excess water from the dates and blend them using a hand mixer until you get a smooth paste. Note: If dates are hard after soaking them for 30 minutes, simply soak them longer until soft.

Mix dates paste, pumpkin puree, and nut butter in a medium-sized bowl. Then add vanilla extract, cinnamon powder, pumpkin spice, and salt. Stir until combined.

Next, add coconut and almond flour and combine. Then, use your hands to roll the stiff mixture into 30 truffles.

Finally, melt chocolate in the microwave for 60 seconds round until chocolate is runny. Use a toothpick or skewers to hold each truffle while drizzling melted chocolate over them. Place them over a plate and refrigerate them for the chocolate to harden.
Nutrition
Calories: 64kcal | Carbohydrates: 6g | Protein: 1g | Fat: 4g | Saturated Fat: 1g | Polyunsaturated Fat: 0.1g | Monounsaturated Fat: 1g | Trans Fat: 0.001g | Cholesterol: 0.1mg | Sodium: 22mg | Potassium: 74mg | Fiber: 2g | Sugar: 3g | Vitamin A: 1397IU | Vitamin C: 1mg | Calcium: 16mg | Iron: 1mg
Follow On Pinterest
Follow @bewitchinkitchen On Pinterest for more delicious recipes!