Peach Compote
Peach Compote can be a fresh, flavorful dessert or a delicious addition to savory meats and breads. This simple recipe will become your go-to for entertaining, or just for yourself.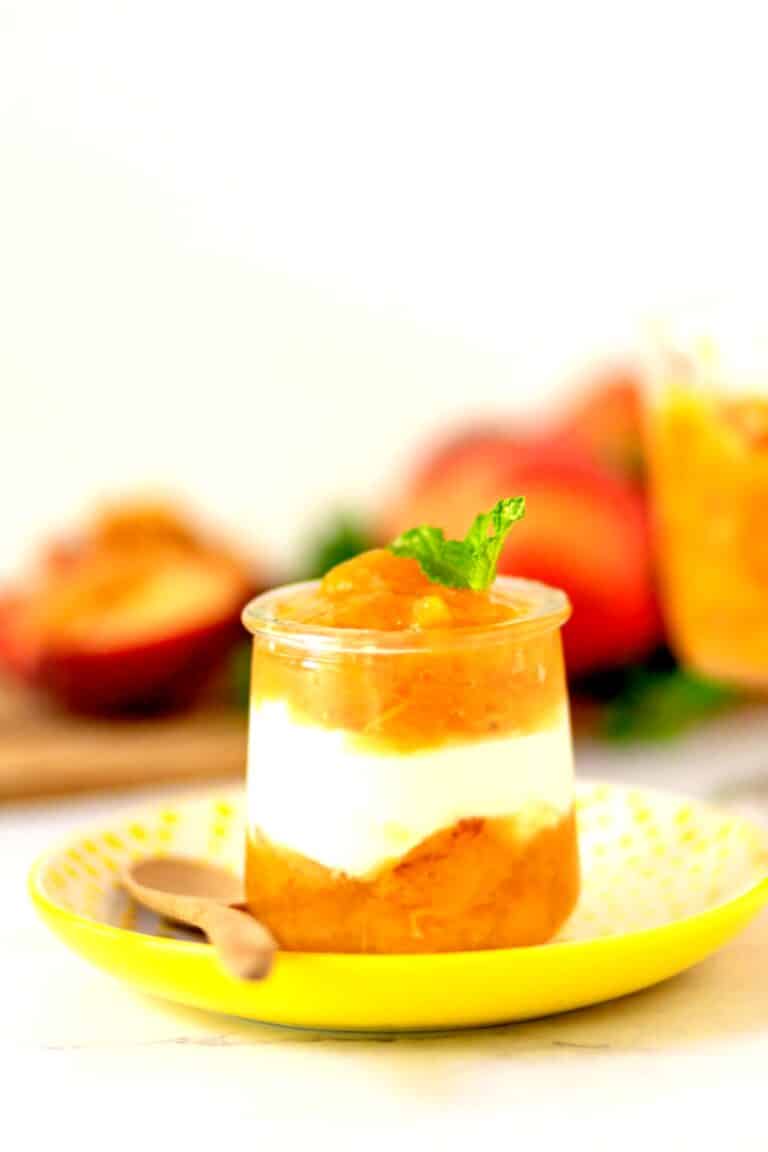 Peach Compote
This peach compote recipe keeps the fresh flavors of summer alive all year and adds the secret ingredient of ginger to give it some extra flavor. Whether you have too many fresh peaches or you're craving some summer sweetness in January, making some peach compote is the way to go!
With only three ingredients, your peaches are the star of the show and are never overpowered: a bite of flavor from the ginger works perfectly to enhance the freshness of this delicate fruit.
For more fruity concoctions that don't need a lot of ingredients, try our Pineapple Mango Smoothie, Strawberry Lemonade or our no-churn Key Lime Pie Ice Cream.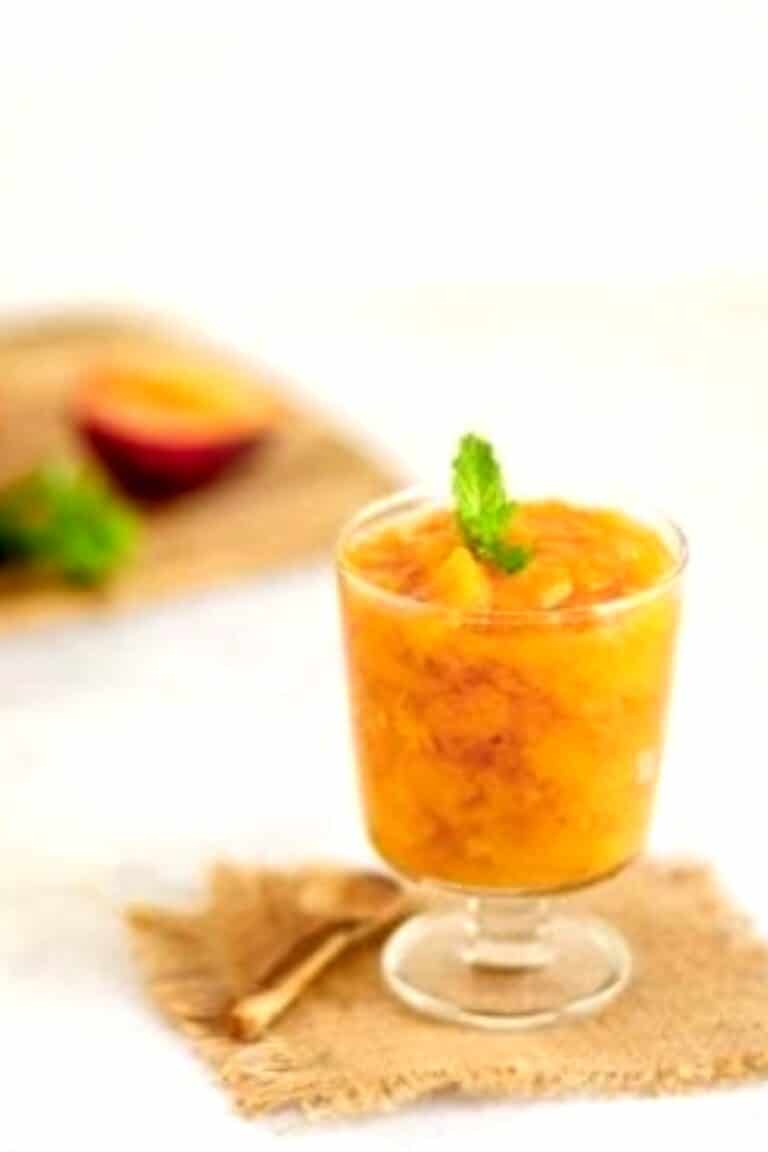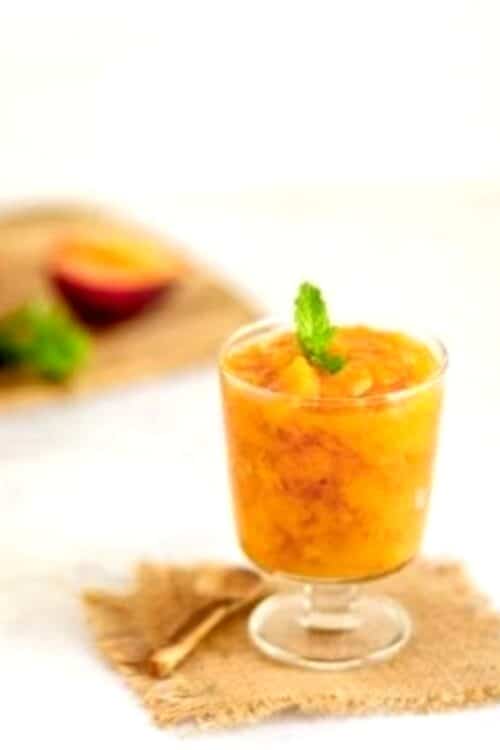 Why you will love this Peach Compote recipe
Use your excess peaches – Compote is an easy way to make the most of your peach supply.
Short ingredient list – Three ingredients make up this peach compote recipe. You can easily adjust them to your liking, giving you a sweet, fresh sauce that will impress your guests.
No fancy tools – All you need is a saucepan and your stove! Using frozen peaches even eliminates the need for a knife.
Store it for later – Keep leftovers chilled in the fridge for up to two weeks or in the freezer for up to 3 months. The half hour it takes to prepare this dish is well worth it.
Healthy and homemade – In addition to vitamins A, C and a variety of nutrients found in peaches, making your own sweet treat from scratch eliminates added chemicals and preservatives that can be found in many store-bought versions.
How to Make Perfect Peach Compote
Prepare your peaches: Cut into bite size pieces or break them down with a potato masher or fork for a smoother consistency.
Cook on low: Add your peaches and maple syrup to the saucepan. Cook over low heat and stir gently.
Reduce consistency: Grate fresh ginger onto the peaches and continue to cook on low for 20-30 minutes, stirring occasionally as the liquid begins to reduce.
Allow compote to cool slightly before serving. Enjoy warm or cold and store any remaining sauce in the refrigerator.
Pro Tip: Peach Compote is gluten-free!
We recommend serving Peach Compote with Ginger with our buttermilk pancakes or on the side of our skillet pork tenderloin. Vanilla ice cream always pairs perfectly with this sweet sauce, too!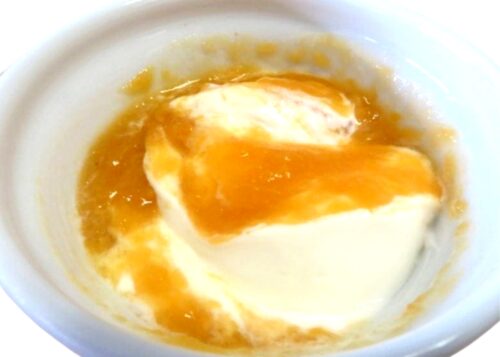 How to Use Peach Compote
Since Peach Compote can be served warm or cold and stored for later use, it is an incredibly versatile dish. Mix cold compote with yogurt or whipped cream, or as a topping for cheesecake.
Warm compote is a flavorful addition to french toast, cake, or to create an ice cream sundae. Trying to thaw your frozen compote? Heat it slowly over low heat on your stovetop or in the microwave.
Peaches work so well with the ginger in our recipe, but other spices blend perfectly with peaches, too- don't be afraid to experiment especially if you like some heat in your food!
Add a little more ginger or grab your favorite spice rack staple and give your taste buds a treat. Our recipe is also a great start to a mouthwatering pie filling. The possibilities with Peach Compote are endless!
Frequently Asked Questions For How to Make Peach Compote
What is fruit compote made of?
Compote is a simple mixture of fruit and sugar cooked on the stove. The fruit you choose can be fresh or frozen, and sugar can be substituted with maple syrup or honey to keep your compote naturally sweet. The resulting sauce is a chunky syrup that can transform any number of dishes or be devoured on its own!
What is the difference between compote and preserves?
In general, preserves are more spreadable due to the chunky fruit that makes up compote. While the two are prepared in a similar way, preserves are often stored for future use while compote is consumed within several weeks of being prepared.
Are fresh peaches better than frozen?
Frozen peaches are just as good as fresh without the risk of bruised skin, making your favorite fruit available in every season. The fruit is picked at the peak of freshness with all the prep work already done for you: peaches are peeled, pitted and sliced. If you want to thaw your frozen fruit, keep it in the refrigerator for 6-8 hours, turning once or twice to avoid it becoming too mushy.
Can I thicken my peach compote?
If you prefer a thicker compote or want to turn your compote into a pie filling, all you need to add to this peach compote recipe is cornstarch and water. Dissolve one tablespoon of cornstarch into one tablespoon of cold water and mix into your compote during the last minute or two of cooking.
Peach Compote
Peach compote can be a fresh, flavorful dessert or a delicious addition to savory meats and breads. The simple recipe will become your go-to for entertaining, or just for yourself.
Servings 4 Servings
Calories 88kcal
Ingredients
2 Cups Peaches Ripe or Frozen
4 tbsp Maple Syrup Optional
1 tbsp Ginger Optional
Instructions
Combine peaches and maple syrup in a small saucepan over low heat. Grate ginger directly over peaches. Stir gently to mix.

Allow to cook on low for 20-30 minutes or until peaches are very soft and liquid begins to reduce.

You can break down the peaches with a potato masher or fork if you prefer that consistency but it is not necessary.

Serve warm or cooled. Store remainder in the refrigerator.
Nutrition
Serving: 1g | Calories: 88kcal | Carbohydrates: 22g | Protein: 1g | Fat: 0.2g | Saturated Fat: 0.02g | Polyunsaturated Fat: 0.1g | Monounsaturated Fat: 0.1g | Sodium: 12mg | Potassium: 146mg | Fiber: 1g | Sugar: 18g | Vitamin A: 251IU | Vitamin C: 3mg | Calcium: 25mg | Iron: 0.3mg
Follow On Pinterest
Follow @bewitchinkitchen On Pinterest for more delicious recipes!