Skillet Pork Tenderloin
This Skillet Pork Tenderloin is hands down one of our family's favorite pork recipes. It's incredibly easy to prepare, so much so, that it is regularly on our weeknight dinner rotation!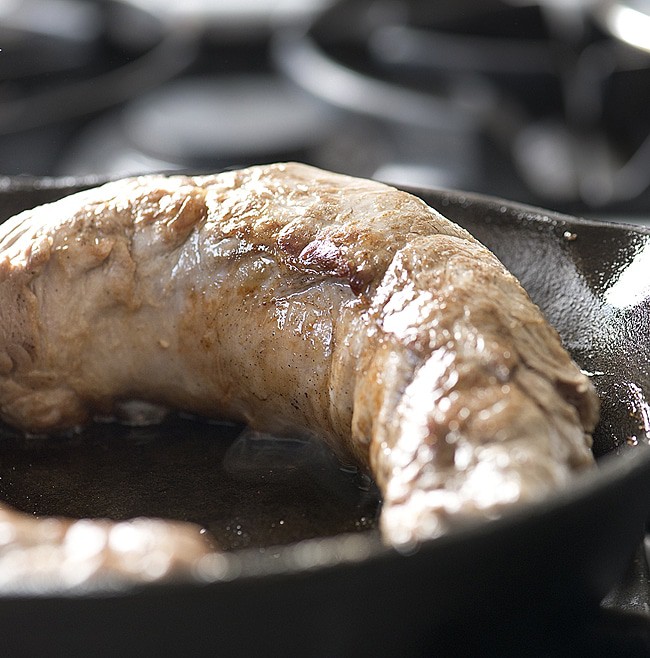 Like most households nowadays, we have a lot of extracurricular activities after school and work. It's a constant struggle to figure out what to put in the oven that's healthy and delicious and will still give us lots of time to head out the door. I'm super envious of moms who arrive at the arena and seem to have it together all the time. I round the corner there most nights with two wheels on the ground and two in the air praying I have everything (and everyone, because yes that's happened) with me. How are they doing it? I'm sure every working mom or dad can relate.
Pork tenderloin is a really good choice for helping our family meet daily protein requirements. It's considered extra lean, low in fat and has fewer calories per serving than other lean meats. Pork tenderloin is perfect for an easy weeknight meal and also elegant enough for a formal dinner. It has a pretty mild taste too, which makes it so versatile for spices, stuffings, and flavorings. I'm a huge fan of my cast iron skillet and use it often for dinner simply because it can go straight from the stovetop to the oven. The pork tenderloin is so tender and well seasoned when cooked this way and the pan juices are pretty alright too! If we are lucky enough to have leftovers, it makes a very yummy sandwich for lunches the next day.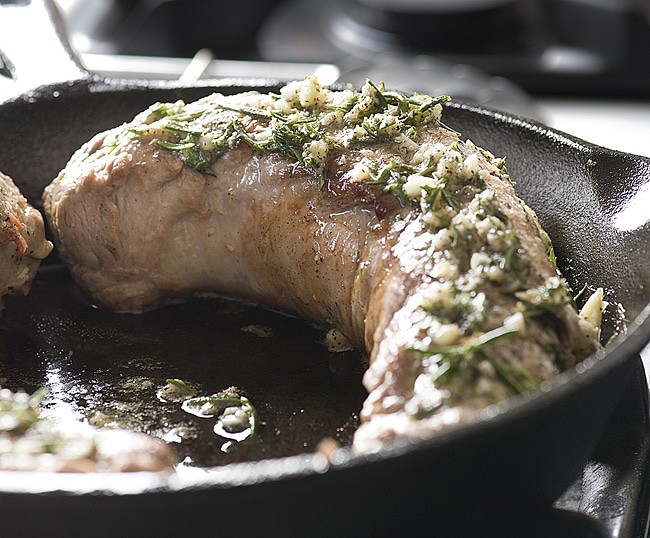 To make this an even easier meal, you can put the tenderloin in the oven along with a pan of potato chunks tossed in garlic and olive oil. Then perhaps you can put your feet up and catch your breath for an hour or so? Oh gosh, did you chuckle there too? Who am I kidding?! That's when the table is set, backpacks are emptied, homework is done and breakfast dishes are tidied. Putting my feet up happens well into the night when all the kids are settled in. I might read two pages of my novel and then fall asleep with the book still hovering in the air, only to wake up tomorrow and do it all over again.
Skillet Pork Tenderloin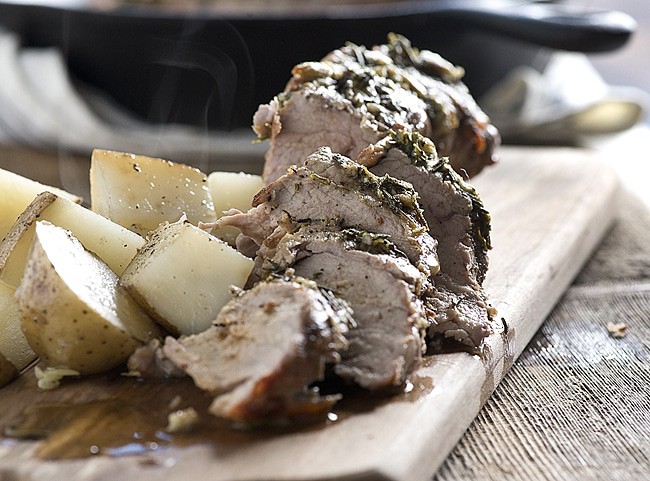 Skillet Pork Tenderloin
Get this family friendly Skillet Pork Tenderloin on the table in an hour! Cooked in a skillet with fresh rosemary, thyme and garlic. Perfect for a weeknight dinner and elegant enough for a dinner party!
Servings 5
Calories 428kcal
Ingredients
3 pounds pork tenderloin 2 pieces
1/4 cup + 1 tbsp olive oil
5 cloves garlic
2 sprigs of thyme leaves removed
2 springs rosemary
1/2 tsp salt
1/2 tsp pepper
 
Instructions
Preheat oven to 350°

In a food processor or bullet, add the 1/4 cup oil, fresh herbs, garlic, salt and pepper.  Blend or pulse for just a few seconds to create a chunky paste; set aside.

Add the remaining tbsp of oil to a 9 or 10 inch cast iron skillet and heat on medium for a few minutes.  Add the tenderloin, one piece at a time and brown on all sides.  Set it on a plate while you brown the other one.

Place both pieces of tenderloin in the skillet, once both have been browned.  Put small slits randomly all over the top of each tenderloin with the tip of a knife (8-10 slits per tenderloin).  Spread the paste all over the top of each tenderloin, being sure to get some of it in those slits as best you can.

Roast the tenderloins in the oven for 50 minutes, or when the internal temperature reaches 145°.  Remove the tenderloin to a platter and let it rest for 10 minutes.  Slice into medallions, drizzle with the pan juices and serve immediately.
Nutrition
Serving: 1g | Calories: 428kcal | Carbohydrates: 1g | Protein: 56g | Fat: 20g | Saturated Fat: 4g | Cholesterol: 176mg | Sodium: 375mg | Potassium: 1081mg | Vitamin A: 30IU | Vitamin C: 1.8mg | Calcium: 27mg | Iron: 2.9mg
Follow On Pinterest
Follow @bewitchinkitchen On Pinterest for more delicious recipes!