Baked Apples with Coconut Cream
When you search The Bewitchin' Kitchen for fruit desserts, you'll find a lot of apple recipes. I love apples and how they easily go from sweet to savoury in any dish. I particularly like this healthier version of apple pie, baked apples with coconut cream.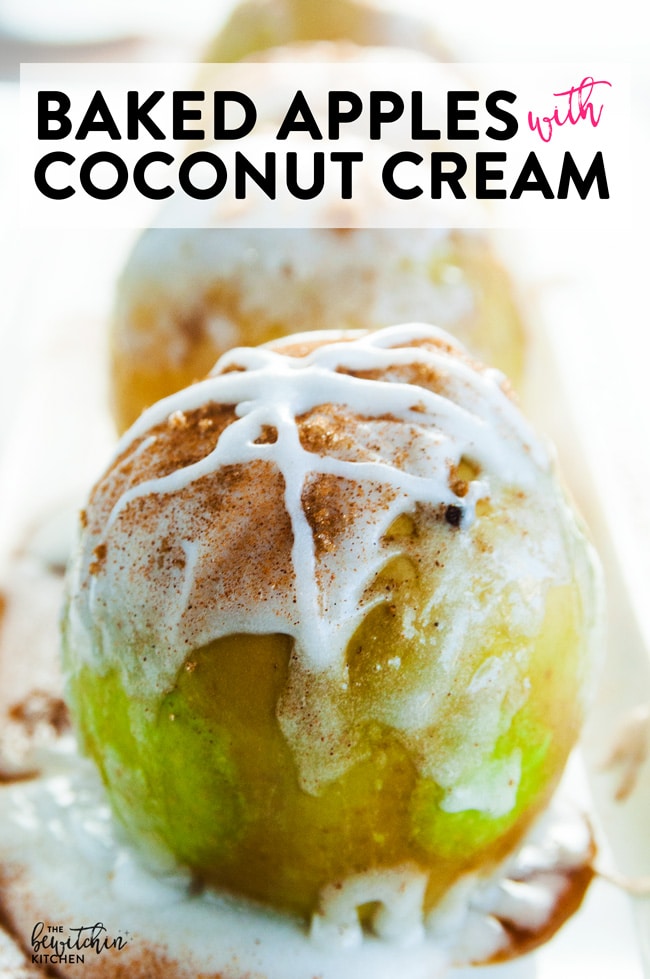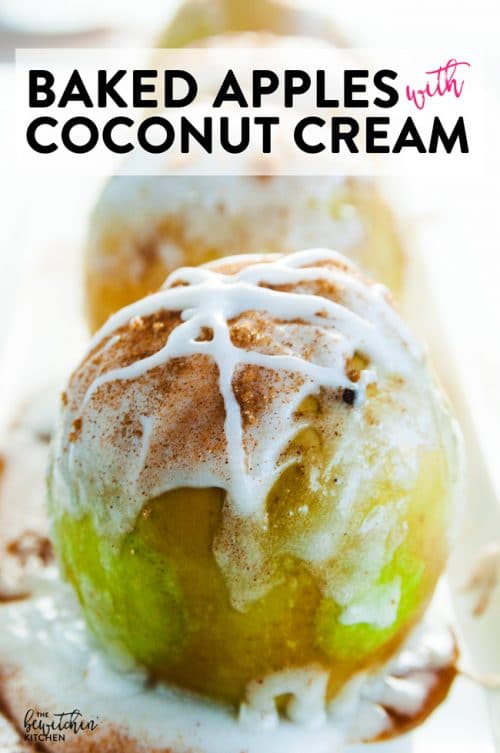 I made two versions of this recipe: one with sugar and one without. Since I'm in the middle of a Whole30, mine was without but my husband and son thoroughly enjoyed their brown sugared variety. I find with a little bit of cinnamon, apples don't need much sugar, they're perfect.
A few years ago I shared one of my favourite snacks with you. That snack was the Apple Cinnamon Yogurt Bowl and it was with that recipe that I discovered that apples are incredible the way they are. All you need is a little heat and cinnamon, and you're "in the money".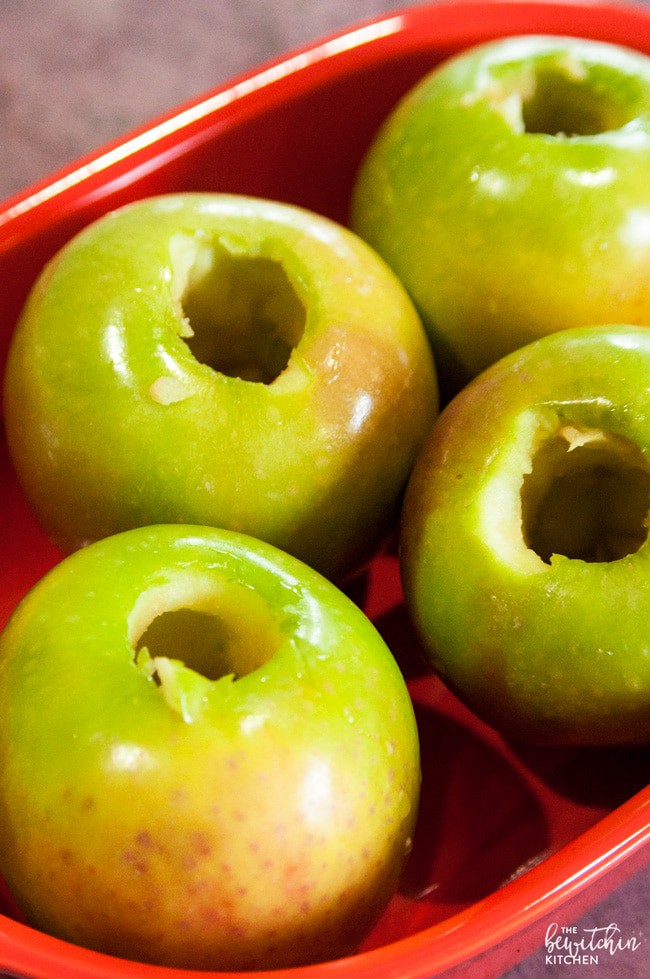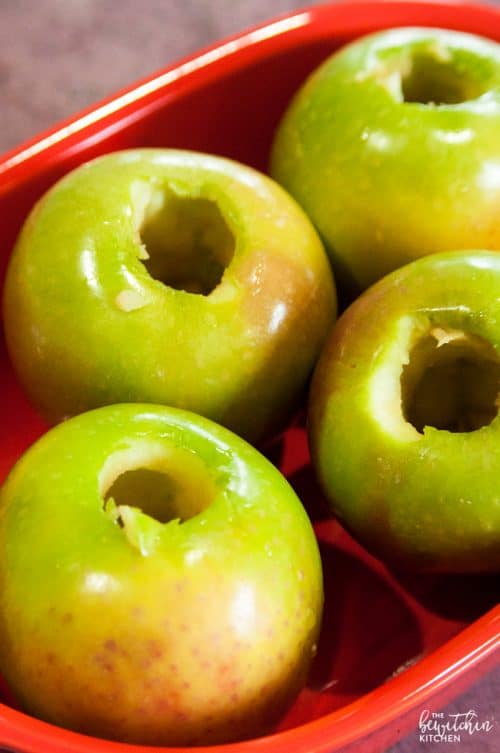 I've partnered with BC Tree Fruits for the month of February to share a few new apple recipes (like these baked apples with coconut cream) and some information regarding one of my favourite fruits.
When is Apple Month?
February is apple month where we recognize the quality produce grown here on B.C. soil while encouraging people to support our local growers. You may not think of February as a month for fresh fruit, however fresh B.C. apples are available throughout the long winter months.
Over the next four weeks, I'll share both sweet and savoury options, health facts, and apple hacks. If you have any apple tips, please leave them in the comments.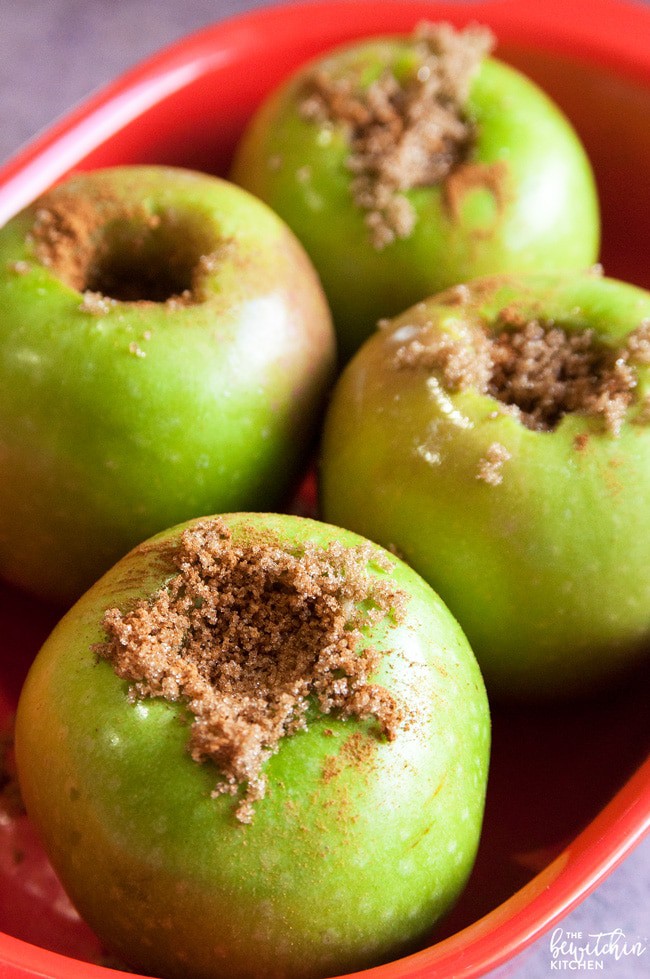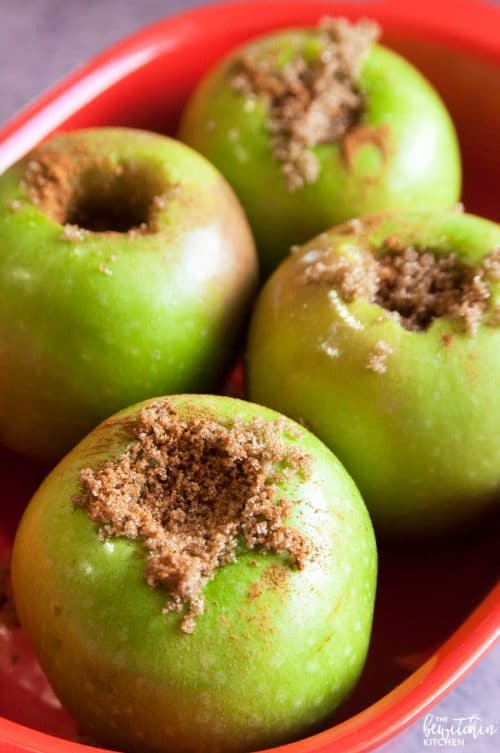 Baked Apples with Coconut Cream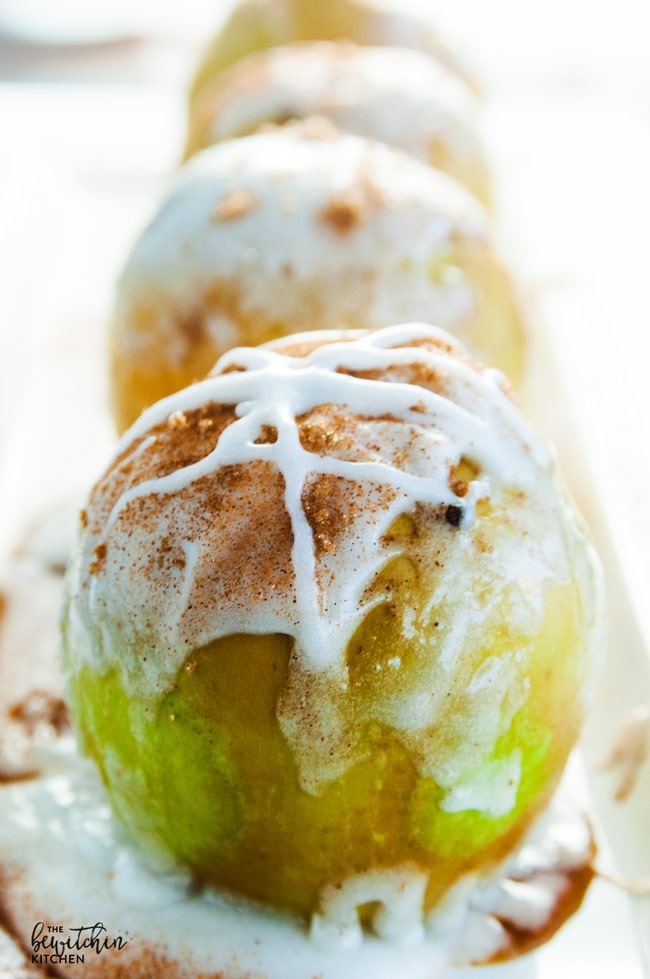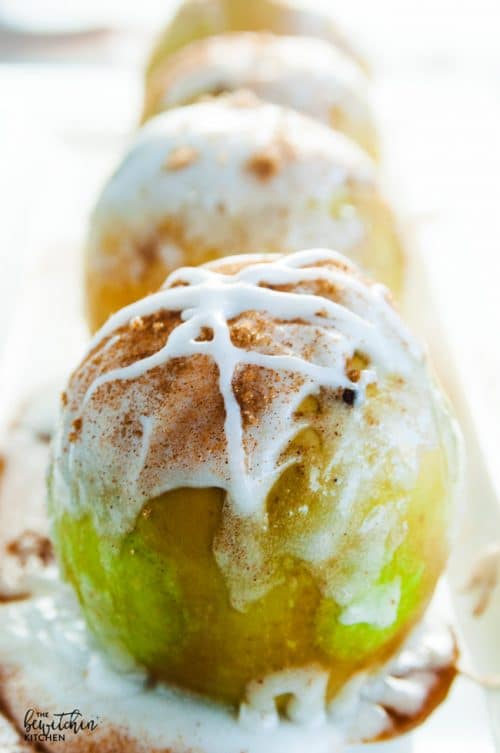 I chose to use granny smith apples in this recipe because they're my favourite. I have always preferred this tart and tangy variety as I have found it balanced well whenever I paired it with dark chocolate (my usual apple snack).
With that being said, granny smiths are also known to be perfect for baking as they sweeten up as they cook.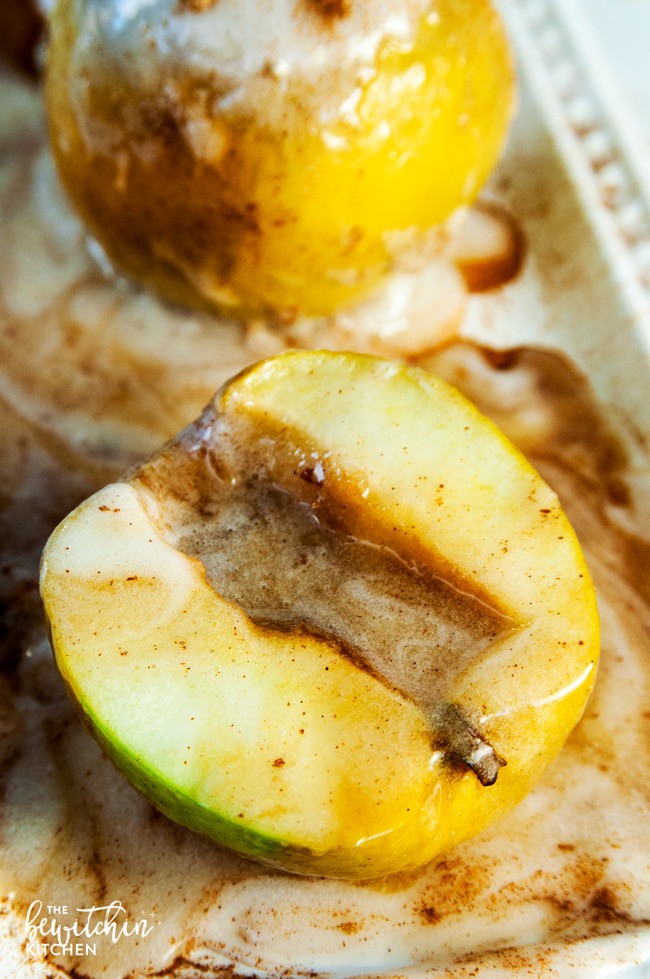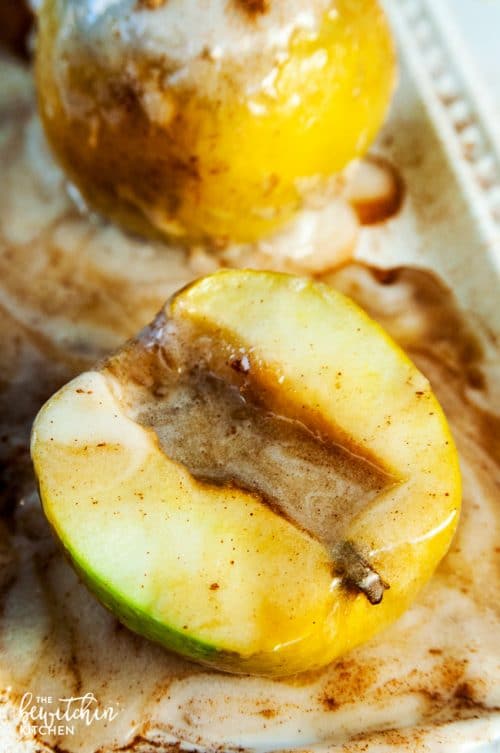 This dessert recipe for baked apples with coconut cream is a healthier spin on apple pie. It's gluten free (no crust) and dairy free, thanks to the coconut whipped cream.
More Apple Dessert Recipes:
Baked Apples with Coconut Cream
This gluten free and dairy free dessert is a healthier twist on apple pie.
Servings 4
Calories 380kcal
Ingredients
4 granny smith apples
1/4 cup brown sugar
1 tsp cinnamon
1 batch coconut whipped cream
Optional toppings: caramel sauce
Instructions
Preheat oven to 350°

Slice the top of each apple off and scoop out the core.

Spoon 1 tbsp of brown sugar in each apple and 1/4 tsp cinnamon.

Bake for 20 minutes.

Top with coconut whipped cream and optional caramel sauce.
How to make coconut cream:
Place a can of full-fat coconut milk in the fridge.

Scoop the hard fat into a bowl (leave the water in the can).

Whip with a hand blender. You may add powdered sugar, brown sugar, or stevia to sweeten if desired.

The coconut cream can be whipped or if you leave it soft and whisk in powdered sugar, it will become a glaze (like in the images in the post).
Nutrition
Serving: 1g | Calories: 380kcal | Carbohydrates: 45g | Protein: 3g | Fat: 22.9g | Saturated Fat: 20g | Sodium: 20.7mg | Fiber: 5.2g | Sugar: 34.3g
Follow On Pinterest
Follow @bewitchinkitchen On Pinterest for more delicious recipes!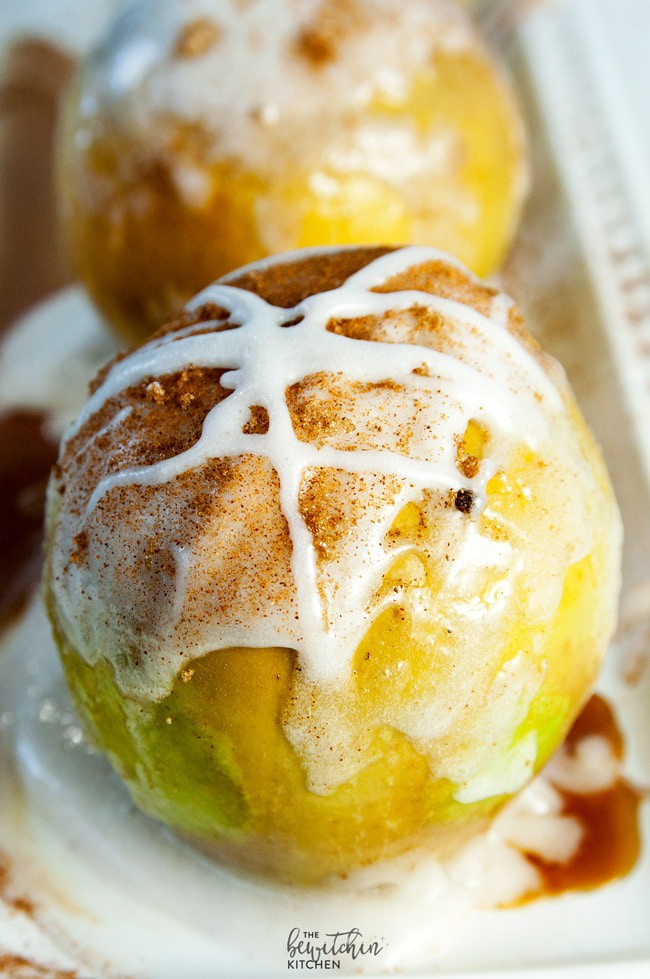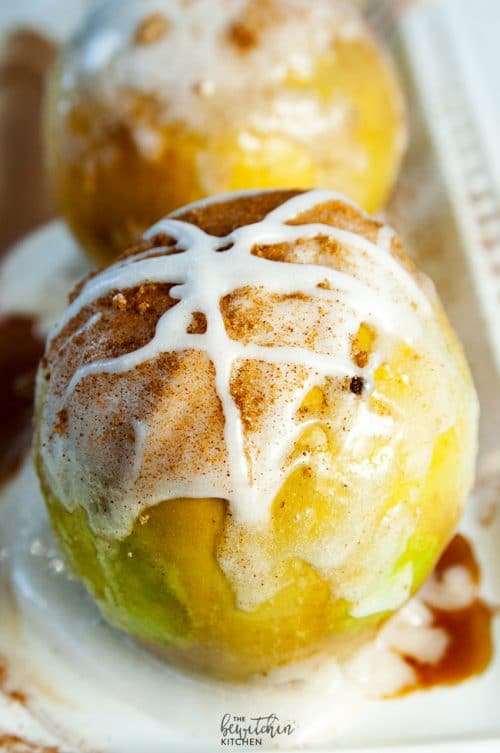 What's your favorite kind of apple?
Follow BC Tree Fruits on their social channels for recipes, tips and more: Facebook, @bctreefruits , @bctreefruits.
Disclosure: A big, loud shout out to BC Tree Fruits for sponsoring this post. I have been compensated for my time but all opinions are my own.