Pork Tonkatsu
This recipe for pork tonkatsu features tender, juicy pork cutlets that are hand breaded, fried to a perfect golden crisp, and served over rice with a savory-sweet katsu sauce.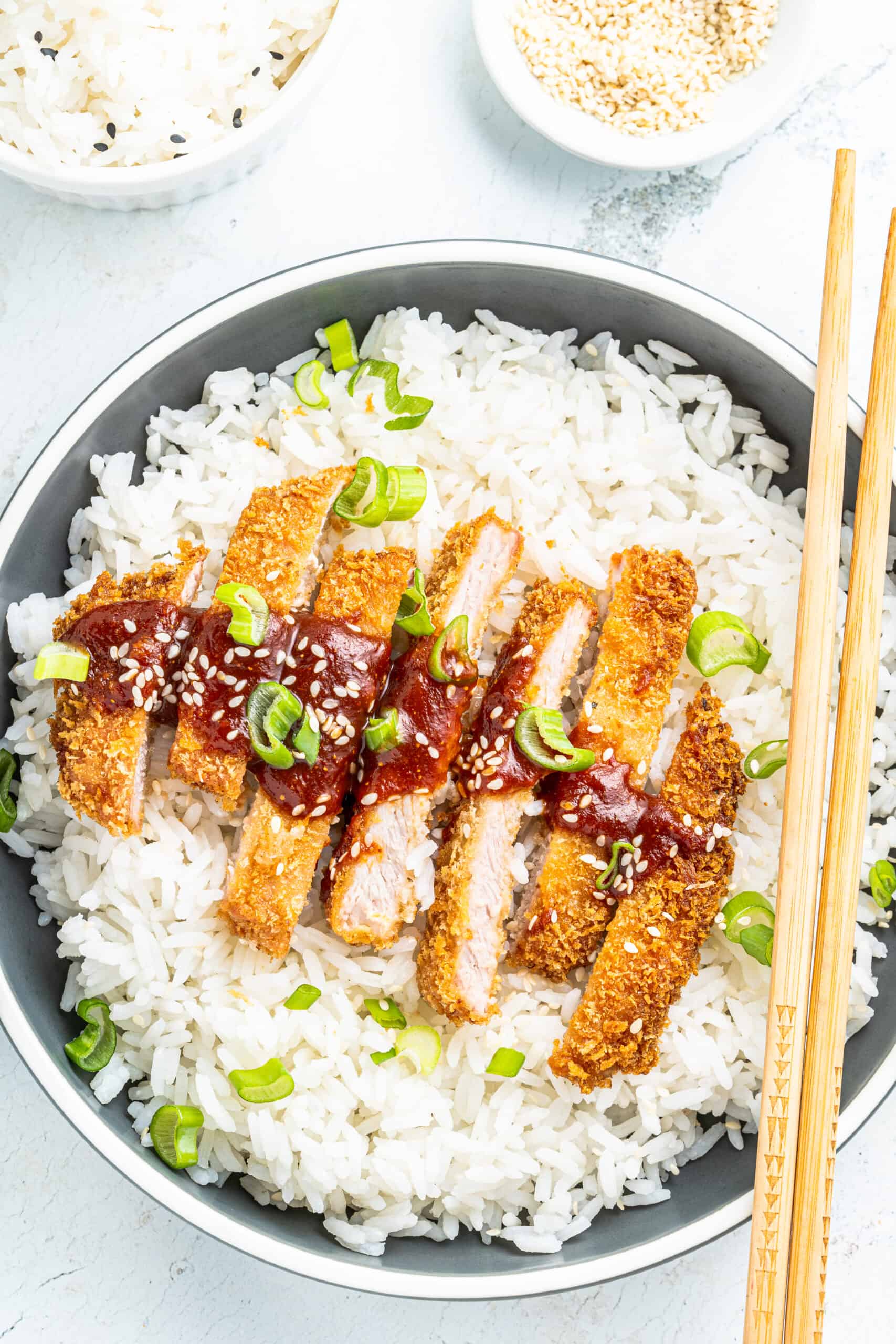 Pork Tonkatsu
Try this pork tonkatsu recipe for a simple, scrumptious, and satisfying dish that boasts some of the juiciest, crunchiest pork cutlets you have ever encountered.
The cutlets are hand breaded in panko before frying for an extra airy, extra crispy, totally irresistible exterior.
A picture of pork cutlet perfection then gets drenched in a mouthwatering katsu sauce. This signature sauce is savory, sweet, and salty with the perfect kick of ginger and garlic.
For more mouthwatering pork recipes from the Bewitchin Kitchen, check out my recipes for Cheddar Apple Stuffed Pork Loin Chops, Skillet Pork Tenderloin, or this Pork and Broccoli Stir Fry.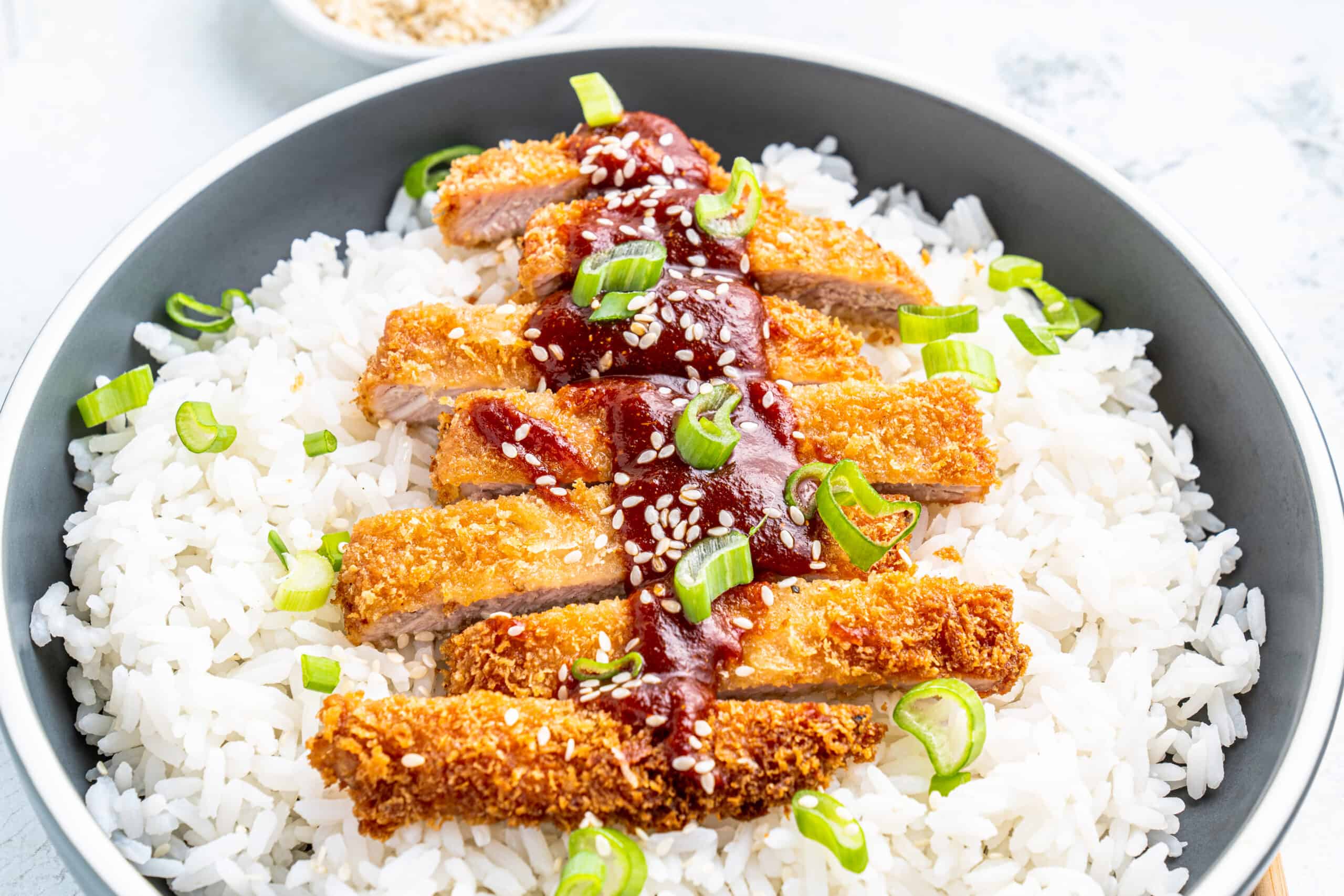 Why you will love this recipe
This pork katsu recipe is a breeze to make and extremely flavorful.
It is made with simple ingredients already in your pantry.
You can follow this versatile recipe to make either pork katsu or chicken katsu.
It's super easy to customize pork katsu to suit a gluten-free diet.
Follow the pork tonkatsu sauce recipe once and you will know the secret formula for dynamite katsu sauce.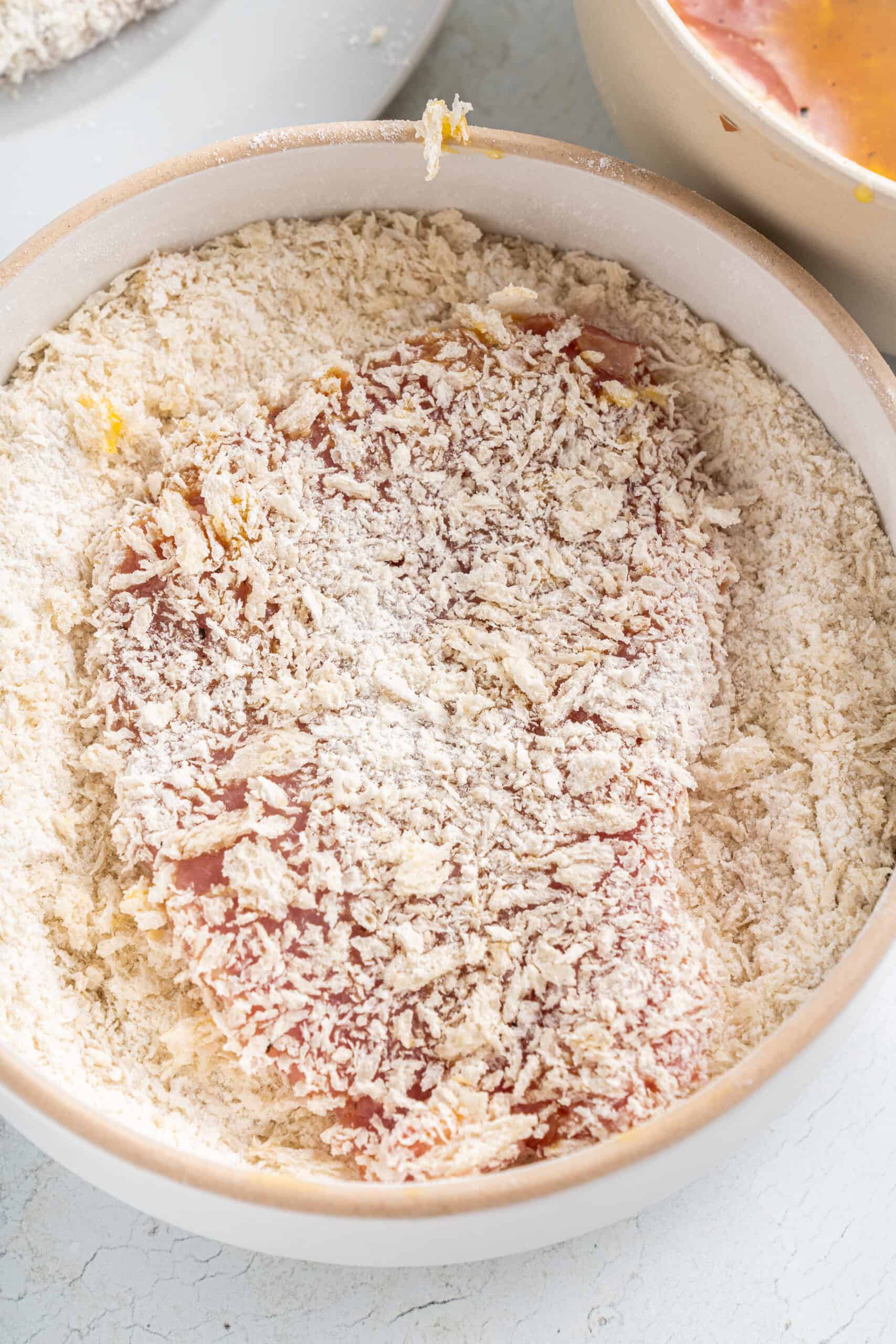 How to make perfect Pork Tonkatsu
Make the Katsu Sauce: Mix the soy sauce, Worcestershire, ketchup, garlic, and ginger together in a small bowl and set aside.
Prepare to bread the pork: Blend the panko breadcrumbs and all-purpose flour together in one bowl. In another bowl, whisk together the egg, salt, and pepper.
Bread the cutlets: Coat each piece of pork in the egg mixture before rolling it into the panko flour mixture, pressing to coat.
Heat the skillet: Place a cast iron skillet over medium heat for two minutes before adding the sunflower oil. Heat the oil for at least another two minutes.
Fry the pork cutlets: Fry each piece of pork on both sides until golden brown and crispy.
Garnish and serve: Serve fried pork on top of a steaming pile of rice, drizzled with katsu sauce and sprinkled with plenty of sesame seeds and green onion. Enjoy!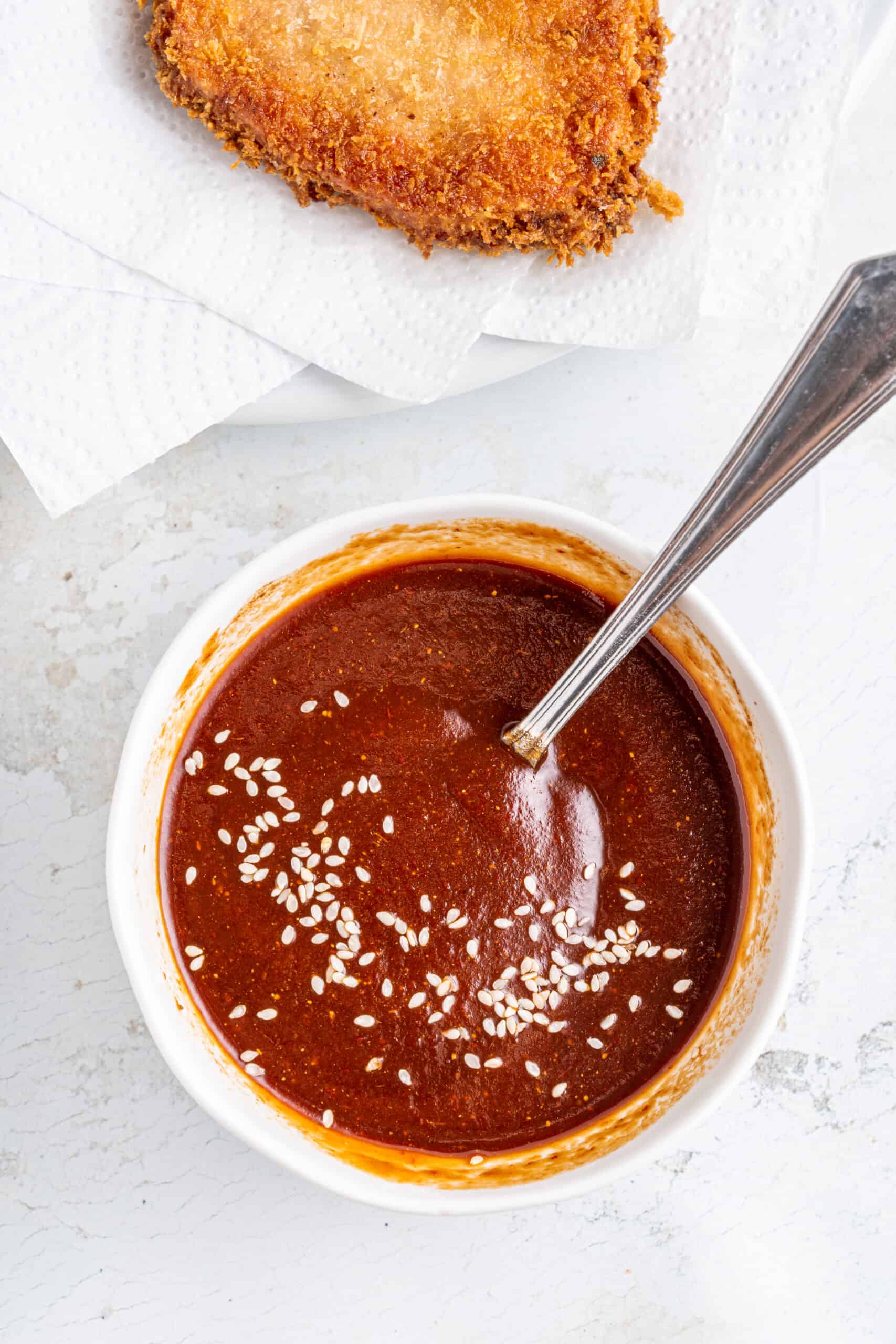 Pro Tips to Make This Really Great
Dredge to coat: If your breadcrumbs aren't adhering, try dredging your cutlets first in just flour, then in the egg, and finally the panko and flour mixture, pressing gently on all sides to coat.
Make it gluten free: Certain brands, like Kikkoman's and Ian's, make gluten free panko breadcrumbs. You'll also need to confirm that your soy and Worcestershire sauce are gluten free.
Swap in chicken: Follow the same instructions for this pork katsu recipe with chicken cutlets instead for easy chicken katsu.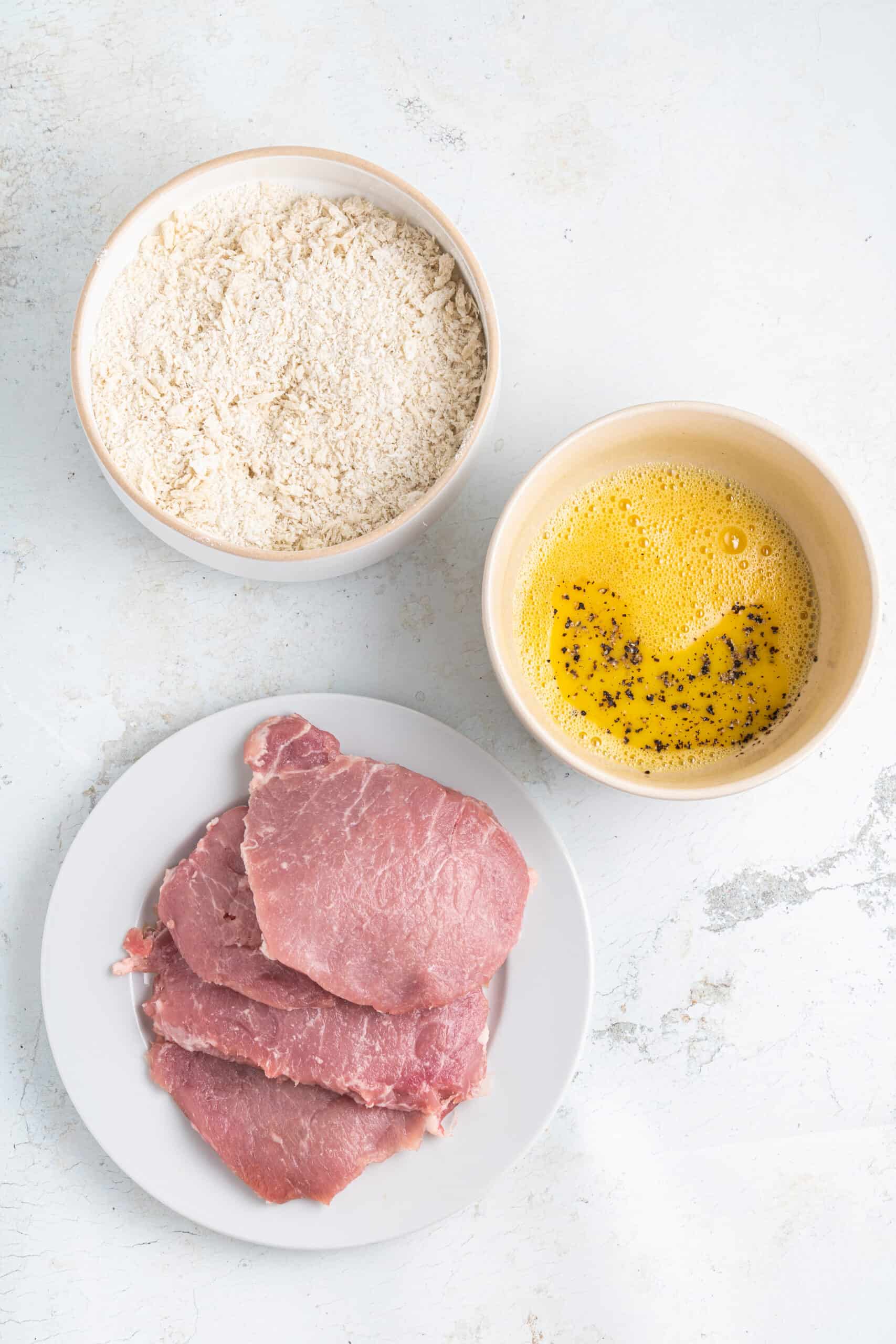 Key Ingredients and Substitutions for Pork Tonkatsu
Pork: For the juiciest, most tender pork tonkatsu, make this recipe with one of two cuts. You can choose the leaner hire-katsu (pork filet) or the richer, fattier rosu-katsu (pork roast). Regardless of the cut, be sure to have your pork trimmed into ½ to ¾ inch cutlets before breading and frying.
Rice: For this dish, I recommend planning about ¾ to 1 cup of rice per person, as opposed to the standard ½ cup serving.
Panko breadcrumbs: These light and airy Japanese-style breadcrumbs are made from a particular crustless white bread that is baked to create a coarse, dry consistency. Panko vs. regular breadcrumbs is what gives pork tonkatsu that signature crispy coating without any excessive greasiness.
Flour: All-purpose flour mixed with the panko helps the batter stick and maximizes the crunch factor. You can also choose to use corn starch or a gluten-free flour blend instead.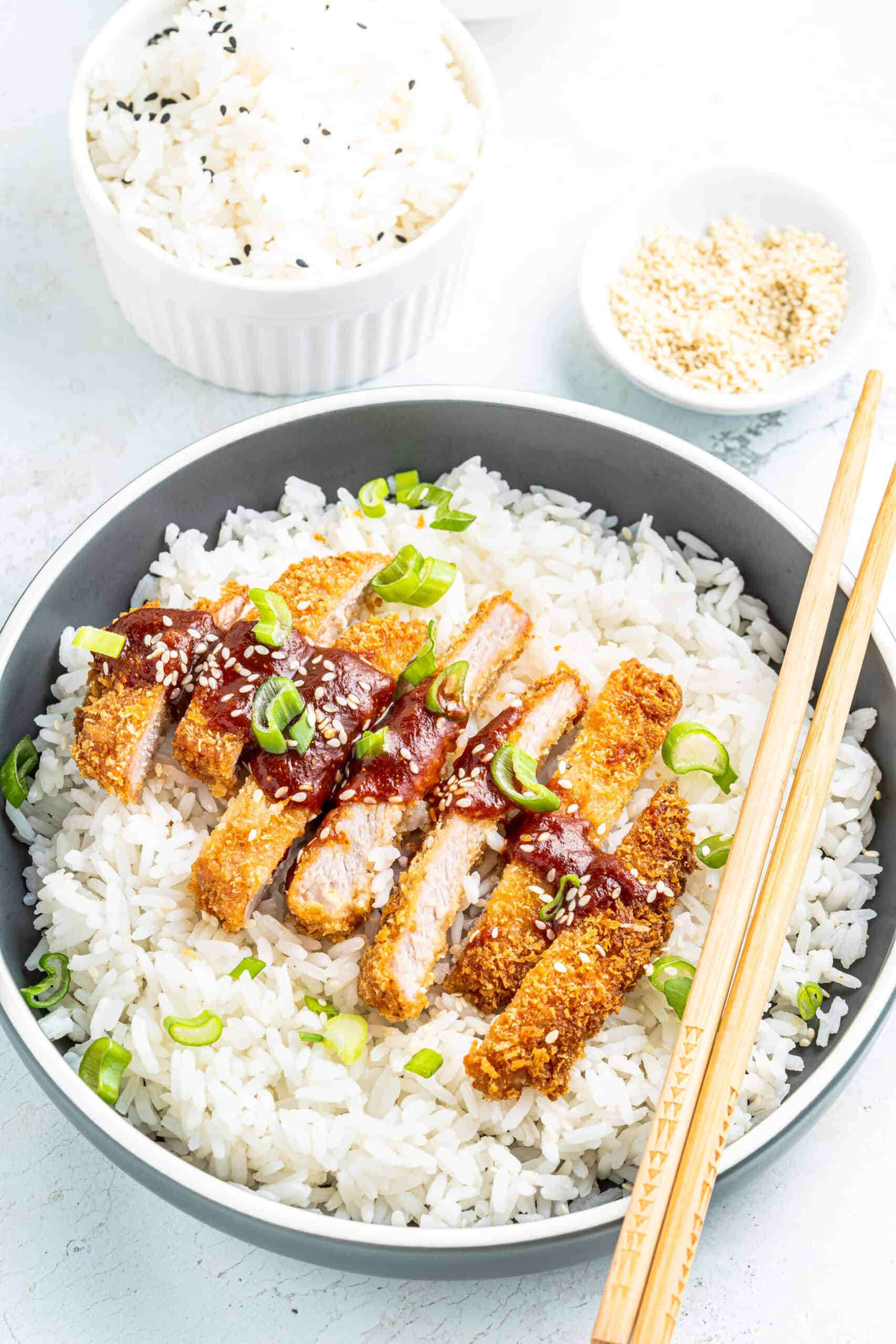 Frequently asked Questions about Pork Tonkatsu
What is the Japanese Meaning of Katsu?
The word Katsu is short for the Japanese word "Katsuretu," which was derived from and has the same meaning as the English word "cutlet."
Is Pork Tonkatsu and Katsu the Same?
Yes and no. Tonkatsu sauce and katsu sauce are the same sauce. However, they might go on different dishes. A quick breakdown of the words is helpful.
We already know that the Japanese word "katsu" translates to cutlet. Put that together with the fact that "ton" translates to "pork," and there you have it. Tonkatsu means pork katsu.
Pork tonkatsu was the first dish to feature the now beloved katsu sauce. As such, you will often find it still called "tonkatsu sauce" in other recipes featuring breaded and fried cutlets, like chicken katsu.
How Do I Store Leftover Pork Tonkatsu?
Store any leftovers in the refrigerator, in an airtight container, for up to seven days. Your pork tonkatsu sauce will last in the refrigerator for up to two weeks.
I recommend using the oven or an air fryer when reheating to maintain that deliciously crunchy exterior.
Pork Tonkatsu
This recipe for pork tonkatsu features tender, juicy pork cutlets that are hand breaded, fried to a perfect golden crisp, and served over rice with a savory-sweet katsu sauce. 
Servings 4 Servings
Calories 539kcal
Ingredients
4 chop pork loin chop boneless, about a 1/2-3/4 inch thick
1/3 cup all-purpose flour
1 medium egg
1/2 tsp salt
1/4 tsp ground pepper
1 cup panko
2 cup cooked rice
sunflower oil for frying
Katsu Sauce
1 tbsp soy sauce
1/2 cup ketchup
1/2 tbsp Worcestershire sauce
1/2 tsp garlic powder
1/2 tsp ginger powder
Garnish with sesame seeds and sliced green onion
Instructions
Prepare the Katsu Sauce by mixing all its ingredients in a small bowl. Set it aside.

Make the breaded pork: Beat the egg, salt, and pepper in a small bowl, then mix panko and all-purpose flour in another bowl.

Next, coat each piece of pork with the egg mixture and place it over the panko. Coat to toss, pressing breading onto the pork meat.

Heat an iron-cast skillet for two minutes over medium heat. Then, add sunflower oil, about a finger deep, and heat it for two minutes or until ready for frying breaded pork. Fry each piece of pork on both sides until nicely golden and well-done.

Serve pork katsu over cooked rice, drizzle with Katsu sauce and garnish with sesame seeds and green onion.
Notes
This Pork Katsu was yummy, crispy, and satisfying. The pork meat ends up tender and combines amazingly with the sweet and garlicky Katsu Sauce.
Tips
The standard serving size for cooked rice is ½ cup, but for this dish, I'd recommend counting ¾-1 cup per person for this dish.
Store any leftovers in the fridge, covered, for up to seven days. 
The sauce can be refrigerated for up to two weeks.
Nutrition
Calories: 539kcal | Carbohydrates: 50g | Protein: 47g | Fat: 15g | Saturated Fat: 5g | Polyunsaturated Fat: 2g | Monounsaturated Fat: 6g | Trans Fat: 0.1g | Cholesterol: 165mg | Sodium: 1057mg | Potassium: 894mg | Fiber: 1g | Sugar: 8g | Vitamin A: 223IU | Vitamin C: 2mg | Calcium: 65mg | Iron: 3mg
Follow On Pinterest
Follow @bewitchinkitchen On Pinterest for more delicious recipes!