Tomato Pesto Spaghettini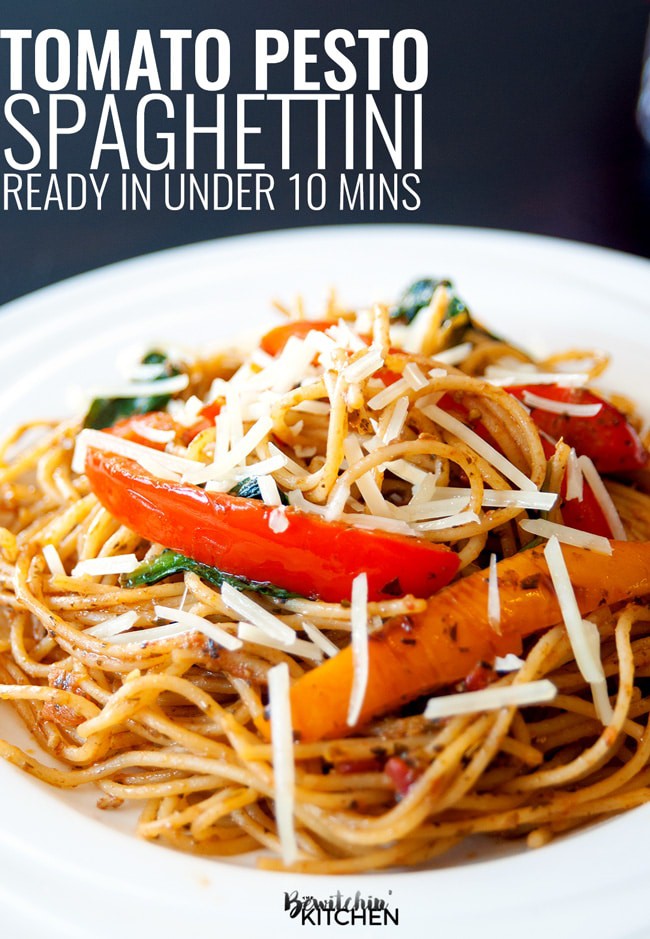 Vegetables are important, we all know that but (let's be honest here) they're not always the foods we desire and crave. Vegetable haters, rejoice, I have come to your aide with this recipe for Tomato Pesto Spaghettini. It's delicious and hidden with good for you vegetables, and fibre.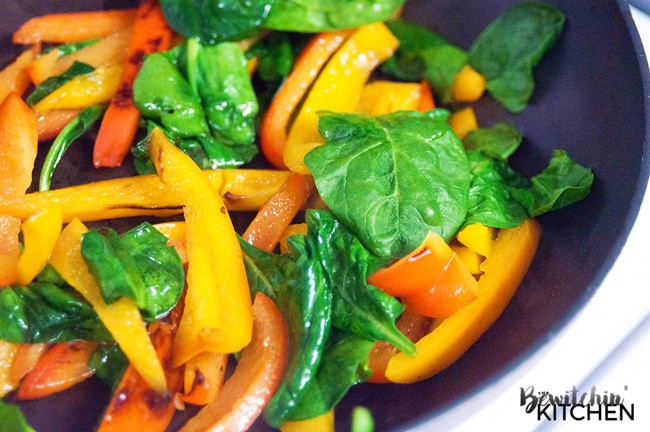 Now that I'm a mom and it's no longer only about me, I do everything I can to ensure that my family is getting the nutrition that they need to be healthy and strong individuals.
In an ideal world, my three-year-old would love spinach, peppers, broccoli (heck, in an ideal world, so would I) but in the real world, he has a meltdown when he sees them on his plate. I'm tired of the fight and I'm sure you are too. Friends, I'm about to share something with you that will be a picky-eater game changer.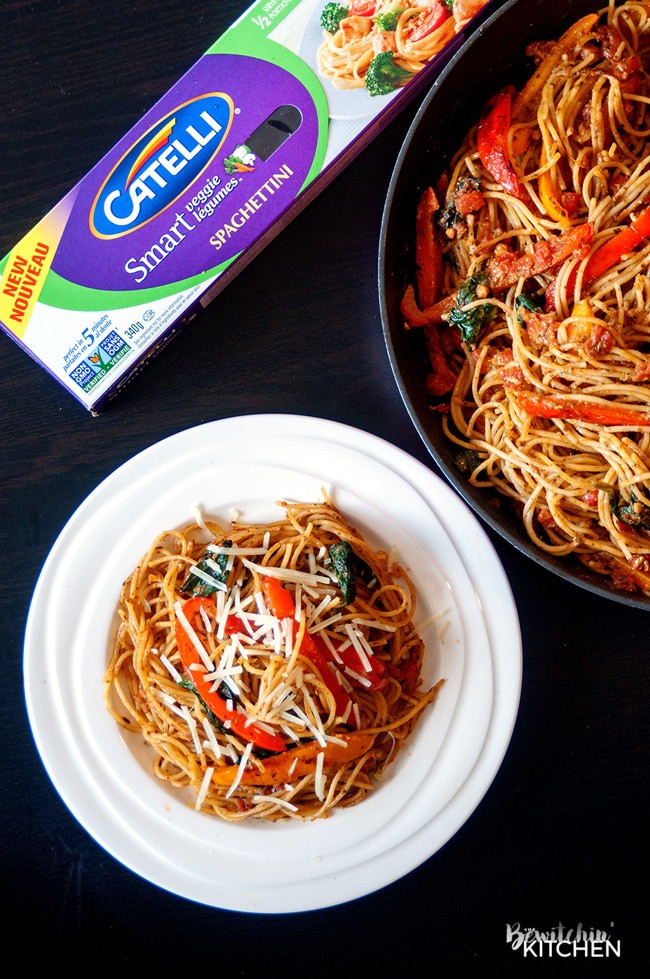 Catelli has made a wholesome pasta called Smart Veggie. It's a delicious white pasta that's high in fibre and (wait for it) provides a ½ serving of vegetables, yes there are vegetables in the pasta. This new innovation from Catelli really captures Canadians' desire for healthier meal options by enhancing the nutritional value of their pasta meal.
Here's a little more information broken down:
1 serving (85g) has 1/2 serving of vegetables and 8g of fibre.
The vegetables included are dehydrated carrots and cauliflower.
Smart Veggie and most of Catelli's pasta is Non-GMO Project Verified.
The Smart Veggie pasta tastes really good, it's no different than any other white pasta but it has some hidden powers behind it. In addition to the new Smart Veggie, Catelli has a huge selection of healthier pasta options. 100% whole grain Canadian wheat, gluten free and Catelli Smart are some of the wholesome choices for your family.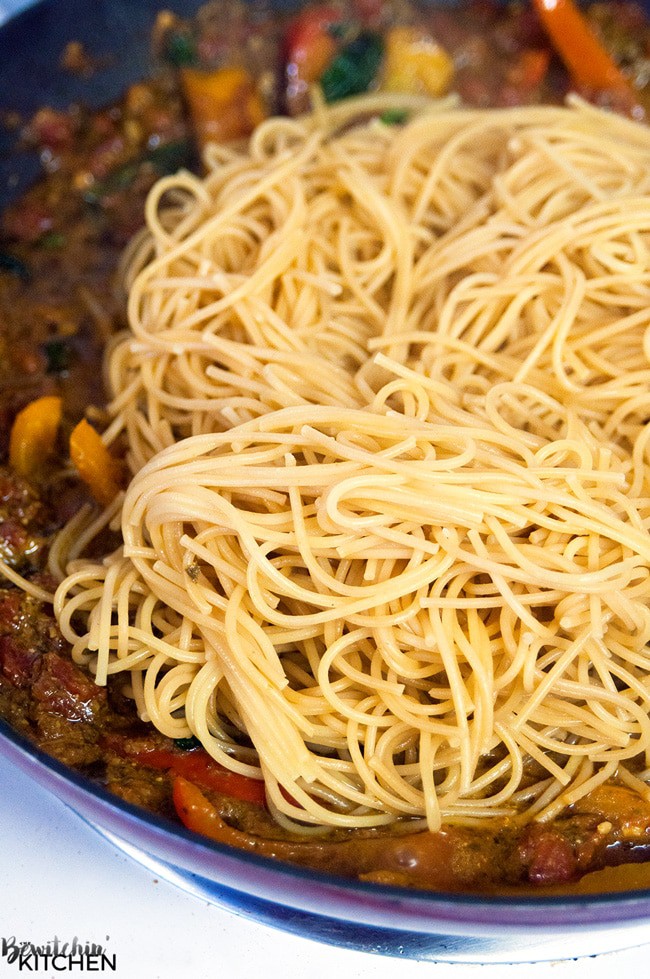 Tomato Pesto Spaghettini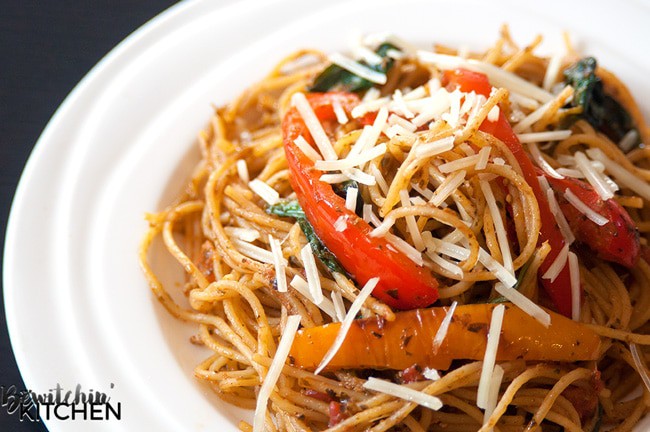 For the Tomato Pesto Spaghettini, I eased off the vegetables a bit because of the Smart Veggie adding an additional half serving. For the picky eater? I simply picked out the peppers (but left the spinach and told him it was 'Hulk' pasta).
For those of you who learn better by watching, check out the YouTube video above.
Tomato Pesto Spaghettini
Ingredients
1 box Catelli Smart Veggie
1 tbsp olive oil
1 orange bell pepper
1 red bell pepper
1 cup baby spinach
1 can diced tomatoes with garlic
1/2 cup pesto
Optional: parmesan cheese
Instructions
Cook the Smart Veggie pasta according to the instructions on the box.

While the pasta is cooking heat a large skillet over medium heat.

Add the olive oil and then the peppers, saute until tender.

Add the spinach and stir until wilted.

Add the tomatoes and pesto and let simmer for a few minutes.

Drain the pasta and add to the tomato pesto sauce and stir it around.

Serve and top with optional parmesan cheese.
Follow On Pinterest
Follow @bewitchinkitchen On Pinterest for more delicious recipes!
Do you have a favorite vegetable you like to add to your pasta dinners? Share with me your tips (and recipes) on mixing pasta with vegetables using #CatelliFamilies on social media (don't forget to tag me) and in the comments below.
To learn more about Catelli and the pasta products they offer visit http://www.catelli.ca/.

This super quick recipe is sponsored by my friends over at Catelli, all opinions and thoughts are my own.