White Chocolate French Toast
This recipe for White Chocolate French Toast was inspired by a trip to Key West last October. It's a fun twist on traditional french toast and makes a delicious (and decadent) addition to brunch.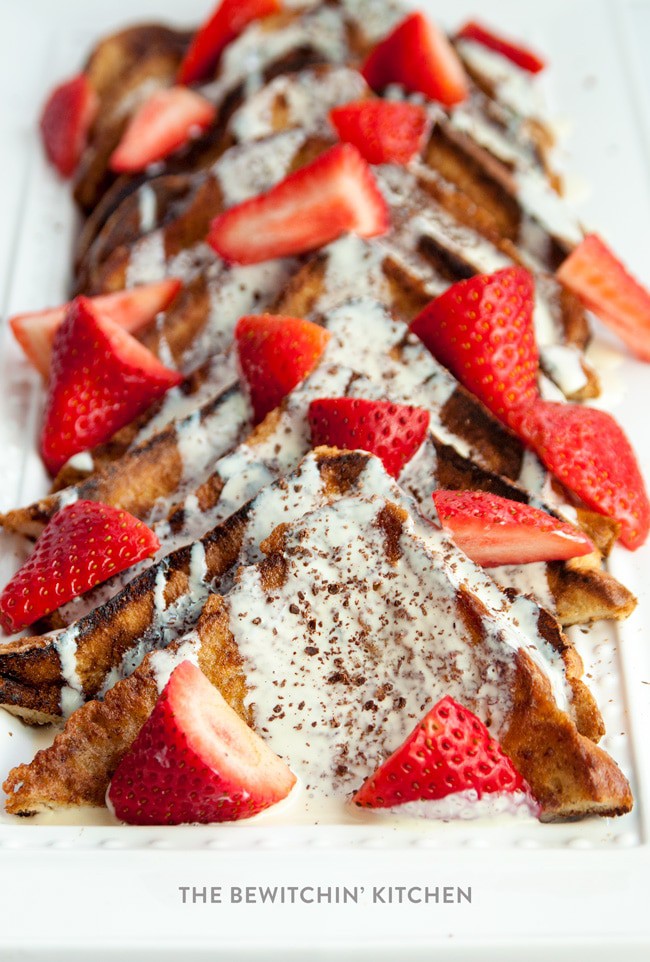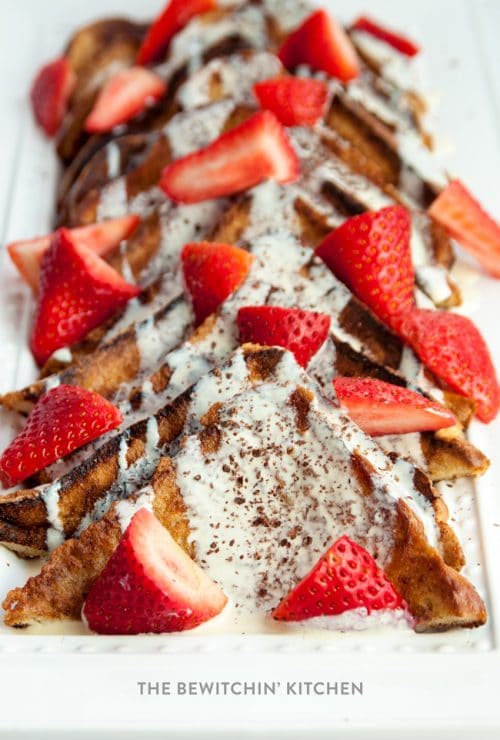 I've been wanting to recreate this white chocolate french toast recipe for months now, but I've been waiting for the right moment. That moment finally came, and I'm ecstatic to share this amazing breakfast recipe with you.
It's your standard french toast recipe but with a few twists: instead of maple syrup, you make a simple white chocolate sauce and instead of regular bread you use Dempster's Honey Wheat.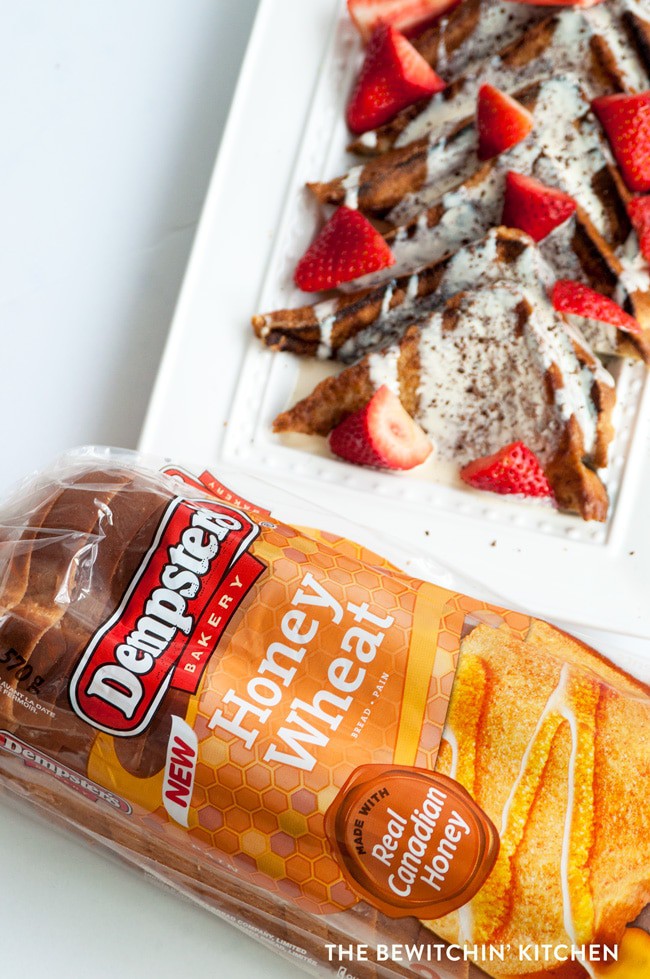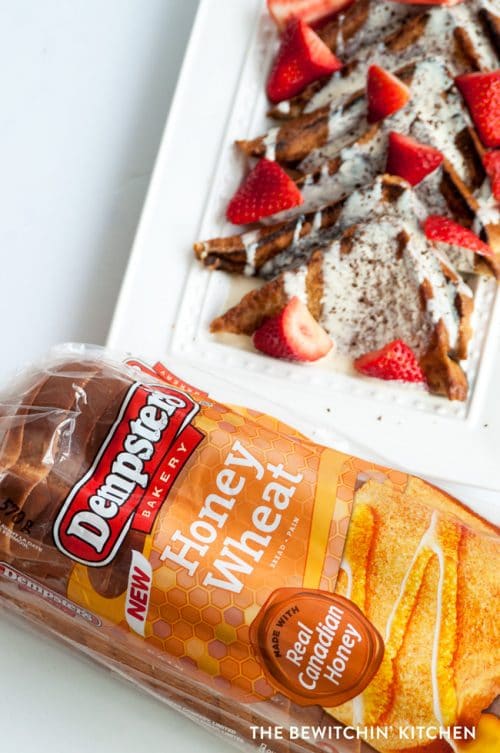 Why Dempster's Honey Wheat? Well, the simple fact is that it tastes amazing but I also like that it has no artificial colors or flavours. I love that Dempster's has put honey into their bread because honey is where it's at.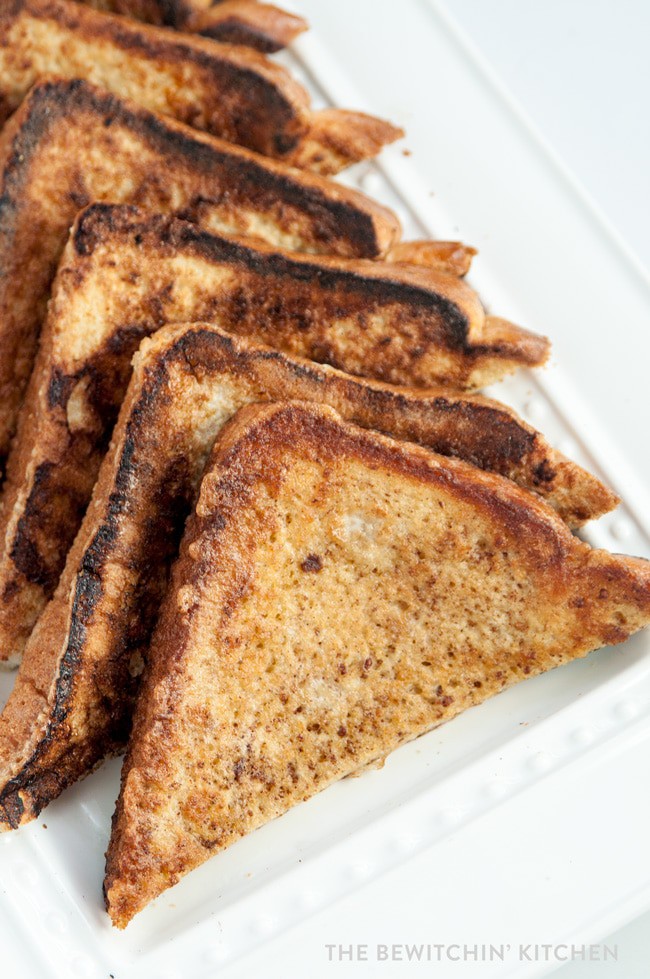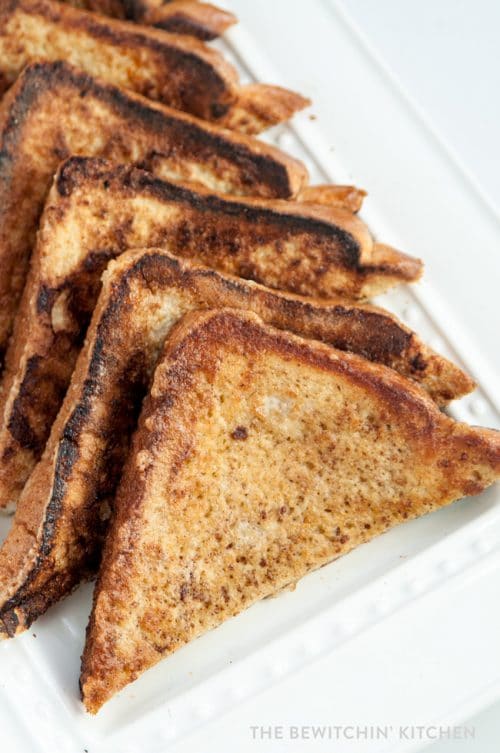 Did you know: 
The Canadian production of honey is at an all-time high?
43,227 tonnes of honey was produced in 2015?
1,504 honey related products have launched between 2010-2015? Most of these products are food related. Yum!
Go grab it now, it's only on store shelves until June 14th!
Tell me in the comments what your favorite use for honey is. 
I love it to sweeten tea, add a sweet twist on homemade vinaigrettes, and I'm a sucker for old fashioned honey on toast.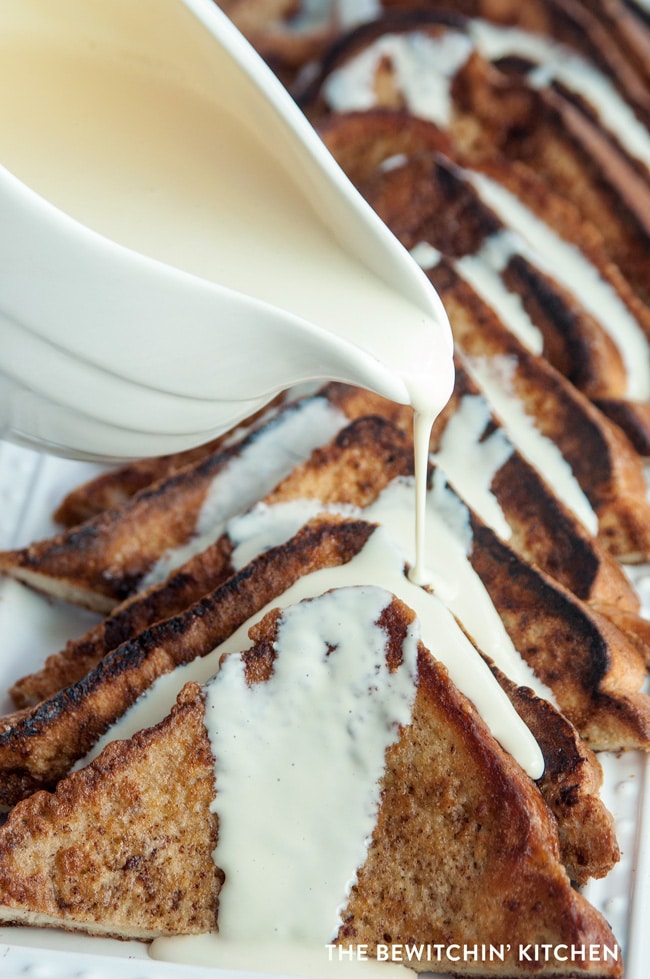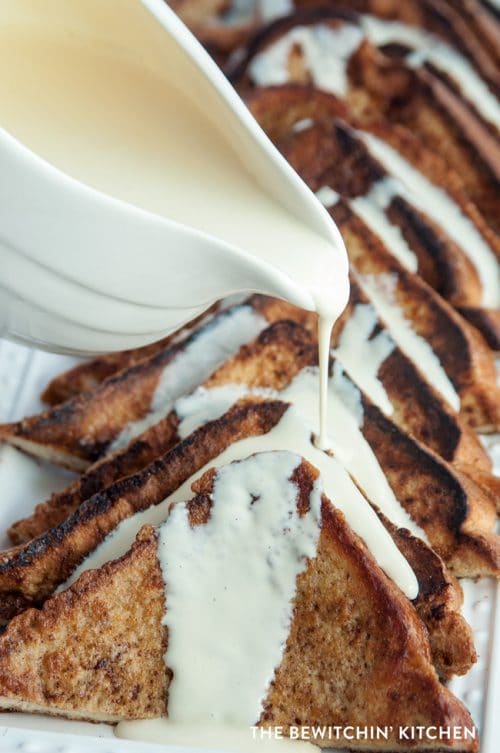 [clickToTweet tweet="Oh my heavens! White Chocolate French Toast! Get the recipe from @BewitchinKitch" quote="Oh my heavens! White Chocolate French Toast! Get the recipe from @BewitchinKitch"]
White Chocolate French Toast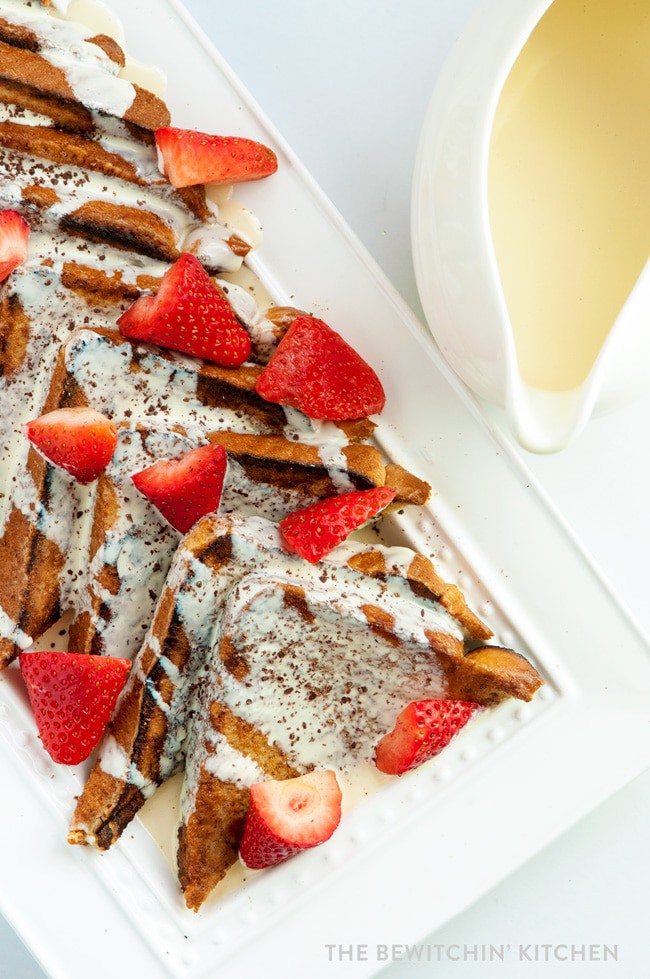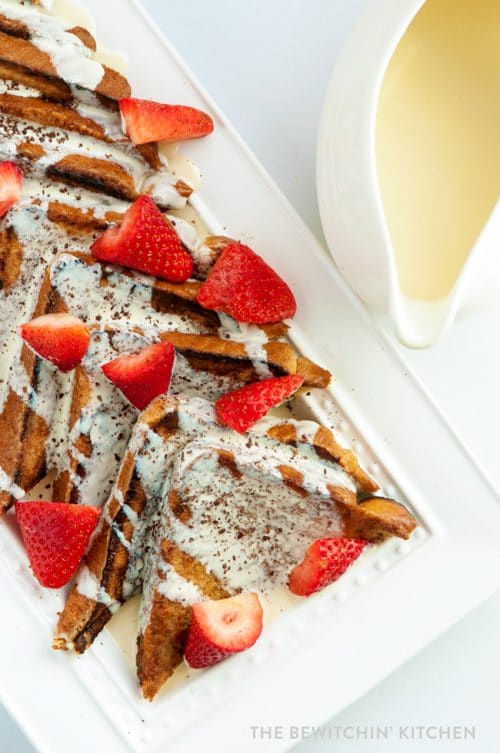 I am thrilled with how this recipe for white chocolate french toast turned out. I couldn't be happier with it. I served mine with strawberries, but blueberries would be just as delicious.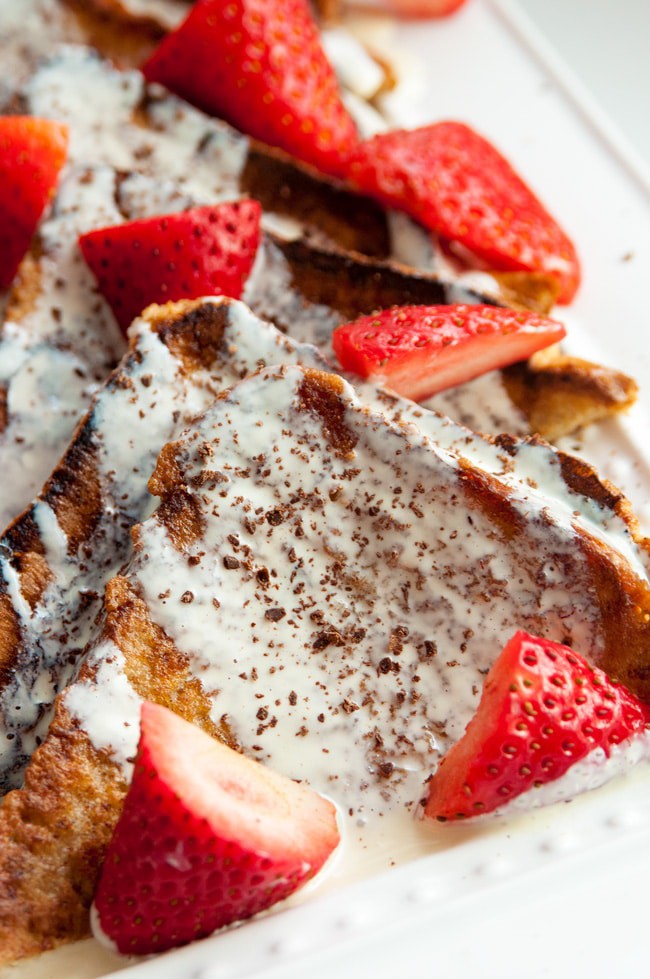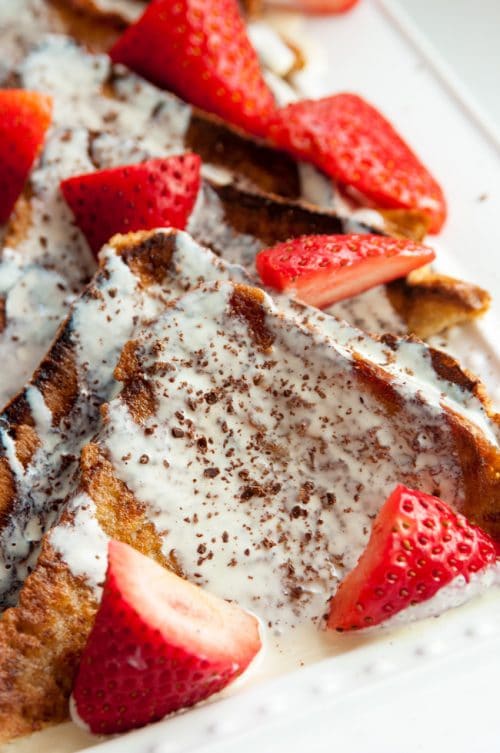 This makes recipe makes any Sunday morning extra special or use it to celebrate a birthday.
Looking for more? Check out this baked pumpkin french toast from About a Mom.
White Chocolate French Toast
This dessert inspired breakfast recipe is super simple and super yummy! Make this for birthday breakfasts, brunch, or to celebrate another Netflix series finished.
Servings 6 servings
Calories 345kcal
Ingredients
Honey Wheat French Toast
6 pieces Dempster's Honey Wheat
4 Eggs
1/2 tsp vanilla extract
1/4 tsp cinnamon
2 tbsps unsalted butter
White Chocolate Sauce
1 cup white chocolate chips
3/4 cup heavy whipping cream
1 tsp vanilla
Optional garnish: strawberries
Instructions
For the french toast
Heat a skillet over medium heat, add 1 tbsp of butter and let it melt.

While the skillet is heating, add the eggs, vanilla, and cinnamon into a bowl. Whisk together.

Dip the Dempster's Honey Wheat slices in the egg mixture and add to the hot skillet.

Cook for 2 minutes and flip, cooking for another 2 (or until golden on each side).

Do this for each slice of bread.

Note: add the extra butter when you need it.
For the white chocolate sauce
In a small saucepan, add the heavy whipping cream and heat over medium heat until it boils.

Once it boils add the white chocolate chips and vanilla.

Pour the sauce over the french toast and serve with strawberries.
Nutrition
Serving: 1g | Calories: 345kcal | Carbohydrates: 19g | Protein: 6g | Fat: 27g | Saturated Fat: 15g | Cholesterol: 166mg | Sodium: 85mg | Potassium: 148mg | Sugar: 18g | Vitamin A: 720IU | Vitamin C: 0.3mg | Calcium: 95mg | Iron: 0.6mg
Follow On Pinterest
Follow @bewitchinkitchen On Pinterest for more delicious recipes!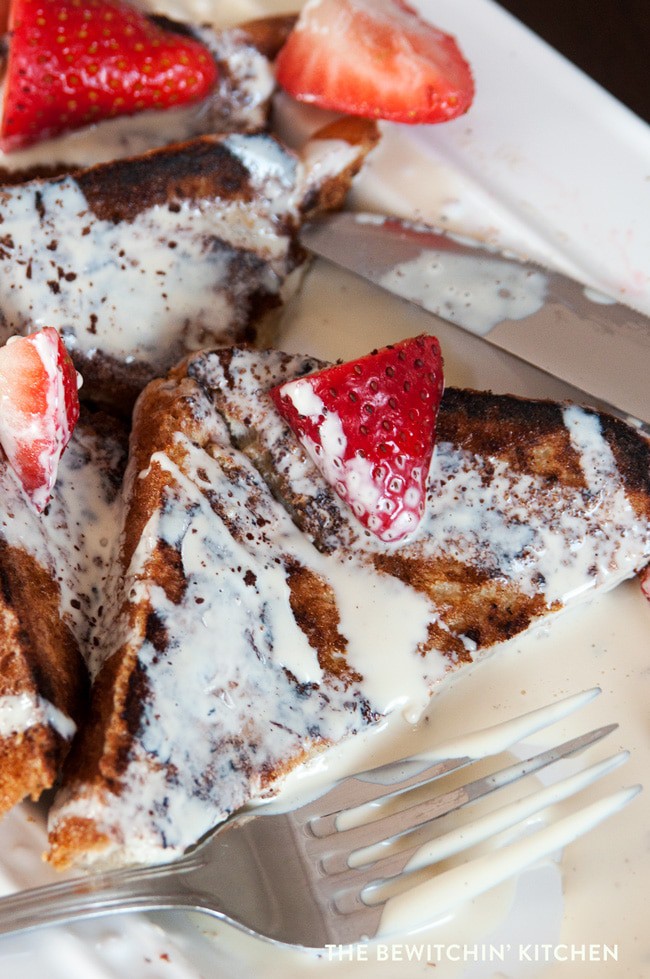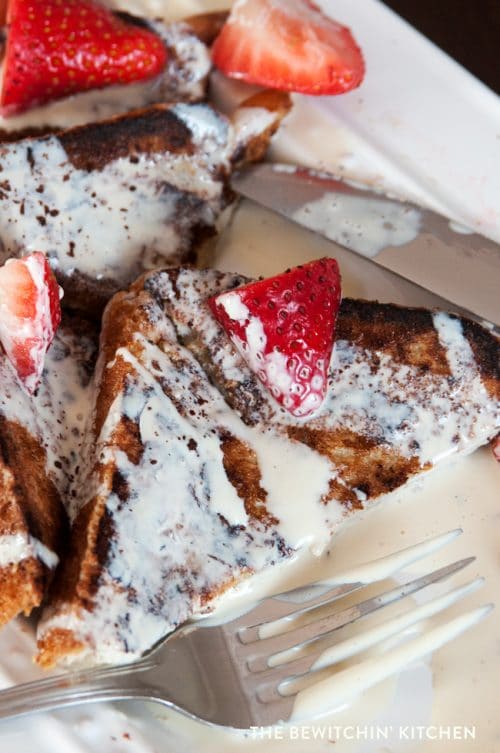 Disclosure: this recipe for White Chocolate French Toast has been sponsored by Dempster's. The opinions are completely my own based on my experience.