Baked Apple Oatmeal + 7 Apple Hacks
There are many fun apple hacks out there. I included a few of my favourite in this post, plus a delicious (and super easy) recipe for Baked Apple Oatmeal.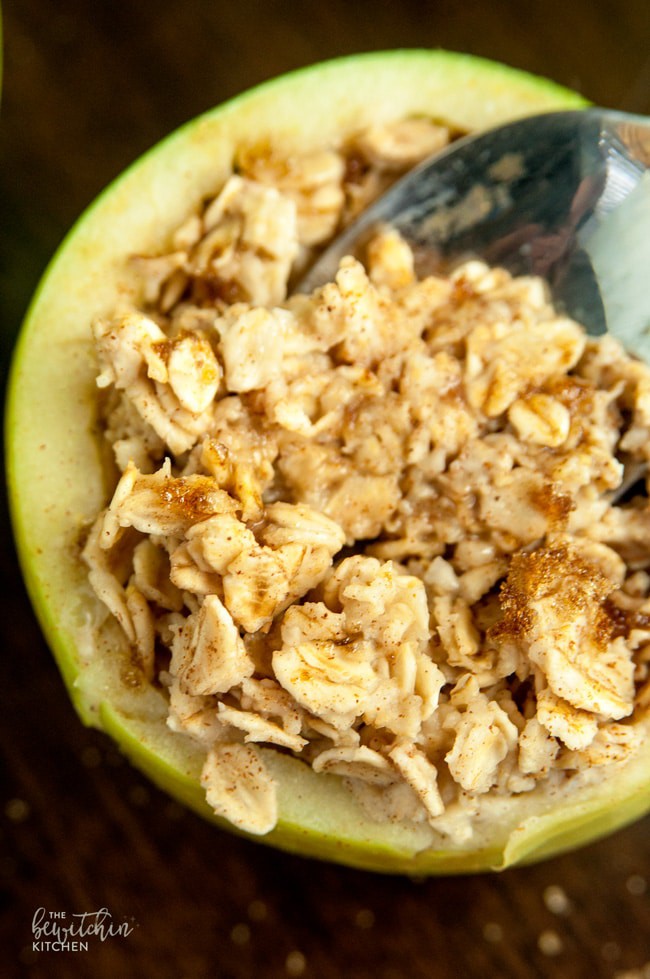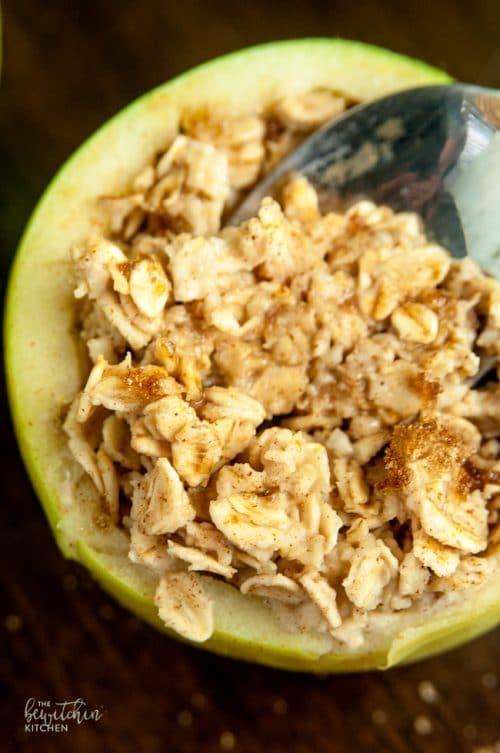 Apples are more than the perfect fruit for apple pie, they serve multiple purposes. From using applesauce as a natural sweetener in clean eating chicken chili to using the fruit as a bowl for oatmeal here are a some of the possibilities with apples.
Did you know that February is apple month? Apple Month is an annual winter celebration across Western Canada which recognizes the quality produce grown on B.C. soil while encouraging people to support our local growers. Many consumers don't typically think of February as a month for fresh fruit, however fresh B.C. apples are available throughout the long winter months.
Apple Hacks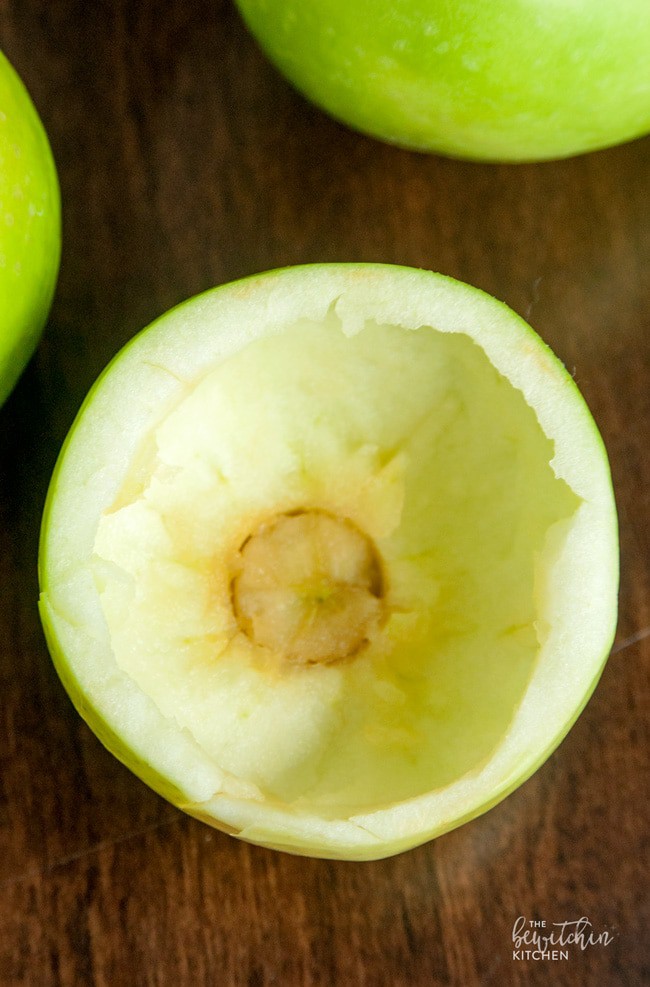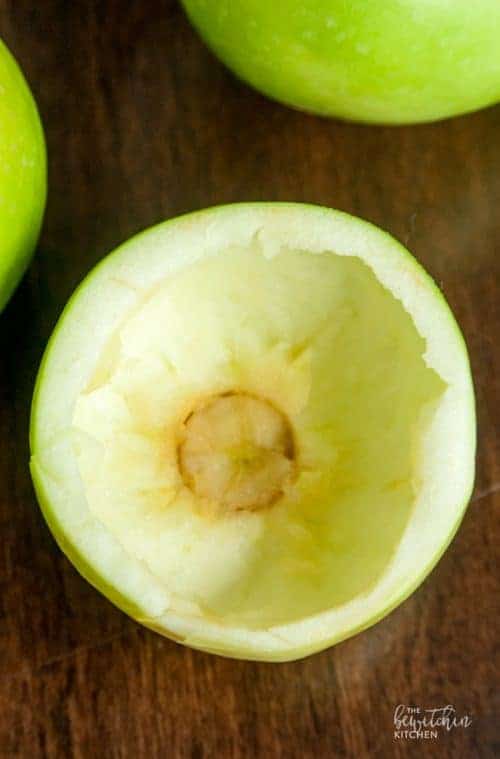 If you cut your apple, squeeze a lemon over it. It keeps it from browning.
Alternatively, you can put the apple back together again and hold it in place with a rubber band. This helps keep it fresher for longer.
Dip apples in pancake batter and fry for a healthier pancake recipe.
Hollow out an apple and use it as a cup.
Scoop out the core, add brown sugar and make a healthy apple pie replacement.
When picking out an apple, choose ones that are firm, shiny, and heavy.
Easily make dried apples by slicing them and baking them at the lowest setting on your oven for 6 hours.
These apple hacks are fun but I'm going to share with you my favourite apple hack, using an apple as a bowl for baked apple oatmeal.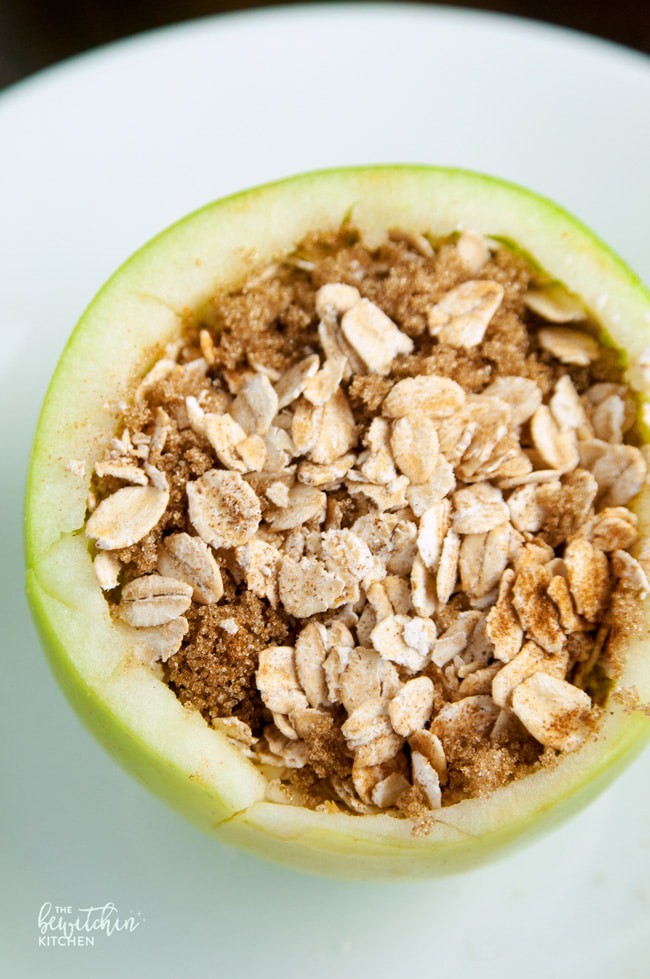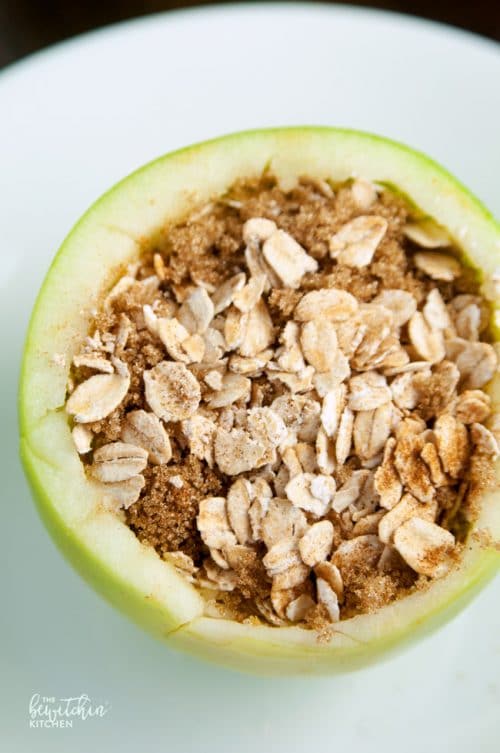 More apple fun:
Spicy Chicken and Apple Sweet Potato Stir Fry
Baked Apples with Coconut Cream
Pork Meatballs Stuffed with Cheddar and Apple
Baked Apple Oatmeal
Does it count as baked when it's microwaved for 60 seconds? It's my recipe, and I'm going to say it's allowed.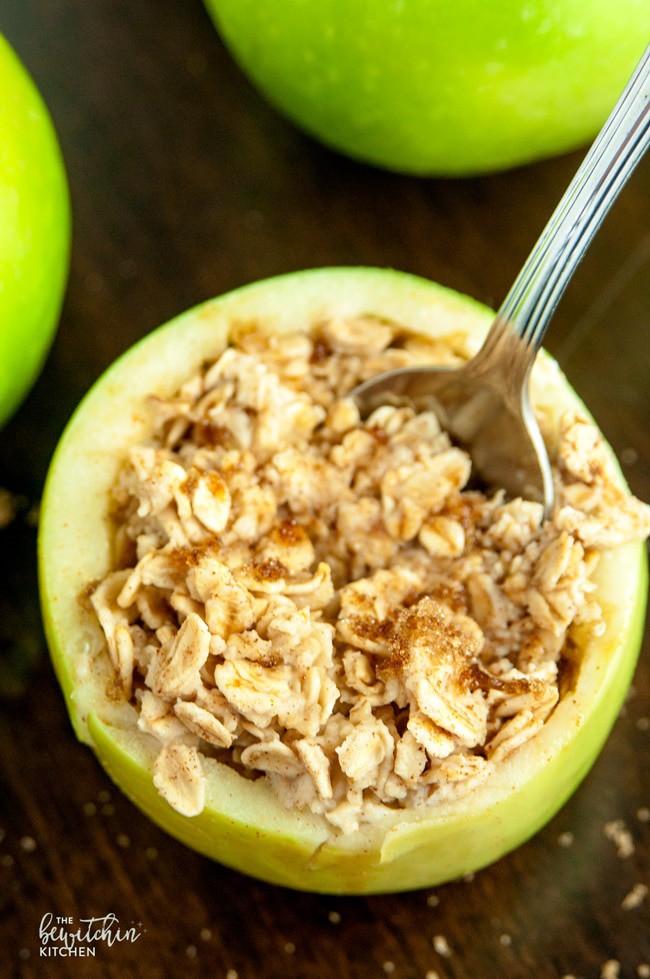 Not only is this recipe for baked apple oatmeal super easy (and super fast, it only takes a minute and a half) there is no clean up! The bowl is the apple, and you can eat it after.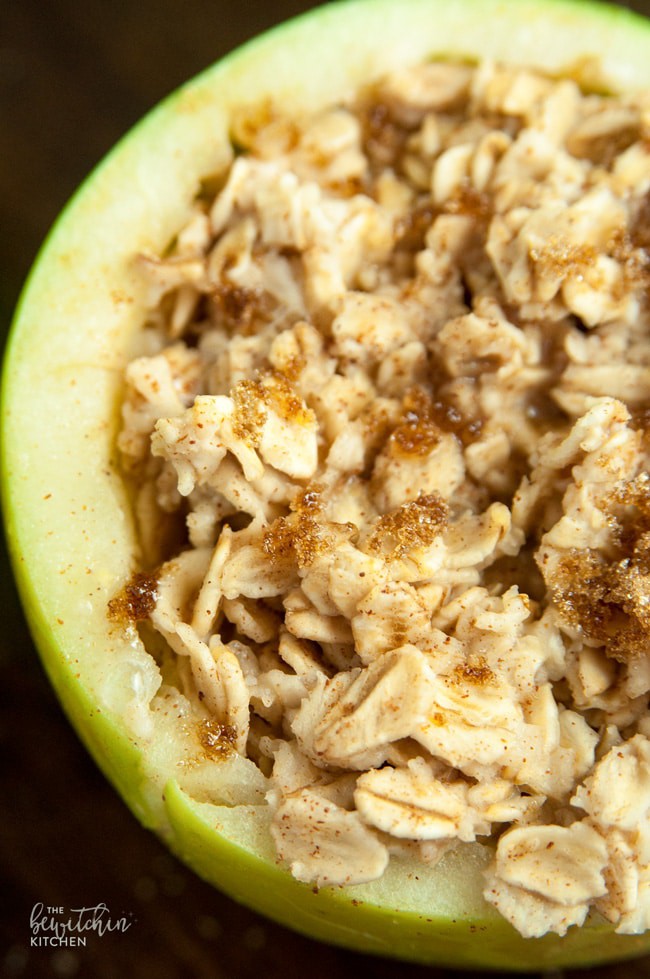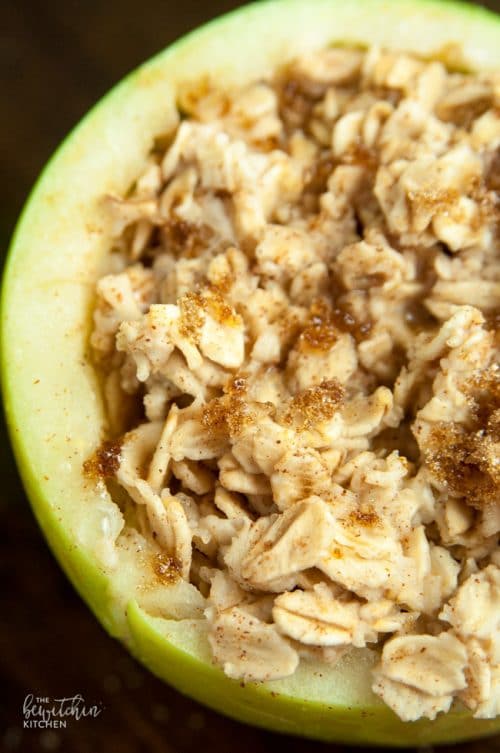 While the apple is microwaved, it releases some of it's natural juices, infusing the oatmeal with natural apple flavor.
Recipe tip: I added 3 tablespoons of the almond milk at first, microwaved for 60 seconds and then added the last tablespoon for the final half a minute. That way none of the liquid spilled over.
Baked Apple Oatmeal
This recipe for baked apple oatmeal is a recipe I can get behind, plus it saves a few dishes!
Servings 1 serving
Calories 191kcal
Ingredients
1 apple
1/4 cup quick oats
1/4 cup almond milk
1 tsp brown sugar
1/4 tsp cinnamon
Instructions
Cut the top the apple and scoop out the inside, reserve some of the apple flesh.

Add the oats, almond milk, brown sugar, 1 tbsp of the reserved apple, and cinnamon. Mix.

Microwave for 90 seconds.
Nutrition
Serving: 1g | Calories: 191kcal | Carbohydrates: 42g | Protein: 3g | Fat: 2g | Sodium: 84mg | Potassium: 266mg | Fiber: 6g | Sugar: 22g | Vitamin A: 100IU | Vitamin C: 8.4mg | Calcium: 86mg | Iron: 1.2mg
Follow On Pinterest
Follow @bewitchinkitchen On Pinterest for more delicious recipes!
Share your apple hacks with my in the comments.
Follow BC Tree Fruits on their social channels for recipes, tips and more: Facebook, @bctreefruits , @bctreefruits.
Disclosure: This post has been sponsored by friends over at BC Tree Fruits. All opinions are my own.