White Chocolate Skor Fudge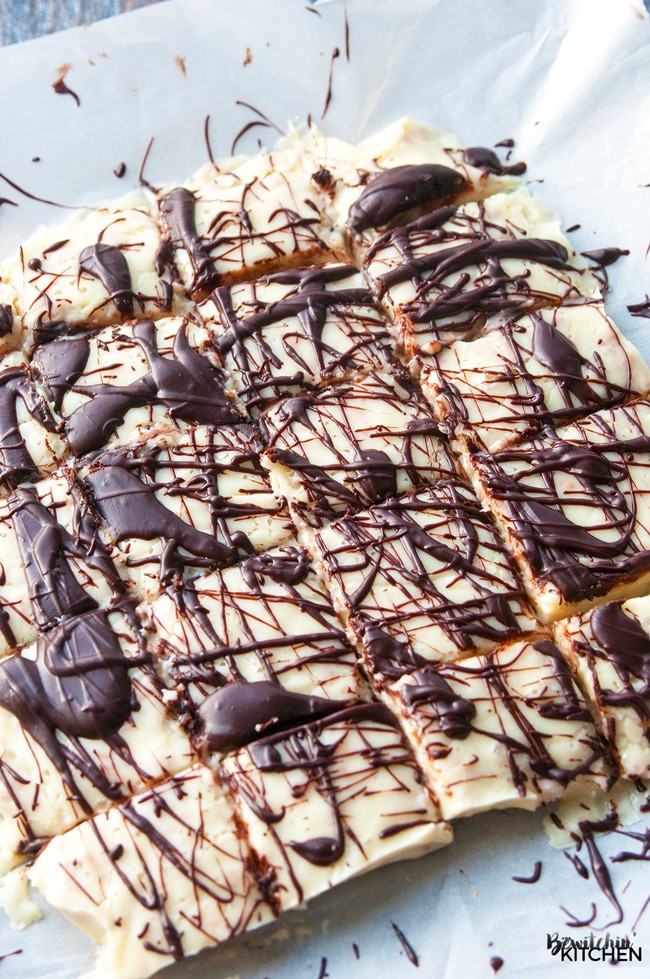 I love an easy no-bake dessert! This White Chocolate Skor Fudge recipe takes no time to make (seriously, it's only 3 minutes in the microwave).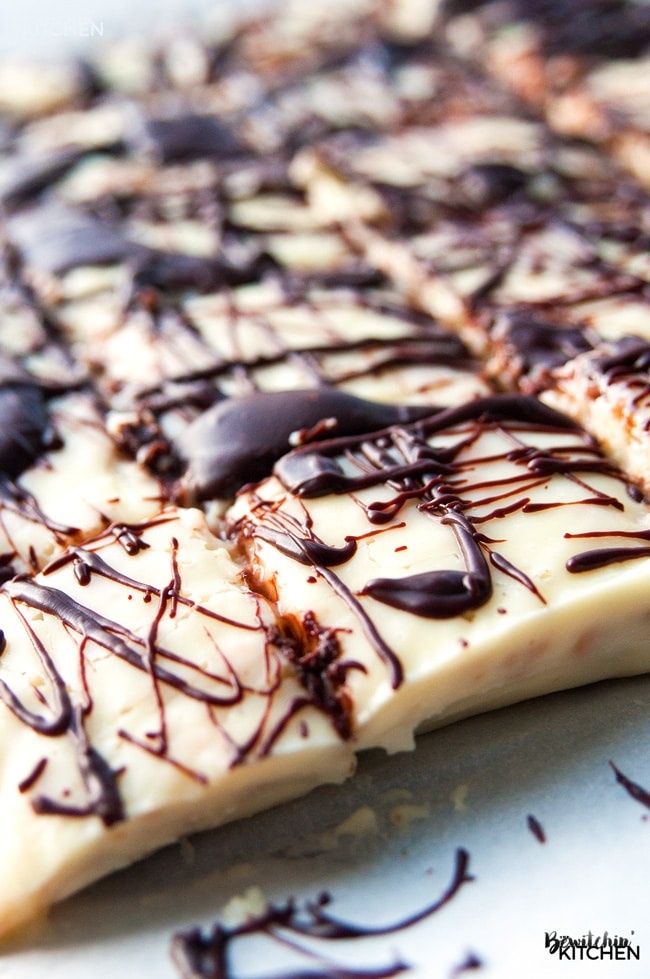 I have made the Skor fudge a few times, but never blogged it until now. Naturally, the day I blogged it I goofed and didn't add enough chocolate chips. I couldn't figure out why it wasn't setting like all the times before and then I realized I didn't follow my own recipe. I'm silly like that.
That moment when you don't follow your own recipe and you don't add enough chocolate and you fudge is too soft 🙁 …#flop #bloggerfail

— Randa Derkson (@bewitchinkitch) December 16, 2015

Note: 1 bag of chocolate chips is not 3 cups. You need 3 cups or else the fudge won't set properly (which is why my photos are a little flat). Either way, it tastes fabulous if you goof up like me or not.
For reminder sake: you will need 2 bags of white chocolate chips for this recipe. 
I'll make it again and update the photos then.
Here's a video I put together on how easy this White Chocolate Skor Fudge is to make.
It really is THAT easy
.
White Chocolate Skor Fudge
I hope you enjoy this easy Skor fudge recipe!
Make sure you line your pan with parchment paper, it makes taking it out so much easier.

White Chocolate Skor Fudge
Ingredients
3 cups white chocolate chips
1 can sweetened condensed milk
1/2 cup Skor pieces
Optional:
1/4 cup semi-sweet chocolate chips
Splash of milk
Instructions
In a bowl, combine the white chocolate chips and sweetened condensed milk.

Microwave for 3 minutes, 30 seconds at a time (stirring in between each zap).

Mix until smooth and add the Skor bits.

Pour in an 8x8 dish that's lined with parchment paper and stick in the freezer until set.
Optional Chocolate Drizzle:
In a small bowl combine your chocolate chips and a splash of milk (water is fine). I used cashew milk. Microwave for 30 seconds and stir until smooth. Drizzle over the fudge.

Set in the freezer.
Follow On Pinterest
Follow @bewitchinkitchen On Pinterest for more delicious recipes!
If you like this recipe for White Chocolate Skor Fudge, why not pin it? You can either hover over the image or hit the "P" icon on the side or bottom of this post.
Be sure to check out my 3-minute recipe for Chocolate Peanut Butter Fudge with Crunchy Toffee Topping.