Air Fryer Asparagus
Juicy Air Fryer Asparagus makes a great side for any meal! This 15 minute air fryer asparagus bacon recipe is dusted with parmesan and simple seasonings for a succulent, savory taste.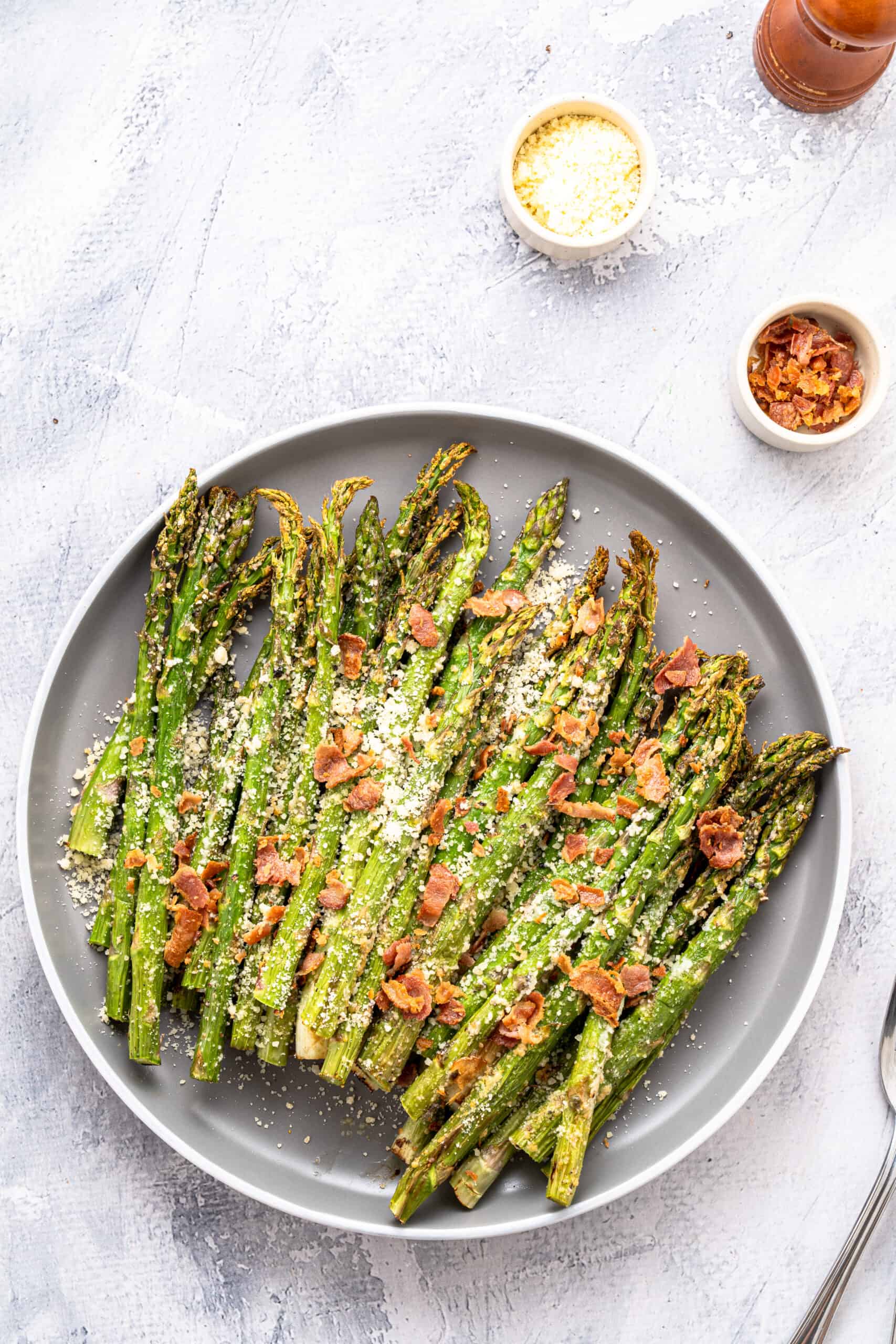 Crispy Air Fryer Asparagus
When you want to retain as much natural flavor and nutrients in your vegetables as possible, you have to go with the air fryer!
Our air fryer asparagus recipe is simple. Nothing flashy – unless you count the bacon bits. And the parmesan. That touch of salt with the earthy, slightly bitter asparagus? Absolutely delicious!
Asparagus is tasty no matter how you make it. We also love to roast it with some garlic and balsamic or in a sheet pan with some chicken and other colorful, seasonal vegetables.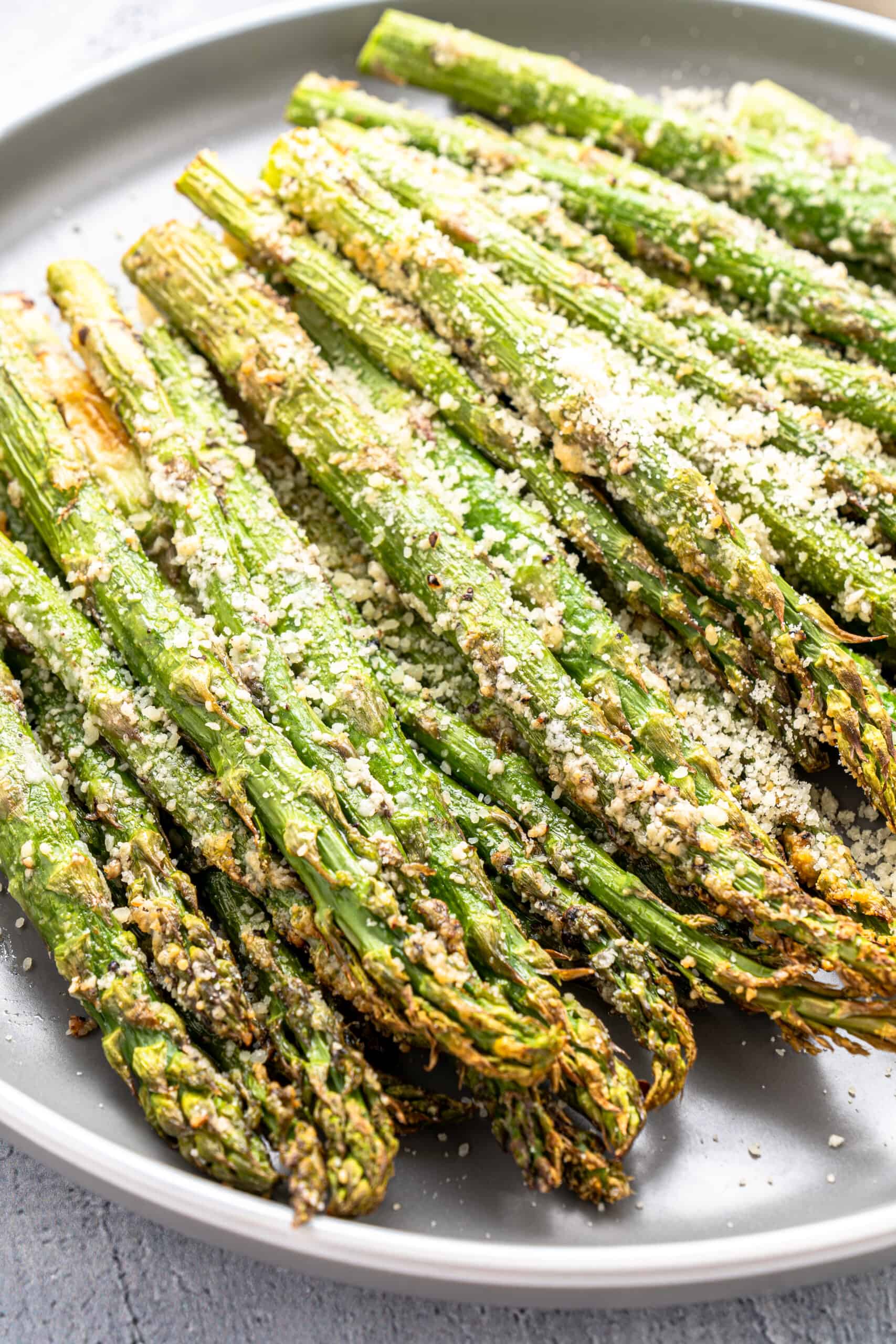 Why you will love this recipe
A walkthrough on how to cook asparagus in the air fryer in just 15 minutes!
A simple recipe with simple ingredients – it's fool-proof!
Asparagus has tons of fiber and vitamins, with a low calorie count to boot.
Easy prep, easy clean up, and easy to pair with any meal.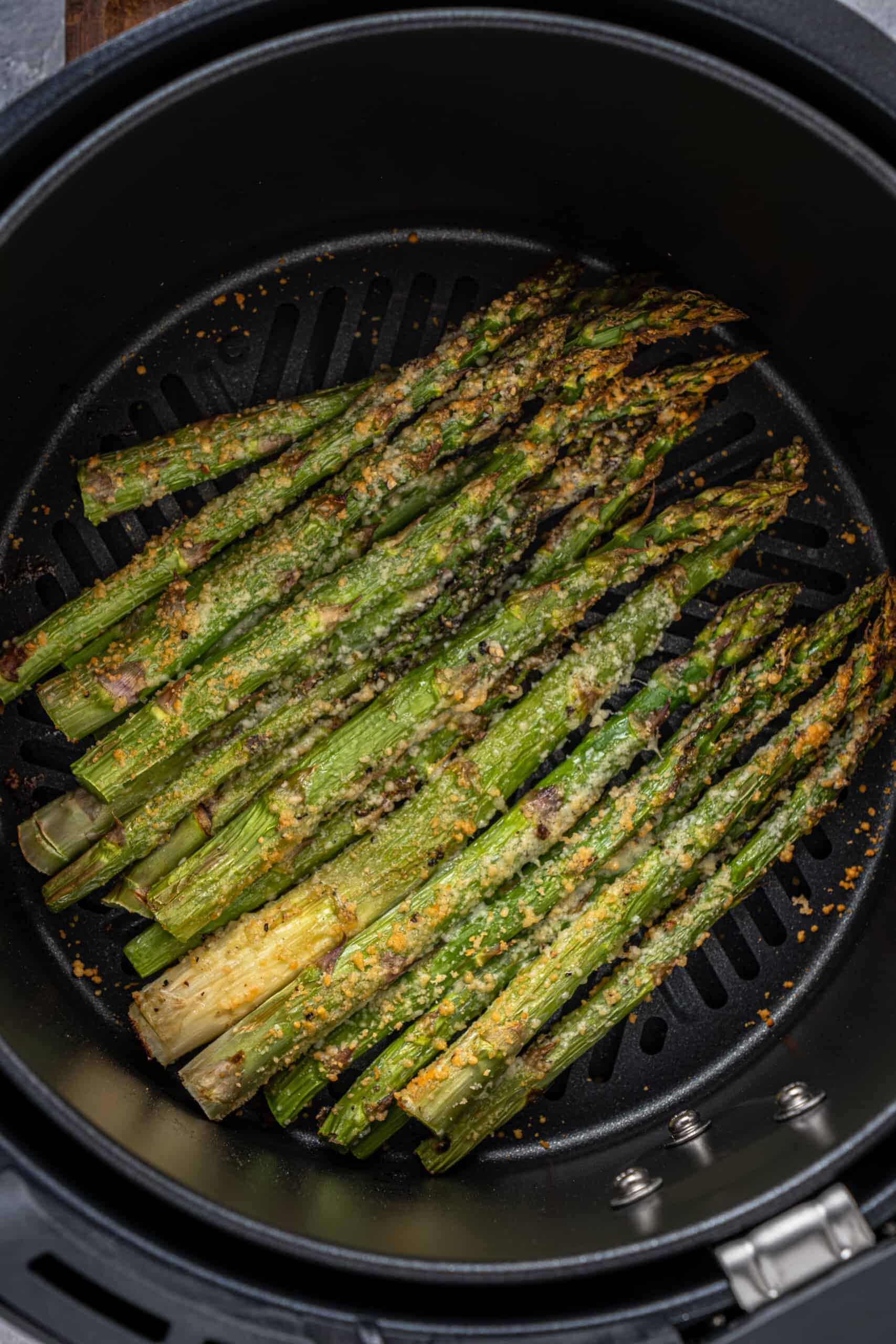 How to make perfect Air Fryer Asparagus
Preheat: Set the fryer to 400F.
Prepare the asparagus: Rinse the spears and pat them dry. Cut the hard tips off and dispose of them. Place the spears on a plate. Add the olive oil, salt, and pepper to a small bowl and whisk together. Brush the mixture onto the trimmed asparagus spears, flipping them over to make sure each side is well-coated. Finally, sprinkle the parmesan cheese on top.
Cook: Add the spears to the fryer basket. Arrange so that they are not touching – you may need to fry in two batches to make sure there's plenty of space between each spear. Cook for 6-8 minutes until they're fork-tender.
Serve: Plate the asparagus and sprinkle extra parmesan on top along with the bacon bits and any other garnishes.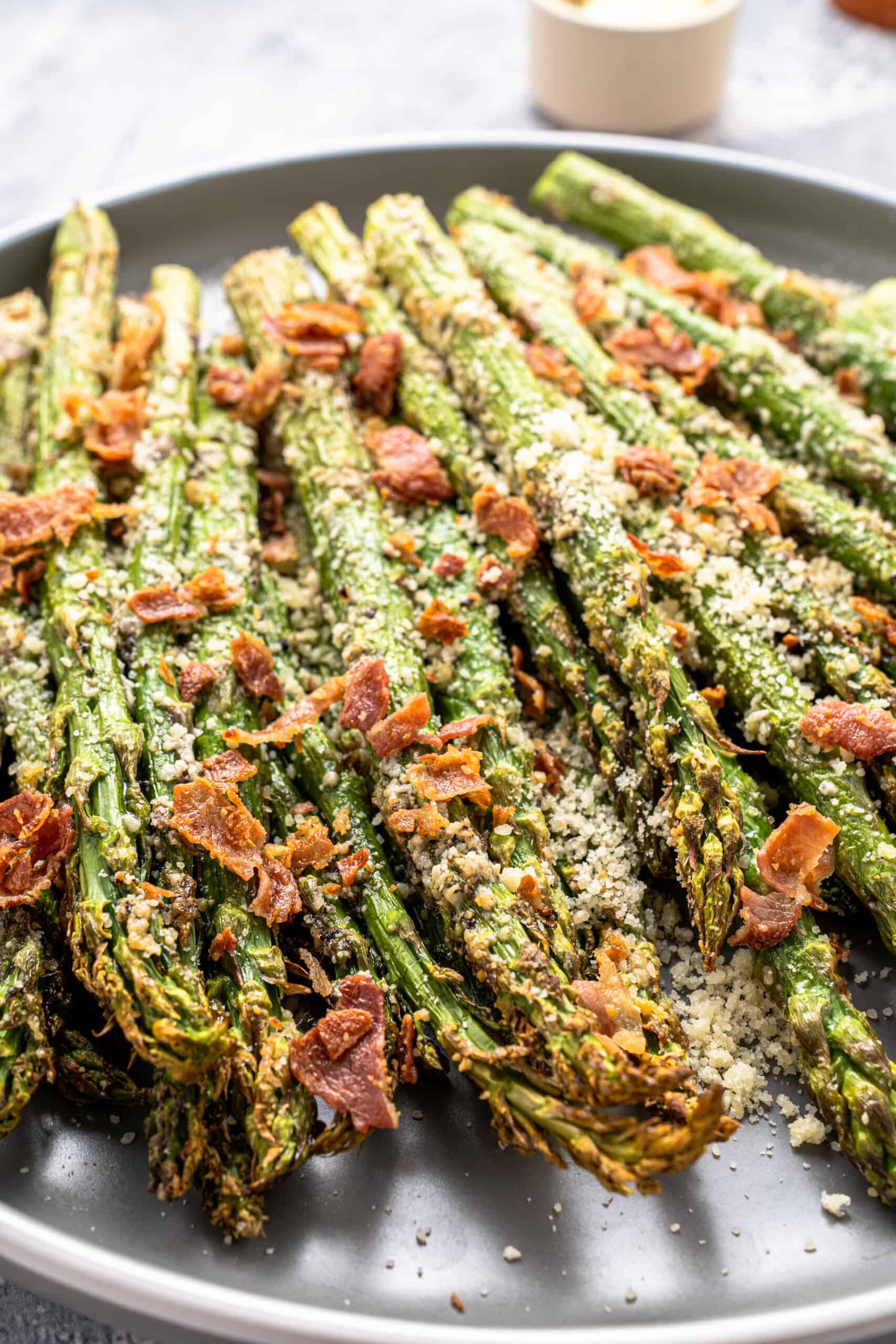 Pro Tips on How to Cook Asparagus in the Air Fryer
Pro Tip 1: Cook time varies depending on the thickness of the spears. A thinner stalk could take just under 6 minutes to soften, whereas a thicker one could take up to 10. Try to choose asparagus spears that are uniform in thickness so that none are left over or undercooked.
Pro Tip 2: Don't be shy with the spices! The seasonings used in this air fryer asparagus recipe are relatively mild and the spears have a naturally strong flavor on their own.
Pro Tip 3: Consider using a large-grained salt, such as kosher or sea salt, for more impactful flavor.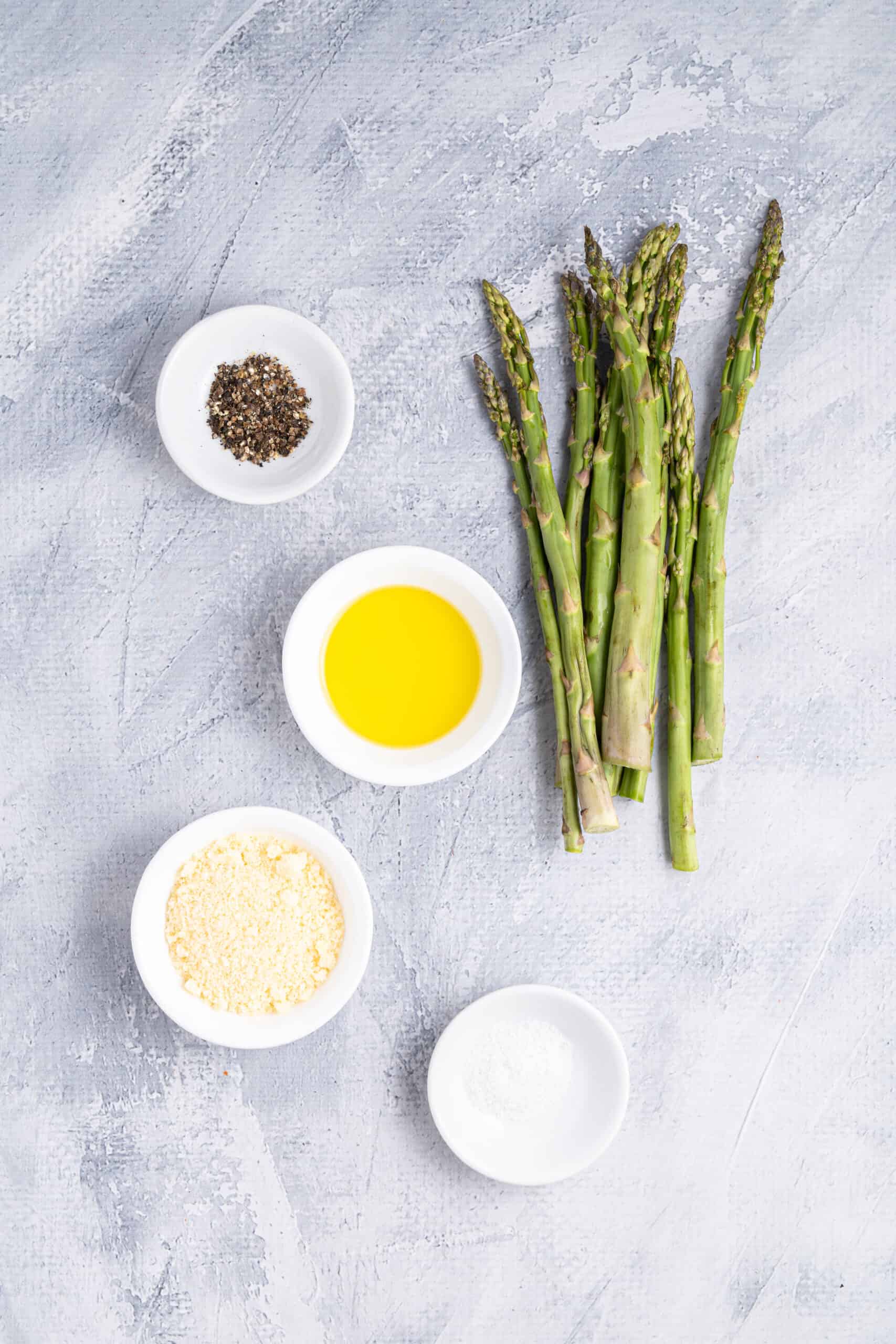 Key Ingredients and Substitutions For Air Fried Asparagus
Asparagus: Fresh, ripe asparagus spears are firm and stable, with smooth stalks and closed tips. If the stalks are wilted, at all slimy, or faded in color, it's a sign that they are going bad.
Salt and Pepper: This recipe keeps things basic, but there are plenty of seasonings that taste great with these herbaceous vegetables. Garlic salt and a bit of lemon juice are a great combination, and a crackling of crushed red pepper plus a dusting of paprika adds a pleasant level of spice.
Bacon Bits: Not necessary – but a great touch! Prosciutto or pancetta also pair beautifully with the earthy, grassy flavors in asparagus.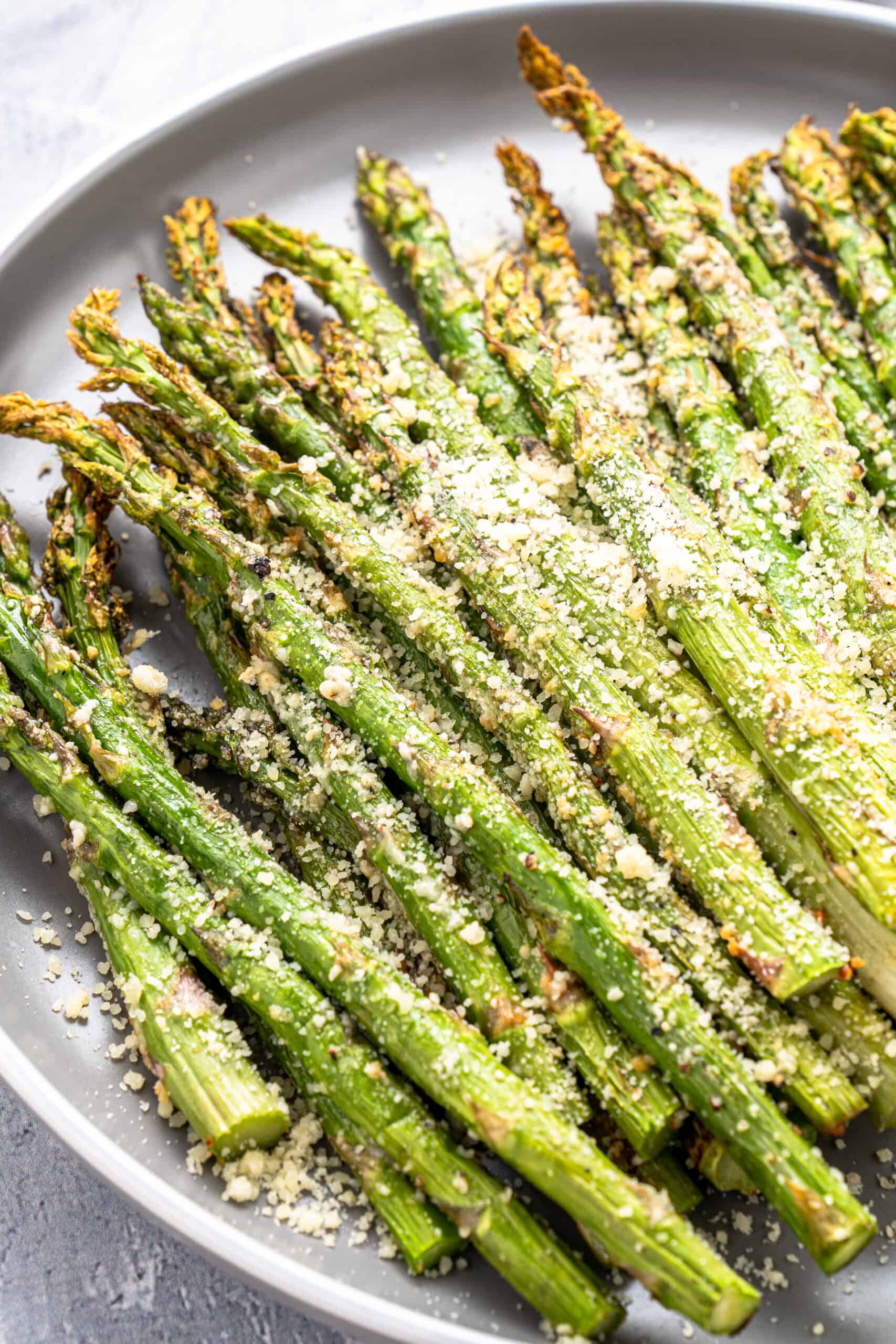 Frequently asked Questions about Making Asparagus in the Air Fryer
Should asparagus be crunchy or soft when cooked?
It should be fork-tender but with a crisp exterior. This way, you get a crunch from the ends and the outer layer, but the inside is still juicy and moist.
At what temperature do you cook asparagus?
Prepare air fried asparagus at 400F. This temperature caramelizes the outside, without browning them too quickly, while cooking through to the center of each spear.
What is the best way to store and reheat leftover air fried asparagus?
Leftovers should last you up to 4 days in the refrigerator. They'll become a bit soggier with each day, so try to enjoy them as quickly as possible while they still have fresh taste and texture.
To reheat asparagus in the air fryer, give them a few minutes at 400F until they're warm to the center. They won't have the same crispness as that first frying, but they'll have the same great flavor! Feel free to sprinkle some more parmesan cheese on top.
Air Fryer Asparagus
Juicy Air Fryer Asparagus makes a great side for any meal! This 15 minute air fryer asparagus bacon recipe is dusted with parmesan and simple seasonings for a succulent, savory taste.
Servings 4 Servings
Calories 179kcal
Ingredients
2 bunches asparagus
1/3 cup grated parmesan cheese
1 tbsp olive oil
1/2 tsp salt
1/2 tsp ground pepper
1/4 cup bacon bits to serve
Instructions
Preheat the Air Fryer to 400F.

In the meantime, chop the hard tips of the asparagus and place them on a plate.

Mix olive oil, salt, and pepper in a small bowl and brush asparagus. Then, spread grated parmesan on top.

Cook the asparagus in the Air Fryer for 6 to 8 minutes or until they're fork tender. You'll probably need to work in two batches, so they do not overlap too much.

Serve warm with extra parmesan and bacon bits.
Notes
Texture Wise, these asparagus are like baked ones, juicy and slightly crunchy. Parmesan cheese provides a rich and nutty flavor that combines excellently with olive oil and bacon bits.
Tips
Check asparagus after 6 minutes of cooking to avoid burning. Then add a couple more minutes if needed.
Nutrition
Calories: 179kcal | Carbohydrates: 14g | Protein: 12g | Fat: 10g | Saturated Fat: 2g | Polyunsaturated Fat: 2g | Monounsaturated Fat: 4g | Cholesterol: 7mg | Sodium: 692mg | Potassium: 494mg | Fiber: 6g | Sugar: 4g | Vitamin A: 1774IU | Vitamin C: 13mg | Calcium: 143mg | Iron: 5mg
Follow On Pinterest
Follow @bewitchinkitchen On Pinterest for more delicious recipes!