Pork Steaks
Succulent Pork Steaks are just 20 minutes away! With a simple BBQ rub and a quick sear, you'll have a batch of juicy, tender steaks in no time flat.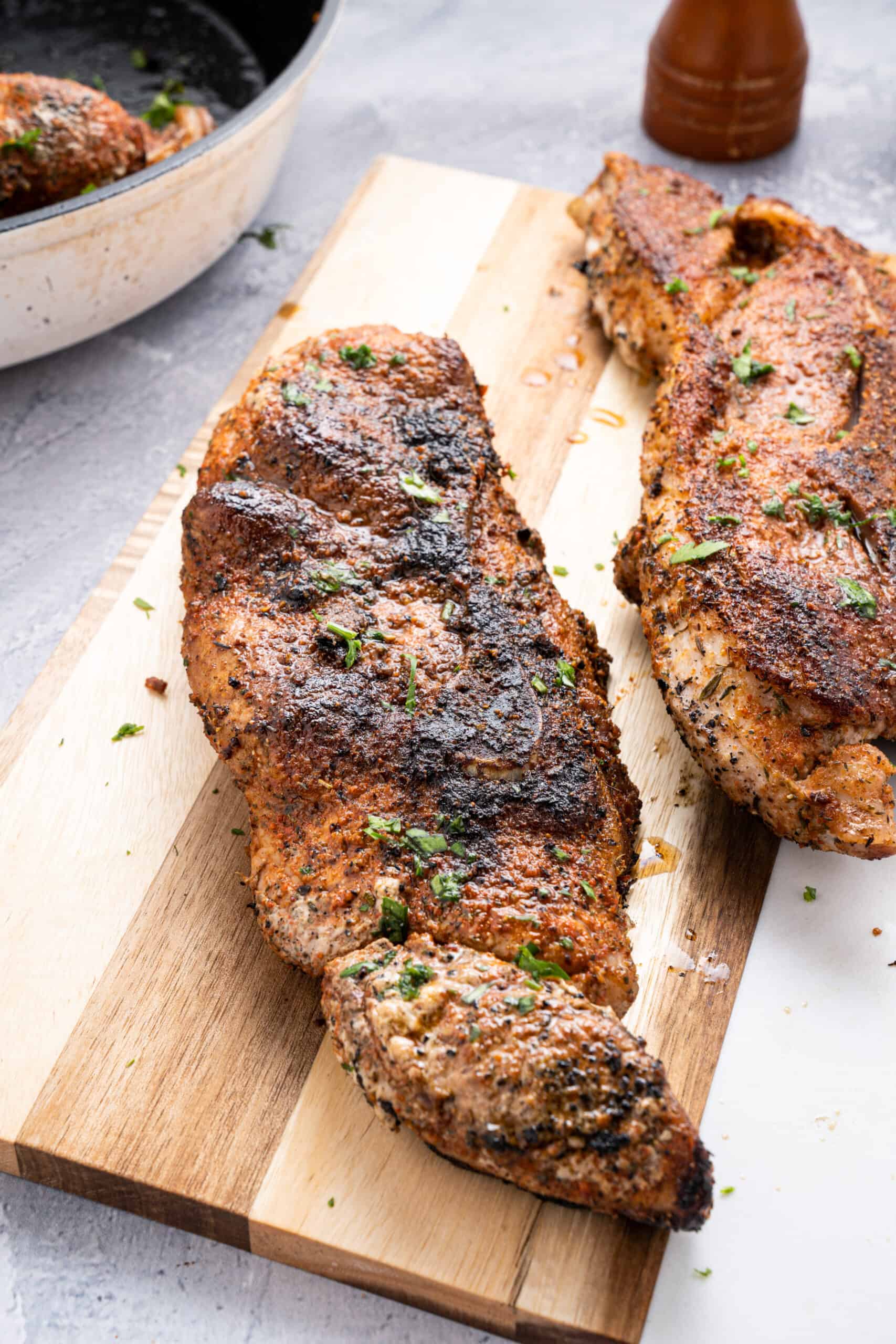 Perfectly Juicy Pork Steaks
A moist and juicy pork steak is a great break from the usual. Its sweet yet savory taste is bolstered and complemented by almost any seasoning palette and serving of sides you like – but we do have to say, our dry rub is one of the best!
We also love that this is a one-skillet recipe – don't worry about all of those dishes from prep! For more meal options that'll leave your kitchen nearly spotless, try our sweet potato egg skillet or our fried bacon and cabbage!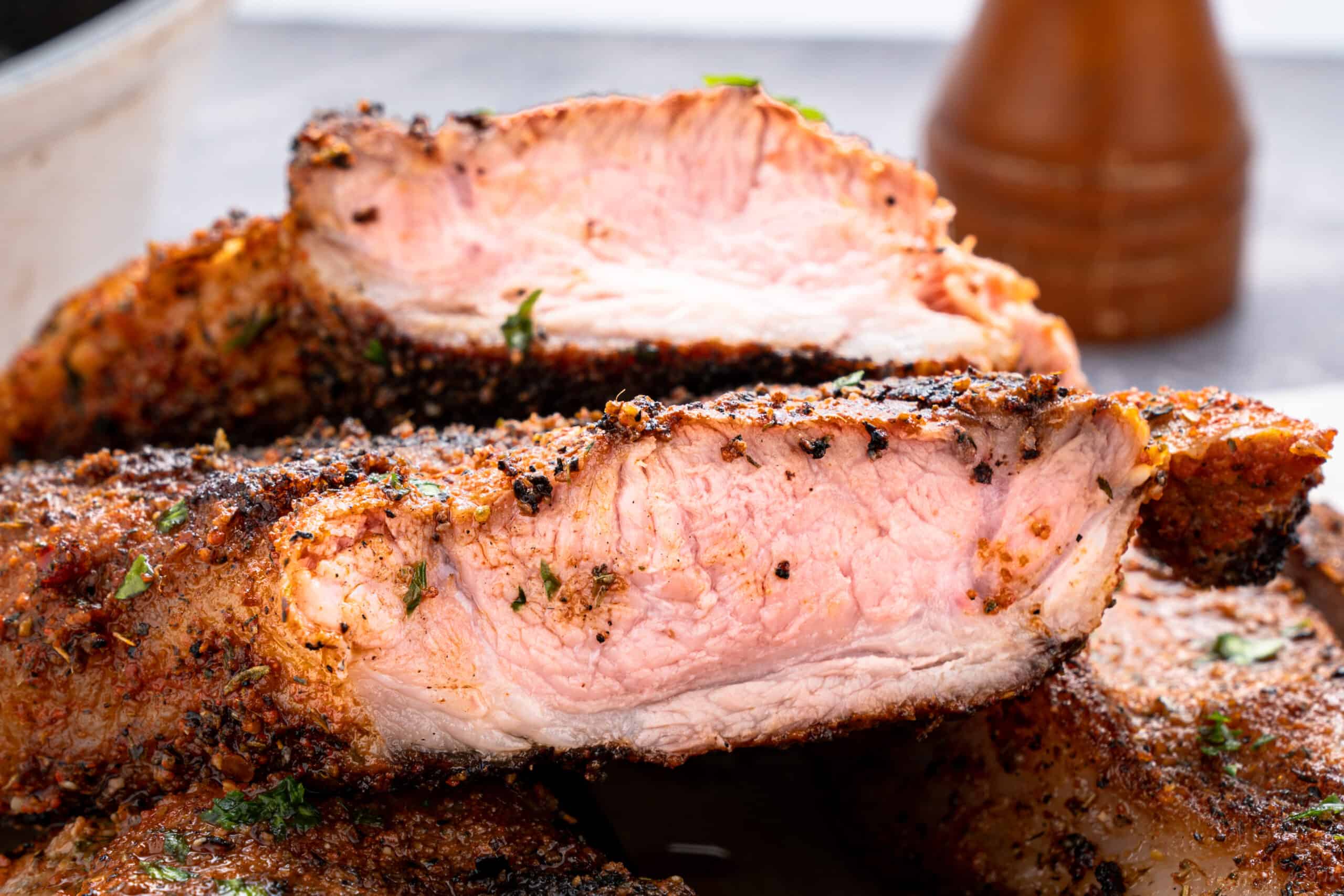 Why you will love this recipe
The prep work is fast and easy – little to no clean-up required!
We use common seasonings that everyone has in their spice cabinet.
You can prepare the seasoned steaks in the morning, then throw in the skillet for dinner in a flash!
It uses inexpensive cuts of meat, yet they're still full of flavor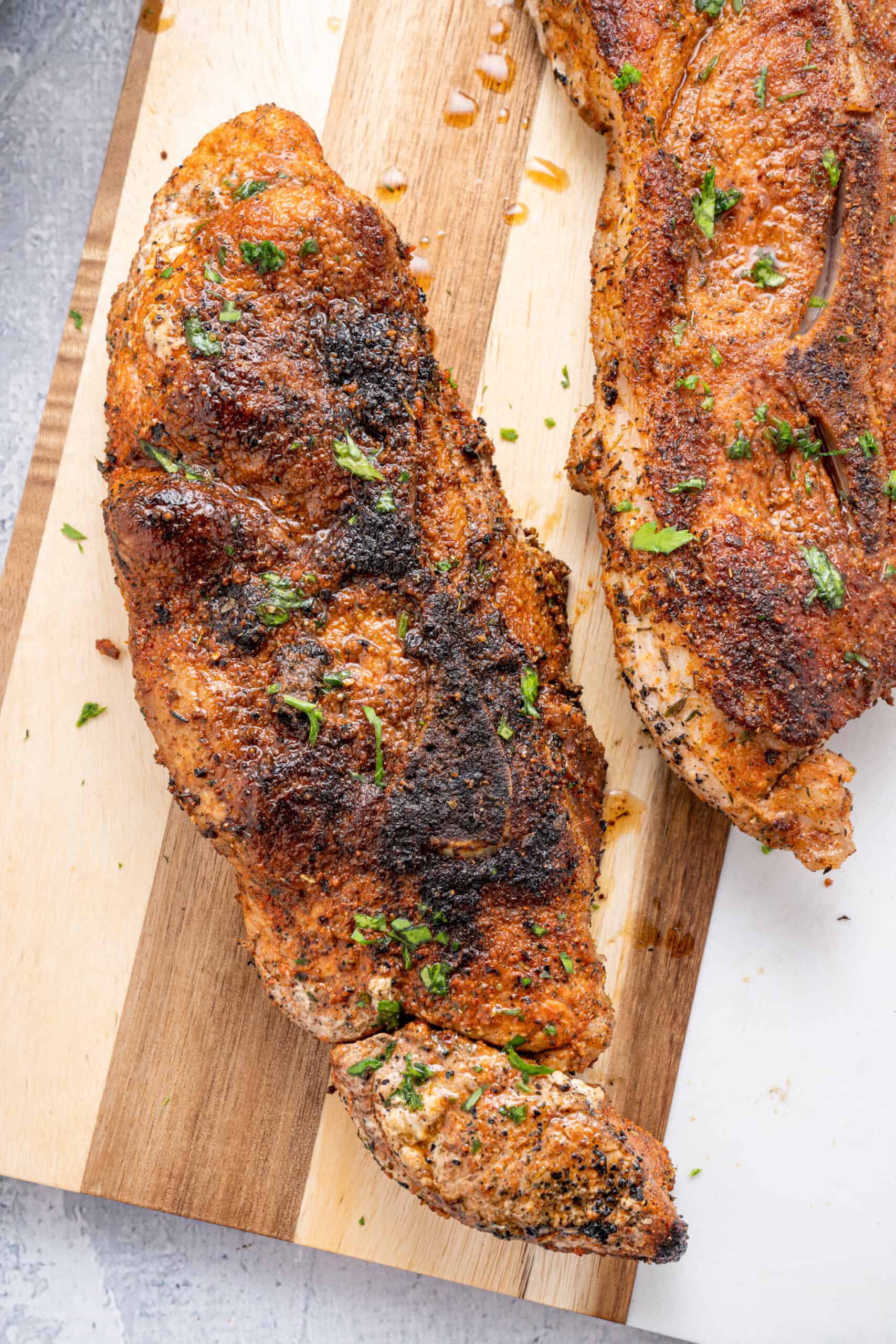 How to make perfect Pork Steaks
Dry the steak: Pat the steaks with paper towels.
Mix and apply the rub: Add all of the dry rub seasonings to a small bowl and whisk together. Apply the rub to the steaks, rubbing it into the meat and pressing to stick. Be sure to thoroughly coat each side.
Pan fry: Let the skillet sit over medium heat for two minutes before adding the olive oil. As it begins to shimmer, lay two steaks in the pan. Cook for 5 minutes per side, or until done. Repeat with the other two steaks.
Serve: Serve these right away with your choice of sides!
Pro Tips for Our Pork Chop Steak Recipe
Pro Tip 1: Preparing a pan fried pork steak is about using high heat and getting a quick sear. However, you want to be sure it's thoroughly cooked. Use a digital thermometer to make sure the thickest part of the steak reaches 145F – the safe internal temperature for pork.
Pro Tip 2: This skillet pork chop steak is really best fresh. But if you have leftovers, they can be refrigerated for up to 7 days. Be sure to wrap them well in plastic wrap or store in an airtight container.
Pro Tip 3: To reheat, let the skillet warm up for a couple minutes on medium, then heat each steak for just two minutes or so – you don't want them to dry out!
Pro Tip 4: We recommend serving these with mashed or scalloped potatoes – or mashed cauliflower for a low-carb option!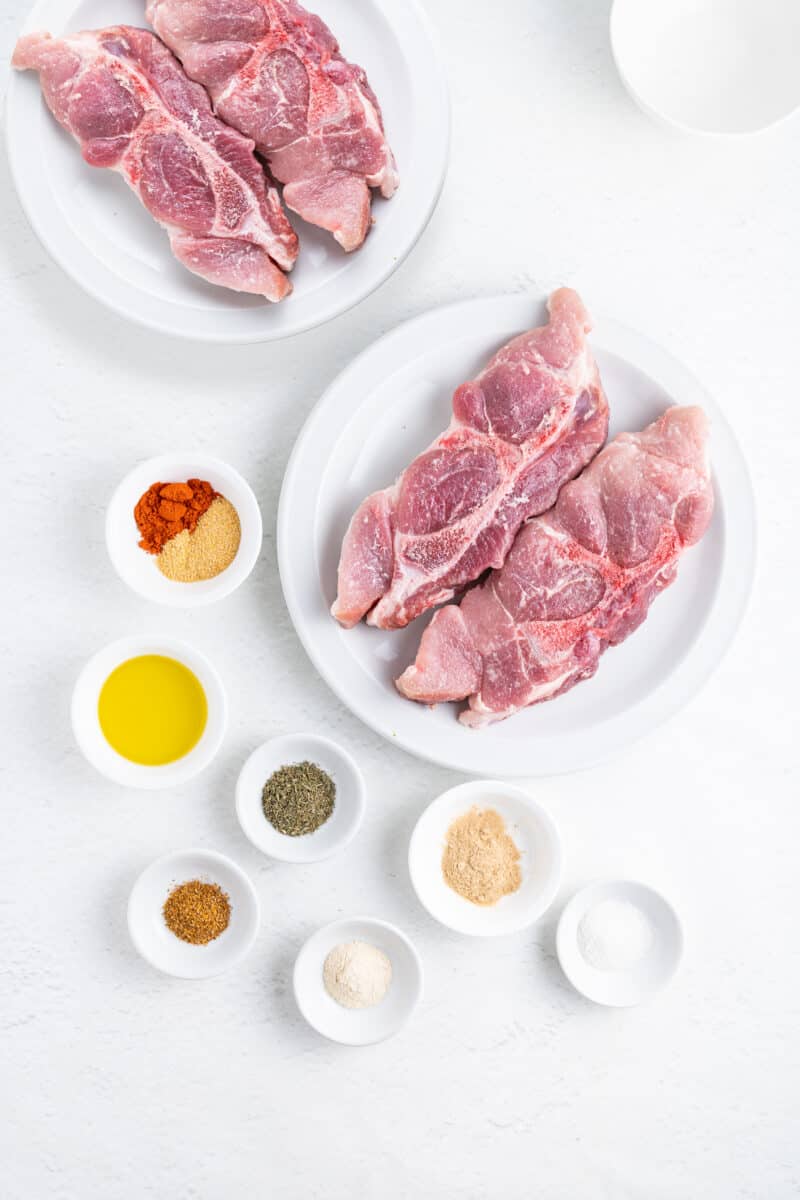 Key Ingredients and Substitutions for Pork Steaks
Onion Powder, Dry Thyme, and Garlic Powder: There are several seasonings that taste great with pork, but these are our favorite to achieve a classic BBQ flavor. A bit of brown sugar makes an excellent addition if it suits your tastes!
Bone-In Pork Steak: It can be difficult to find bone-in, so don't sweat it if you have to use boneless. Pork chops are a great substitution if you'd prefer a leaner cut.
Cayenne Pepper and Black Pepper: For a touch of heat! Extra pepper or a substitution of chili powder is recommended for those who seek some extra spice.
Frequently asked Questions about Pork Chop Steak
How are pork steaks supposed to be cooked?
There are plenty of ways to prepare pork chops, but we believe that the pan fry method is the best way to keep them as juicy and flavorful as possible. We also like to use a dry rub for a rich BBQ flavor without having to wait for a long marination period.
What is the difference between pork chops and pork steaks?
They're taken from different parts of the pig.
Steaks are taken from pork shoulder, while chops are cut from the loin. We like the steaks because they tend to have more flavor and are actually usually less expensive!
If you want a leaner cut, then pork chops are the way to go.
Why are my pork steaks tough?
You likely overcooked them. Making pork chop steak in the skillet is a tricky balancing act – you want to be fast, but you want your meat to be cooked through!
Be sure to use a medium heat – not too low, not too high – and get those steaks off the stove as soon as they're a safe temperature.
Pork Steaks
Succulent Pork Steaks are just 20 minutes away! With a simple BBQ rub and a quick sear, you'll have a batch of juicy, tender steaks in no time flat.
Servings 4 Servings
Calories 531kcal
Ingredients
Pork Steaks
4 piece Pork Steak 12oz each, bone-in
2 tbsp olive oil
Pork Rub
2 tsp smoked paprika
2 tsp garlic powder
2 tsp onion powder
2 tsp ground mustard
2 tsp dry thyme
2 tsp salt
1 tsp cayenne pepper
1 tsp ground black pepper
Instructions
Pat dry each steak with paper towels.

Mix pork rub into a small bowl, then coat to toss pork steaks from both sides.

Heat an iron cast skillet over medium heat for two minutes. Then add a tbsp of olive oil and cook two pork steaks, 5 minutes per side or until well done.

Serve immediately with your favorite side dish.
Notes
T
hese steaks came out juicy, tender, and so flavorful due to the pork rub and cooking method that provides crispiness and a BBQ taste.
Tips
Recommended side dishes: mashed potatoes or mashed cauliflower for those on a low-carb diet.
These skillet pork steaks are best when freshly made as they are juicy and tender. 
Store leftovers in the fridge for 5 to seven days. To reheat them, use a skillet over medium heat, two minutes per steak, so it doesn't dry out.
Nutrition
Calories: 531kcal | Carbohydrates: 4g | Protein: 65g | Fat: 27g | Saturated Fat: 8g | Polyunsaturated Fat: 3g | Monounsaturated Fat: 14g | Trans Fat: 0.1g | Cholesterol: 204mg | Sodium: 1387mg | Potassium: 1232mg | Fiber: 1g | Sugar: 0.3g | Vitamin A: 723IU | Vitamin C: 1mg | Calcium: 71mg | Iron: 5mg
Follow On Pinterest
Follow @bewitchinkitchen On Pinterest for more delicious recipes!