Hungarian Mushroom Soup Recipe
Our Hungarian Mushroom Soup Recipe is meaty and earthy with an irresistible creaminess! The onions, garlic, and parmesan are the perfect finishing touches for a rich, silky-smooth soup.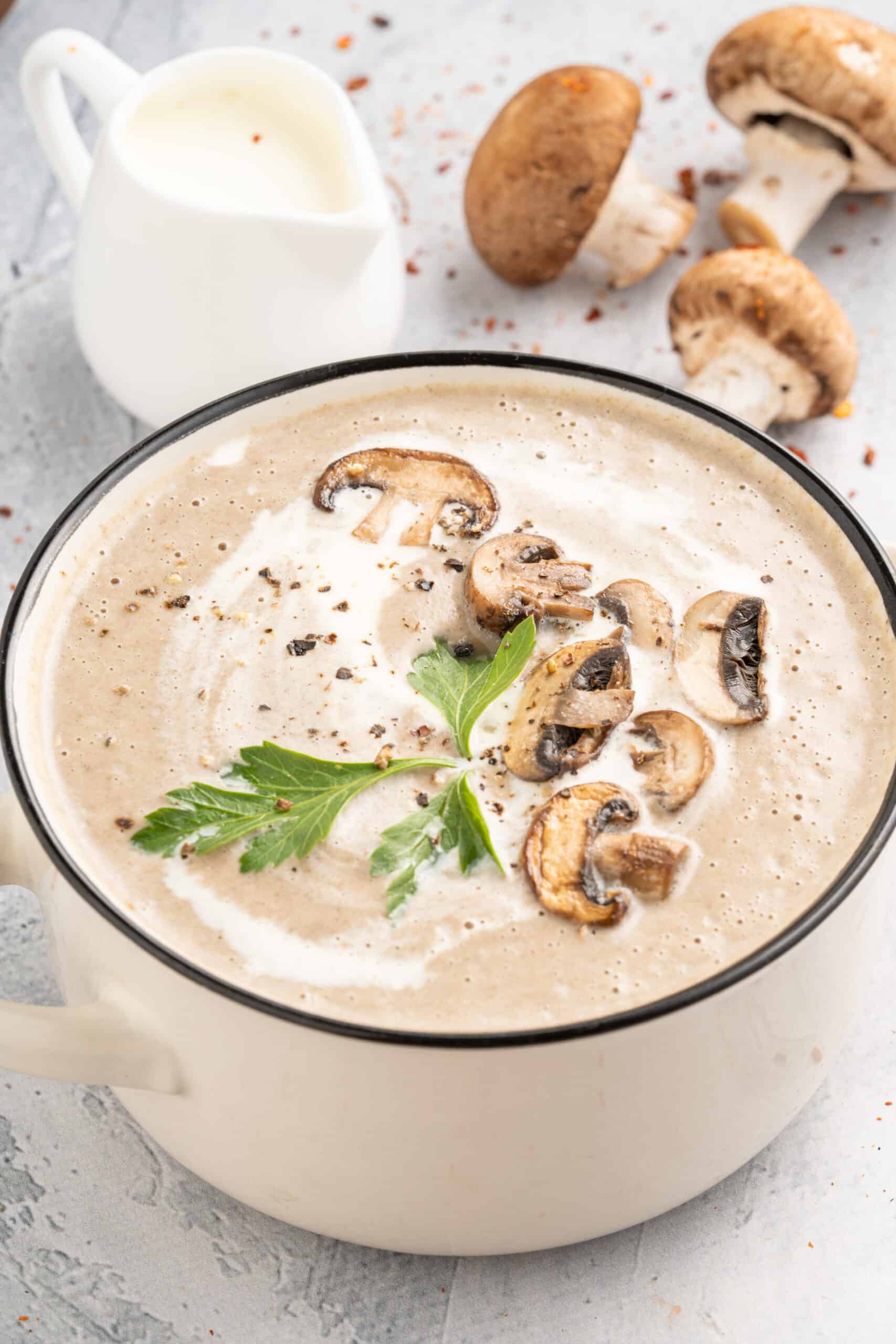 Hungarian Mushroom Soup Recipe
A hefty soup is a wintertime staple for us at The Bewitchin Kitchen, and we think our Hungarian mushroom soup recipe is just the thing to warm you head to toe!
It's easy to make keto-friendly or vegetarian, and it's already gluten-free and low-carb. Yet, its meaty flavor and super thick consistency is undeniable – everyone at the table will love it!
Roasted butternut squash, chicken pot pie, and our insanely flavorful roasted cauliflower and cheddar soups are some of our other favorite creamy soups. Serve with a bit of bread on the side!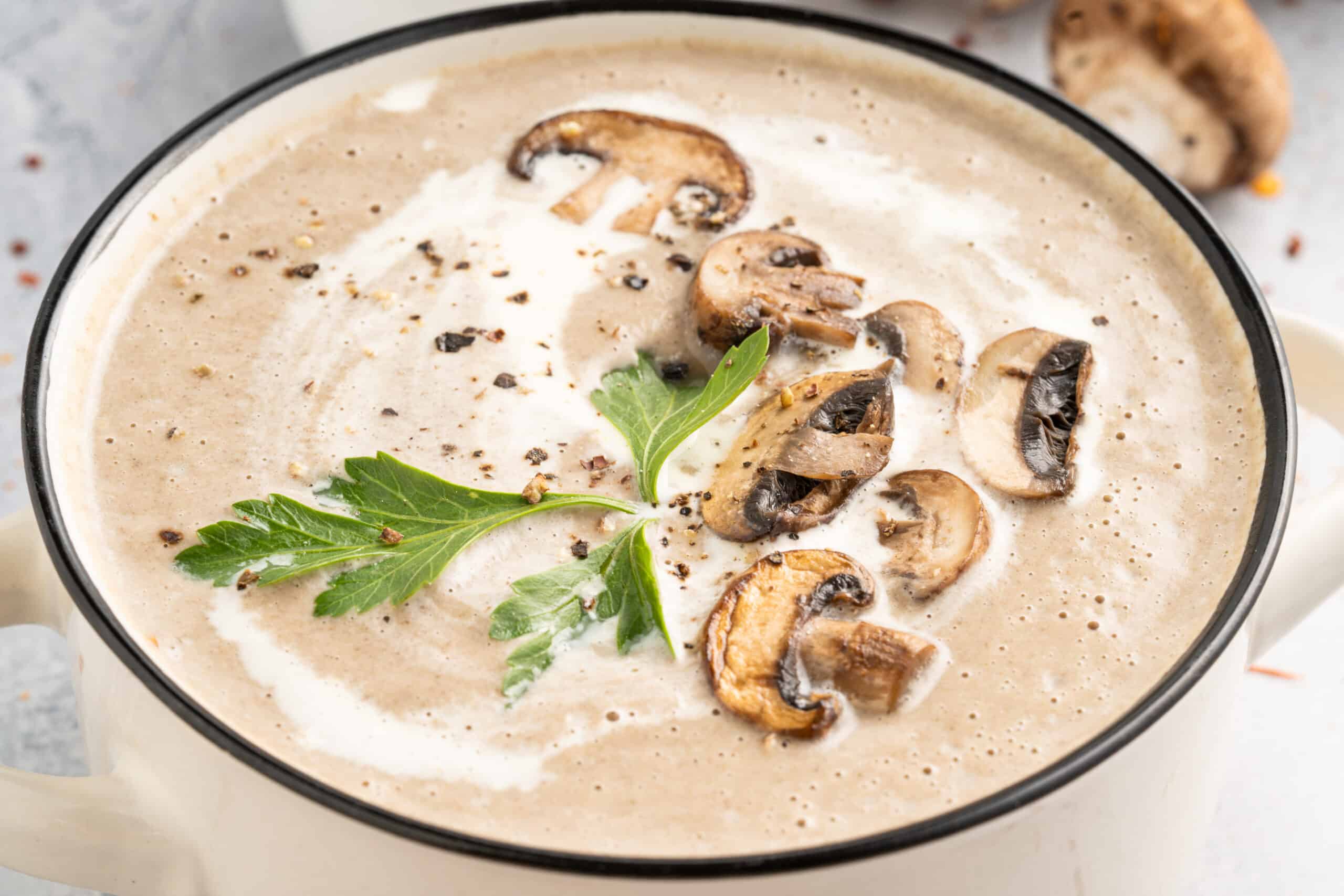 Why you will love this recipe
This is the best mushroom soup recipe for the coldest months of the year!
Incredibly creamy with a customizable consistency to suit your tastes.
Strong, woodsy mushroom taste with a meaty flavor profile.
It's easy to double this recipe to make in bulk and freeze for easy meals for months!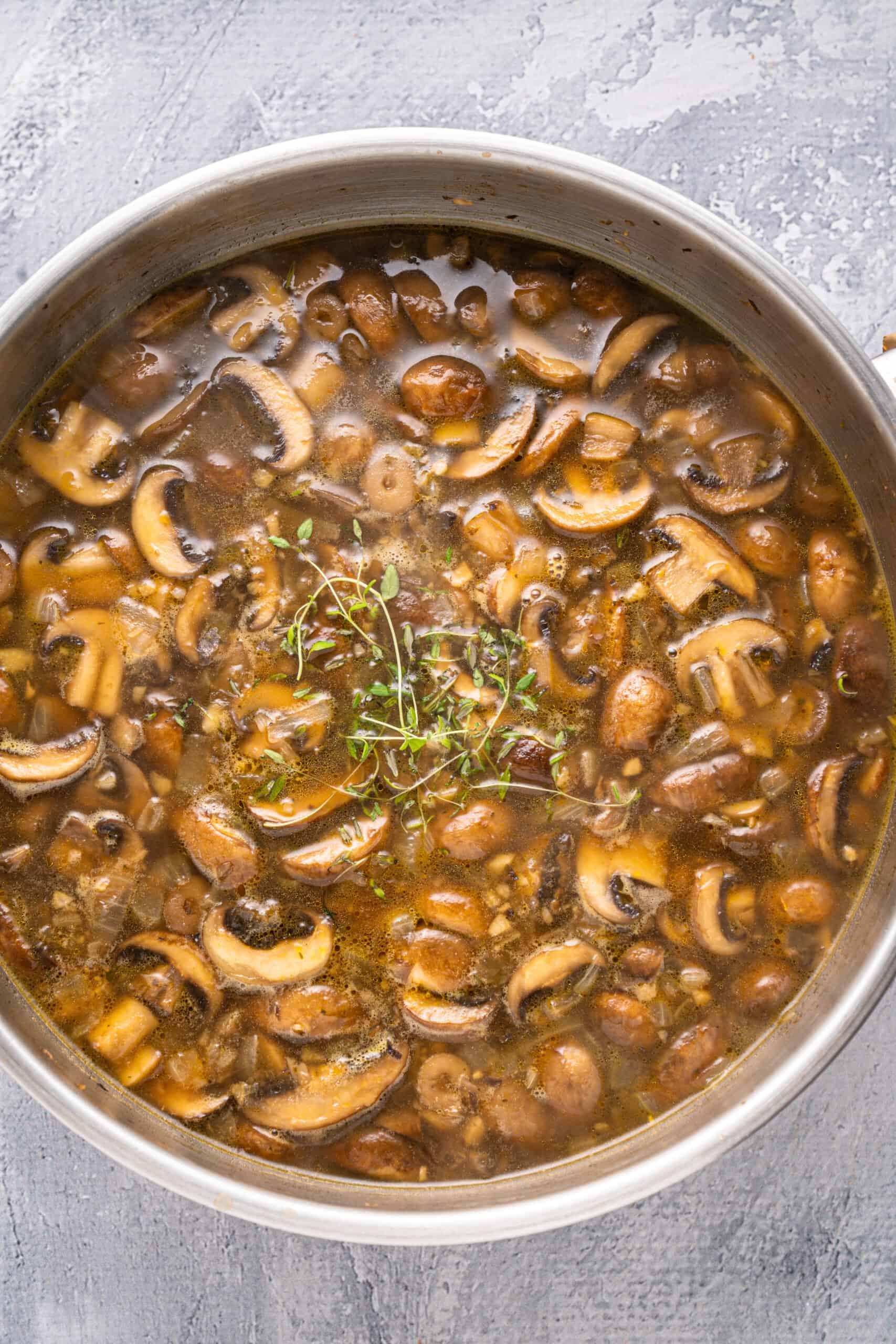 How to make a perfect Hungarian Mushroom Soup Recipe
Sauté the onion, garlic, and mushrooms: Add butter to a deep saucepan or skillet and heat on medium. Begin by sautéeing the onion until translucent, then add the garlic. Stir until fragrant. Add the mushrooms to the pan and stir until they soften.
Flavor and simmer the soup: Pour the beef stock into the pan and sprinkle in the thyme and pepper. Stir everything together, cover, and let simmer for 10 minutes. Be sure to simmer – not boil!
Add the cream and cool: Uncover and remove from the heat. Add your cream of choice and follow with the parmesan cheese. Stir until the cheese is melted and the cream is combined. Let it cool for at least 10 minutes before puréeing.
Purée the soup: Transfer the whole mixture to a blender and pulse until as smooth as you'd like – some like to leave a few chunks of mushroom for texture. Alternatively, you can use an immersion blender to keep this a one-pot recipe!
Add the finishing touches and serve: Taste and add salt at this point if needed. Otherwise, top with your preferred garnishes and serve while warm.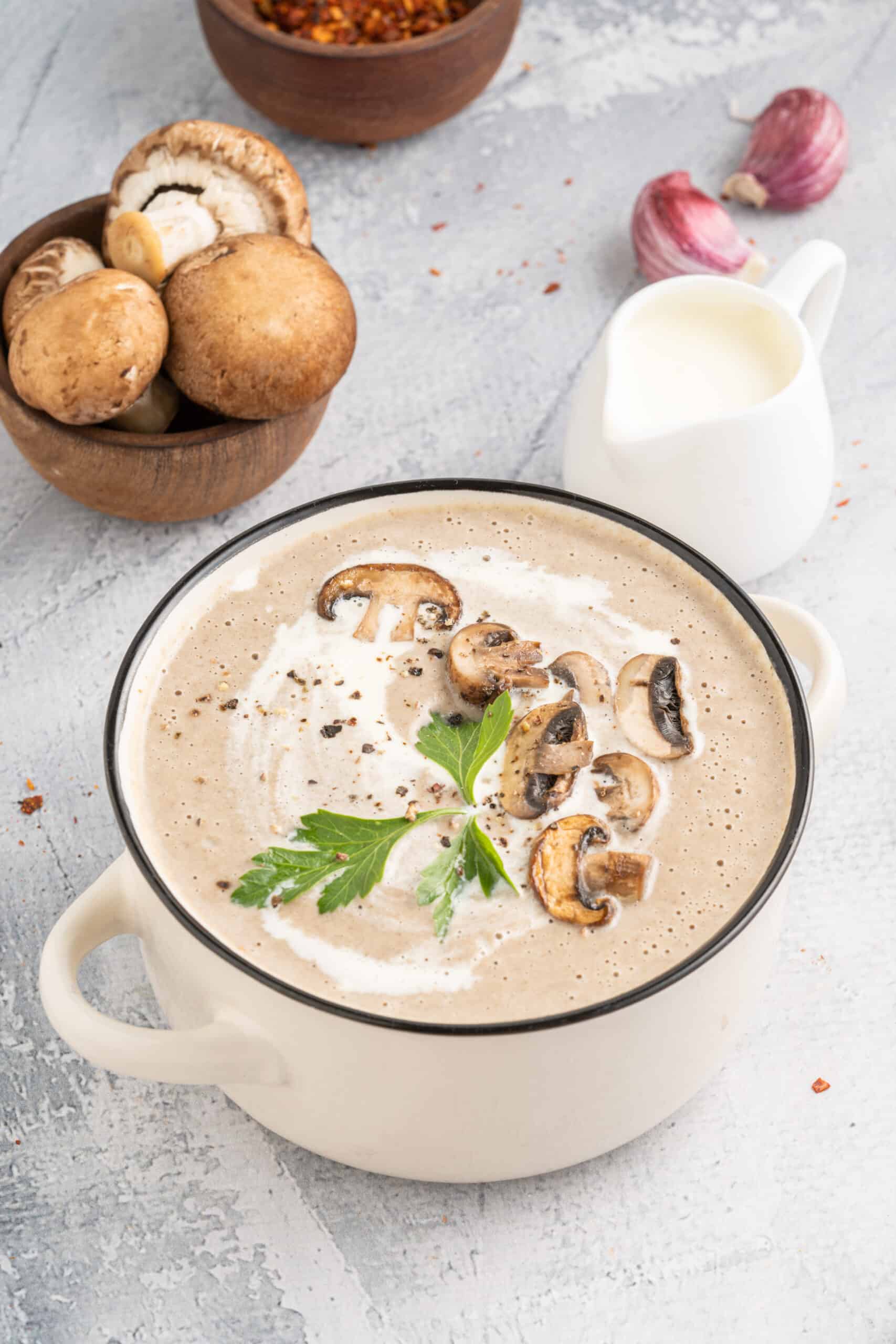 Pro Tips for Making the Best Mushroom Soup Recipe
Pro Tip 1: This soup is gluten-free and low-carb as-is. If you'd like to make it keto-friendly as well, then use just ½ of a yellow onion. Alternatively, you could use green onions, which are more keto-friendly than the yellow onion.
Pro Tip 2: In our opinion, part of what makes this recipe so great is its luscious thickness. But if you prefer a thin soup, then you can thin it out with a bit of extra stock or water.
Pro Tip 3: Wait until the end to add the salt – and only if you think the soup needs it! Remember: you can always add more salt, but you can't take it away.
Pro Tip 4: Make it vegetarian by using vegetable broth instead of beef!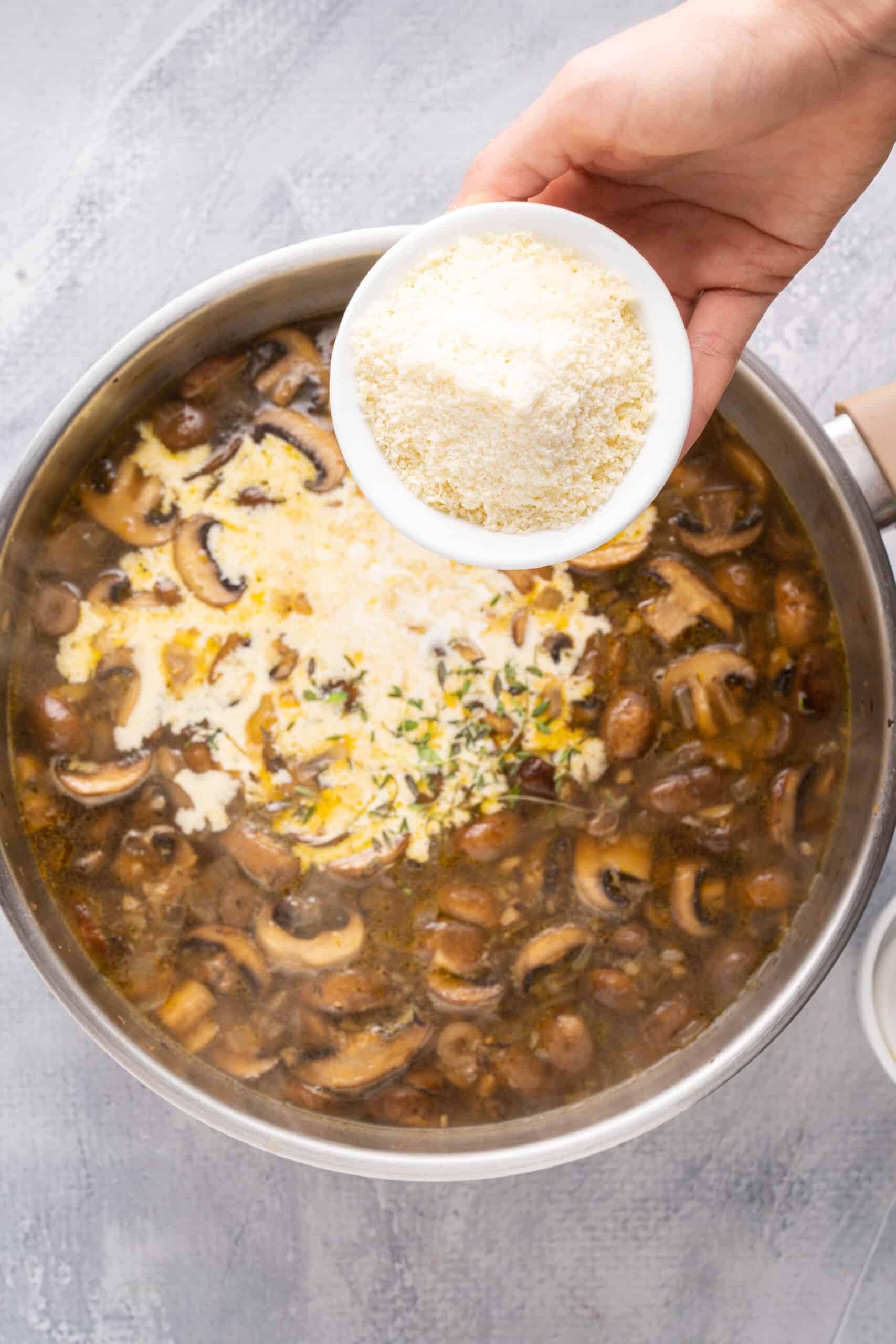 Key Ingredients and Substitutions for our Hungarian Mushroom Soup Recipe
Cremini Mushrooms: These are young portobello mushrooms. They aren't quite as firm or meaty as portobellos, which makes them ideal for blending into a creamy soup! However, portobellos would make an excellent substitute.
Fresh Thyme: If you're using dried instead of fresh thyme, remember that dried herbs have a stronger taste. You'll only need to use ⅓ of the original amount.
Cream: This recipe can be made with either light cream (for a thick, creamy soup), whole milk (for a thinner consistency), or half and half (to fall somewhere in the middle).
Frequently asked Questions about Homemade Mushroom Soup
Does Hungarian mushroom soup freeze well?
Yes! Let it cool to room temperature and store in an airtight container – we recommend freezing in single portions. For the best results, use within 2 months and let thaw in the fridge the night prior.
What wine is best for mushroom soup?
White wine is great for brightening all varieties of soup. But if you're seeking a richer, deeper flavor, then red wine may be the way to go. Either way, you should go with a dry selection as a traditional Hungarian mushroom soup recipe is a bit on the sweeter side.
How do I spice up bland mushroom soup?
Here are a few flavors that you can enhance with just the slightest ingredient revision:
Sour cream adds a tangy flavor that you may be seeking, as would lemon juice or white wine.
A few tablespoons of paprika is smoky and spicy, combating the slight sweetness in this Hungarian mushroom soup recipe. Extra black pepper or cayenne adds heat, too, but should be added before simmering to get the full flavor.
These recipe changes are all gluten-free, keto-friendly, and low-carb.
Hungarian Mushroom Soup Recipe
Our Hungarian Mushroom Soup Recipe is meaty and earthy with an irresistible creaminess! The onions, garlic, and parmesan are the perfect finishing touches for a rich, silky-smooth soup.
Calories 821kcal
Ingredients
16 oz cremini mushrooms sliced
1 medium yellow onion diced
1/2 tbsp fresh thyme
4 clove garlic cloves minced
1 tbsp butter
1 cup light cream half and half or whole milk (for a thinner soup)
2 cup beef stock
1/3 cup grated parmesan cheese
1/2 tsp salt added only if needed
1/2 tsp ground black pepper
Instructions
Heat one tbsp of butter in a large skillet or saucepan. Then add diced onion and stir until translucent. Add minced garlic and sauté until fragrant.

Add sliced mushrooms and sauté until soft. Pour beef stock, add fresh time, ground pepper and simmer, covered, for 10 minutes.

Remove from heat and add light cream and parmesan cheese. Let it cool down for ten minutes.

Transfer the soup to a blender, pulse until smooth. Taste salt, add if needed.

Serve warm with your preferred garnishes.
Notes
Today's recipe is a deliciously creamy cremini mushroom soup. It's truly flavourful with a deep mushroom taste and packed with sauteed onion, garlic, fresh thyme, beef stock and parmesan cheese. We use light cream to achieve a smooth texture. This recipe is gluten-free and low-carb, make it also keto by using 1/2 yellow onion! 
Tips
This recipe makes a thick soup, make it thinner by adding extra stock or water.
Store it in an airtight container in the fridge for up to five days. Or freeze it in single portions for up to two months.
Nutrition
Calories: 821kcal | Carbohydrates: 49g | Protein: 36g | Fat: 59g | Saturated Fat: 36g | Polyunsaturated Fat: 2g | Monounsaturated Fat: 16g | Trans Fat: 0.5g | Cholesterol: 192mg | Sodium: 2861mg | Potassium: 3345mg | Fiber: 6g | Sugar: 15g | Vitamin A: 2029IU | Vitamin C: 18mg | Calcium: 567mg | Iron: 4mg
Follow On Pinterest
Follow @bewitchinkitchen On Pinterest for more delicious recipes!