Beachbody On Demand – Stream Your Workouts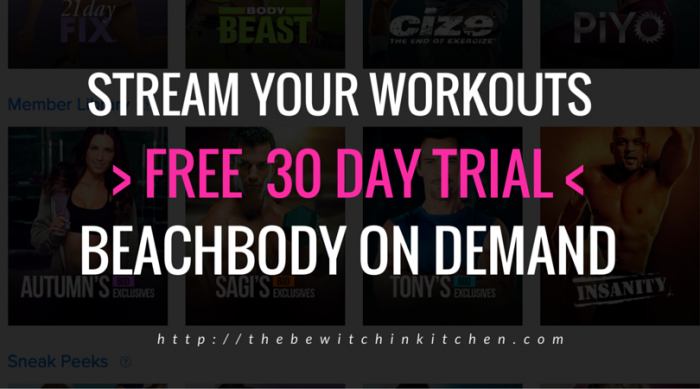 What if I could tell you that you could bring your at-home-workouts with you anywhere you go? No DVD's to pack, stress out about and get scratched. For the past few months I've been using Beachbody On Demand (BOD) and it's made my fitness life a heck of a lot easier.
Beachbody On Demand: What Is It?
Beachbody On Demand is a way to stream your fitness program. Think of it as Netflix, but for Beachbody Programs.
It's a library that stores all the Team Beachbody workouts that you've bought under the email you sign up with. In addition to the programs you have already bought you also get many that you didn't (like Turbo Fire, P90X3, etc).
All workouts can be streamed through your web browsers, browsers on your phone, Apple TV, Amazon Fire Stick and Fire TV, Roku, and Chromecast (as of right now Amazon, and Roku streaming are not available in Canada).

Beachbody On Demand Exclusives:
There are many perks to being a Beachbody on Demand member. You're technically a club member so you get 10% off products (including Shakeology), you get to chat with the celebrity trainers and have access to the meal planner.
As a BOD member you get exclusive trainer Q&As, sneak peaks and trials of workouts coming out (like the Hammer and Chisel workout being released this December from Autumn and Sagi, BOD members get to check it out before the public).
If you purchase a DVD program, it will upload to Beachbody on Demand within 48 hours, so you don't have to wait to get the results you want. Not only that but as long as you keep your BOD membership, you don't have to worry about damages.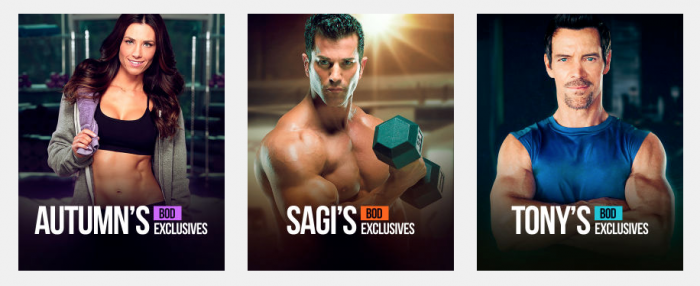 Two words: exclusive workouts.

Challenge Du Jour – If you want to mix things up or you're not following a specific program you can opt for the Challenge Du Jour where Beachbody On Demand picks a "workout of the day" for you.
[ctt title="Stream your online workouts. It\'s like Netflix but with The 21 Day Fix! So exciting!" tweet="Stream your online workouts. It's like Netflix but with The 21 Day Fix! Awesome via @bewitchinkitch http://ctt.ec/WitXd+ #onamission" coverup="WitXd"]
Beachbody On Demand Programs:
In addition to the programs that you have purchased, here are the programs that come standard on Beachbody On Demand:
P90X
P90X2
P90X3
Insanity
Turbo Fire
ChaLEAN Extreme
Brazil Butt Lift
Brazil Butt Lift Master Series
Hip Hop Abs
10 Minute Trainer
P90X One on One
Insanity: The Asylum
Insanity: The Asylum Volume 2
Rockin' Body
Rev Abs
Tai Cheng
Turbo Jam
Yoga Body Ballet
Total Body Solution
Power Half Hour
Project You Type 2
Great Body Guaranteed
Power 90
Ho' Ala ke Kino (Awaken The Body)
Sl im in 6
That's a lot of programs!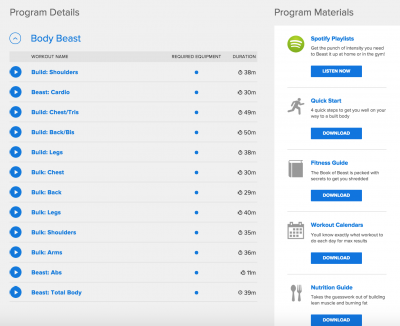 All programs on Beachbody On Demand include their workout calendars, nutrition guide and meal plan and instructions. Anything you would have got if you purchased online, will be there. (Except for the bonus workout you get from purchasing the program from a coach like me.)
Reminder to use the email you have for your Beachbody On Demand to order new products, otherwise they won't be in your library. I used my husband's email to buy challenge packs for both 21 Day Fix Extreme and Insanity Max 30 to get those deals, but now they're not in my library. It's not the end of the world, but it is kind of a bummer.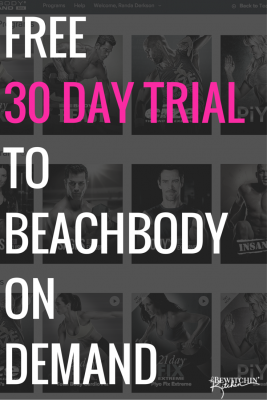 Doing the 21 Day Fix? Check out the Ultimate 21 Day Fix Resource Guide.
Beachbody On Demand Free 30 Day Trial.
[ctt title="FREE 30 Day Trial To Beachbody On Demand. Stream your workouts!" tweet="FREE 30 Day Trial To Beachbody On Demand. Stream your workouts here: http://ctt.ec/Q8Xc4+ #BOD #Fitness" coverup="Q8Xc4″]
There is a free 30 day trial for Beachbody On Demand, to start your trial click here. (US Residents please use this link.)
Please note: you will be billed for your quarterly membership after the thirty days, so if you don't want to continue this trial do not forget to call customer service and cancel. If you keep your trial you will get 10% off all products for future purchases. If you are a coach, you still pay for this feature. 
Beachbody On Demand cost: $2.99 (USD) a week, billed quarterly ($38.87 USD).
Disclosure: I am an Independent Beachbody Coach and I do receive commission on all products sold but all thoughts and opinions are my own. I pay for this myself and love it!
The Team Beachbody Premium Club Membership is only available in the US, Canada, and the UK. Other international customers are not supported at this time.
Don't forget to pin this post to share with your friends. Let's help each other get healthy!