Blog Income Report – August 2016
A  new month, a new blog income report. Who's ready? This month's expenses may surprise you, as they're incredibly high but I'll explain in the post what happened, why it happened and what it means for The Bewitchin' Kitchen ™.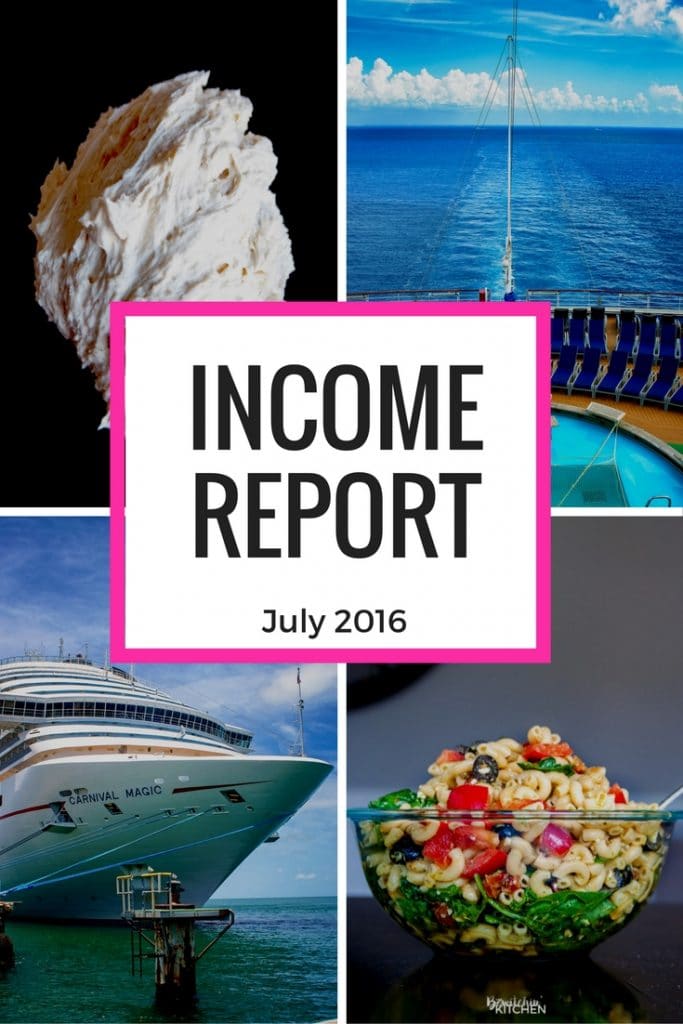 Curious on how to start a food blog (or a general blog)? <– Check out the guide! Don't forget to check out my blogging resources too!
New expenses: 
Purr Design – This is the cause of the massive expenses this month. Spoiler alert: I'm in the process of getting The Bewitchin' Kitchen overhauled with a custom design. I am so excited. So far, I have paid 2/3 payments (the final will be in October) those payments may have hurt my heart but after see the mock ups of my logo and site design – it's worth it. I don't want to get fully into it right now, but I will say that when I saw my blog design mock up I was close to having tears of joy. I can't wait for it to go live on October 3 so you guys can see. It looks so good! Because of this expense, it shows that I spent more this month than I made. I was prepared for that, I knew it was going to happen.
Buffer – I paid for a year's subscription to Buffer. They were presenting at LetsGoRama and after a Stacey from This Lil Piglet showed me how it worked, I tried the free trail. Well, now I'm hooked and I bought a year subscription. I can schedule to my Facebook groups, Twitter, Pinterest, Instagram with a click of a button. So much easier than scheduling in Tweetdeck! I don't use it for Pinterest or Instagram.
Skyrocket Blog Pageviews with Google Analytics – I bought this on the last day of August, and I'm still going through the course. You guys, buy it. I'm learning so much! I only understood the basics of GA and this goes into better depth on how GA is really a tool to help you grow your blog. I've already learned so much and started implementing some of the practices (like finding what pages your readers exit on the most and adding the best posts to keep them around).
This post contains affiliate links.
Blog Income Report
Everything is in Canadian dollars, all US currency was converted using the PayPal converter. 
Sponsored Posts: $2340.31
Sponsored Social Media: $0
Amazon.ca Affiliate: $0
Shareasale: $108.09
The Blogger Network: $556.32
Mode Media: $0 (Late. August payment being received in September.)
AdThrive: $198.41 (First payment with them, so it's smaller.)
Gourmet Ads: $4.11
Total Income: $3207.24
Blog Expenses
Virtual Assistants: $533.84
Supplies (Office supplies, supplies for blog projects, and groceries for recipe development): $328.91
Buffer: $135.38
Food Blogger Pro: $37.68 ($29 USD)
Adobe Photoshop CC: $14.82
MailChimp: $60.66
WiredTree (Host): $71.02
Skyrocket Blog Pageviews with Google Analytics: $19.65 (caught a sale)
Custom Blog Design: 3057.75
Internet: $81.76
Data: $224
Facebook Ads: $26.42
PayPal: $27.42
Total Expenses: $4619.31
Blog services that I've paid for and that I couldn't live without or have made a difference:
Tailwind, Buffer, Skyrocket Blog Pageviews with Google Analytics, Dominate The Search Engines with Webmaster Tools, CoPromote, Food Blogger Pro, CONQUER the Layers of Search Engine Optimization.
I have also signed up for Craftsy. I have bought a course (this will show in next month's blog income report) and look forward to learning more about cooking and baking!
Curious on previous months? Check out the Blog Income Report page to snoop around.
What would you like to see on my blog income reports? Is this something I should continue sharing?
This post contains affiliate links of products I use and love.