Chicken Tenders Salad with Honey Mustard Dressing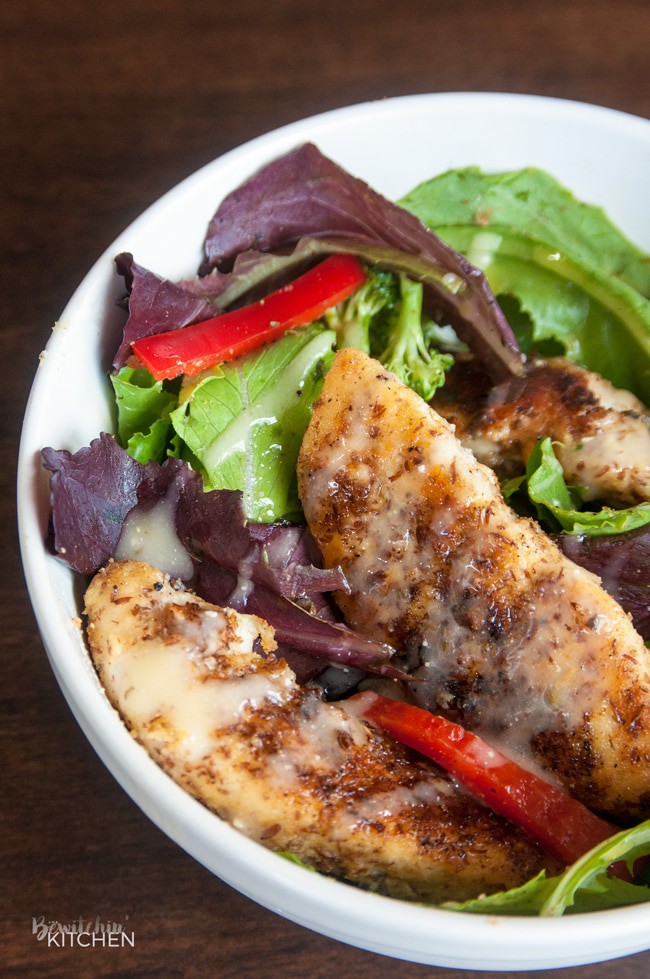 With all the travel, hot nights where cooking wasn't an option, and summer treats; I over did it this summer. I'm bringing my body back to harmony and experimenting with more healthy recipes, like this recipe for Chicken Tenders Salad.
I grew up loving chicken tenders (or chicken fingers, as I called them) but as an adult, I stay away from the deep-fried versions. Things were so much easier as a kid, deep fried didn't bring on the heartburn, the sick feeling and the weight gain as it does now. So I wanted to create a grown-up version of chicken tenders, and I turned it into a salad (we all have to sneak in those green somehow). I'm excited to let you all know that these chicken tenders are gluten free, so most of you can have these!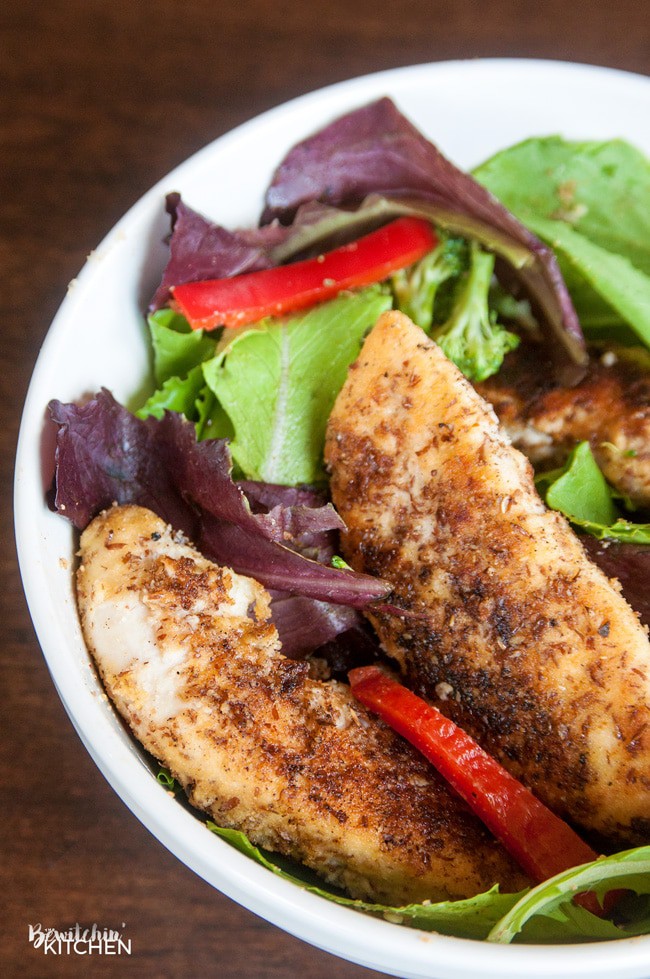 Another bonus to this super tasty salad? It's high in fiber. Did you know that the recommended daily intake for fiber is 25g for women and 38g for men? This Chicken Tenders Salad has roughly 9.5g, so you're making a good dent in your fiber intake with this meal.
The Benefits of Fiber 
Improves blood sugar and insulin response
Reduces high blood pressure
Reduces high cholesterol
Improves constipation
Increases satiety, which leads to weight loss
How to tell if it's a good source of fiber
If the nutrition label contains a minimum 10% of the daily value (or 2.5 grams) of fiber per serving, it's known as a good source of fiber. If it has 20% of the daily value of fiber (or 5 grams) per serving it is known as high fiber. This recipe for Chicken Tenders Salad is high fiber.
Other ways to close the fiber gap:
If you're eating a balanced diet that is complete with fruits and vegetables, it's easy to reach your recommended daily fiber intake. Let's be real, life can get in the way from time to time and you can take fiber supplements to get you to your fiber goal. Personally, I put fiber powder into my shakes and I have been told that it works well in soups too.
The types of fiber I have seen in supplements are psyllium, methylcellulose, and inulin. Personally, the fiber I use is derived from acacia fiber.
Find what works for you. When I look at the nutritional label, I look to make sure there is no added sugar (it's really not needed if it's flavorless) and the grams of fiber. I opt for the one with the most grams.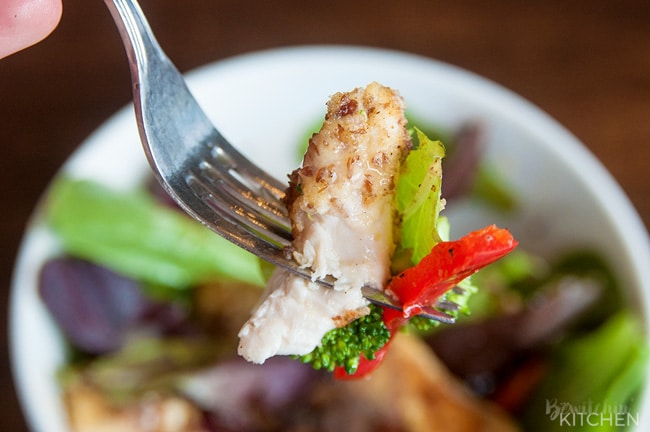 You can find many tasty recipes on The Bewitchin' Kitchen that are rich in fiber, but one of my favorites is this Apple Cinnamon Yogurt Bowl.
Chicken Tenders Salad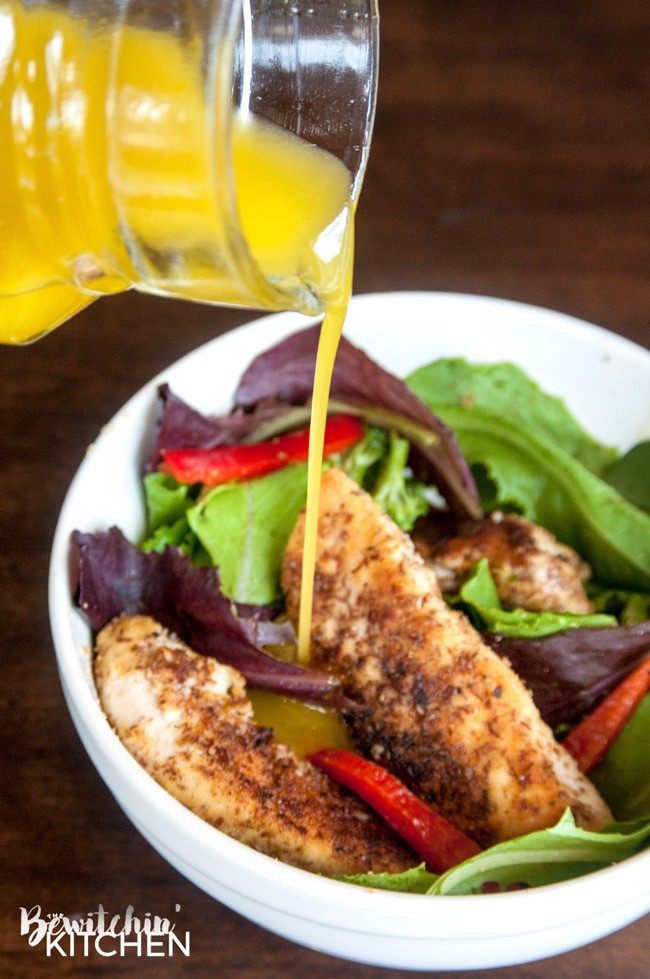 Chicken Tenders Salad with Honey Mustard Dressing – a healthy recipe idea that's 21 Day Fix approved, gluten free and full of fiber. Healthy dinner or lunch in a hurry! 21 Day Fixers – 1 red, 1 1/2 green, 1 orange (if you use half dressing).
Recipe for the honey mustard vinaigrette. 
Chicken Tenders Salad with Honey Mustard Dressing
Servings 1 salad
Ingredients
1 tbsp olive oil
1 chicken breast sliced
1 egg
2 tbsps coconut flour
1 tbsp ground flax seed
salt
pepper
1 cup spinach mix
1/2 cup chopped broccoli
1/2 red bell pepper
Instructions
Heat olive oil in a medium pan, over medium heat.

While the pan is heating, crack an egg into a small bowl and add the coconut flour, flax seed, salt, and pepper into another bowl.

Dip the chicken strips into the egg and dredge with the coconut flour mixture. Lay down on the pan.

Cook for 4 minutes each side, or until no longer pink.

Serve over a salad made of the spinach mix, bell pepper, and broccoli.

Dress with the honey mustard vinaigrette.
Follow On Pinterest
Follow @bewitchinkitchen On Pinterest for more delicious recipes!
To learn more about Fiber, lease visit fiberfacts.org/.
If you like this recipe, then please share it with your friends! I made a great image that's perfect for Pinterest:

Disclosure: I have been compensated by the Calorie Control Council. As always, all opinions are my own.