Blog Income Report – July 2016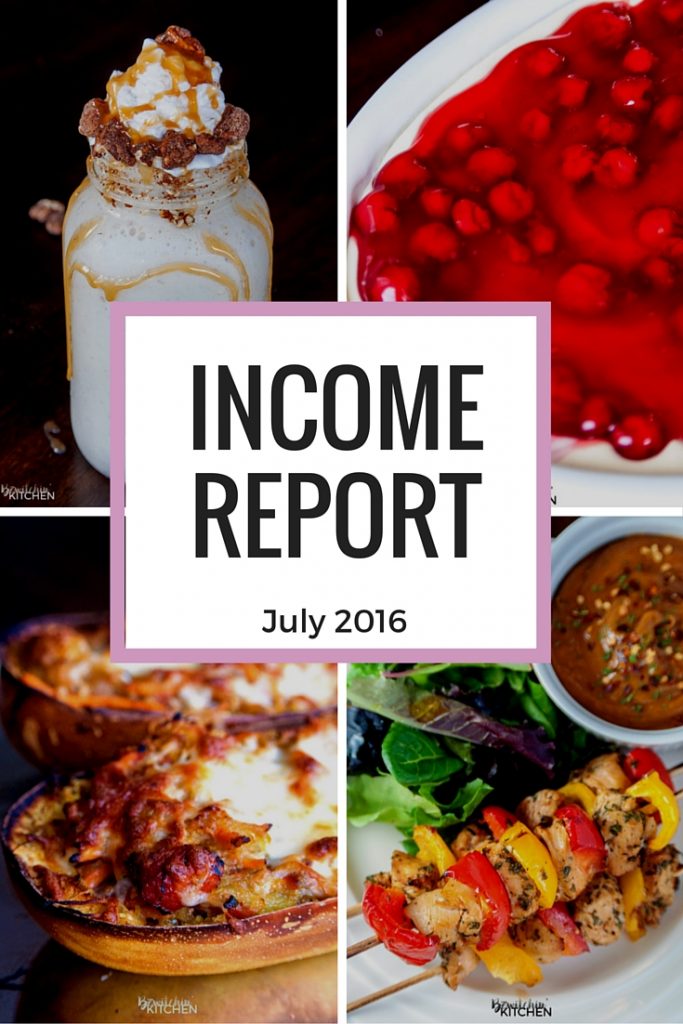 A new month, a new income report. I posted my first income report last month and I'm planning on doing so until September (or longer if I get enough interest). So let's get to it.
Curious on how to start a food blog (or a general blog)? <– Check out the guide! Don't forget to check out my blogging resources too!
New expenses on this month's blog income report:
Kelby One: I did a 10 day free trial and forgot to cancel. This is a photography course and resource site. Since I had a month to play around I took a few landscape lessons from Moose Peterson, learned a lot and downloaded the Nik Collection he mentioned for photoshop.
MailChimp: I can't believe I didn't realize this but my newsletter stopped sending out months ago. I'm a little upset I wasn't notified via email about this, but it was because I had too many subscribers for the free option. I'm now paying, and I'm looking for new CRMs so if you have a suggestion, I would love to hear it.
This post contains affiliate links.
Blog Income Report
Everything is in Canadian dollars, all US currency was converted using the PayPal converter. 
Sponsored Posts: $1500
Sponsored Social Media: $
Amazon.ca Affiliate: $
Shareasale: $90.05
The Blogger Network: $721.89
Mode Media: $1393.79
Gourmet Ads: $5.16
Total Income: $3710.89
Blog Expenses
Virtual Assistants: $301.68
Supplies (Office supplies, supplies for blog projects, and groceries for recipe development): $285.18
Creative Market (for Cartertoons new logo): $33.25
Food Blogger Pro: $38.47
Adobe Photoshop CC: $15.12
KelbyOne Subscription: $26.57
Quickbooks: $8.06 – Made the switch to Wave Accounting (which is free). This is my last month with Quickbooks.
Tailwind: $
MailChimp: $66.42
WiredTree (Host): $72.91
Internet: $81.76
Data: $112
Facebook Ads: $22.48
Instagram Loop Giveaway: $19
*Blog expenses are direct expenses and does not include utility bills, property taxes, percentage of the mortgage, etc.
Blog Expenses: $1082.90
Net Income: $2627.99
Curious on previous months. Check out the Blog Income Report page to snoop around.
Blog services that I've paid for and that I couldn't live without or have made a difference:
Tailwind, Buffer, Skyrocket Blog Pageviews with Google Analytics, Dominate The Search Engines with Webmaster Tools, CoPromote, Food Blogger Pro, CONQUER the Layers of Search Engine Optimization.
What would you like to see on my income reports? Is this something I should continue sharing?