Pesto Vinaigrette Recipe + Chicken Beet Salad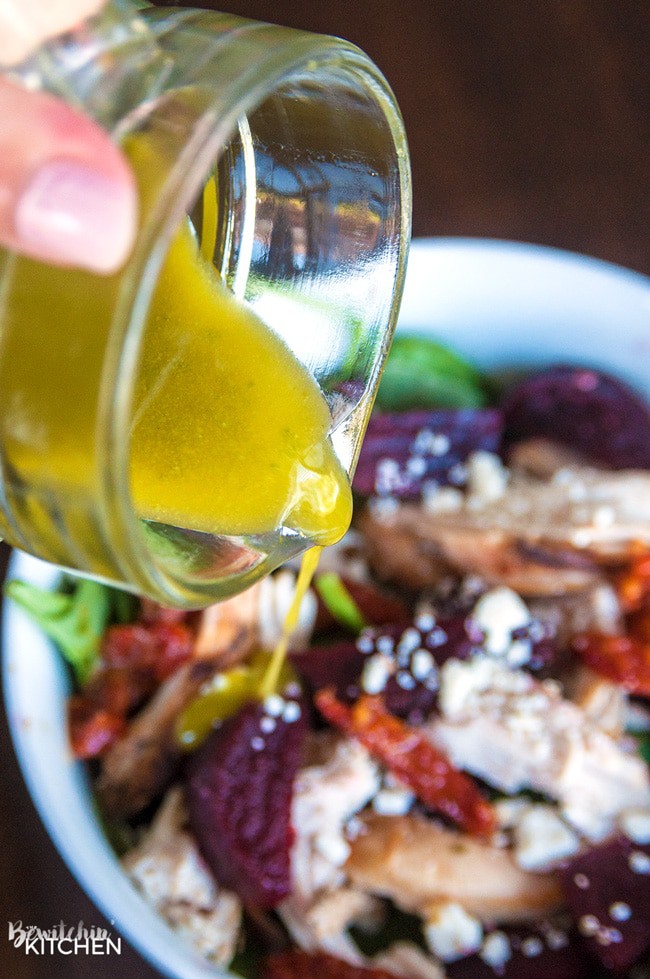 I love making vinaigrettes, and this pesto vinaigrette is one of my favorites. I'm a fan of salad dressings that are zesty and tangy and this fits the bill, with a hint of sweet from the addition of honey.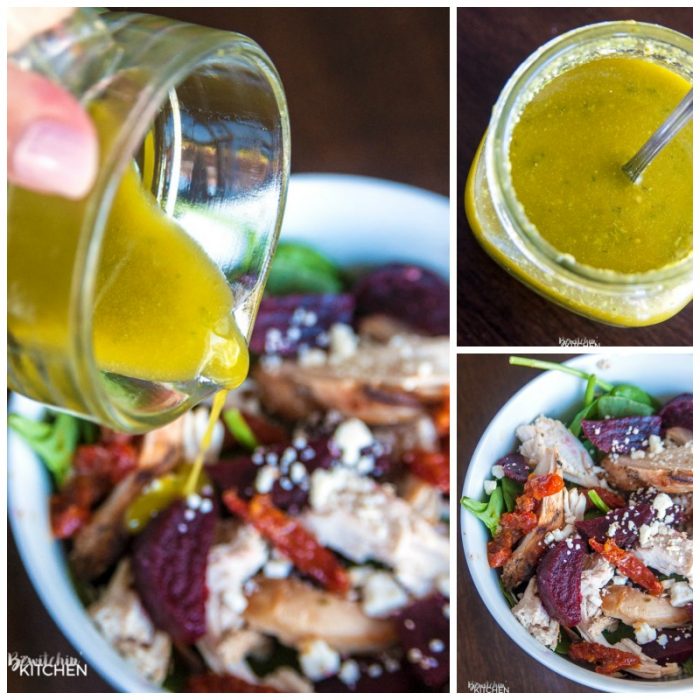 I made this pesto vinaigrette for the Pesto Pasta Salad recipe, but when I sampled it on a chicken, feta, and beet salad it was heaven. Since then I've made two batches in two weeks.
You guys, it's so good.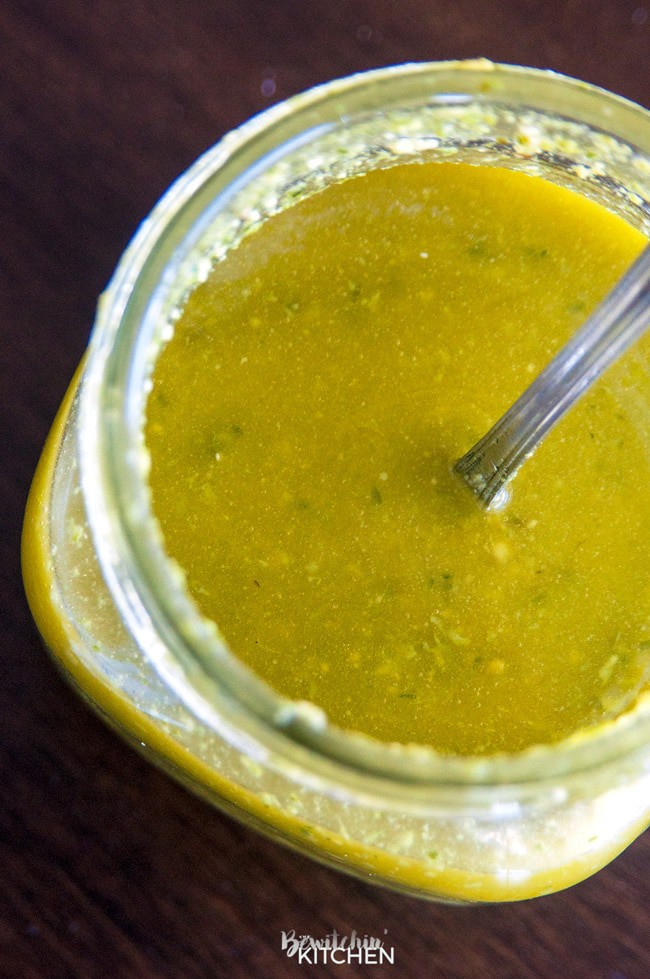 I used two teaspoons of honey in the recipe, but if you like sweet vinaigrettes feel free to add more.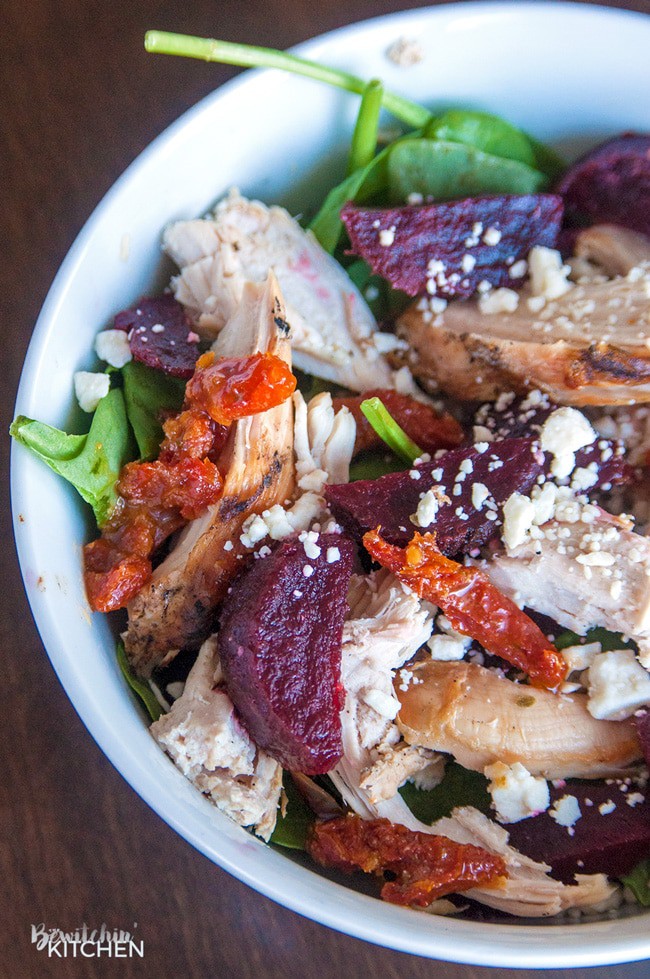 Let's talk a little more about this salad. I don't post salads on the blog often because I tend to toss random ingredients together in a bowl for lunch, but this deserves a little bit of recognition. This salad used baby spinach leaves, grilled chicken, sundried tomatoes (I use julienne cut in olive oil), feta, and roasted beets. Toss with the pesto vinaigrette and it's money.
Other vinaigrette recipes you may like: 
White Balsamic Coconut Vinaigrette
Get a free sample recipe
Receive a sample recipe from Delish Dressings & Vinaigrettes straight to your inbox.
Check out my new eBook – Delish Dressings & Vinaigrettes.
Pesto Vinaigrette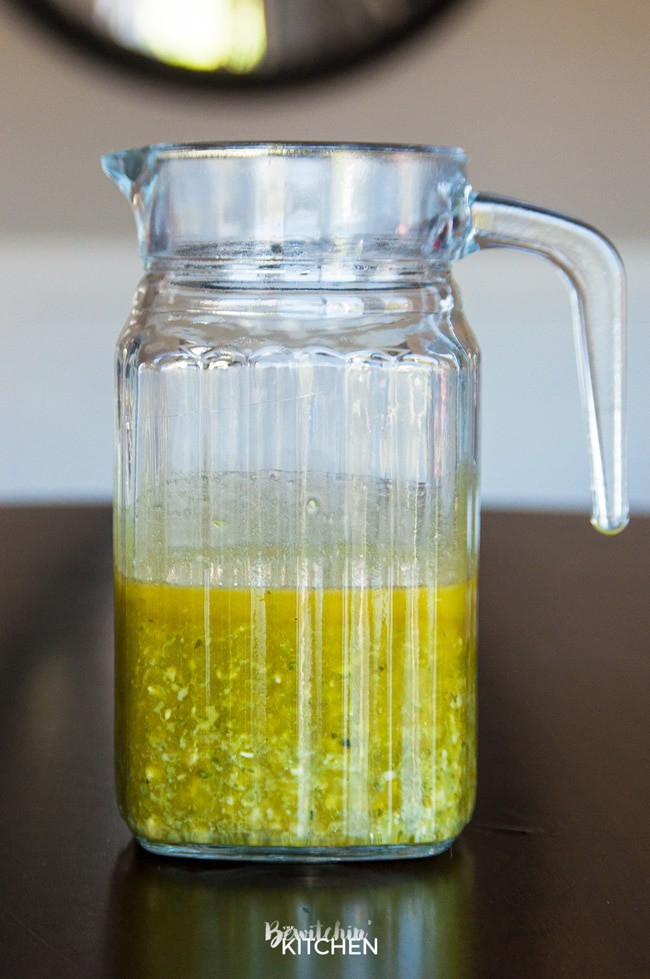 Pesto Vinaigrette – a delicious, tangy, yet sweet salad dressing. This 21 day fix approved vinaigrette is a favorite homemade salad vinaigrette recipe.
Randa's tip: take the pesto vinaigrette out of the fridge 15 minutes before use so it liquifies.
Pesto Vinaigrette Recipe
A delicious, tangy yet sweet salad dressing. This 21 day fix approved vinaigrette is a favorite homemade salad vinaigrette recipe.
Prep Time 1 minute
Total Time 1 minute
Servings 12 tbsps
Calories 125kcal
Instructions
Add all of the ingredients in a mason jar, seal and shake.

Can stay in the fridge for up to a week.
Nutrition
Serving: 1g | Calories: 125kcal | Carbohydrates: 1.8g | Protein: 0.5g | Fat: 13.1g | Saturated Fat: 2g | Sodium: 120.6mg | Fiber: 0.3g | Sugar: 1.3g
Follow On Pinterest
Follow @randaderkson On Pinterest for more delicious recipes!
Like this recipe, then please share it with your friends and "Pin" it:
This recipe has been added to www.favehealthyrecipes.com.
FREE Recipe Binder
Are you constantly wondering what's for dinner?
When I don't meal plan I feel behind, and we usually end up ordering take out. This recipe binder will keep you organized and make life a little bit easier.