Blogging Income Report – November 2016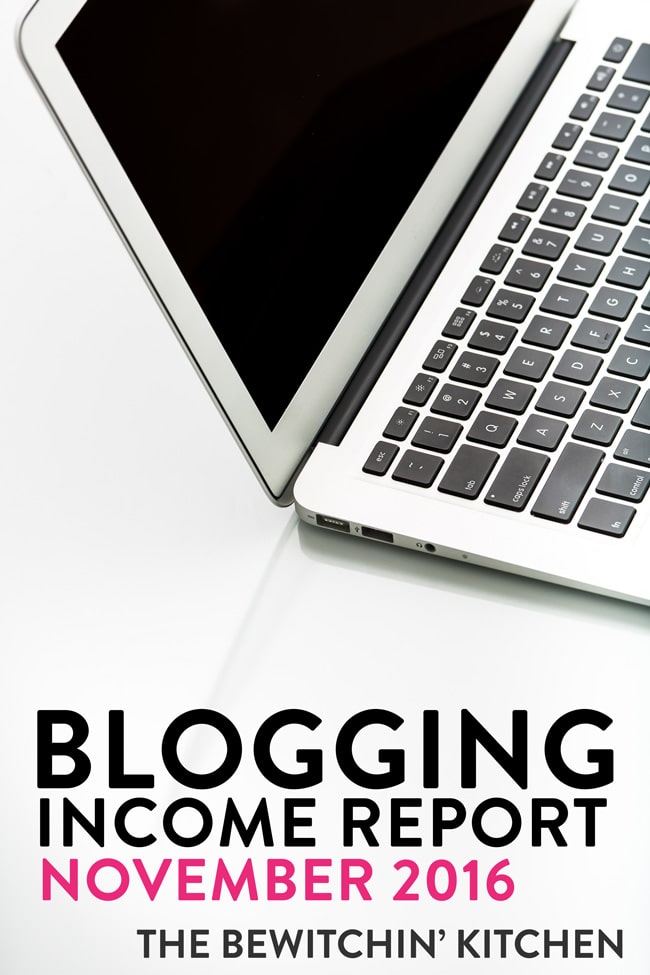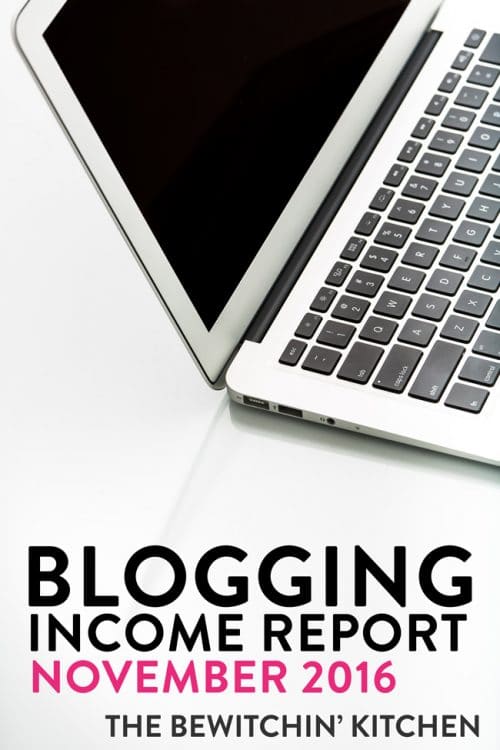 November has been a crazy and busy month, buying lots of supplies for posts, and posting a lot of recipes. Gearing up for the Christmas season!
Curious on how to start a food blog (or a general blog)? <– Check out the guide! Don't forget to check out my blogging resources too!
New expenses: 
Mad Mimi – After comparing my Mail Chimp to Mad Mimi, I saw that Mad Mimi was far more superior – for a lot less money! I'm saving over $20/month USD right now since I have made since the switch.
Broken Blog – Sometimes we come into unexpected expenses and after finding so many broken links and errors in my Webmaster Tools, I knew that I had to save myself the sanity and hire someone who know's what they're doing. That is why my VA bill is so large this time around (just fixing these errors is taking 20 hours and almost $700 Canadian – sigh, but I want my readers to have the best experience possible).
As for my income, I'm waiting on close to $6500 in unpaid invoices so hopefully, they show up before the year ends!
This post contains affiliate links.
BLOGGING INCOME REPORT
Everything is in Canadian dollars, all US currency was converted using the PayPal converter. All expenses are used for The Bewitchin' Kitchen. Any other businesses are separate. 
Sponsored Posts: $1300
Sponsored Social Media: $250
Shareasale: $0
AdThrive: $1027.49
BBTV: $13.01
Total Income: $2590.50
BLOG EXPENSES
Virtual Assistants: $1272.26
Supplies (Office supplies, supplies for blog projects, and groceries for recipe development): $183.11
Food Blogger Pro: $39.17
Adobe Photoshop CC: $15.45
Mad Mimi: $36.13
WiredTree (Host): $74.07
CoPromote: $27.73
Dropbox: $129
PayPal: $16.69
Facebook Ads: $38
Giveaways: $58.58
Total Expenses: $1816.12
Somehow I think I'm missing a few grocery receipts (since I have been cooking like crazy), I'm going to have to look for them.
This expense report does not include house bills, utilities, and data plan. 
Blog services that I've paid for and that I couldn't live without or have made a difference:
Tailwind, Buffer, Skyrocket Blog Pageviews with Google Analytics, Dominate The Search Engines with Webmaster Tools, CoPromote, Food Blogger Pro, CONQUER the Layers of Search Engine Optimization.
Curious on previous months? Check out the Blog Income Report page to snoop around.
What would you like to see on my blog income reports? Is this something I should continue sharing?
This post contains affiliate links of products I use and love.