Avocado Ranch Dip with the Vitamix 7500
This Avocado Ranch Dip is a healthier version than your everyday ranch, and it has a hidden vegetable: cauliflower.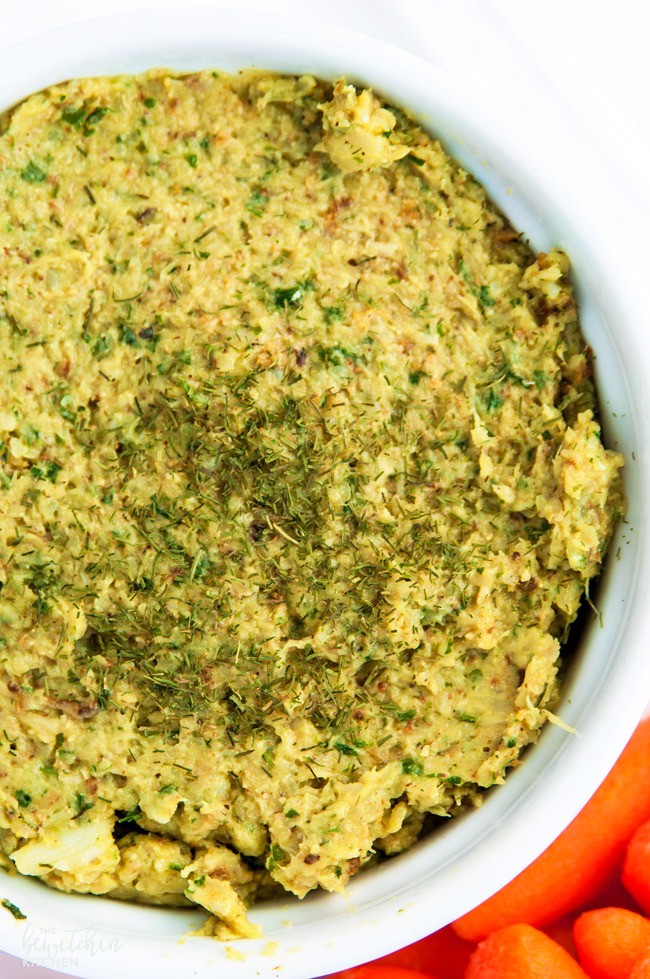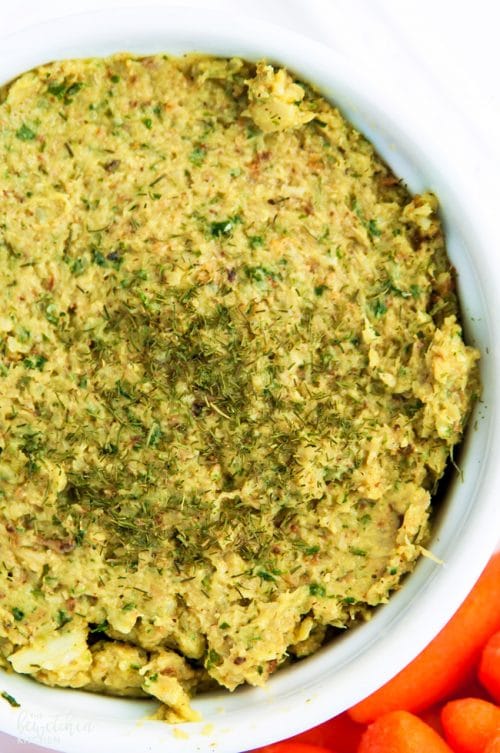 This makes a thick dip, a hummus consistency, if you want it thinner add more red wine vinegar but I found this easier to pick up with carrots (it also makes a great spread for sandwiches).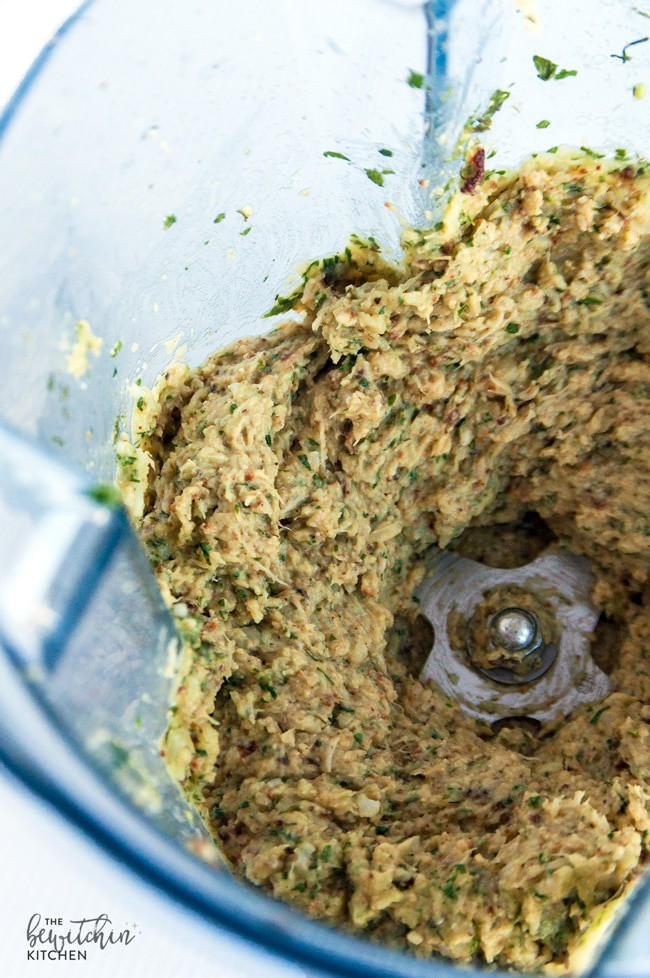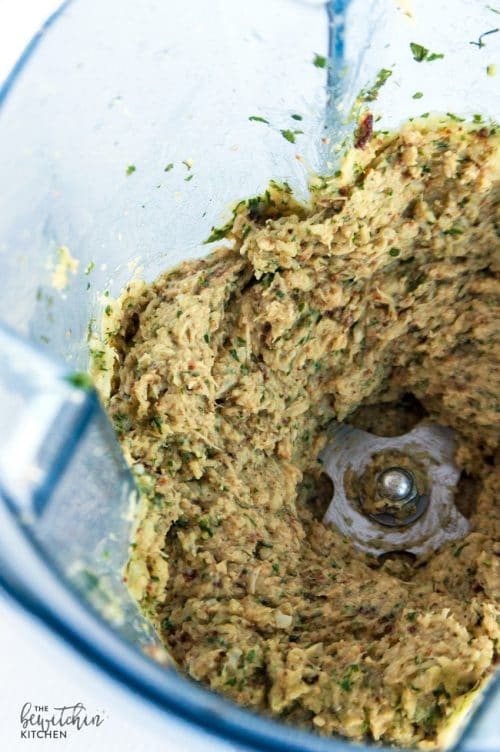 This post contains affiliate links.
It's no secret that I'm a fan of Vitamix. My first Vitamix was the S30 and with that, I brought you the recipe for Roasted Cauliflower Dip. It's a great little machine but I had issues making homemade Larabars and coconut breakfast balls, I needed more power. Enter the Vitamix 7500.
This bad girl has a 2.2hp motor base, which will blend any whole food ingredient. So what does that mean?
MORE POWER
That means you can make your own nut butters, granola bars, soups, and you can make them fast. In fact, here is a list of foods you can make with the Vitamix.
Soups
Flours
Ice cream and other frozen desserts
Nut butters
Smoothies, juices, and milks
Dips and spreads
Doughs and batters
Purees and dressing
Other features of the Vitamix 7500 is a low profile 64-ounce container. This container is massive and holds a lot, all while fitting snuggly under your kitchen cabinets.
Those are all great and all but I love how easy it is to clean! There is nothing to take apart and you simply blend water and a drop of soap for a minute and rinse. That's it!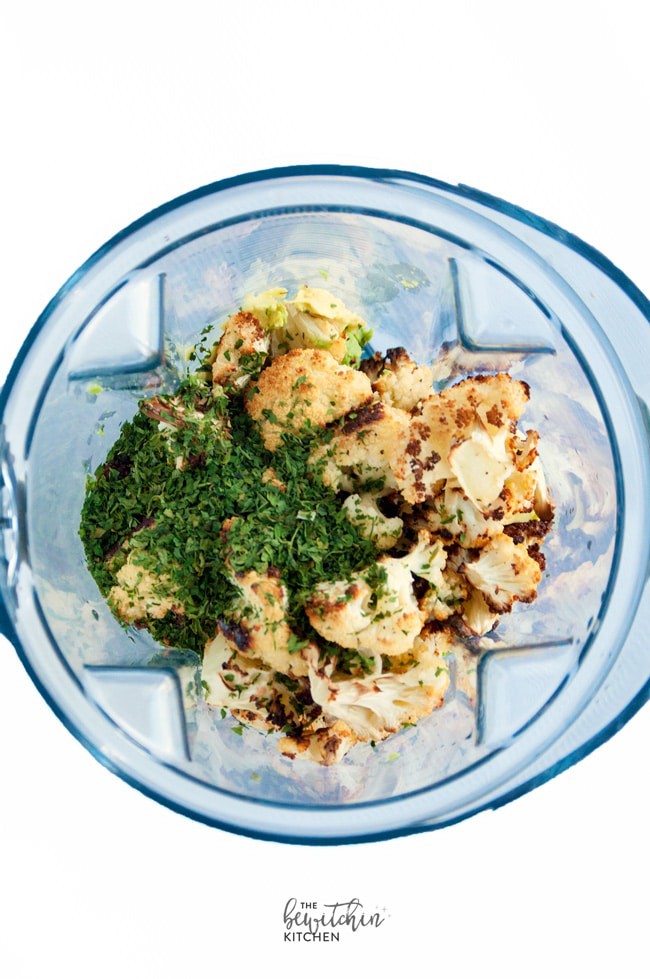 Avocado Ranch Dip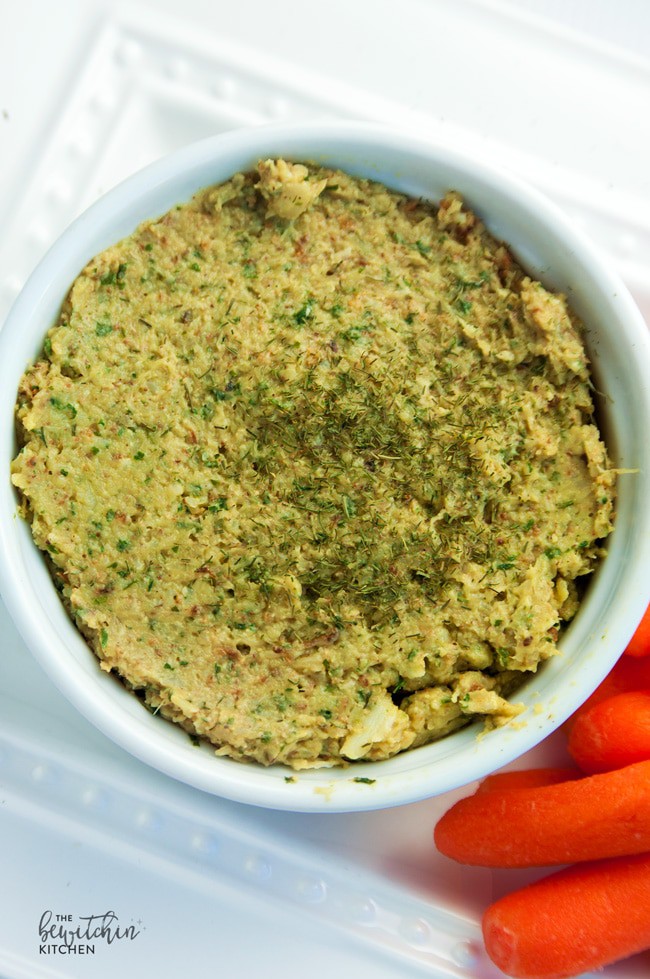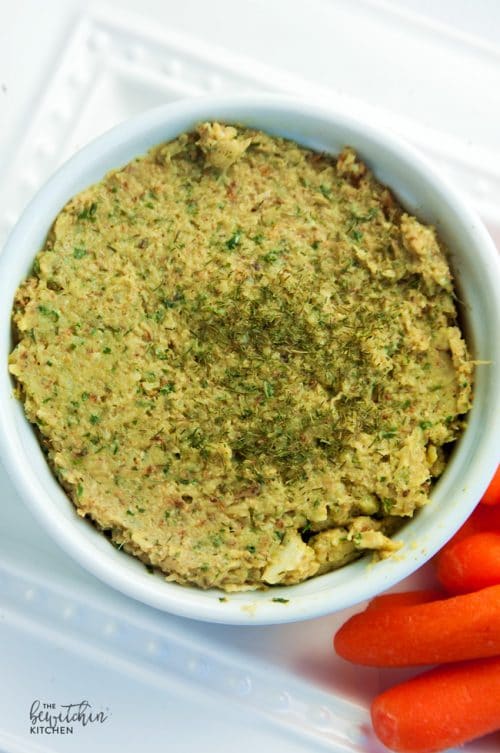 Okay guys, I'll be the first admit that this isn't the prettiest of recipes, but it's super tasty. I love the zest of the red wine vinegar and dill and the fact that it's quick and easy to whip up makes this avocado ranch dip a winner in my books.
Want a Vitamix? Yes, I know you do – it's so awesome. I recommend buying directly from the Vitamix website.
If you like this, then you're going to love this simple homemade guacamole recipe.
Avocado Ranch Dip
Looking for a healthy dip recipe? Check out this Avocado Ranch Dip. This appetizer is Whole30, Paleo and loaded with veggies and healthy fats. The secret ingredient? Cauliflower!
Servings 4 servings
Calories 70kcal
Ingredients
1 head cauliflower
2 tsps  olive oil
1/4 tsp each sea salt and pepper
1 avocado
2 tbsps parsley
2  tbsps red wine vinegar
1 tbsp lemon juice
2 cloves garlic
3/4 tsp dill
1/2 tsp onion powder
Instructions
Preheat oven to 375F

Break off the head of cauliflower into florets and lay on a baking tray. Drizzle olive oil and season with salt and pepper. Roast for 35 minutes. Let cool.

In a Vitamix add all of the ingredients and blend until smooth.

Serve with raw veggies, crackers, or use it in place of mayo on a sandwich!
Nutrition
Serving: 1g | Calories: 70kcal | Carbohydrates: 6.2g | Protein: 1.9g | Fat: 5g | Saturated Fat: 0.8g | Sodium: 23.7mg | Fiber: 3.1g | Sugar: 1.5g
Follow On Pinterest
Follow @bewitchinkitchen On Pinterest for more delicious recipes!
Check out these posts: