Caramel Cream Dip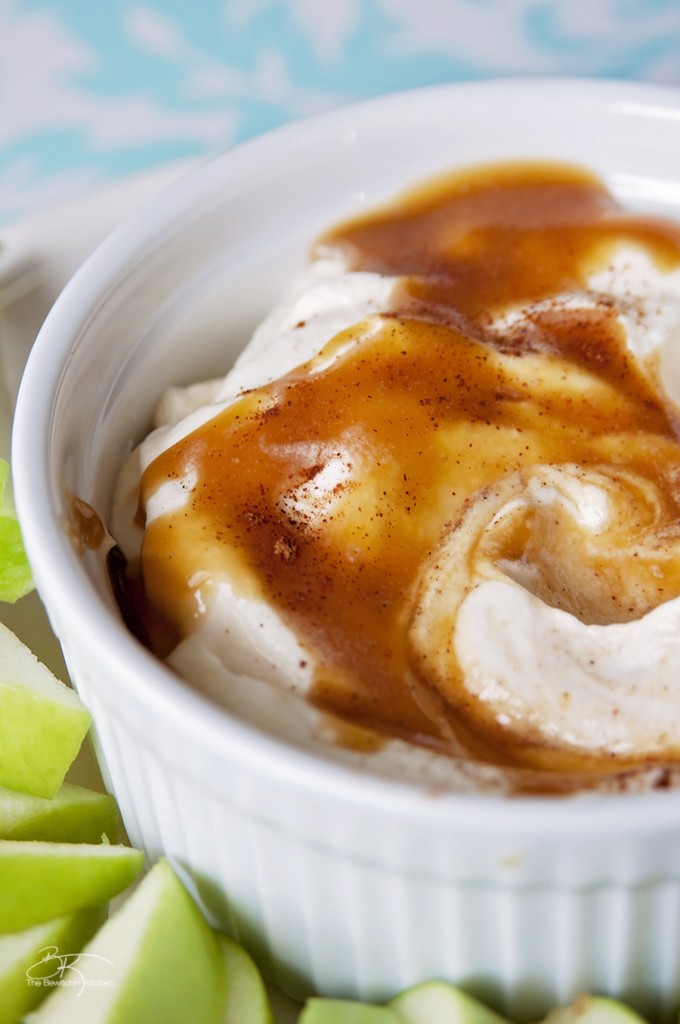 Full disclosure: I'm eating this with a spoon as I type this. Someone send help! This recipe for Caramel Cream Dip is not your typical fruit dip, it's light, fluffy and whipped cream based.
I got the idea for this caramel cream dip when I created my Caramel Apple Waffles (here's a secret, I have made these on the same day even though I scheduled them a few weeks apart). When I was eating the waffles, I loved dipping the apples in the whipped cream and caramel – so I knew what I was making next.
A few notes on this recipe:
I used Truvia Baking Blend because I was out of sugar (why am I always out of sugar). If you're going to use actual sugar vs Stevia use 3x the amount of stevia and I recommend using powdered sugar.
I didn't have caramel on hand either so I used Walden Farms Caramel Dip. I spooned some in the cream when I mixed it up and I also watered some down for the drizzle over top. Walden Farms Caramel Dip is calorie free, so it does have a slight "calorie free taste". If you don't like that, just go for the real thing. I bought the Walden Farms dip at Vitacost, if you want a $10 coupon just click on the link and you should automatically get one. (This is a referral link. You get a $10 credit and so do I!)
If you like this recipe, then you're like me and love caramel. If you want more, please check out these 10 caramel recipes that will leave you drooling.
Caramel Cream Dip
Caramel Cream Dip - an easy 30 second dessert dip recipe that uses whipped cream, cream cheese, caramel and cinnamon. It's so good with apples!
Servings 6
Calories 141kcal
Ingredients
3/4 cup heavy whipping cream
1/4 cup cream cheese
1 tsps Truvia Baking Blend or use 1 tbsp sugar
2 tsps caramel I use Walden Farms Caramel Dip
Sprinkle of cinnamon
Instructions
Add 1/2 cup of whipping cream in a high speed blender (I use a Vitamix) or a mixier and whip. Add cream cheese, the rest of the whipping cream, Truvia and caramel. Combine.

Pour into a serving dish and sprinkle with cinnamon.

Serve with apples, strawberries, and (I just thought of this) Nilla crackers!
Nutrition
Serving: 1g | Calories: 141kcal | Carbohydrates: 2g | Protein: 1g | Fat: 14g | Saturated Fat: 8g | Cholesterol: 51mg | Sodium: 45mg | Potassium: 35mg | Sugar: 1g | Vitamin A: 565IU | Vitamin C: 0.2mg | Calcium: 31mg
Follow On Pinterest
Follow @bewitchinkitchen On Pinterest for more delicious recipes!
Like this post? Don't forget to "Pin" it!