Chocolate Peanut Butter Cupcakes (Stuffed & Frosted)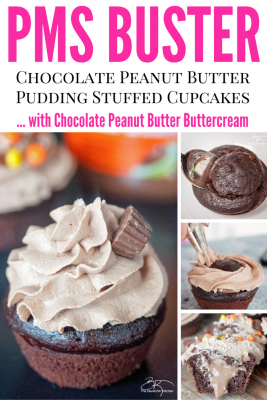 PMS Buster, yes I went there. These chocolate peanut butter cupcakes are stuffed with a peanut butter pudding and topped with a chocolate peanut butter buttercream frosting. Do you see why I went there? It's 100% awesome, you can never go wrong with peanut butter recipes.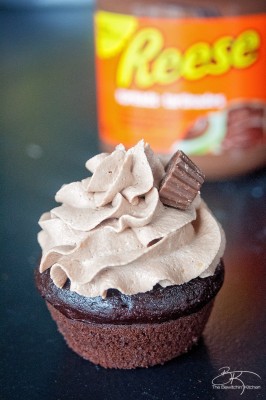 Reese (yes the same people who brought us those delicious peanut butter cups) has created a chocolate peanut butter spread called Reese's Spreads. It's the key ingredient in this recipe, so you're going to need to grab yourself two jars: one for the recipe and one to eat with a spoon (don't roll your eyes, I've gone through three jars friends).
Step 1: Chocolate Peanut Butter Pudding:

You'll want to make the pudding first since it needs to set up in the fridge for 3-4 hours. Here's a tip: don't do what I did and leave it to "simmer" while you're distracted with something  because the egg will cook and the pudding will be lumpy. I pushed it through a sieve and it helped but it didn't make it super smooth like I wanted.
Step 2: Make The Chocolate Cupcakes
I used this Black Magic Chocolate Cake recipe for the cupcakes. If memory serves me right, they baked for about 15 minutes.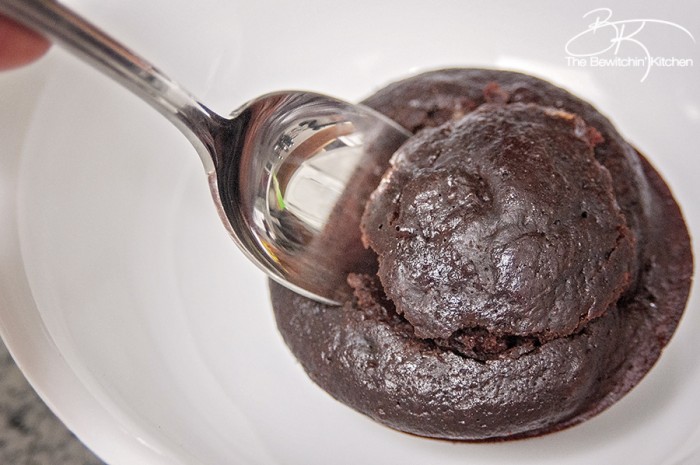 Spoon out the center of the cupcakes and fill with the pudding (once it has been set). Now it's time to make the frosting.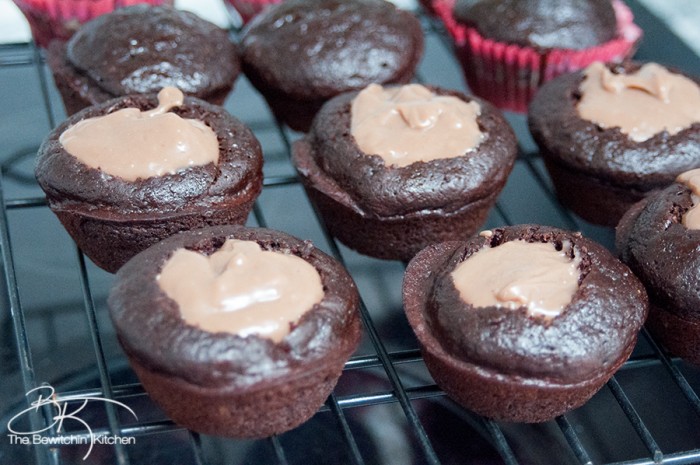 Step 3: Chocolate Peanut Butter Cupcakes Buttercream Frosting

There are three words to describe this recipe: best frosting ever. This buttercream frosting is what makes the Chocolate Peanut Butter Cupcakes so awesome.
The recipe is based of this recipe I have used for white chocolate buttercream. This isn't the first time I have used this buttercream base on The Bewitchin' Kitchen. I have used this buttercream recipe for my white chocolate strawberry buttercream and the base (minus the white chocolate) is my go to for all my cakes (including the DIY wedding cake I posted about last month).
I just realized I goofed and didn't count how many cupcakes this made, I think it was 18. If memory serves me right, I used three 6-count muffin tins to bake the cupcakes. The frosting was enough and I had more than enough pudding.
After frosting top the cupcakes with mini peanut butter cups, mini Reeses Pieces or crushed up versions of the bigger ones.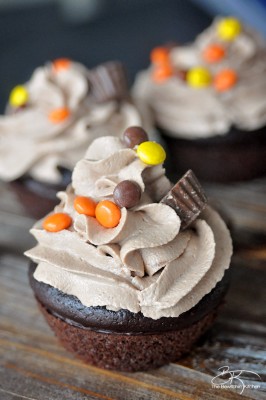 Chocolate Peanut Butter Cupcakes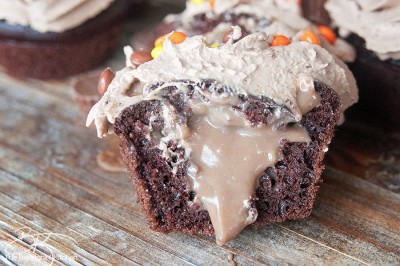 PMS Buster Cupcakes
Ingredients
Batch of chocolate cupcakes
For The Pudding
1/2 cup sugar
1/4 cup cornstarch
1/4 tsp sea salt
2 1/2 cups 2% milk
4 egg yolks
1 cup Reese's Chocolate Peanut Butter Spread
1/8 cup unsalted butter
18 Chocolate Cupcakes
For The Frosting
1 cup unsalted butter softened
3 cups icing sugar
1/4 cup whipping cream
1 cup Reese's Chocolate Peanut Butter Spread
Instructions
For The Pudding
In a saucepan combine the first three ingredients, then add the milk and egg yolks. Bring it to a slight boil over medium heat. Whisk constantly, don't be like me and get distracted or you will have chunks of cooked egg! Once it starts bubbling add the Reese's Spread. Take it off the burner, whisk for a minute then add the butter. If you get cooked egg in your pudding, push it through a sieve to get the majority of the lumps out. Place saran wrap over the pudding and chill for three hours.
Chocolate Cupcakes
Once your chocolate cupcakes are cooled, spoon out the center of the cake (eat that cake) and then spoon the pudding into cupcakes.
For The Frosting
In a high speed mixer cream together the butter and powdered sugar for roughly two minutes. Add the whipping cream and mix until fluffy (5-7 minutes). Add the Reese's Spread and whip until incorporated.

Frost the cupcakes and enjoy!
Follow On Pinterest
Follow @bewitchinkitchen On Pinterest for more delicious recipes!
Like this recipe for the ultimate Chocolate Peanut Butter Cupcakes? Why don't you pin it for later?

This post has been sponsored by Hershey's Canada and I have been compensated for creating this wonderful creation. All opinions are my own.