How to Throw a Mad Science Party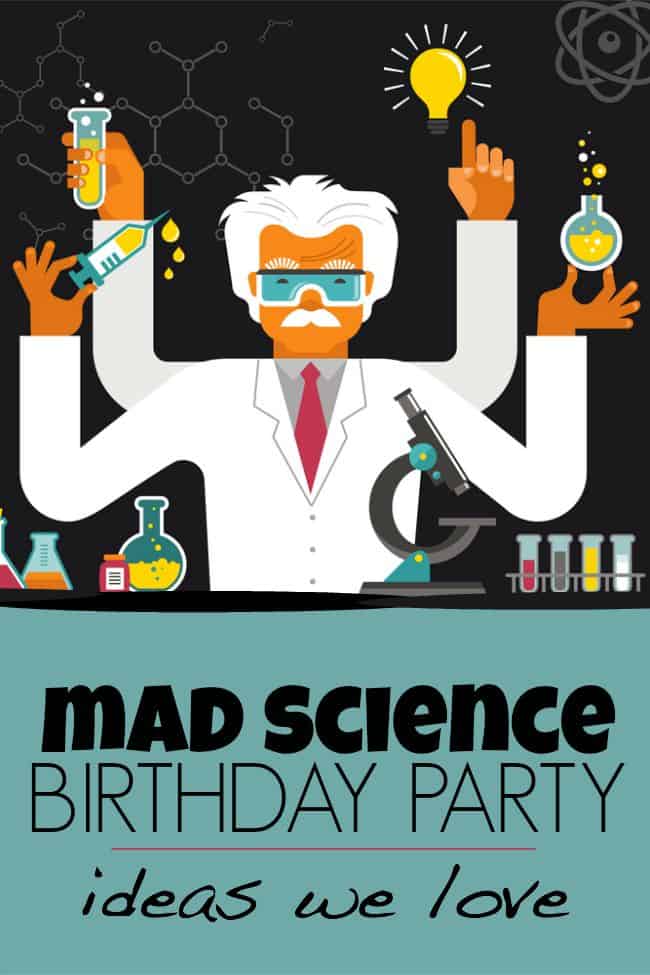 Kids go crazy for science, which makes a mad science party an exciting theme to plan for just about any age group. From laboratory themed decorations to tasty concoctions, bubbling beverages, and hands-on experiments, mad science parties rock! Jennifer Carver, of Spaceships and Laser Beams, is sharing great ideas to teach you how to throw a mad science party of your very own. 
First off, add some creative elements to your mad science party invitation (if you don't want to do it yourself, check out Etsy). Whichever invitation idea you choose, guests will be lining up to come to your mad science party! Get ready for some crazy fun. Here are a few ideas:
Design or buy a printable invitation with science themed graphics. Be sure to play up the idea of "experimenting" with some birthday fun!
Print basic party information on small pieces of paper. Roll these into small scrolls and deliver the invitations in test tubes. 
Attach the invitation to a pair of safety glasses. Invite guests to come "see" and "discover" some science themed birthday fun!
Add party details to a small lab notebook or clipboard and "assign" guests to report to the "mad science laboratory" for birthday experimenting.
Just about every party, no matter the theme, requires party basics like:  plates, napkins, utensils and cups. But a mad science party lends itself to some pretty awesome props and décor. I suggest gathering science and laboratory themed equipment to use as both party decorations and tools for thrilling science experiments. Here are a few ideas to get you started:
Lab coats (You can purchase or make these inexpensively by cutting down the middle of white sleeved t-shirts. Draw on a pocket with a black marker.)
Safety goggles
Test tubes
Petri dishes
Microscope
Periodic Table of the Elements
Science diagrams and posters
Flasks and beakers
Magnifying glasses
Clipboards
Lab notebooks
Science models (atom, brain, cell, DNA, rocket, etc…)
Science tools (tweezers, graduated cylinders, rubber gloves)
Incorporating some or all of these science themed props will help the theme come alive. Don't be afraid to think outside of the box! Add personalized décor such as the guest of honor's name written to mimic the style of the Periodic Table.
Consider using some of the science props you've gathered as part of your refreshment display. Test tubes make great candy tubes! Flasks and beakers can be filled with sweet treats or even colored beverages for hydration. Dry ice can be used to make mysterious bubbles and steam in displays, but do not use it in individual beverages (dry ice can burn tissue). Get creative with labels. Water bottles can be labeled with their chemical name:  H20. Magnifying glasses can display single serve desserts, such as a cookie or cupcake. Petri dishes can be a creative way to serve up Jell-O with gummy bugs or worms.
The highlight of a mad science party is definitely experimenting, but safety is top priority. Plan age appropriate activities that can be executed with your group size and party space. Some fun ideas include launching water bottle rockets, making your own slime (sometimes called "GAK"), observing prepared slides under a microscope, experimenting with simple vinegar and baking soda solutions and decorating cell cake models. There are endless ideas online! Another option is to visit a science museum or hire a scientist to come and share a science demonstration. Just remember, a mad science party is best when it includes some hands-on science activities for the kids to enjoy.
Is it any wonder kids love a mad science party? I think I may just grab my lab coat and join you in throwing a marvelous mad science party!
Looking for more party inspiration? Don't forget to check out these tips for planning a train themed birthday party.