Cauliflower Pizza Crust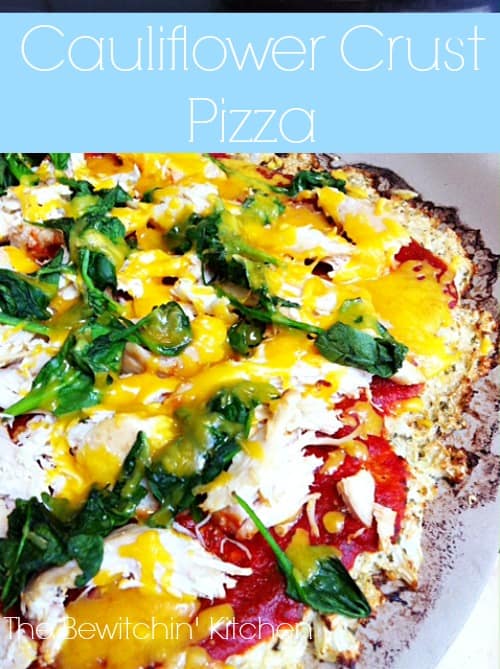 Thank goodness for Pinterest. Am I right? Before Pinterest, I would have never of thought to use Cauliflower for a pizza crust. Actually, if I'm going to be honest here I would not have tried many of the recipes that have become our family favourites, or even created my own out of inspiration from what I have seen. Cauliflower Pizza Crust is a tricky thing, at least if you're expecting pizza crust like ability. I have probably tried 3-4 different recipes, but they all resulted in a crumbly mess that would just stick to the pan. Then I found a simple Cauliflower Pizza Crust recipe from Greatist.com, added a few flavourings and came up with the following:
Cauliflower Pizza Crust
Ingredients
1/2 head of one large cauliflower
1/2 cup of plain greek yogurt
1 egg
2-3 tsps garlic powder
1 tbsp parsely/basil/italian seasoning (whatever you have on hand)
sea salt and pepper to taste
Method
Preheat oven to 400 degrees.
Break off your cauliflower in pieces and place in a blender/food processor. (I have Ninja blender and it works awesome for this.) Pulse until you have what appears as cauliflower "rice", if it turnscreamy – you have gone too far.
Transfer cauliflower to a bowl and stir in yogurt, egg and the rest of the ingredients. Mix throughly. *I use sea salt because it is the least processed salt, but regular table salt will work fine as well.
Spread the cauliflower mixture on a greased baking sheet, about 1/2 – 3/4 inch thick. Place in oven and bake for 30-35 minutes, until it's nice and firm. *I used a pizza stone, and because pizza stones absorb as much moisture as possible it really helps the crust from falling apart. That being said, I have made this recipe on a cookie sheet and it was fine.
Top with pizza sauce and desired toppings and bake another five minutes, or until cheese has melted.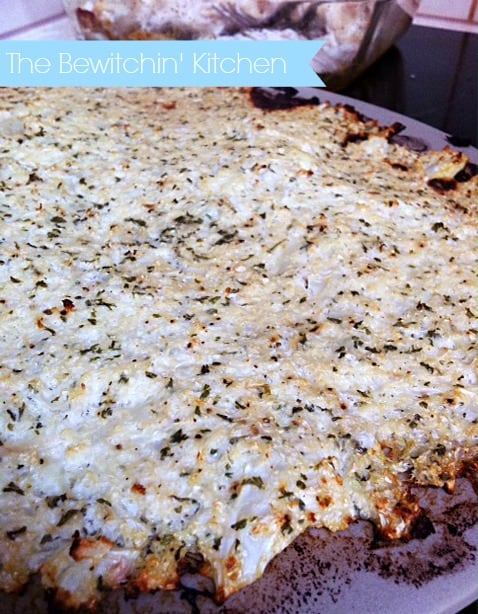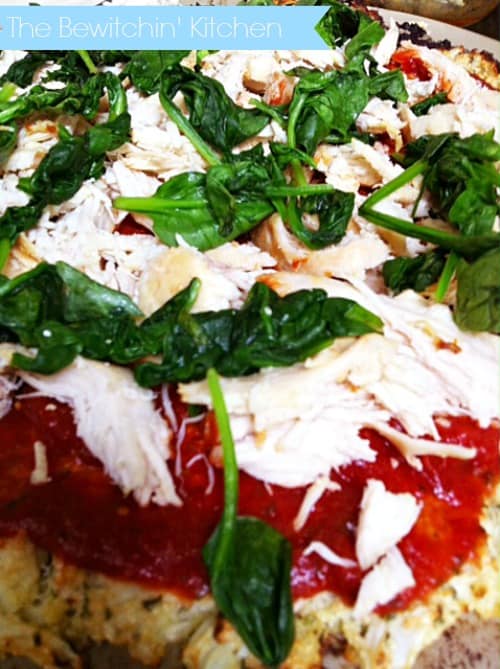 This time I topped it with pizza sauce, spinach, chicken and small amount of cheese. The nice thing about this recipe is that you can go in whichever direction you would like. I have made it with BBQ sauce, chicken, mozza and onions before – it was delicious.
Another idea would be to add red pepper flakes to the crust and do a thai chicken style pizza. The possibilities are endless.
Looking for another fun cauliflower recipe? Try this Roasted Cauliflower Dip.
Update: February 13, 2015. I made a few variations with temperature and toppings and came up with this BBQ Chicken Cauliflower Pizza: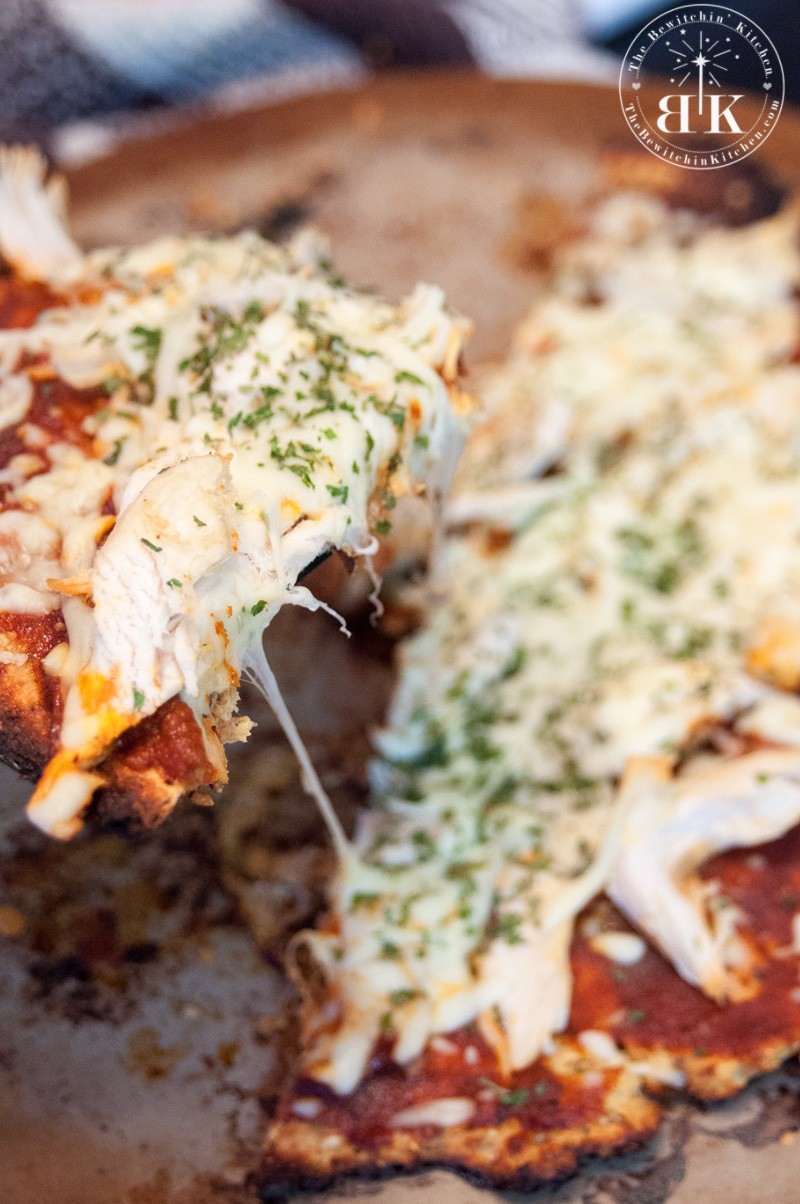 How do you like your pizza?
Looking for more great ideas? Click here to follow me on Pinterest!
Visit Randa | The Bewitchin' Kitchen's profile on Pinterest.