Roasted Cauliflower Dip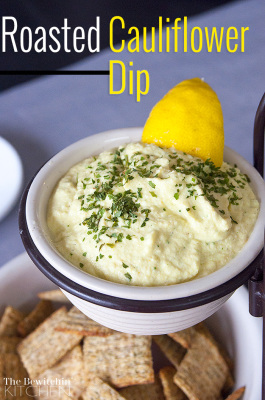 I love finger foods. Set me out a bowl of dip, crackers and veggies and I have a hard time stopping myself from eating the whole thing. This Roasted Cauliflower Dip was no different.
Here's a little spoiler alert for you all, but I have been reviewing a Vitamix for the past few weeks (review and giveaway to come Sunday night). It came with a cook book called Personal Blending: Your Signature Whole-Food Meals in Minutes. There are a few recipes that I have been intrigued with but I knew that the Roasted Cauliflower Dip was a must try. In fact, other than smoothies and shakes, it was the first "food" recipe I have tried in the Vitamix.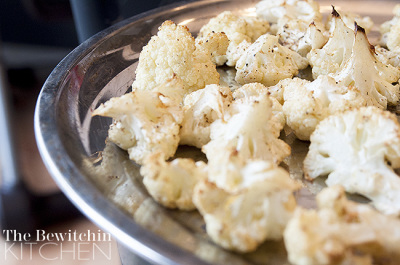 The only actual "cooking" involved with this recipe was roasting the cauliflower. Have I mentioned just how much I love cauliflower? It's so versatile and works for anything: a substitute for pizza crust, mashed potatoes, a great side dish or (in this case) a delicious dip.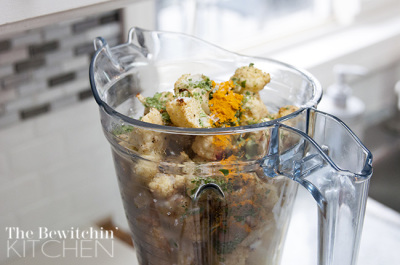 After the cauliflower was cooled, all I had to do was toss it in the Vitamix and blend. It took roughly a minute to put together.
One whole minute until I was in flavor town (I may have ripped that off of Guy).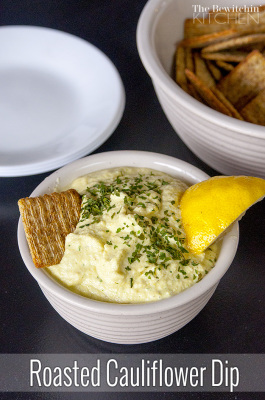 I served it with some crackers that were 2 for $5 at the grocery store I carefully selected but I think this would be perfect with some carrots, broccoli and red pepper strips.
This recipe was good as it is, but I have to tell you it has inspired me. I already have a few ideas on how I can make this dip even better (it may involve cheese).
Roasted Cauliflower Dip
Roasted Cauliflower Dip
A delicious twist on a dip for your next party. Recipe by Vitamix.
Servings 4
Calories 137kcal
Ingredients
1 head cauliflower 3 cups of florets
2 tbsps olive oil
1/2 tsp cumin
1/2 tsp black pepper
1/4 lemon not including the rind
1 1/4 cups greek yogurt full fat
1/4 tsp ground tumeric
1 tsp cilantro leaves
1/4 tsp ground cumin
1/4 tsp sea salt
Instructions
Preheat oven to 375.

Toss cauliflower florets with olive oil, 1/2 tsp cumin and pepper and spread on a baking sheet. Roast for 25 minutes. Let cool.

One the cauliflower is cool, add all of your ingredients to your blender and puree.

Transfer to serving bowl and serve with crackers, vegetables or pita bread.
Nutrition
Serving: 1g | Calories: 137kcal | Carbohydrates: 10g | Protein: 9g | Fat: 8g | Saturated Fat: 1g | Polyunsaturated Fat: 1g | Monounsaturated Fat: 5g | Trans Fat: 1g | Cholesterol: 3mg | Sodium: 212mg | Potassium: 532mg | Fiber: 3g | Sugar: 5g | Vitamin A: 10IU | Vitamin C: 70mg | Calcium: 105mg | Iron: 1mg
Follow On Pinterest
Follow @bewitchinkitchen On Pinterest for more delicious recipes!
If you liked this Roasted Cauliflower Dip then you will love this Hot Broccoli Dip recipe.
If you're looking for a Vitamix you can buy one from Amazon.com
 or Amazon.ca
.
What's your favorite dip recipe?