Cinnamon Zucchini Waffles
I love Waffles. They're the perfect breakfast, dessert, snack – whatever. You're going to love these Cinnamon Zucchini Waffles. They're super filling. I bagged the leftovers, froze them and now I can pop them in the toaster (or re heat in the waffle maker) for a quick and easy breakfast for when the baby comes.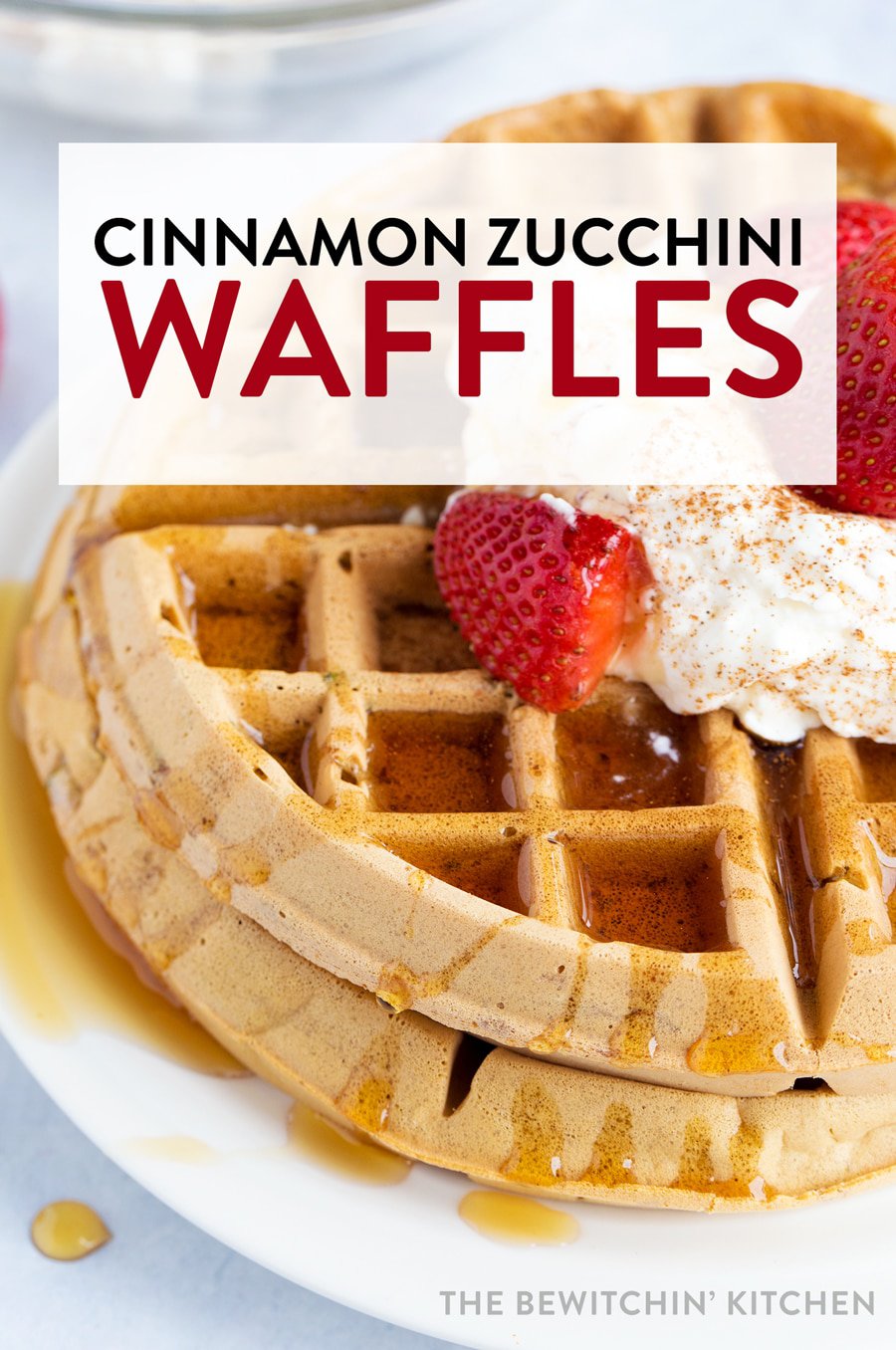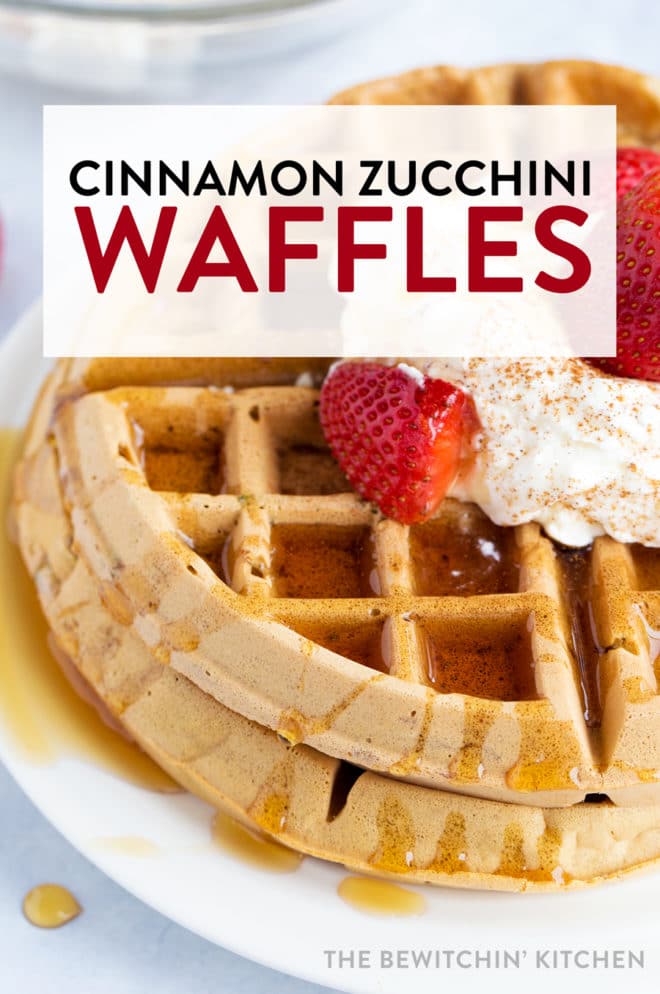 Cinnamon Zucchini Waffles
Disclosure: This recipe contains affiliate links with the products I used to make this recipe come alive.
Recipe updated March 2018.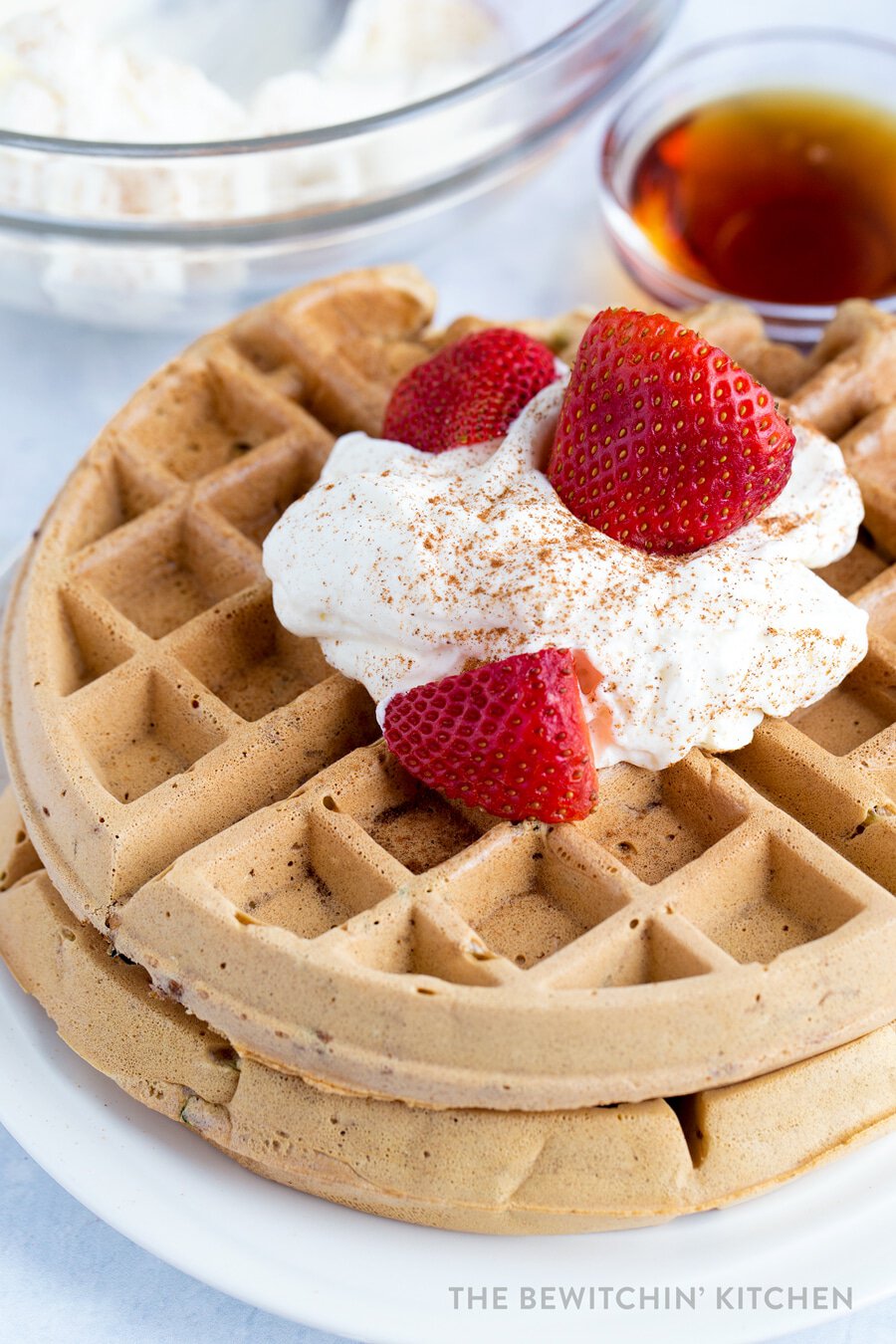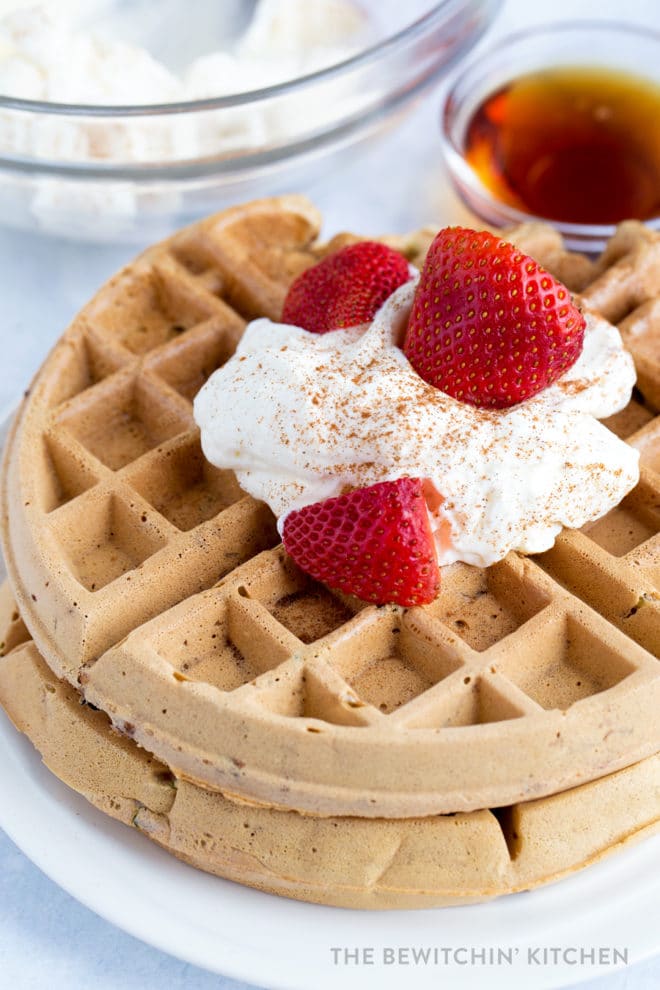 Whenever we cook waffles my six-year-old sings a little jingle (waffles, waffles, waffles, waffles). He got it from that super annoying Teen Titans show but I have to admit, the song is catchy and I find myself singing along.
Today I wanted to update this homemade waffle recipe that I originally found on Gimme Some Oven and adjust it a bit to what our family needs. I've been making her recipe for years, it's what I made and froze when I was pregnant with my son and now that I'm expecting a little girl, I guess I'm feeling sentimental because here I am typing away while my kitchen smells like cinnamon and vanilla.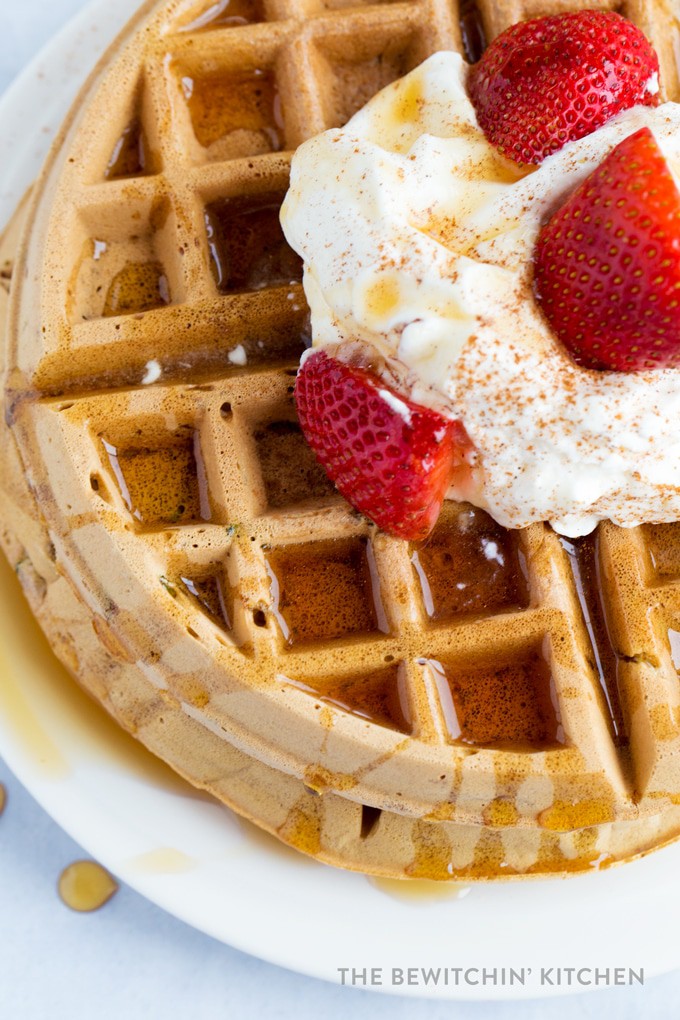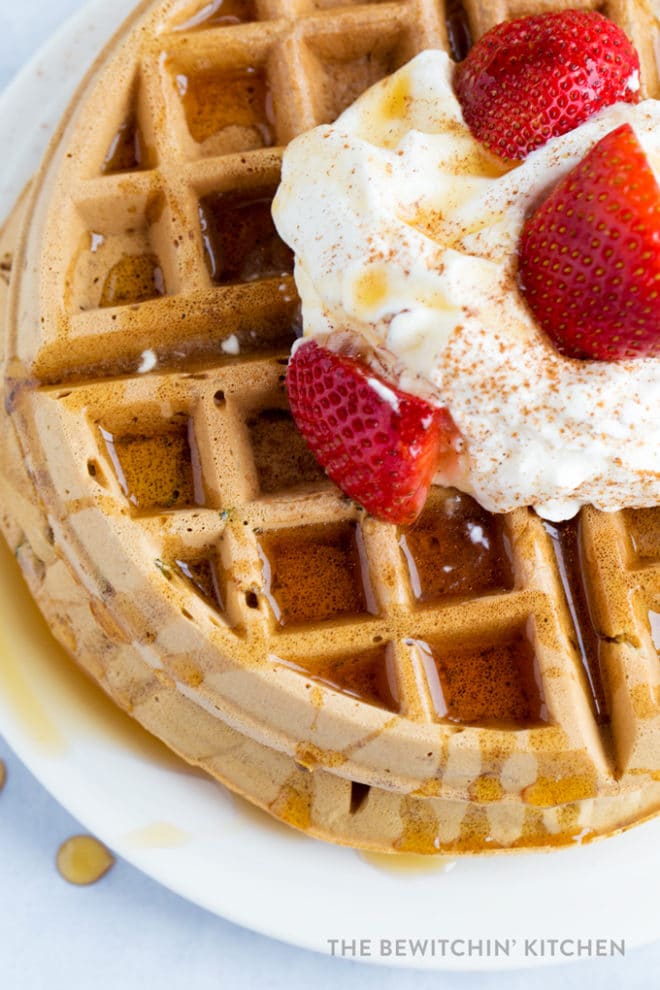 I love that I froze this recipe for when both my babies were due to come without knowing it. Looking at on old recipes is fun.
TBK's Pro Tip: In this recipe, I use almond milk but I've used skim, whole, cashew, and coconut and the waffles always turn out beautifully.
Zucchini Waffles
TBK's Pro Tip: Cook the waffles a little longer than usual, the zucchini adds additional liquid that requires the batter a bit longer to cook.
Supplies and ingredients I use when making cinnamon zucchini waffles: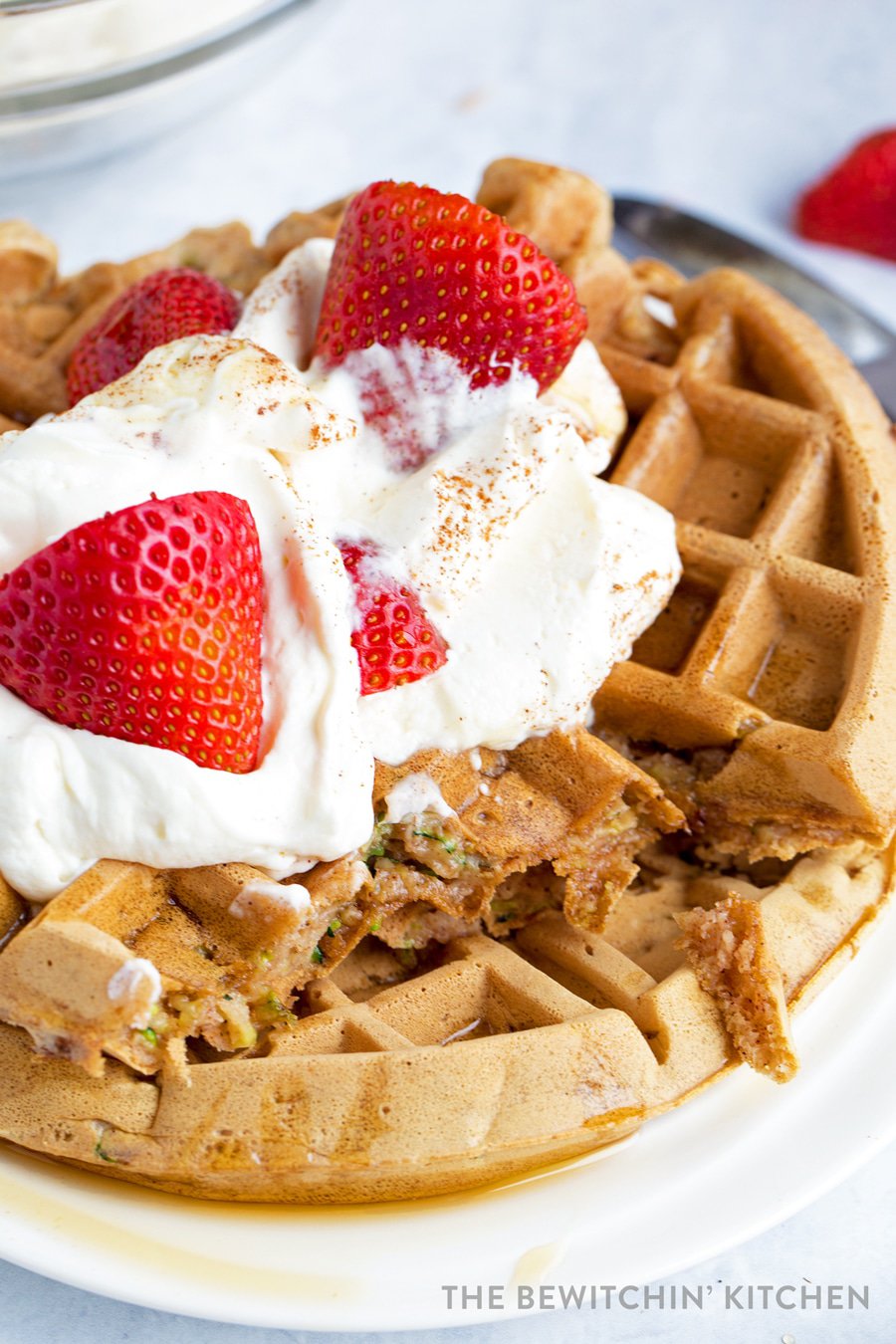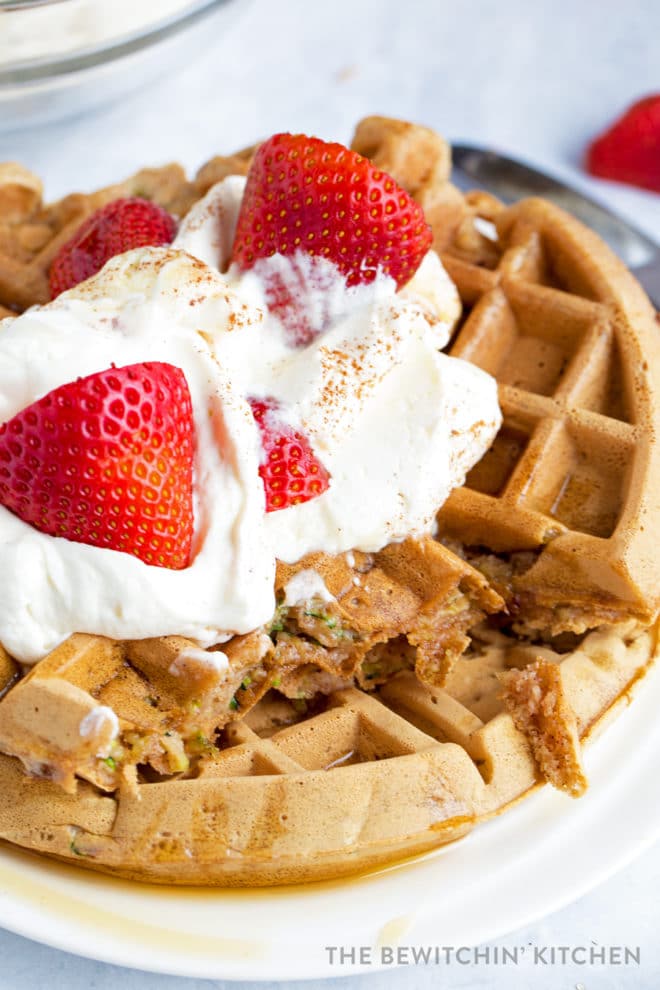 More breakfast recipes you may find tasty:
These cinnamon zucchini waffles are super filling. I'm one that can pound back a meal no problem, and when I made this update – I could barely eat one full one. When you add additions like strawberries, raspberries, and other fruit – you're adding more fiber and that will help fill you up even further.
I like this served with strawberries and whipped cream.
So tell me, are you a maple syrup fan or a fruit and whipped fan?
Cinnamon Zucchini Waffles
These easy waffles use a Belgian waffle iron that makes this breakfast perfect for brunch or dessert too! Sweet cinnamon, sugar, and vanilla with zucchini.
Servings 5 waffles
Calories 344kcal
Ingredients
1 medium zucchini
1 1/2 cups  all purpose flour
1/4 cup sugar
2 tsps baking powder
1/2 tsp  baking soda
1/2 tsp salt
1 tsp cinnamon
1 1/2 cups almond milk
2 eggs
1 tsp vanilla extract
Instructions
Turn on the waffle iron to the highest setting (in my case it was a 5)

Grate the zucchini and transfer to a paper towel where you'll squeeze out any additional moisture.

In a large bowl, whisk together the dry ingredients.

Add the almond milk, eggs, vanilla and zucchini and stir until combined.

Pour 1/2 cup of batter into your waffle iron, let cook until your preferred doneness (I like mine extra crisp).
Nutrition
Serving: 1g | Calories: 344kcal | Carbohydrates: 67g | Protein: 10g | Fat: 3g | Saturated Fat: 1g | Polyunsaturated Fat: 1g | Monounsaturated Fat: 1g | Trans Fat: 1g | Cholesterol: 65mg | Sodium: 639mg | Potassium: 206mg | Fiber: 3g | Sugar: 11g | Vitamin A: 175IU | Vitamin C: 7mg | Calcium: 215mg | Iron: 4mg
Follow On Pinterest
Follow @bewitchinkitchen On Pinterest for more delicious recipes!