Clean and Green Super Salad
Today I'm sharing with you a super easy mason jar super salad. That's a whole lot of super, but I promise it will live up to its name. This recipe is 21 Day Fix approved too!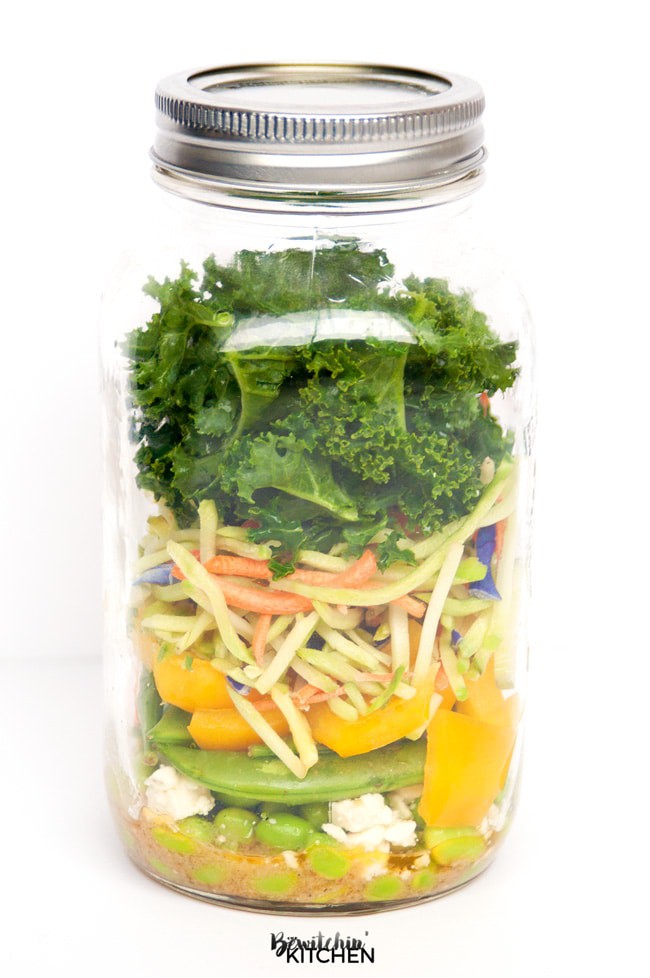 So why call it a Super Salad? I'm not salad's biggest fan, so whenever I make a salad it's pretty plain: spinach, chicken, and maybe some carrots if I'm feeling extra motivated.
I know, I'm boring. 
Throwing together this Clean and Green Super Salad was a big deal for this lazy girl. I even tossed in some random stuff that I never eat (edamame) so that's why it's called a Super Salad. It has some super ingredients (kale) and it took more than a second to put together. You can stop rolling your eyes at me now.
I'm a big fan of broccoli slaw, so I tossed some of that in there to and to make it extra special, I put it together in a mason jar.
I'm the newest member to join the mason jar bandwagon, and I can't believe it took me this long. I thought it was silly before, and now – I'm hooked. It makes meal prep so much easier.
I recently shared my mason jar salad excitement over Instagram.
Clean and Green Super Salad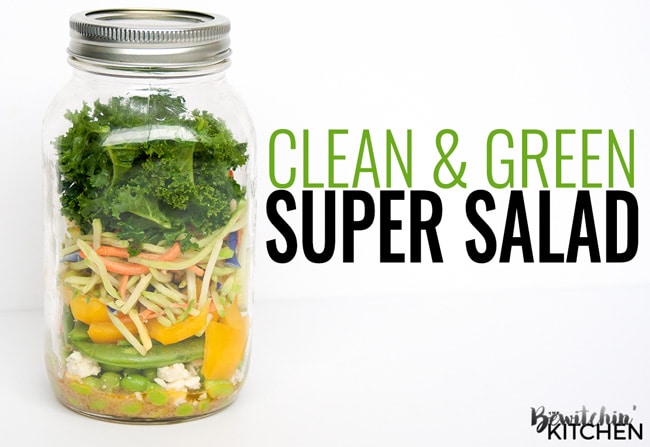 I made this salad using my favorite homemade vinaigrette recipe for Mediterranean vinaigrette.
I love using mason jars for salad! There are so many options on Amazon too. Check them out.

Clean and Green Super Salad
Servings 1
Ingredients
2 tbsps Mediterranean Vinaigrette
1/2 cup edamame
1/2 cup feta cheese
1/2 cup snow peas
1/2 bell pepper chopped
1/2 cup broccoli slaw
1 cup kale
Instructions
Arrange your mason jar in the following order: vinaigrette, edamame, cheese, peas, pepper, slaw and kale.

Or if you're eating it out of a bowl, toss it all together and enjoy.
Follow On Pinterest
Follow @bewitchinkitchen On Pinterest for more delicious recipes!
Like this recipe? Don't forget to pin it to save for future use and to share it with your friends.
Disclosure: This post contains affiliate links for your convenience. As an Amazon Associate, I earn from qualifying purchases.