Mini Bacon Breakfast Braids
I'm a huge fan of breakfast recipes. We have breakfast for dinner often in my house, so I'm always looking for a way to jazz up bacon and eggs, these mini bacon breakfast braids are the perfect way to do just that.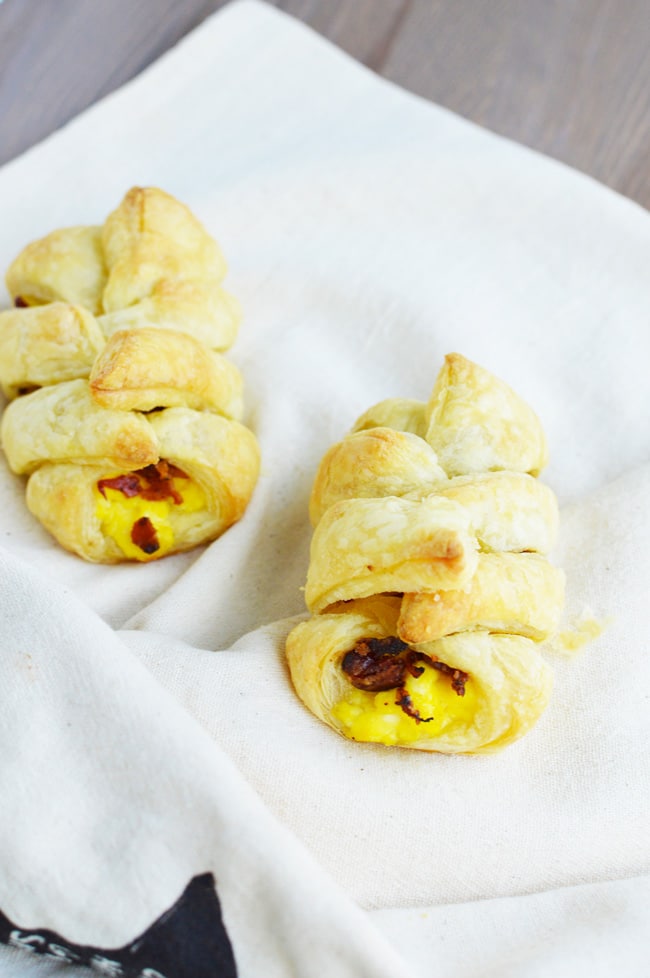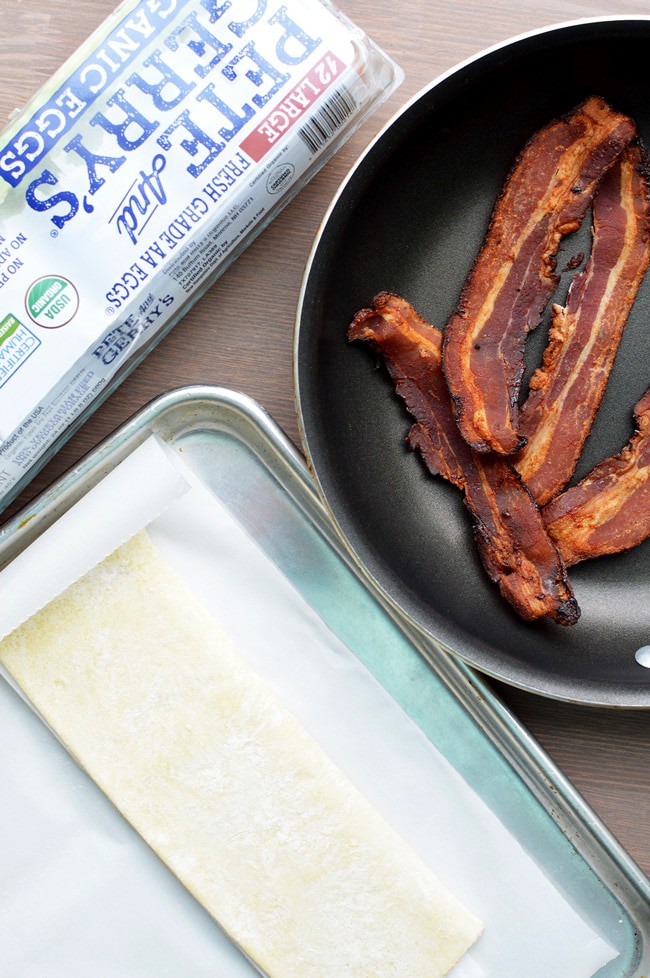 It all starts with bacon, eggs and sheet of puff pastry (phyllo pastry). You can usually find phyllo sheets in the frozen section near the pie crusts.

What's nice is that this can use pre-cooked eggs, cutting cook time in half. I'm all about meal prep! For examples sake this recipe uses eggs and bacon but you could add onions, garlic, spinach, sundried tomatoes or whatever your heart fancies.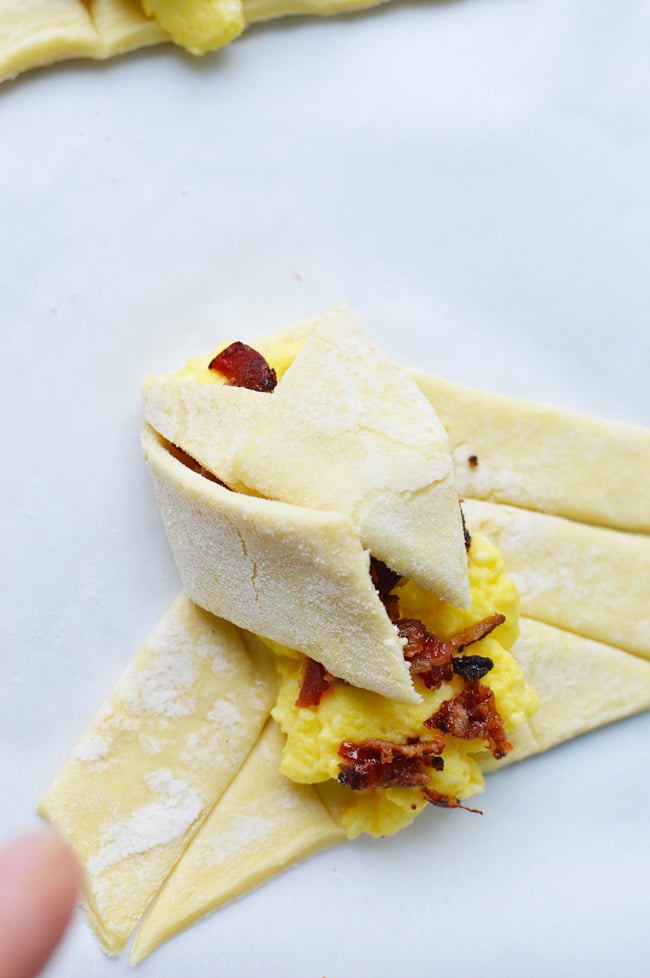 Simply seal the braid and you're done!
Mini Bacon Breakfast Braids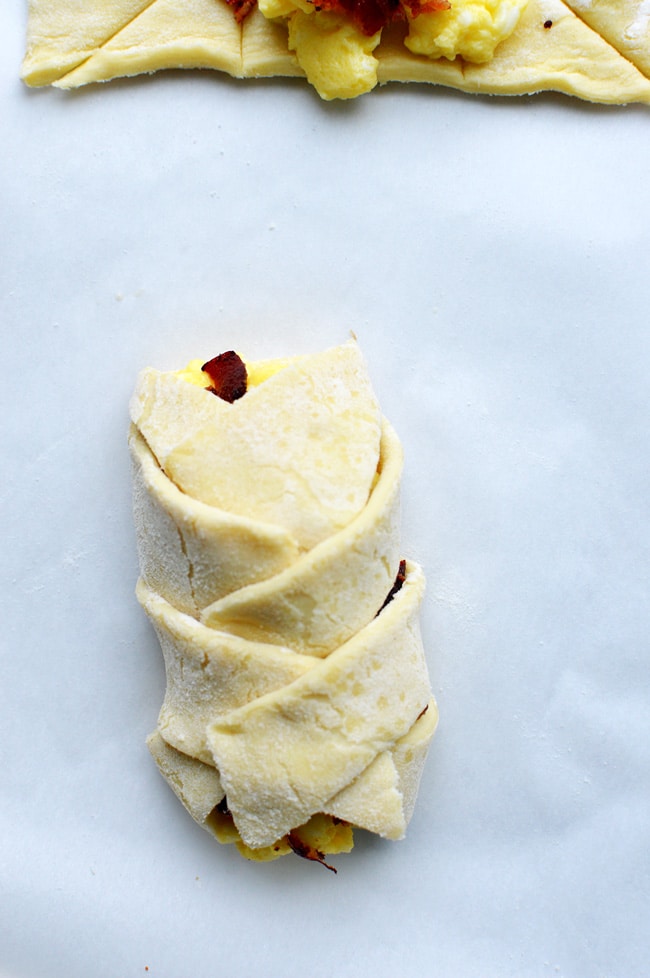 Want more? Check out all my breakfast recipes.

Mini Bacon Breakfast Braids
Ingredients
1 frozen package of puff pastry sheets comes as a set of two, this recipe uses one of those sheets.
2-4 pieces of cooked crispy bacon
4-5 eggs with a dash of water.
sea salt and pepper to taste
Optional add-ins: small diced onions peppers, cheese, spinach, etc
Instructions
Allow the puff pastry sheet to thaw enough for it to be workable, note quite room temp, but almost. Whisk the eggs together with a dash of water and then cooked them in classic scrambled fashion.

When the pastry is ready to work with, unfold the sheet (the one we used came in thirds). Cut the full sheet into three long pieces following the fold lines already there. Then cut those pieces in half. This should leave you with six pieces that are about 2.5 inches wide and 4 inches long.

Use a sharp knife or edged item to make downward cuts on the outer 1.5 inches on each side from the center (see images).

Fill the center, uncut, area with the cooked scrambled eggs and sprinkle with the crispy bacon.

Start at the top and fold over one side, then cross over the next pieces from the opposite side, follow this back and forth all the way down to the bottom, tuck the bottom pieces in well so they stay put and don't puff up and out of the braid while baking.

Bake for about 12-15 minutes at 375 degrees or until the pastry has really increased in size and is golden brown.
Follow On Pinterest
Follow @bewitchinkitchen On Pinterest for more delicious recipes!
What would you add to these Mini Bacon Breakfast Braids?
Me? I would probably add, garlic and spinach.
If you like this recipe, don't forget to Pin it!