DIY Wedding Cake – A Beginner's Guide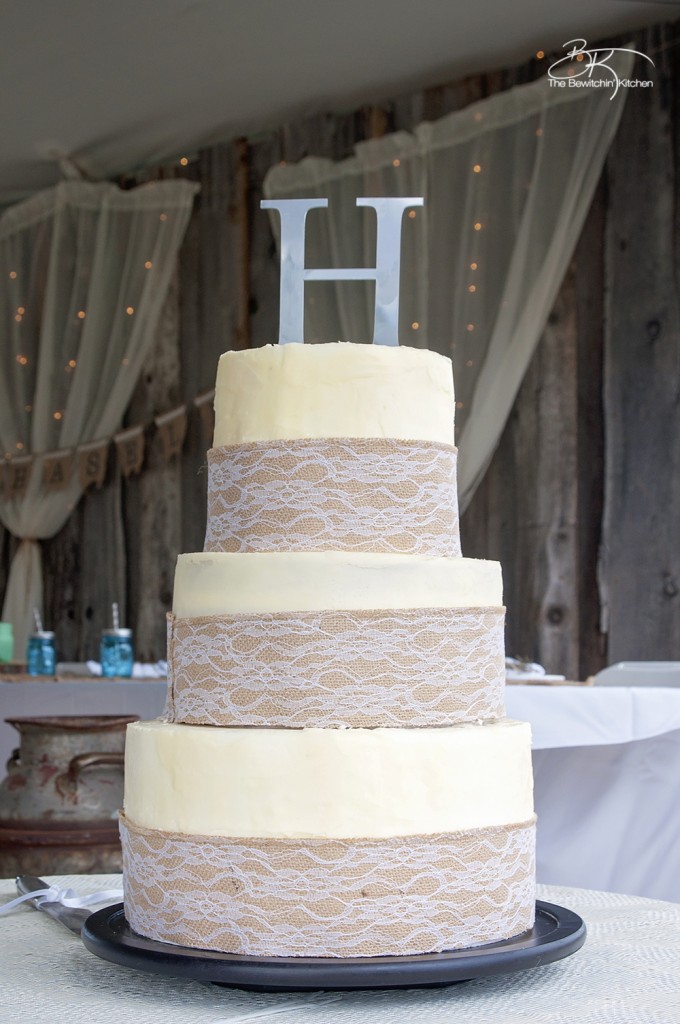 A week ago I tackled a DIY wedding cake. It was the first wedding cake I have made, and considering I'm not a professional I think it turned alright. My end vision was a three tiered wedding cake wrapped with a burlap and lace trim for a rustic wedding feel. In this post I will share with you how I did it and the supplies I used.
Just a note: this cake didn't turn out perfect by any means, but thankfully the bride (my beautiful cousin) wasn't picky as making a DIY wedding cake was incredibly cost effective.
No one ate my wedding cake at my wedding, so I didn't want to create it with 100% cake. It would be too expensive and I felt like it would be a waste so I used styrofoam cakes for the top and bottom tier.
DIY Wedding Cake Supplies:
Below are all the items I used to make the cake (they are affiliate links).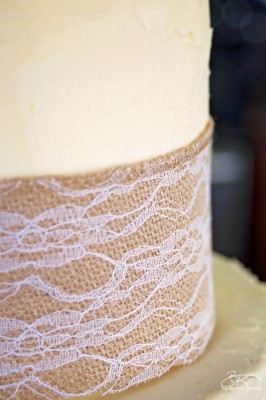 Cake turntable or a lazy susan (I suggest a lipless one as it makes frosting a pain in the butt with the lip)
Wilton Cake Leveller
Soup Can
Frosting and cake recipe
Decorations (Cake topper is from Etsy & the burlap and lace is from Michaels)
First Things First: Make Your Cake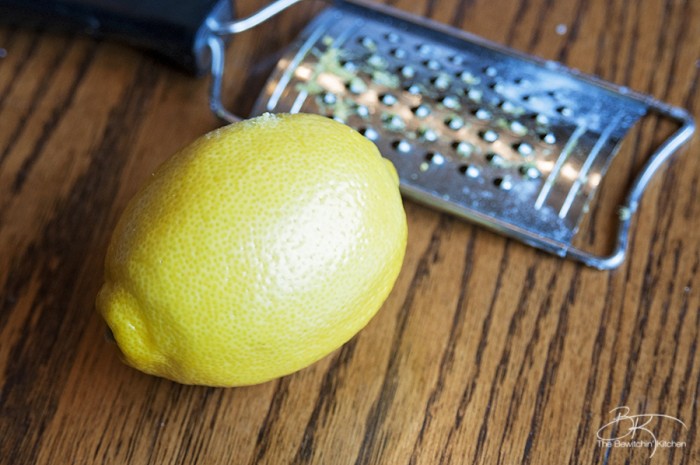 A few weeks before the wedding my cousin and I made a few cakes to sample and test out. This cake recipe from Canadian Living is what we ended up using for the wedding cake, but we made it without the orange and without the cookies.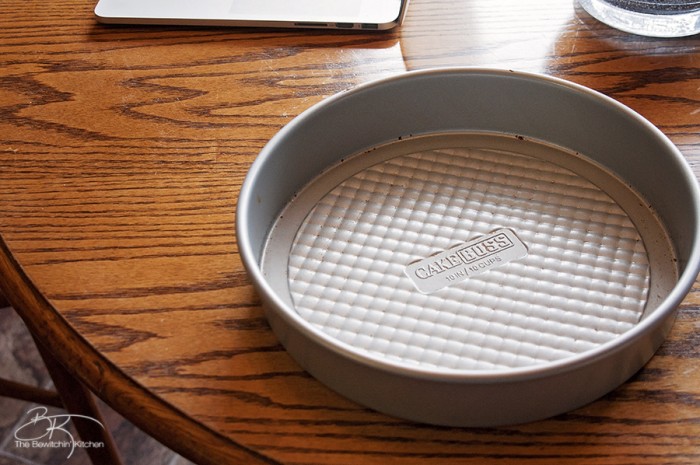 I bought a Cake Boss pan set from Zulily and I love them! They are the best cake pans I have tried. You can find them at Amazon.com, Amazon.ca and I have seen them at Canadian Tire.
After the cake comes out of the oven, cool completely on racks. You do not want to start frosting them until they are 100% cool!
Prepare Your Frosting: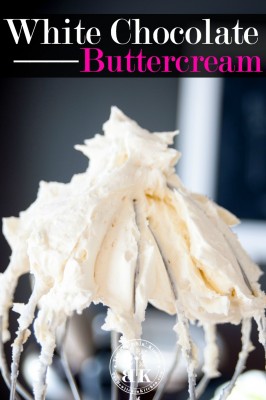 I used the base of the White Chocolate Buttercream Frosting recipe, but without the white chocolate. I also added more sugar to make it a little thicker. I played with the consistency a lot. For the "crumb coat" I probably added roughly 4 cups of powdered sugar, and for the actual frosting part I just dumped it in until it "felt right".
Get The Fake Cake Together: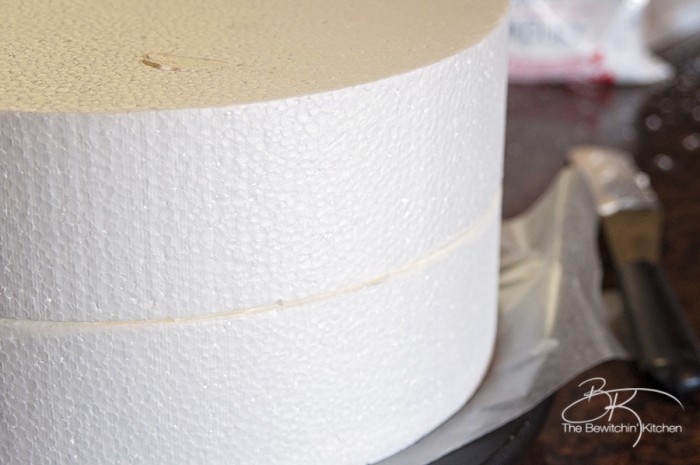 It seemed so odd to make a "fake cake", but I really didn't want to waste my money and time on a bunch of cakes that no one would eat. So the first thing I did was "glue" the two cakes from each set (both 12″ and 8″) together. I spread the buttercream in the middle, stacked them and tossed it in the freezer until it was hard.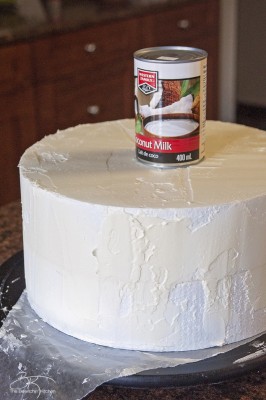 What I didn't anticipate was how tough frosting the styrofoam cakes would be. Unlike the real cake, the styrofoam cake was light and it was hard to spin the cake turntable and evenly coat the cake with the buttercream. It took a bit, but I finally got smart and used a can of coconut milk to weigh it down (any soup can would do). This helped big time!
Treat the styrofoam cake as you would a real cake: crumb coat, freeze and repeat. I used the Wilton spreader to make the frosting even and I also used one of those food scrapers (like this one) and that worked awesome as well.
DIY Wedding Cake: Frost Your Cake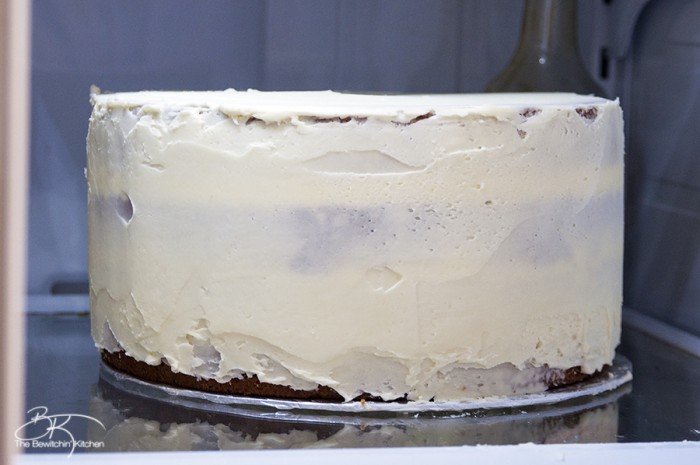 I treated both the real cake and the styrofoam cakes the same. I would crumb coat it or "dirty ice" it, freeze and repeat. I built the frosting up and kept chilling or freezing them. I didn't worry about the bottoms of the cakes too much as they were being covered by the burlap and lace. The real cake was 2 10″ cakes put together with a lot of frosting in  between (I'm a big fan of the high frosting to cake ratio).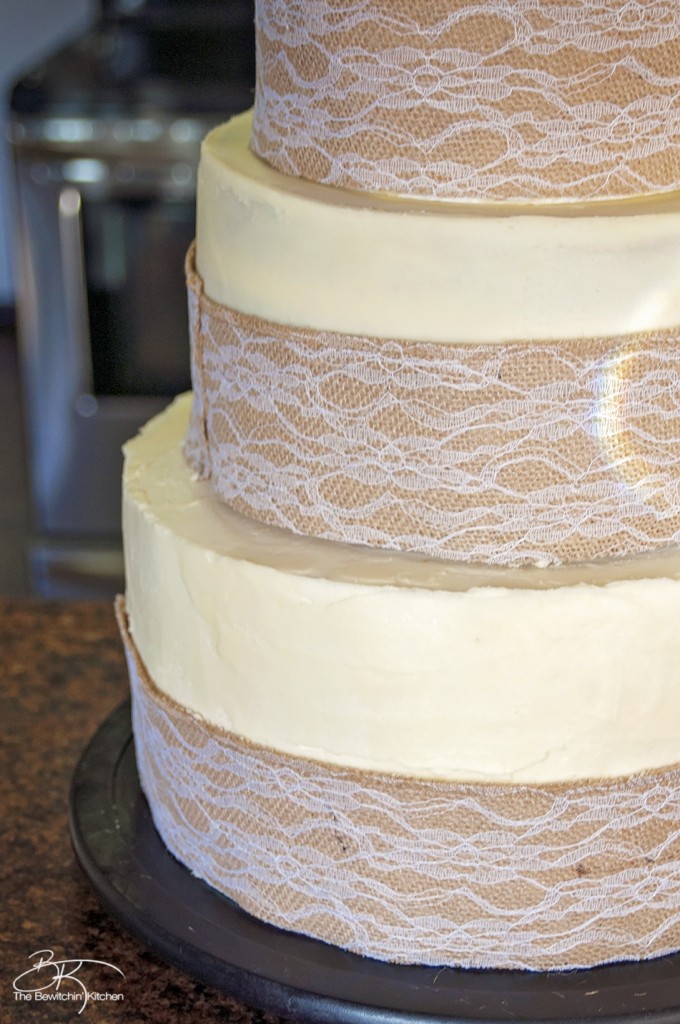 The cake was still lumpy and bumpy (it was worse on the styrofoam due to the weight of it) so I used the spatula dipped in hot water to smooth it out. What happened then was the frosting changed color a bit in the areas I used it. So I slathered on more frosting and did my best to smooth it out.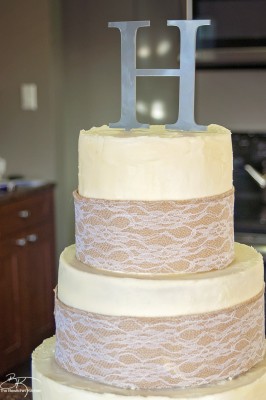 When it came time to wrapping the cake with the burlap and lace I pinned it with sewing push pins. On the real cake I put wax paper on before the burlap so the threads of the burlap wouldn't transfer to the edible parts.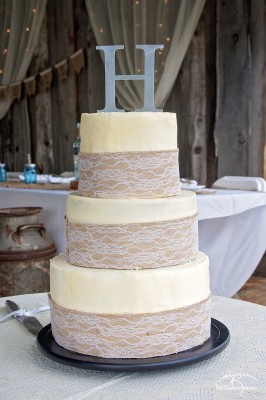 At the end of the day, I think it turned out alright. Not bad for my first try anyway.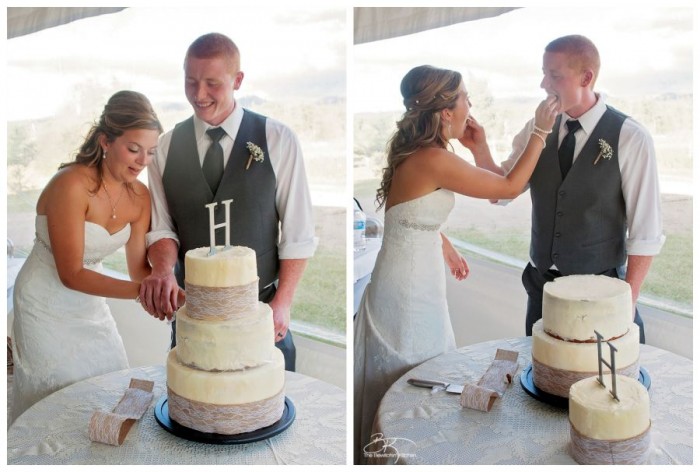 The important part is the bride and groom didn't seem to mind. Want to see more of this wedding? Check out my post on Rustic Wedding Ideas (goes live August 5).

FREE Recipe Binder
Are you constantly wondering what's for dinner?
When I don't meal plan I feel behind, and we usually end up ordering take out. This recipe binder will keep you organized and make life a little bit easier.