Rustic Wedding Ideas That Are DIY & Affordable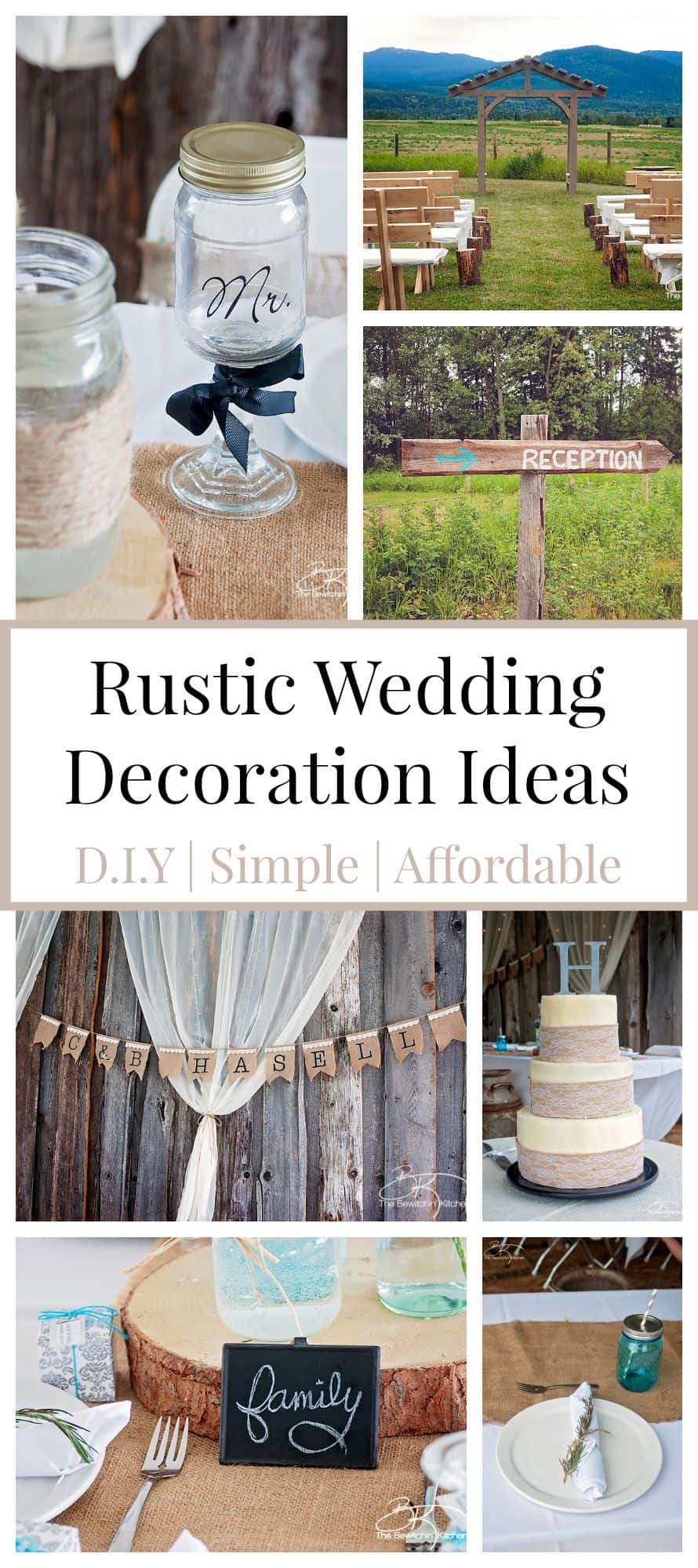 A few weeks ago I attended my cousin's beautiful rustic wedding. I was in awe with how amazing the decorations were and I wanted to put together this post from DIY rustic wedding ideas to share with you.
All the decorations were made by either my cousin, her super talented friend Kelsey, or my uncle and the groom's father. I find it inspiring how such simple, everyday pieces could be made into beautiful and rustic wedding decorations.
Rustic Wedding Head Table & Backdrop: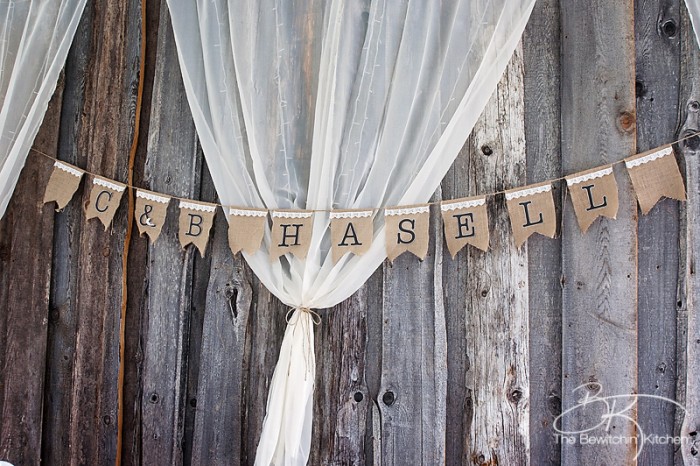 My uncle put together some old cedar boards for the head table backdrop. It was then layered with some warm Christmas lights, sheer material and bunting flags made from burlap, lace and customized with the bride and groom's names.

The head table was dressed with wood centerpieces, a burlap runner, floating candles in a mason jar (wrapped with simple twine) and these adorable mason jar wine glasses. I have seen these glasses before at Michaels, but you can also get them at Amazon (affiliate). Add the Mr and Mrs. with either a Cricut or Silhouette (or even some stickers), wrap with ribbon and it's done. If you're like me and are not the craftiest, I'm sure someone on Etsy will have a solution for you.
Rustic Wedding Centerpieces and Place Settings: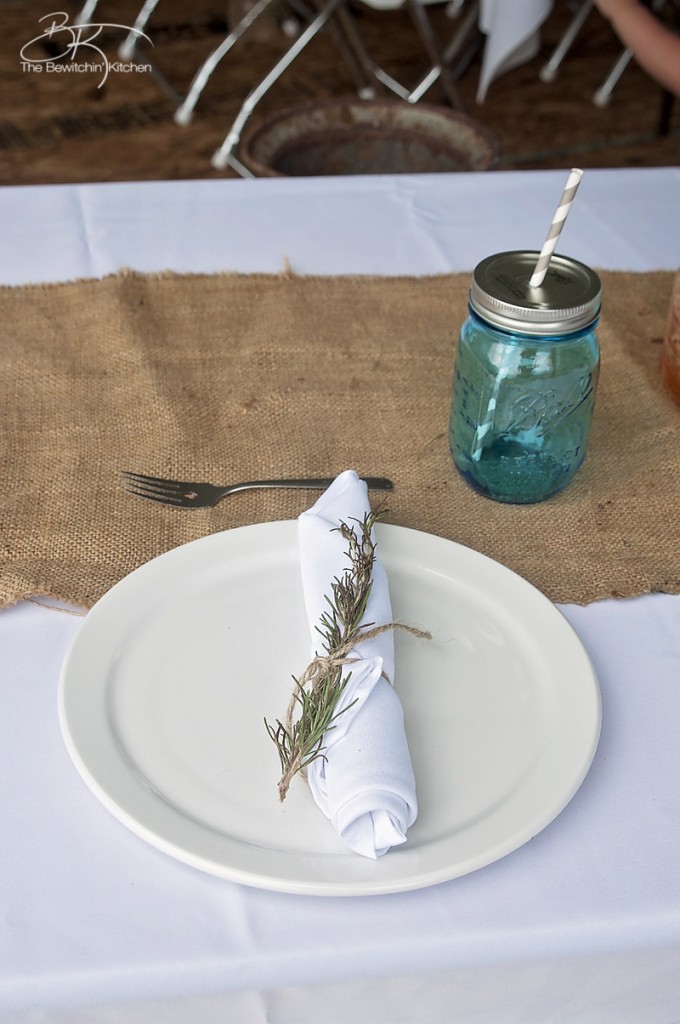 The cutlery was wrapped in a linen napkin and a single piece of rosemary was tied with twine over it. So simply, but it looks fabulous!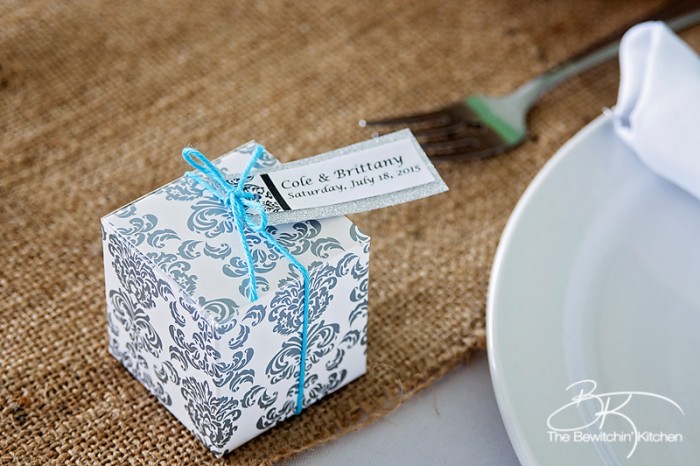 In the favour boxes were mints (great for after-dinner breath).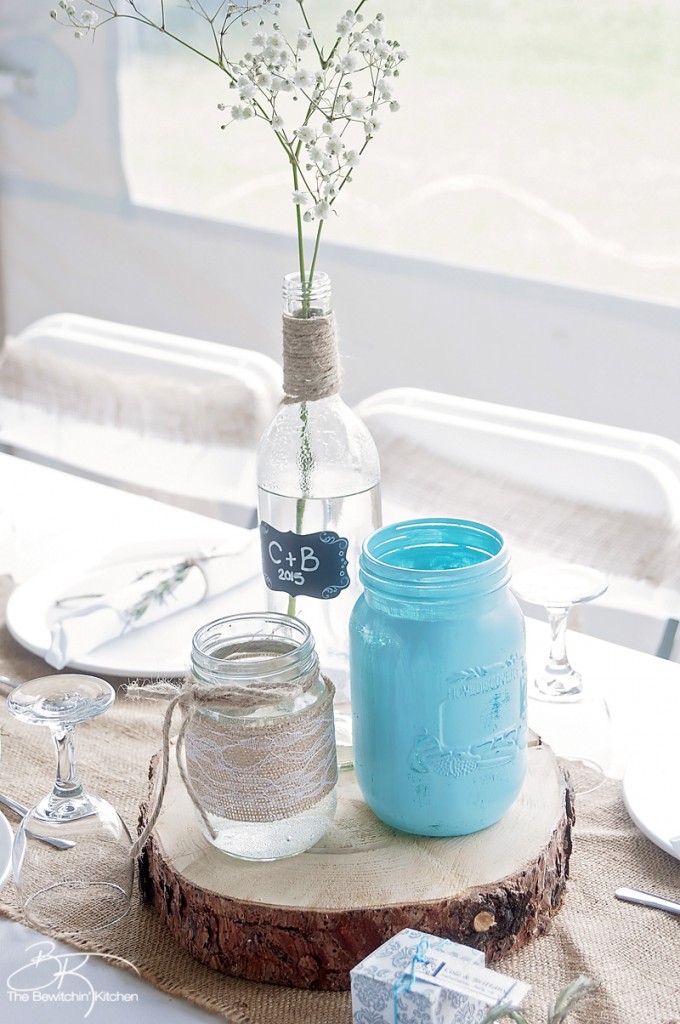 The centerpieces were the same as on the head table: baby's breath in wine bottles (with chalkboard labels displaying the bride and groom's initials), painted mason jars and floating candles in mason jars wrapped with laced burlap (from Michaels) and twine.
Rustic Wedding Personal Touches:

All the family tables had assigned seating, that way we got to be up close (and got to eat first). I liked the way the reserved tables were labeled.
Everyone in the wedding party got special mason jar tumblers, including my son. He loved it!
Rustic Wedding Decorations: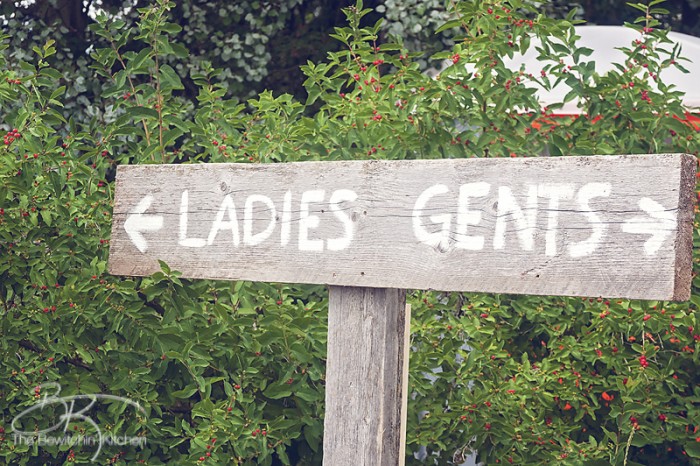 Since the wedding was at my cousin's family farm, they brought in port-a-potties and they were marked appropriately.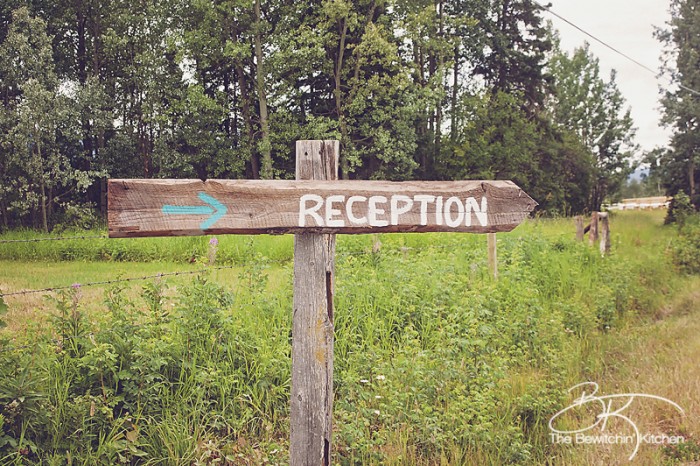 Along with signage guiding the guests to the reception tent, there was also signs for parking (they opened up a horse field which was great) and the ceremony site (which you can see in the background).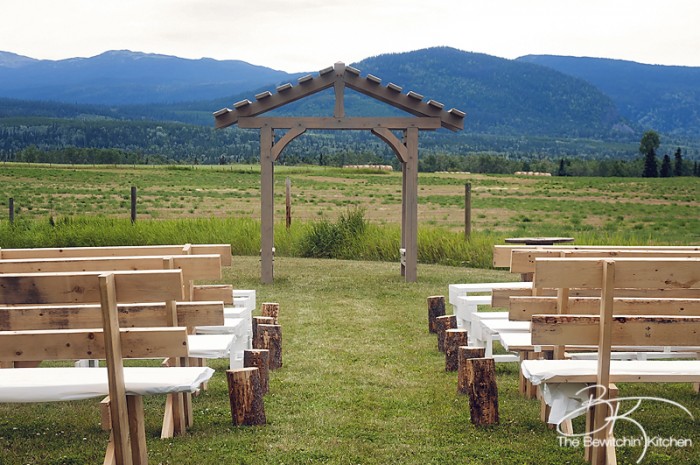 I'm not 100% sure, as I never asked, but I'm pretty sure my uncle built the arch and the seating. Look at that beautiful Northern British Columbia view!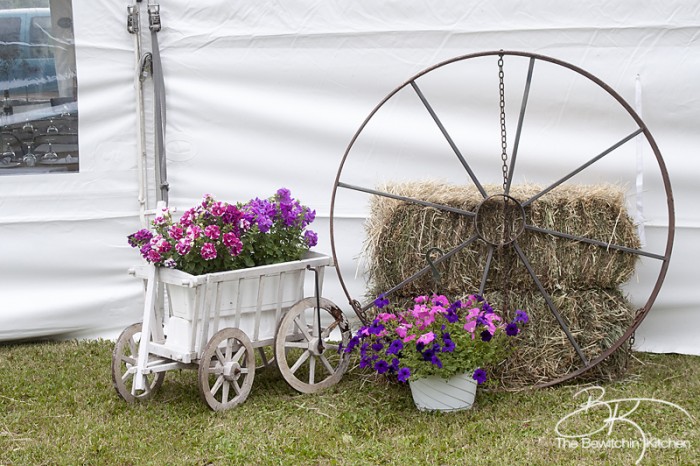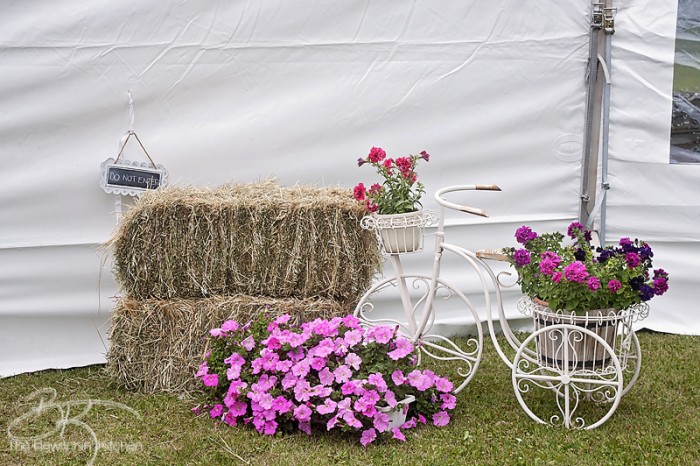 On either side of the reception tent there was more rustic wedding decoration ideas that were simple and added some amazing finishing touches.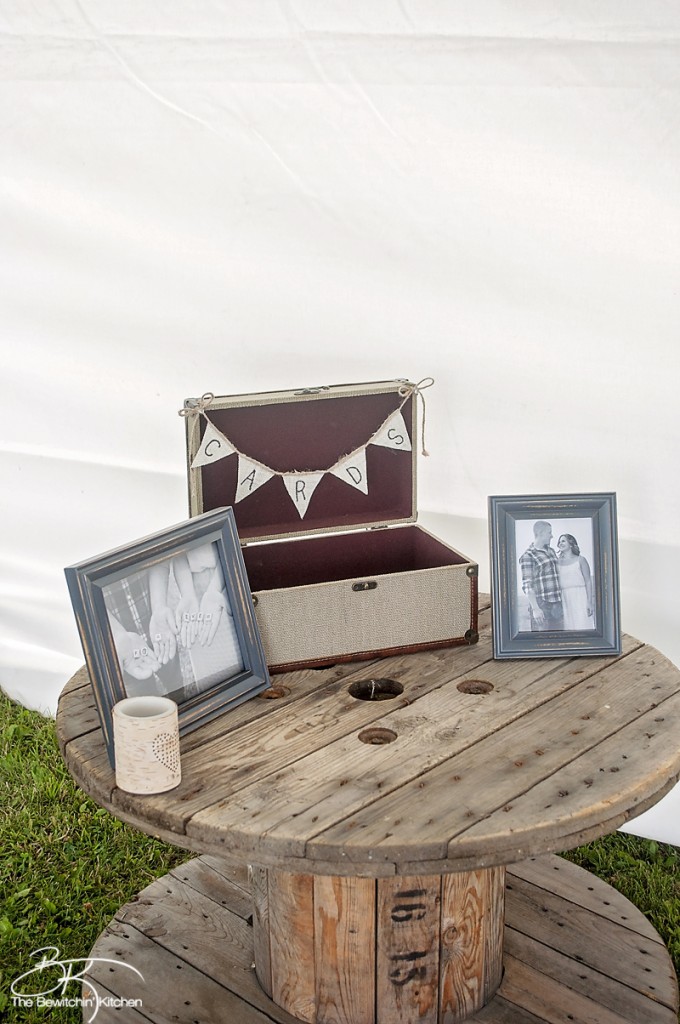 The card table was situated on a spool with their engagement photos and a light (which I think may have been a Scentsy).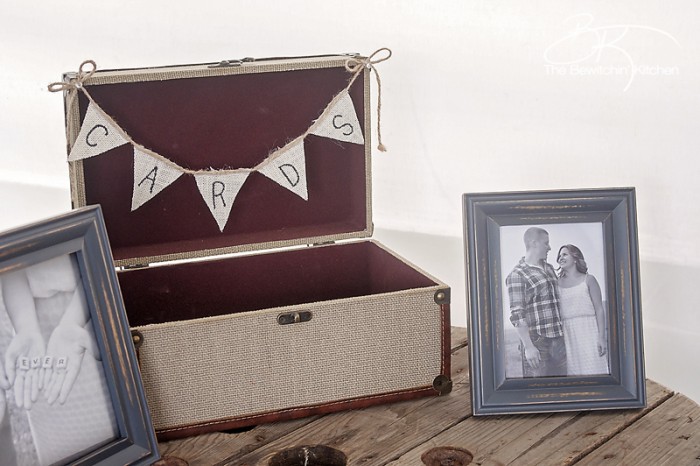 You could probably pick up these items at thrift store and spruce them up with chalk paint (which is what I think she did).
Unique Guest Book Idea: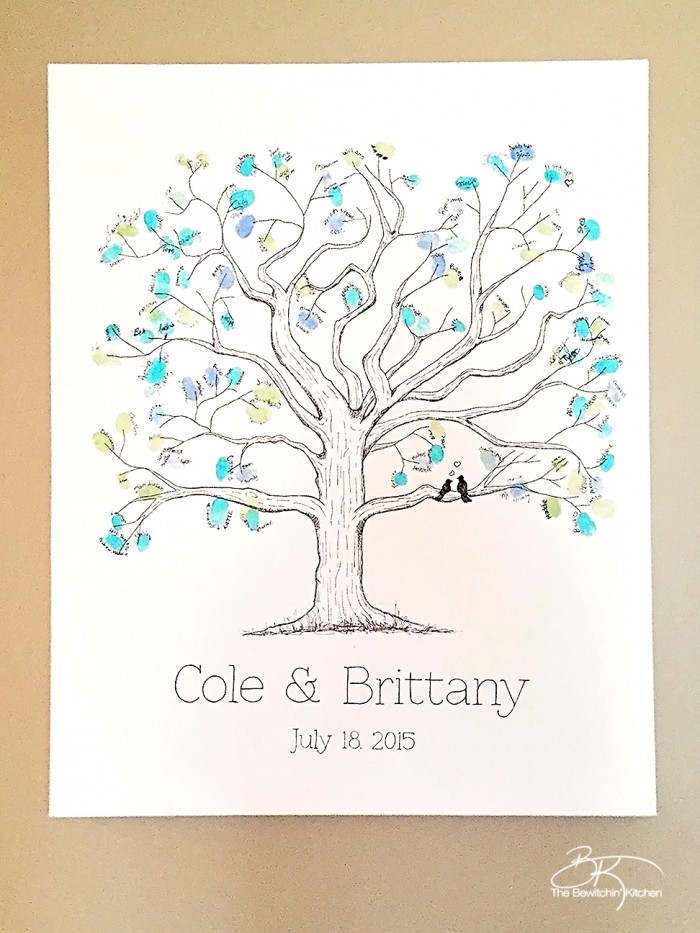 Kelsey, my cousin's super talented friend, drew this beautiful canvas print. The guests then had to choose one of the wedding colors, stamp their thumb print and surround it with their name or the individuals from the family. Can you see mine?
Wedding S'mores Bar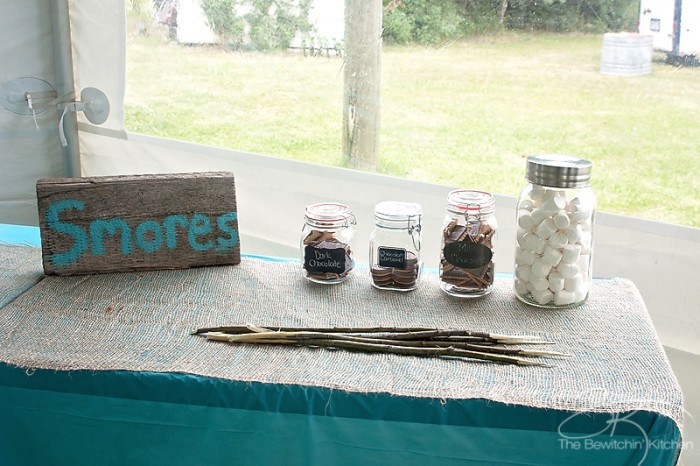 I LOVED this! They had a propane powered fire pit and the s'mores bar beside it.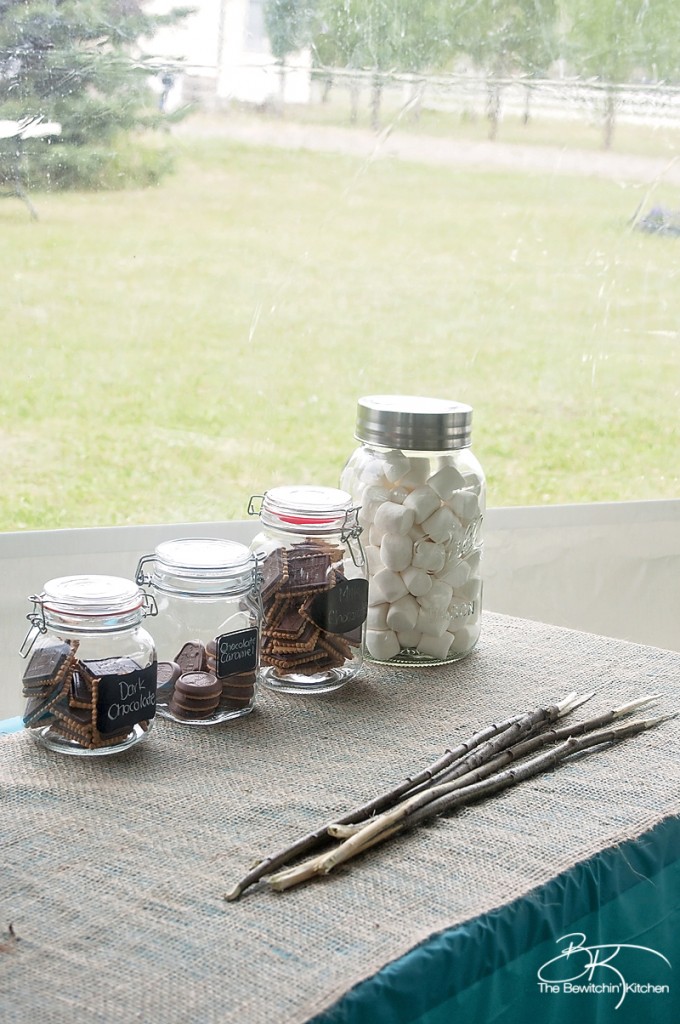 I forgot all about the Smores Bar the night of the wedding as it was in the back of the tent, and it's my big regret of the night. I really wanted to check it out!
Rustic Wedding Cake Idea: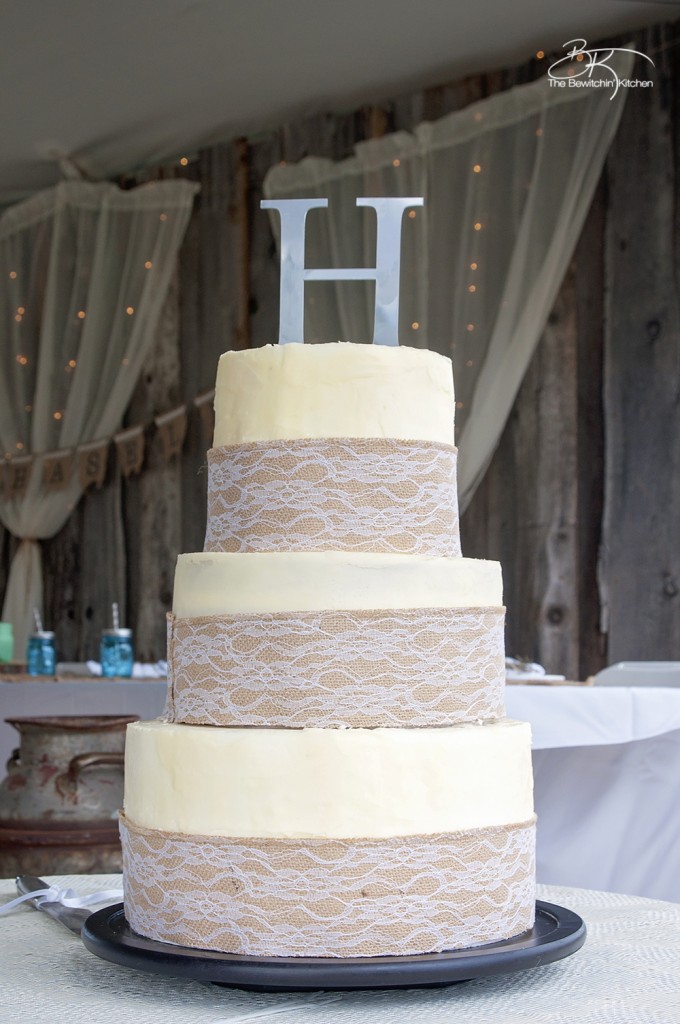 Yours truly made this rustic wedding cake. It was my first ever wedding cake and although it wasn't perfect, I think it turned out alright. You can get the how to on my post: DIY Wedding Cake For Beginners (it also includes all the products I used).
Phew, I know this was a heavy post with both words and photos but I wanted to share all of these ideas. I'm going to leave you with two of my favorite photos of the day. The first is my beautiful cousin with my son, and the second of the couple after they were pronounced husband and wife (check out her stunning lace dress).