Fabulous Freezer Meals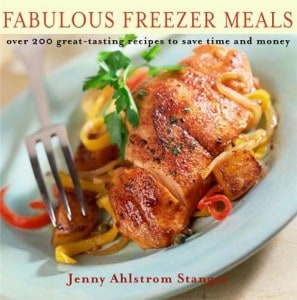 The best decision I made in my birth preparations was freezer cooking. I set aside two weekends, shopped for all of my ingredients and got busy cooking. In the end, I was set with over 32 servings of meals (breakfasts, lunches and dinners) and the best part was it wasn't your typical chili, lasagna or casseroles. 
I knew from a fairly early stage in my pregnancy that Carter was going to be early. I just had an overwhelming feeling, I guessed he would make his arrival at about 35 – 36 weeks – not 33 weeks 6 days. The original plan for freezer cooking was to have nutritious meals for when we brought him home, and not have take out. Since I lived at the Central Alberta Ronald McDonald House for a month, these meals were even more crucial for me as it saved me from going grocery shopping when I would much have rather spent it in the NICU with my little boy. It also saved me from the sodium drunken restaurant meals that were so easy and convenient  to order. So if you're pregnant and getting ready for your arrival. I highly recommend freezer cooking. Now on to the review.
I was sent Fabulous Freezer Meals to review while I was still pregnant (this review is late, if you can't tell) and I utilized it to the best of my ability. Jenny Ahlstrom Stanger not only shares delicious (and easy) recipes but also teaches about the do's and don'ts for freezer cooking. You're questions like
"How Long Do Frozen Foods Last?" are broken down on the first page (thank you Jenny, you saved me a lot of Googling), "What Freezes Well", "What Doesn't" and all other questions when it comes to getting started are thoroughly discussed as well. It doesn't just end there, there is a list of supplies needed, defrosting times (which was my biggest worry) and simple tips and tricks that you would never think about doing (like wearing comfortable shoes, since you will be on your feet for a while).You will also find measurement conversions and and elaborate list of emergency substitutions.
I found Jenny's recipes to be a mixture of classics and contemporaries. There are recipes that you wouldn't even think of using for freezer meals. Like this one:
Egg Rolls
serves 10
2 tablespoons olive oil
1 large bok choy cabbage, finely chopped (about 6 cvups)
6 green onions
2 tablespoons soy sauce
2 teaspoons brown sugar
1 pound ground pork (or turkey or beef)
1 package of egg roll wrappers (4 1/2″ x 5 1/2″)
4 cups canola or vegetable oil
In a large skillet over medium-high heat, stiry fry the ground pork until no longer pink. Slick the bok choy in half and then, moving from the inside out, thinly slice the cabbage into long strips. Discard the root. In a large bowl, mix together the cooked ground pork, sliced cabbage and green onions.
Stiry fry the cabbge and green onions for three minutes in the olive oil, add soy sauce, brown sugar, and pork. Stir fry for one minute, drain and cool.
Heat 4 cups of oil in a large pot on medium-high heat before wrapping the egg rolls.
To wrap, lay the egg-roll wrapper out with the short side directly in front of you. This will be the dry side. Place 1 tablespoon of filling and spread without getting too close to the edges. Wet your fingertip and spread a bit of water along the wrapper edges. Tick in the edges of the short sides and wrap the long side over. Then roll like you would a burrito. Press down firmly on all sides to seal.
When oil is ready slide each egg roll into the pot one at a time (carefully). Deep fry until golden brown. Drain on paper towels. Place egg rolls on baking sheet and freeze for 1 hour *this is called flash freezing, a process you learn about in the book. Then place egg rolls in a ziploc bag and freeze for later use.
To Serve
Place froze egg rolls on a foil covered baking sheet and place in oven at 425F for 15-20 minutes. Serve with dip.
As you can tell with the recipe (which I took right out of the book) all instructions are clear from prepping to freezing and serving.
For more information visit FreezerDinner.com and you can purchase Fabulous Freezer Meals at Amazon.com.