Logan and Cove Mattress Review + Tips on How To Sleep Better
A good nights sleep is vital, and it's easy to achieve with a quality mattress. For the past few weeks, I've been testing out the Logan and Cove luxury mattress to see if the bed in a box trend is legit. Read on for my thoughts on the hybrid bed plus tips how to sleep better.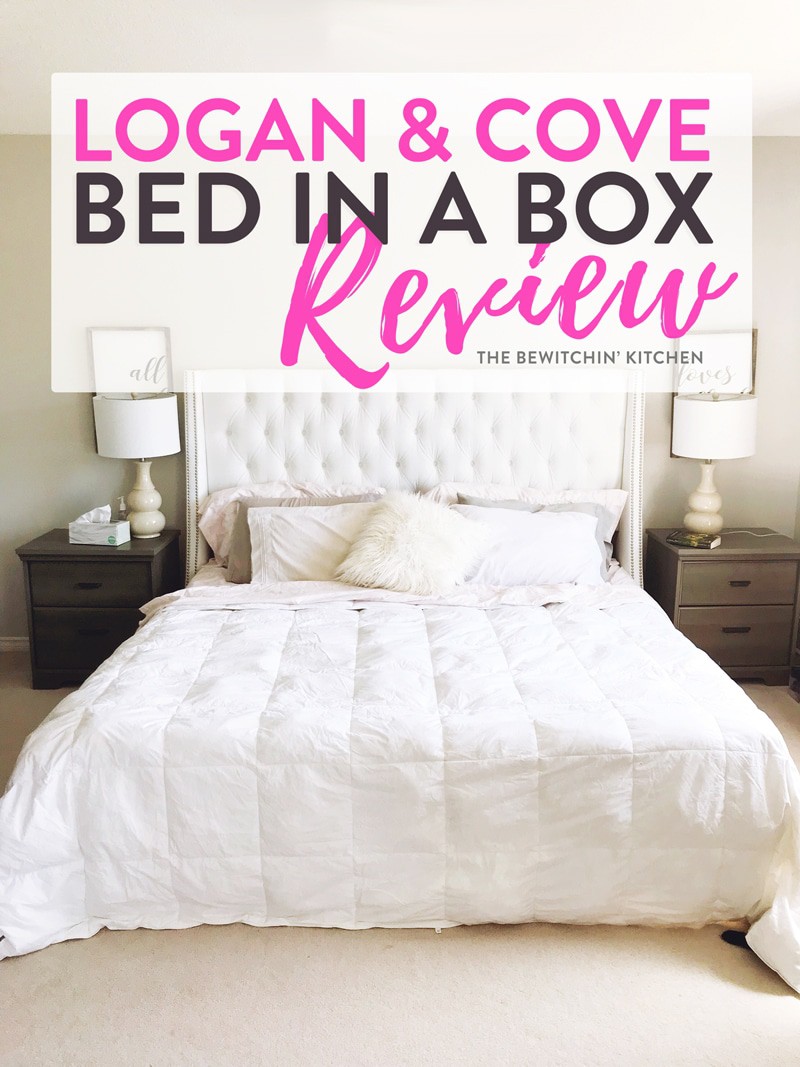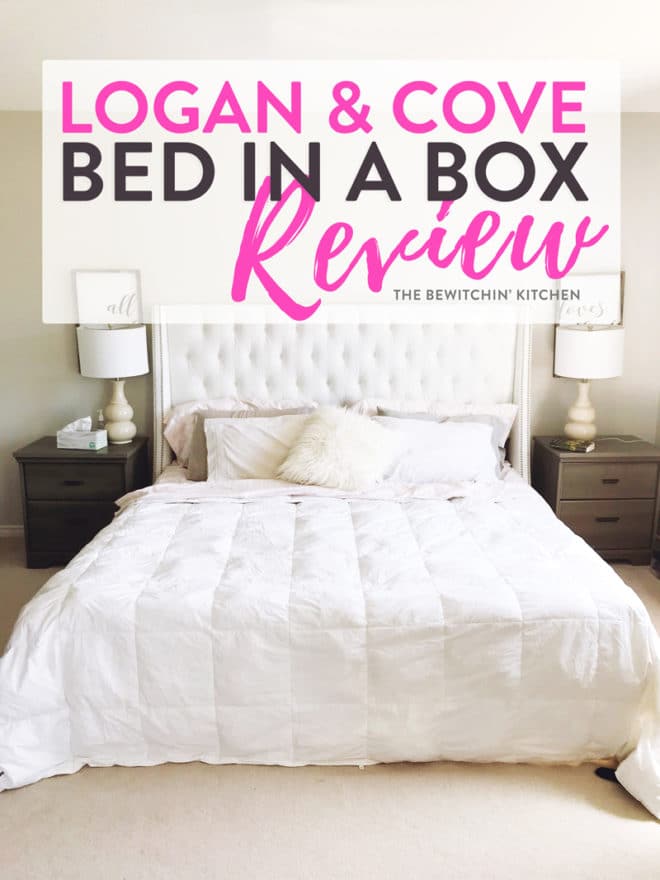 Logan and Cove
Disclosure: I was provided with a mattress in exchange for my thoughts. My opinions are my own. This post also contains affiliate links.
I don't usually post reviews on The Bewitchin' Kitchen. Instead, I like to share ways I'm finding products/services beneficial combined with tips to maximize your results. However, when it comes to buying a mattress I know how stressful it can be. It's a big purchase! So I wanted to share my experience with this Logan and Cove review, but please read on to see how you can maximize your sleep results
My husband and I have been struggling with our sleep for years. We had a very expensive "high end" mattress that I wholeheartedly believed in (I used to sell them and they were known as "the best" when I was in the mattress business) but we weren't sleeping and we were waking up sore night after night.
I often blamed our pillows (they say pillows are 20% of our sleep) because there was no way our mattress was the problem (remember, it was "the best) but it wasn't until this year (and 5 years later) that I gave in and realized that we couldn't suffer anymore. It was time to go mattress shopping.
When I first started seeing the bed in a box craze pop up, I was hesitant and a bit judgy. I thought that there was no way those were quality mattresses, but then I started hearing about my friends having the best night's sleep in years and I read amazing experiences that a few other bloggers had. Research needed to be done.
I read consumer reports, reviews, watched YouTube videos and with all the comparisons I saw, it became clear that GoodMorning.com (formerly Novosbed) was the company to go with.
I reached out to them to set up a sleep test, and I was offered to test out Logan & Cove a new collection by GoodMorning.com mattresses that focus on providing the ultimate luxury for your sleep.
Did you know? Logan & Cove offers a 120 night sleep trial, so there is nothing to lose! If you don't like the mattress, you simply send it back (by the way Logan and Cove will pay for the shipping, which is incredible). Read more about the sleep trial.
Logan & Cove Features
So what's the difference between Logan & Cove vs the rest of the bed in a box mattresses out there? Logan and Cove is the only Canadian inner-spring/memory foam hybrid that comes in a box. This means that you're getting the consistent support of both pocket coil springs (which are springs individually wrapped so it conforms to your body) and the contouring comfort of memory foam! This was a huge benefit for us as our last mattress was pure foam (Tempurpedic) and it didn't work for us, we needed springs too.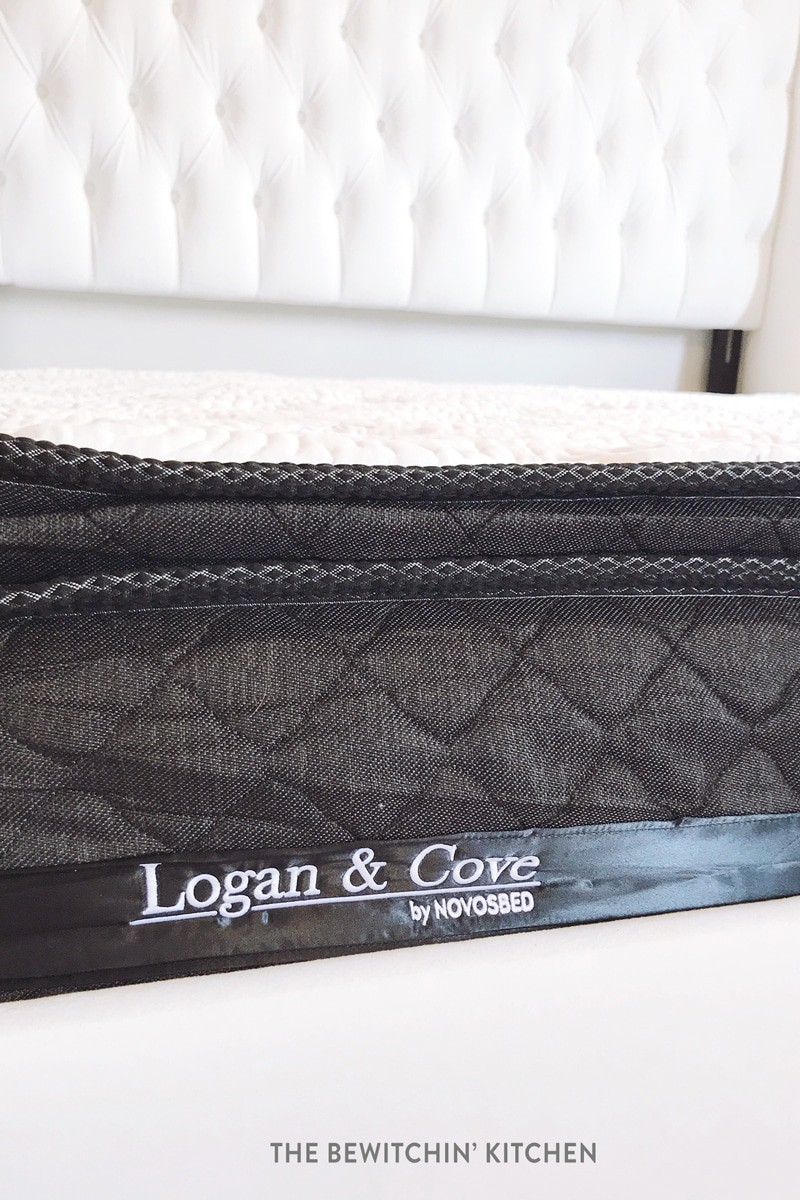 Here are a few more benefits with Logan and Cove:
120 night sleep trial. As I mentioned before, Logan and Cove have a sleep trial (the company I worked for before only had a 90 day trial and it had a ton if stipulations) and if you don't like it, Logan & Cove will fully refund you and pick up your mattress for free. No questions asked. What happens to the returned mattresses? They're donated to local charities.
Delivered to your door. No arranging deliveries, pickups, or dealing with commission driven sales people (an introvert's heaven)! Simply order your mattress in a box and it's delivered straight to your door.
Easy to set up. Unwrap and enjoy!
No off-gassing. I didn't notice any chemical smells while I was setting up my Logan and Cove mattress.
Made in Canada. Need I say more?
15 Year Warranty. It's an easy warranty too! You deal with Logan & Cove directly, there are no middlemen and a million different departments and numbers to call!
Affordable. Since there are no salespeople, there are no commissions added into the mix. I've seen the mark up on mattresses, they're high. With Logan and Cove you don't have to worry about negotiations and can rest easy that you're getting a great price. There are no sales, so there's no stress on ensuring you buy at the right time. The mattress is consistently priced throughout the year. My king size mattress only cost $1149 and, in my experience, it's comparable to a high end $5000+ mattress. This paired with free shipping is a huge bargain!
Logan and Cove Bed Comfort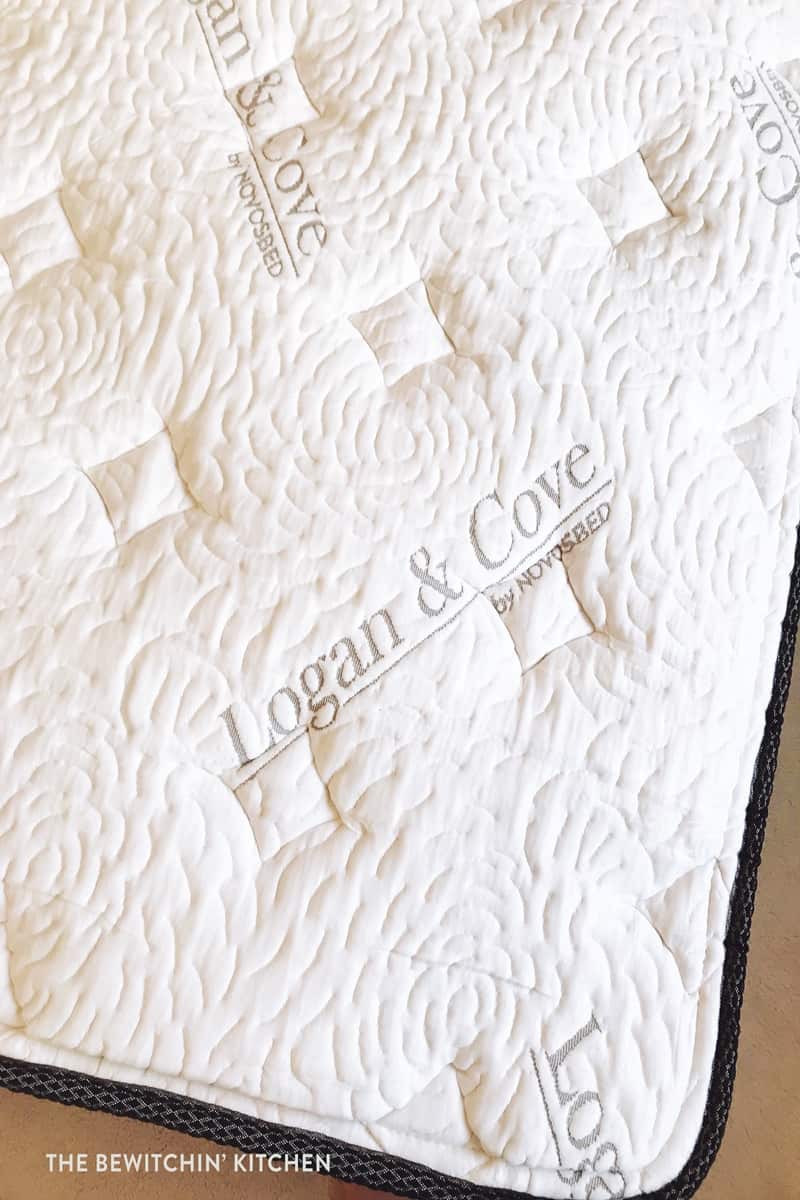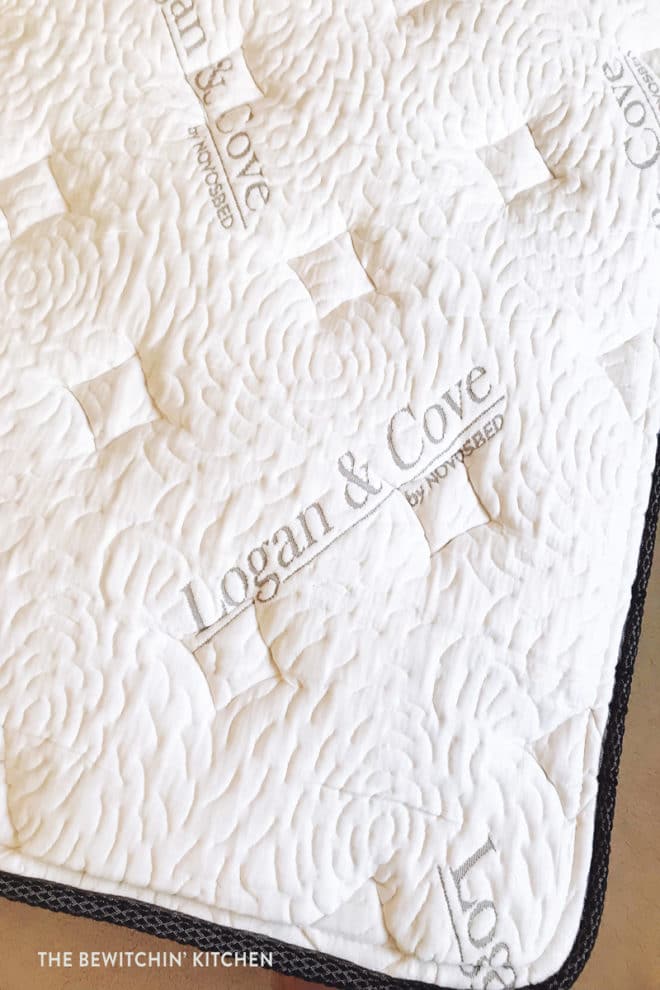 Beneficial features are great and all but what about the comfort level? Here are the features of the hybrid bed that bring the comfort.
Cool and Refreshing. You don't get hot with this mattress! How? This pillow top mattress has a heat dissipating gel memory foam plus a natural temperature regulating silk and eucalyptus-derived fibres. The combination brings you cool, dry, and breathable comfort. This makes the hot summers a little more tolerable (especially for those of us who don't have AC).
Conforming. The multiple layers of memory foam provide pressure point relief by adapting to your unique shape. This combined with the targeting lumbar support make this Canadian hybrid mattress perfect for all sleep positions.
Reduced motion transfer. This pocket coil mattress, combined with the memory foam pillow top absorb movement and motion, which means if your partner moves your sleep won't be disturbed.
Antimicrobial.
Bed in a Box Set Up
I had every intention of filming the set up to show you how easy it was. However, after we took off the first layer of plastic, my husband accidentally pierced the plastic that had the bed compressed and it started inflating so fast that we panicked and ripped it off and tossed it on the bed.
I'm laughing to myself thinking about how insane it must have looked.
All in all, the bed in a box mattress set up takes maybe five minutes. Simply unbox, unwrap, and take off the final piece of plastic that is compressing the mattress (keep this in case you have to return it). The mattress will then begin to rise. It takes about five minutes for the mattress to "inflate" and roughly two hours to get the full volume. I was able to sit on it after five minutes and lay on the bed comfortably.
Do I need a box spring with a bed in a box?
With Logan and Cove, as long as you have a stable base you don't need a box spring. Please keep in mind that you receive the mattress, and solid base so have the surface ready.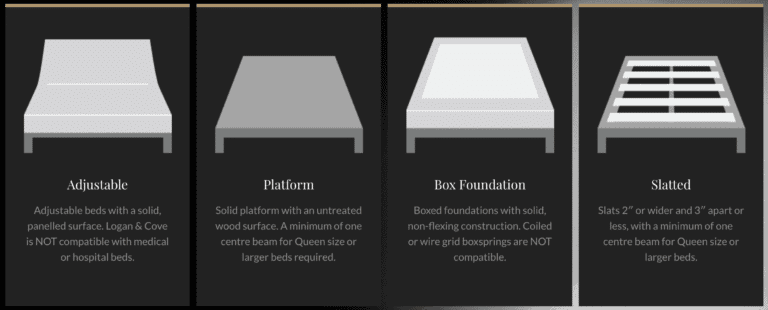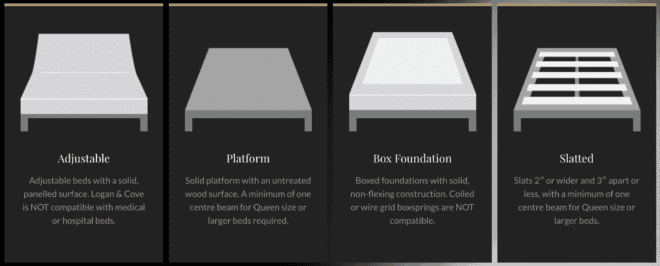 The above image is what Logan and Cove recommend to use with their mattress. I purchased a new king size bed from Wayfair and since it was an open base, we simply laid plywood over it and it worked like a charm.
Logan & Cove Review
So what are my thoughts? We've been sleeping on the Logan & Cove mattress for roughly three weeks now.
We love it.
My back is less sore in the mornings, which is incredible considering I have been suffering for two years now.
My husband was the real test. He suffered with our last mattress. He was barely sleeping, woke up sore, and oh my gosh the snoring.
With the Logan and Cove mattress, he told me he's having the best sleep in years. He wakes up with little to no pain, doesn't wake up a million times a night, and I have noticed that his snoring has lessened.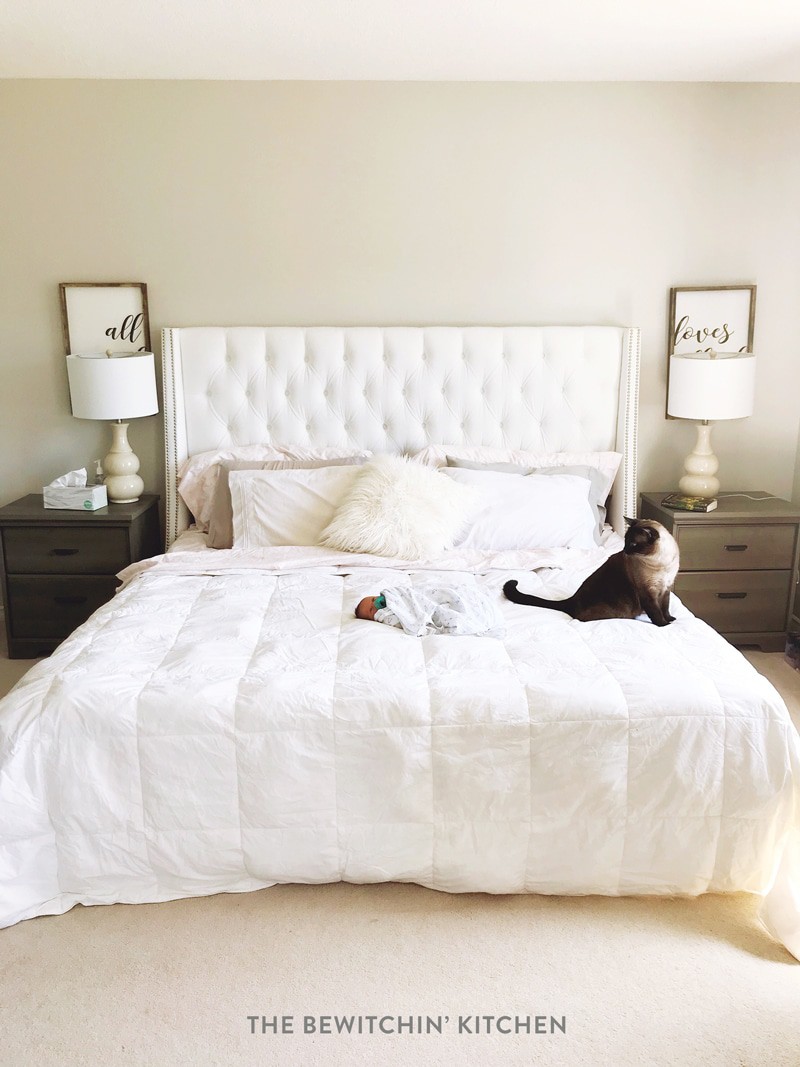 The mattress itself is on the firmer side, we thought we needed a softer mattress but this seems to be working really well for our comfort. I also appreciate the edge to edge support. I never even noticed this on a mattress before until I started waking up at all hours of the night to feed our newborn. I can sit on the edge of the bed without the feeling of sinking. The edge to edge support also prevents slipping or rolling off the edge of the bed.
TBK's Pro Tip: Buy a mattress protector! I don't want to gross you out but we sweat buckets, shed dead skin, and if you're a parent I'm sure you've had a little one wet the bed while sleeping with you. Buying a quality waterproof mattress protector helps extend the life of your mattress. Here's the one we have.
It's only been a few weeks, but I don't have anything negative to say about Logan and Cove (which is a shocker because I am picky with mattresses). My only wish is that they sold an optional box spring, but you can find this on the GoodMorning.com website if you are adamant on a box spring foundation. However, you can save some money if you use plywood (as I stated above).
At the end of the day if you're debating between a bed in a box vs a Tempurpedic. Go with Logan & Cove. Trust me on this one, I did the experiment for you and you can save the money and gain a good night's sleep.
Logan and Cove Mattress Specifications
For the full specifications and dimensions visit the Logan & Cove feature page (and scroll to the bottom).
14″ Profile Luxury Mattress
PILLOW-TOP
Eucalyptus-derived Fibre Top Cover
Silk Blend Pillow-Top Fill
1″ Cooling Gel Foam
1″ Contouring Eco-Foam
MATTRESS CORE
2″ Supportive Eco-Foam
Individual Pocketed Coils
EDGE SUPPORT
Engineered Edge Support Foam
How to Sleep Better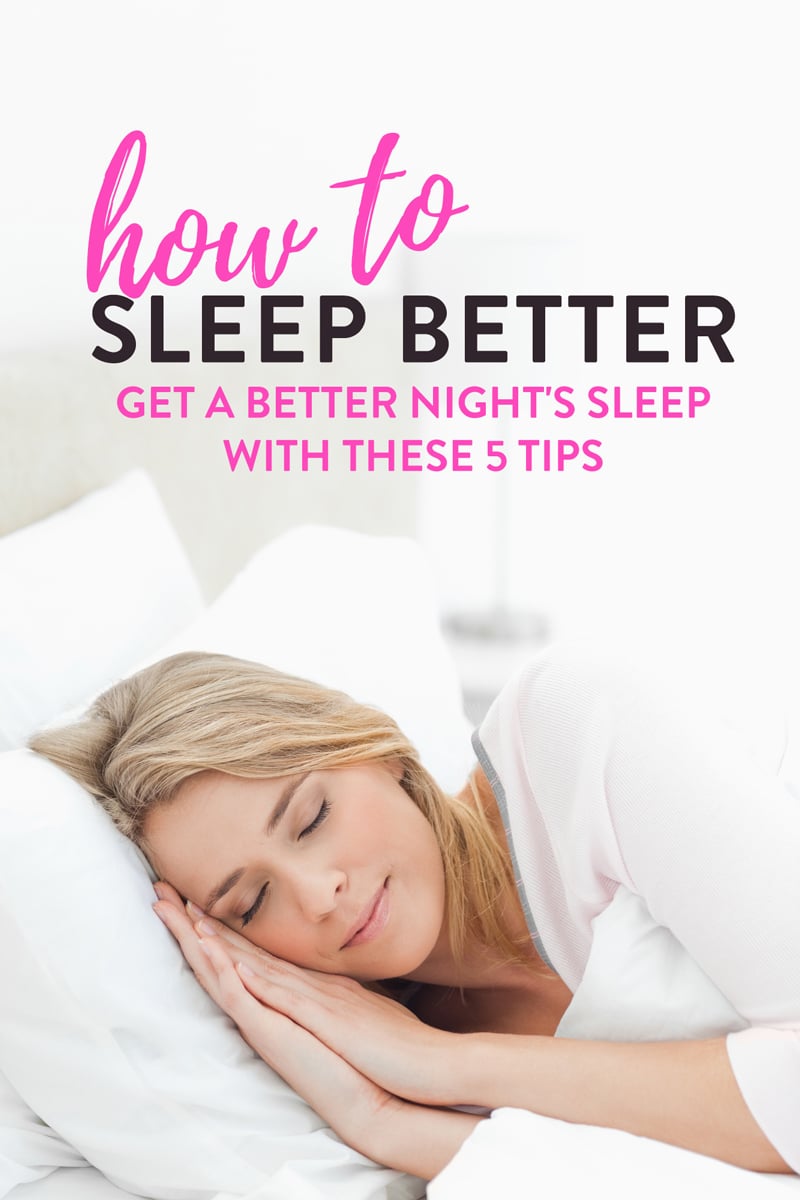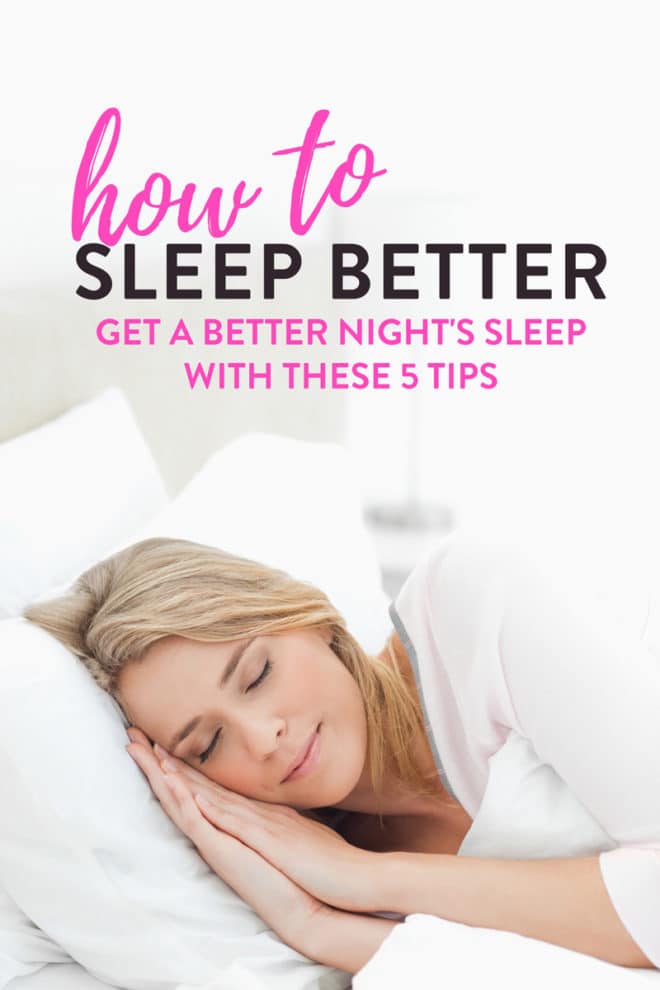 Having a quality mattress is one part of getting a better nights sleep. So here are a few more tips on how to sleep better.
Invest in a quality mattress. We spend a big chunk of our life sleeping, it only makes sense to have a quality sleep surface! Obviously, I recommend the Logan and Cove mattress.
Power down. I'm totally guilty of laying in bed and playing around on my phone (it's my Pinterest time). However, it is recommended we power down 30-60 minutes before bed. The light from electronics messes up our rhythm.
Stick to a schedule. We're creatures of habit and our bodies respond well to routine. Once our body is used to a sleep rhythm, it will respond better. You will awake more rested and go to sleep easier.
Nix the coffee. Kidding, kind of. Try not to drink any caffeine after 2 pm, it could make a world of difference. If you're finding you're still wide awake at bedtime, reduce your time by an hour. Keep playing with the time until you find what works for you.
Life a healthier lifestyle. Consistently working out and eating healthier has a long list of benefits, a better nights sleep being one of them. Need inspiration? Check out my healthy recipes and see how you can easily reach 10,000 steps a day!
Don't have a newborn baby. Okay, I'm totally kidding here but being that I have two week old infant at the time of writing this…can you blame me?
I hope this review was helpful (along with the basic tips on how to get a better nights sleep). I truly love my Logan and Cove mattress and the fact that it's a Canadian company!
Enter to Win a Mattress from Logan & Cove
I've partnered with Logan and Cove plus a few other bloggers to give YOU a chance to win a Logan and Cove mattress! Open to Canadian residents only.
Logan & Cove Summertime Free Mattress Giveaway