5 Tips for Choosing a Kitchen Faucet You Need to Know Before You Buy
Not so fun fact – I've gone through 4 kitchen faucets in the last two years. It's been a frustrating (and pricey) lesson that not all faucets are made equal. With my new kitchen renovation, I wanted a faucet that not only provided style but functionality too, here are a few things to consider when choosing a kitchen faucet.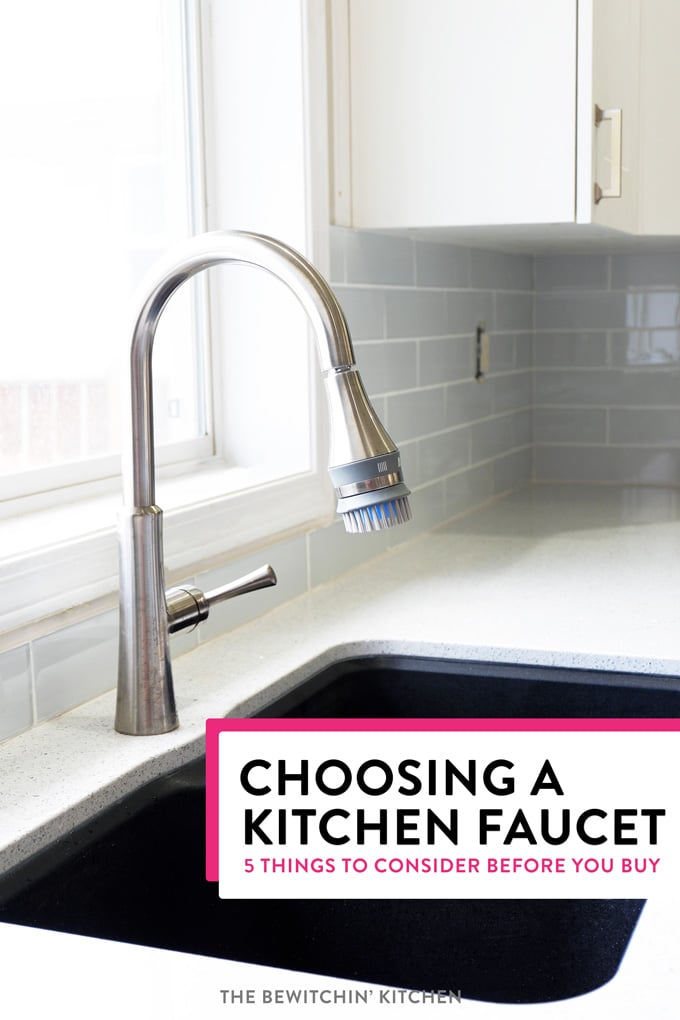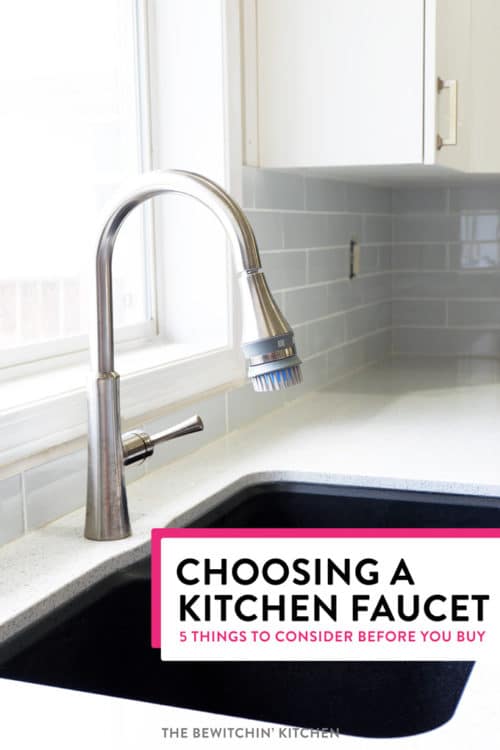 Before I share what faucet I chose, I wanted to share few tips.
[clickToTweet tweet="5 Tips for Choosing a Kitchen Faucet You Need to Know Before You Buy" quote="5 Tips for Choosing a Kitchen Faucet You Need to Know Before You Buy"]
Disclosure: this post contains affiliate links.
Choosing a Kitchen Faucet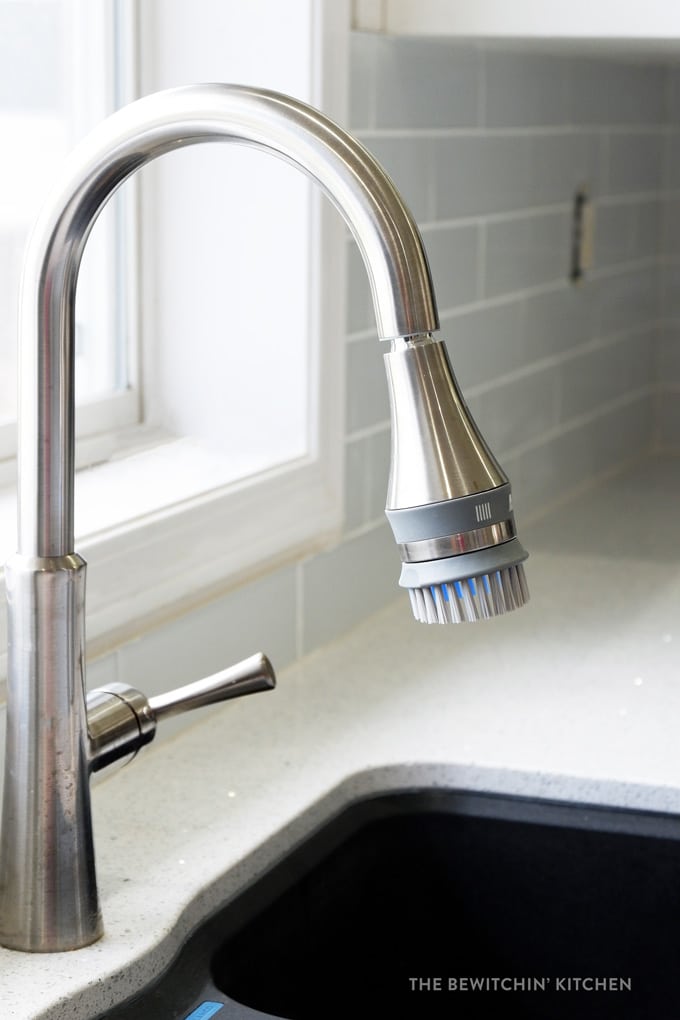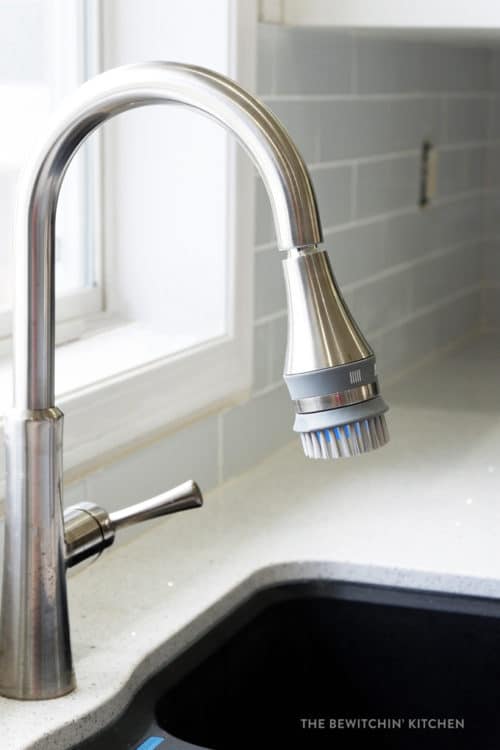 Know how many holes you have. You may need a deck plate to cover any existing or if you only have one, you may need to drill into your countertop. It's easier to go with less than more.
Keep the finish of your hardware in mind. I personally don't believe there are any hard and fast rules when it comes to home design but, personally, I prefer my kitchen faucet to match the finish of my kitchen pulls and handles. It's easy on the eyes and makes the decor aesthetically appealing.
Spray features. When it comes to choosing a kitchen faucet, the more spray options the better. I don't want a trickle, I also want a jet steam so I easily clean stuck on food.
Faucet height. Most faucets are in front of a window, but if yours is below cabinets – take some measurements before you buy.
Hose length. This is a feature that I missed the first few times I was choosing kitchen faucets. Take into consideration the size of your sink (my old sink was a large one, and I couldn't stretch the hose enough to clean the bottom corner), if there are any plants nearby you would like to easily water, or if you have coffee maker next to the sink to easily fill (I can't be the only one who gets annoyed when I have to take the reservoir out of my Keurig each time).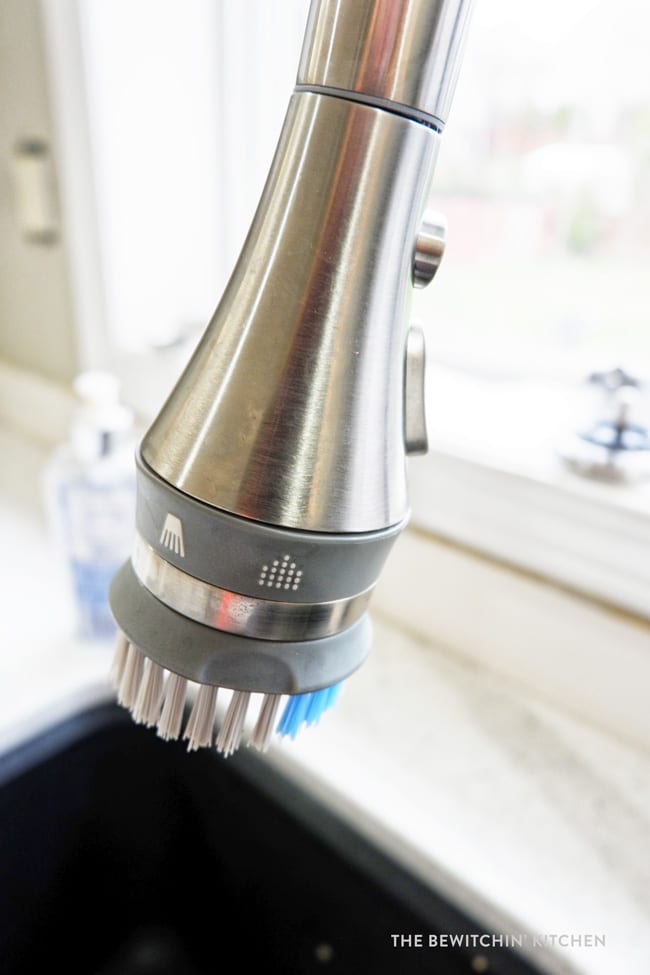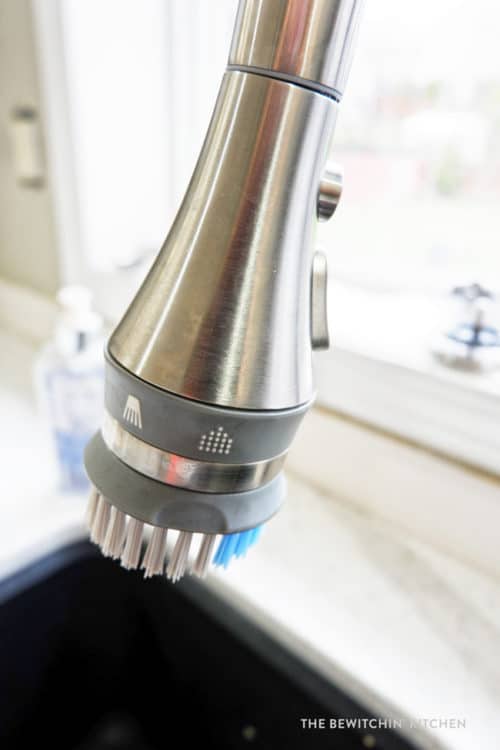 Huntley Kitchen Faucet
I'm really liking my new kitchen faucet, it has good pressure (my last one didn't) and it looks great! It also feels like it's a quality product. My second last faucet felt cheap (even though it cost over $200) and the switch to change from a stream to spray broke the first day, so it was nice to see that the Huntley Kitchen Faucet was strong.
American Standard's Huntley Kitchen Faucet is loaded with functional features (who knew a kitchen faucet could have such things) included:
Selectflo 5 spray functions
1. Stream – to fill water jugs and pots quickly
2. Spray – to rinse pots and pans
3. Jet – to add pressure to the spray to clean baked on messes
4. Mist – great for watering plants
5. Pause – to briefly stop the spray.
Detachable scrub brush – my favorite feature.
Memory position valving– Turn the valve on and off at preferred temperature setting without readjusting the handle position each time
High arching spout
Optional metal soap dispenser and deck plates that fit up to 4 holes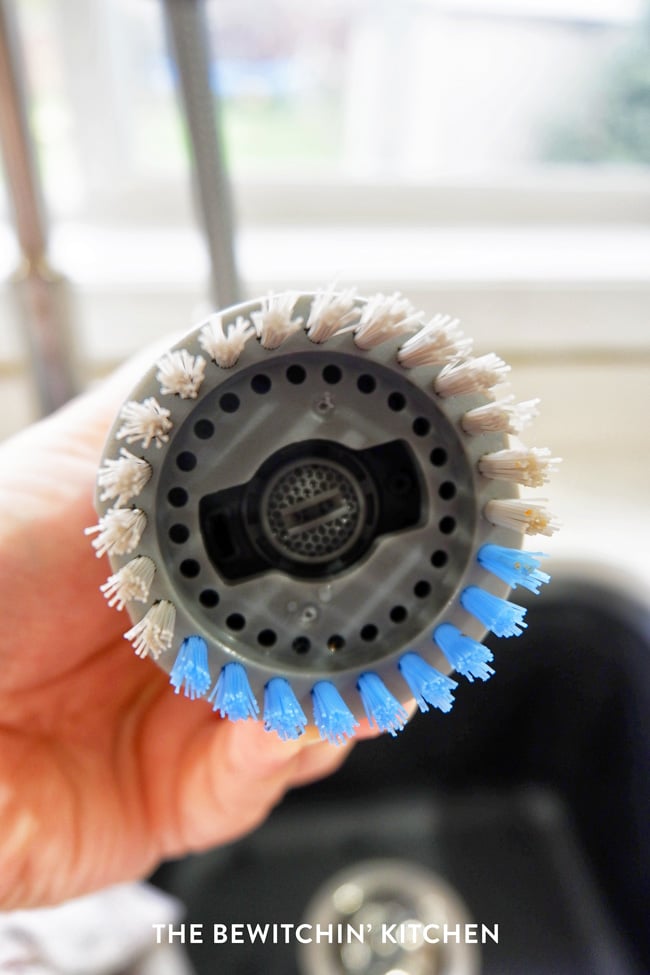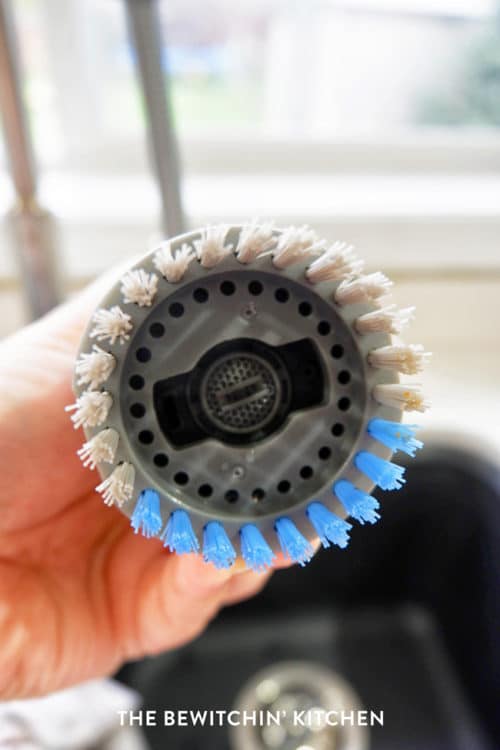 I want to focus on the detachable scrub brush a little more. This feature is so simple but so awesome! There is a detachable nylon bristle scrub brush that attaches directly to the faucet. The features of the scrub brush included tougher blue bristles for scrubbing and soft gray bristles for more gentle cleaning.
I use it for cleaning fruits and vegetables, I love it!
The best part? The brush is dishwasher safe, so it's easy to clean.
This post has been sponsored by my friends over at Home Depot. I received compensation for my time, all opinions are my own.