Garlic & Herb Feta Dip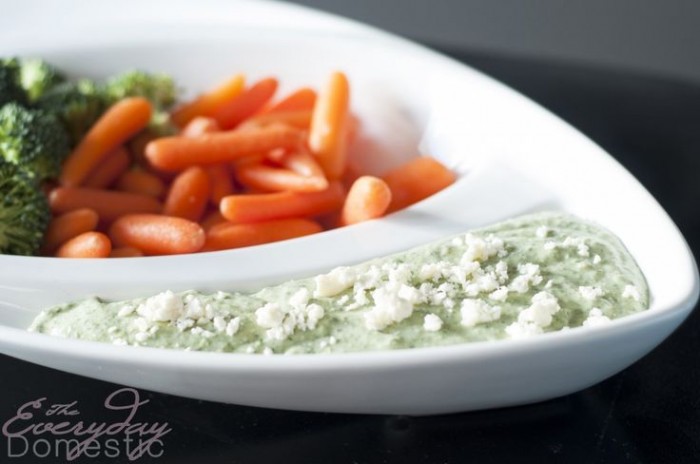 I love dips, but the ones I usually make are full of fat, high in calories and provide no very little nutritional value. I recently found a feta dip on Pinterest that I liked, so I used it as a base and did a few things different to fit my tastes and lifestyle.
This recipe for Garlic & Herb Feta Dip has a similar texture to hummus (due to the beans) and is a great source of protein (you can thank the beans, cheese and greek yogurt for that). It's a great dip to bring to group functions or parties for a healthy option for yourself.
Garlic & Herb Feta Dip
Adapted from Fitness Magazine's Feta & Herb Dip.
Ingredients:
10 ounces of white kidney beans
1 cup 0% plain greek yogurt
1 cup crumbled feta
1 tbsp lemon juice
1 tsp garlic salt
1/4 cup chopped fresh parsley
1/2 cup chopped fresh dill
1/4 cup chopped fresh mint
1/4 cup chopped fresh chives

3-4 cloves garlic
Directions:
Simply toss all of the ingredients into a food processor or blender and puree until smooth. I use the Ninja system and love it! Garnish with extra parsley and feta. Be sure to chill in the refrigerator and let the flavors mellow for a few hours. I noticed that this dip tasted a lot better the next day. It will keep, refrigerated, for two days.
Serve with vegetables, crackers or pitas.
That's it!
Be sure to taste and adjust the seasonings to your liking. The original recipe called for 1/4 chopped dill, but I found that too bland and adjusted to my liking. I also loaded in the garlic.
Note: feel free to use less garlic, I'm a huge garlic fan and find the rule "less is more" does not apply.
What's your favorite dip?
Find out more about the products featured in this post below: