Eczema Relief With Polysporin Eczema Essentials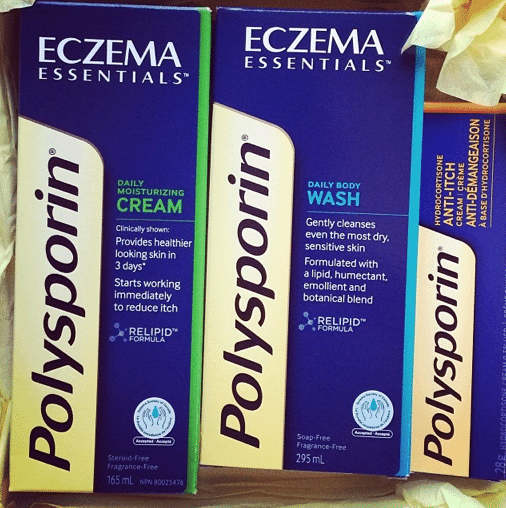 My skin hates this time of year. The air is dry and my eczema really bothers me. I have tried many products over the years, and although they help nothing has been as moisturizing as this particular line from Polysporin.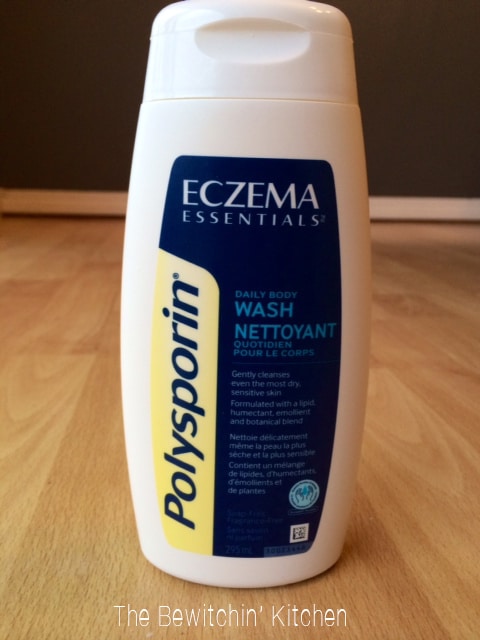 It all starts with the Polysporin Eczema Essentials™ Daily Body Wash.
This is the first time I have encountered a wash like this. It's very rich and creamy and lathers up quite nicely. It's unscented (makes me think of a regular lotion) and is formulated to moisturize (and gently clean) dry and sensitive skin. It's soap free, fragrance free and you can use it daily –  it's that gentle. The Daily Body Wash carries the Eczema Society of Canada's Seal of Approval and has been clinically proven to be gentle and non irritating.
I really like the way my skin feels after I use it, it almost feels like I have already moisturized when I step out of the shower. Even when I don't have eczema as bad as usual (like in the summer) I'm going to continue using this.
The next step is to apply the Polysporin Eczema Essentials™ Daily Moisturizing Cream.
Just like the body wash, the cream carries the Eczema Society of Canada Seal of Approval. It contains such active ingredients such as: colloidal oatmeal (to reduce irritation and inflammation), glycerin (which attracts and retains moisture), mineral oil (for a soft and smooth skin appearance), shea butter (to lock in moisture) and oat kernel extract (soothes dry skin). It's said to strengthen and restore your skin back to a healthier appearance in three days.
I wasn't as crazy about this cream as I was the body wash. I was expecting a heavy cream, but it was really light (which could be great in the summer months). What I didn't care about it was the feeling my skin had afterwards.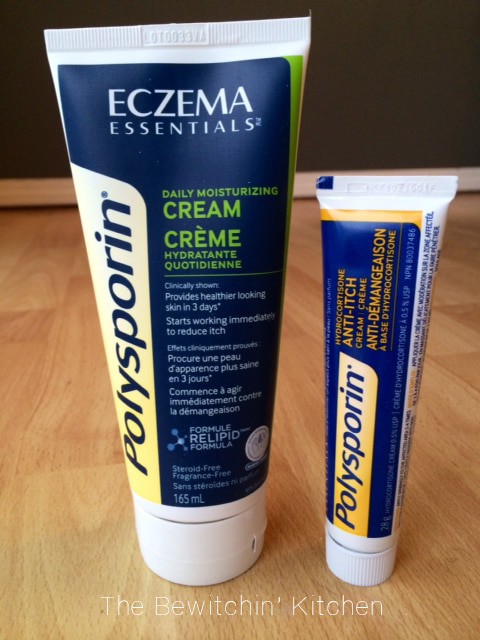 It felt as though I had a layer film on my skin and my skin wasn't as soft as I thought it would be. I also noticed a few hives trying to break through (although I have been having boarder line hives the last few days), so I stopped using it after one use.
The final step is to use the Polysporin Eczema Essentials™ 0.5% Hydrocortisone Anti-Itch Cream.
This step is to be applied when (and only if) you have an eczema flare up. It can also be used for rashes due to soaps, detergents, poison ivy, poison oak and cosmetics. The Anti-Itch cream contains a dual action formula that provides fast relief of itch due to eczema. It's important to note that it shouldn't be used for more then 7 days at a time and shouldn't be applied to anyone under the age of two.
I didn't have any flare ups in the last week while I was testing this out, so I can't comment on how well it works. I did notice, however, that it left my skin feeling like it had a layer of film on it (just like the cream).
Does your skin experience the winter blues?
Disclosure: I am part of the the POLYSPORIN® Eczema EssentialsTM Blogger Campaign with Mom Central Canada and I receive special perks as part of my affiliation with this group. The opinions on this blog are my own.
FREE Recipe Binder
Are you constantly wondering what's for dinner?
When I don't meal plan I feel behind, and we usually end up ordering take out. This recipe binder will keep you organized and make life a little bit easier.