Grilled Corn on The Cob with Jalapeno Lime Crema
Guys, summer is in full swing here. And in this house we celebrate by spending long days at the beach, sleeping in and eating the abundance of produce that is grown on the farms around us. We are so very fortunate to have such amazing food at our fingertips during these months. For sure, a family favourite for us is sweet corn. As soon as the signs pop up at market letting us know it's ready, we kind of have a sweet corn free for all for a few days. I steam it or grill it, use it in salads or chowders, and I always freeze oodles of bags for winter. Some people ask how I can be bothered with all of the work freezing it when frozen corn is so cheap. But friends, in the dead of winter nothing catapults you back to the days of summer than sweet corn that tastes like it was just picked yesterday.
Grilled Corn On The Cob with Jalapeno Lime Crema
Grilled corn is by far one of our best-loved recipes. Truth be told, I always steam the cobs for a few minutes before lightly brushing them with olive oil and then setting them on the grill for another few minutes to get those tell tale grill marks and flavor. In the last few years, I've been serving it often with flavored butter and zesty sauces just to change things up a bit. My gang is older now and are more open to having a little more spice with their dinner. That pretty much makes Grilled Sweet Corn with Jalapeno Lime Crema a regular on our meal rotation in the summertime.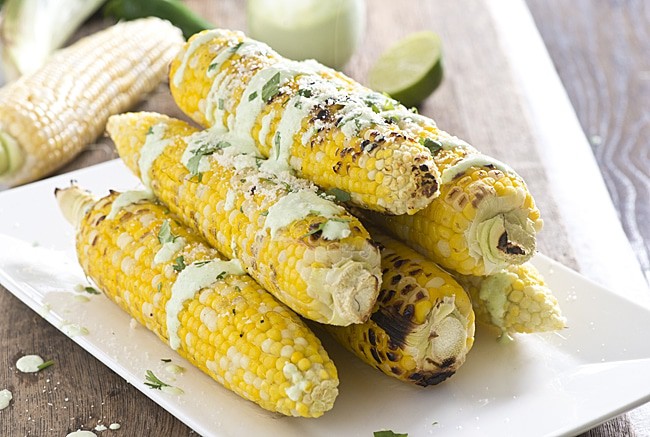 Crema (not to be confused with that glorious foam on top of your espresso), is a soured cream, similar to crème fresh. It's not quite as tangy as sour cream and slightly thinner. I discovered it a few years ago when it was drizzled on my soup at a local restaurant. I've seen versions that have different flavors and especially love it with jalapenos. I just use sour cream that I whip up in the blender with fresh peppers, lime juice, and some heavy cream to thin it out a little. Spoon it on grilled corn with a generous sprinkle of parmesan cheese and oooh la la friends. Bring on the deck parties!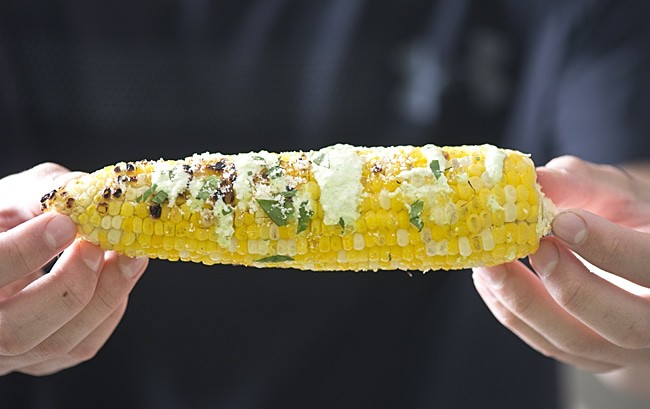 Happy grilling this summer!
Grilled Sweet Corn with Jalapeno Lime Sauce
Don't forget these recipes to go along with your sweet corn:
Fajita Pasta Salad
Whole30 Fajita Hasselback Chicken
Grilled Sweet Corn with Jalapeno Lime Crema
For a superb summer side dish, try Grilled Sweet Corn with Jalapeno Lime Crema. This spicy crema pairs beautifully with the sweet corn and takes less than five minutes to prepare!
Servings 6 servings
Calories 46kcal
Ingredients
6 ears sweet corn husk and silks removed
olive oil for brushing on the corn
1/4 cup sour cream
1 jalapeno seeded and roughly chopped
2 tbsp cilantro roughly chopped
juice of 1 lime
3 tbsp heavy cream
grated fresh parmesan and chopped cilantro for serving
Instructions
Preheat the BBQ to medium heat.

In a blender combine the sour cream, jalapeno, cilantro, lime juice and cream.  Blend until smooth.  Transfer to a small serving bowl; set aside.

In a large pot, bring an inch of water to a boil.  Add as many cobs as will nicely fit (you may need to work in batches), and steam the corn for 10 minutes.

Remove the corn from the pot with tongs (careful, it's very hot!) and brush lightly with some olive oil before placing it on the grill.  Grill for 5-6 minutes until you have some nice grill marks.

Transfer the corn to a platter and drizzle with the crema.  Generously sprinkle with parmesan cheese.  Serve immediately.
Nutrition
Serving: 1g | Calories: 46kcal | Fat: 4g | Saturated Fat: 2g | Cholesterol: 15mg | Sodium: 10mg | Potassium: 13mg | Vitamin A: 205IU | Vitamin C: 2.8mg | Calcium: 15mg
Follow On Pinterest
Follow @bewitchinkitchen On Pinterest for more delicious recipes!