How To Cook Quinoa In an Instant Pot
I recently got an Instant Pot and have been cooking whatever I can in it. If you're looking how to cook quinoa in an Instant Pot, I have a quick tutorial for you.

How To Cook Quinoa In an Instant Pot
This post contains affiliate links.
I took advantage of Amazon Prime Day this July and purchased the Instant Pot deal that was advertised. I had been debating for a while on whether or not I buy one, and thought that if all else fails that it would be a good way to post recipes on The Bewitchin' Kitchen and share my learning process.
The verdict?
I love my Instant Pot.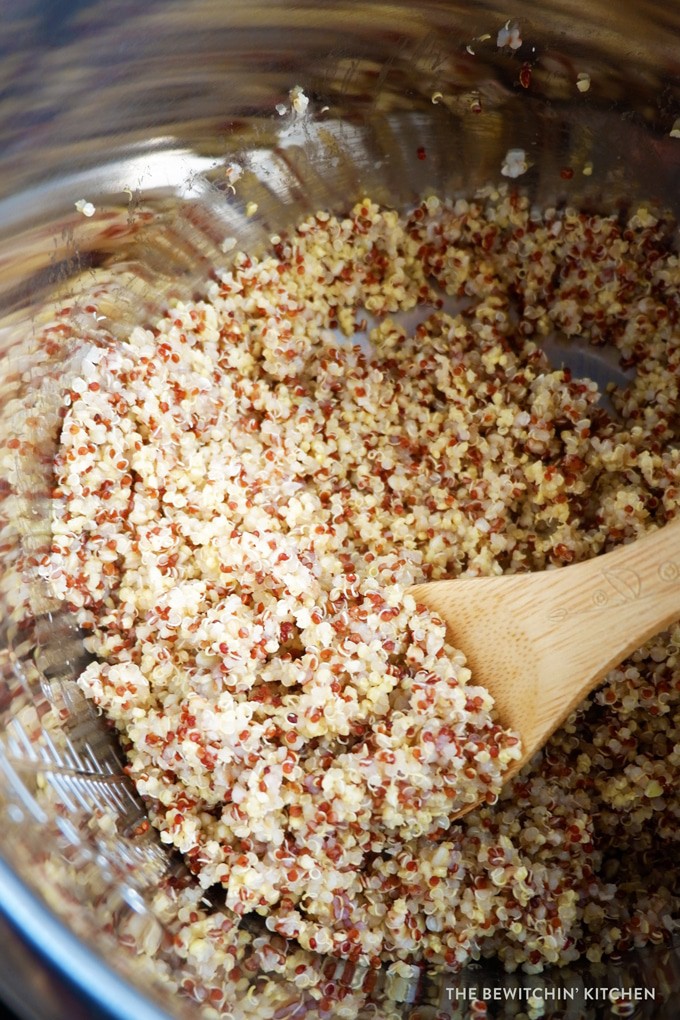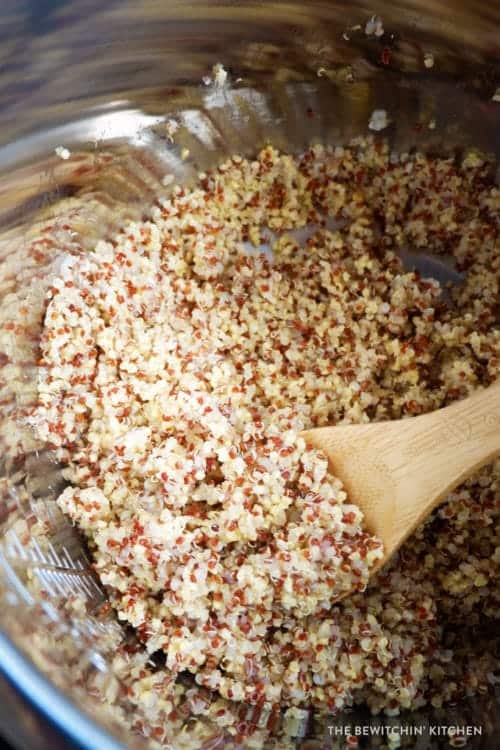 When my Instant Pot arrived, I scoured through the instruction manual (as I was a little nervous about using this pressure cooker for the first time) and noticed that they had a cook time chart.
I noticed that quinoa had a cook time under pressure for one minute. 
It takes me 20 minutes to make quinoa on the stove top.
Seriously? 1 minute?!
Something to keep in mind is that that's the pressure cook time. That doesn't include the time it takes for the Instant Pot to come to temperature first.
TBK's Pro Tip: To speed up the process, start the Instant Pot on saute to pre heat the pressure cooker. It makes a big difference in the pre heat time.
So a one-minute pressure cook is one option, but you would have to naturally vent it so it would still take another 10-15 minutes. I decided to simply use the rice cooker option.
One hit of a button and I was able to cook up Quinoa while I focused on other things (like binge watching old episodes of Party of Five on Netflix).
How To Cook Quinoa In The Instant Pot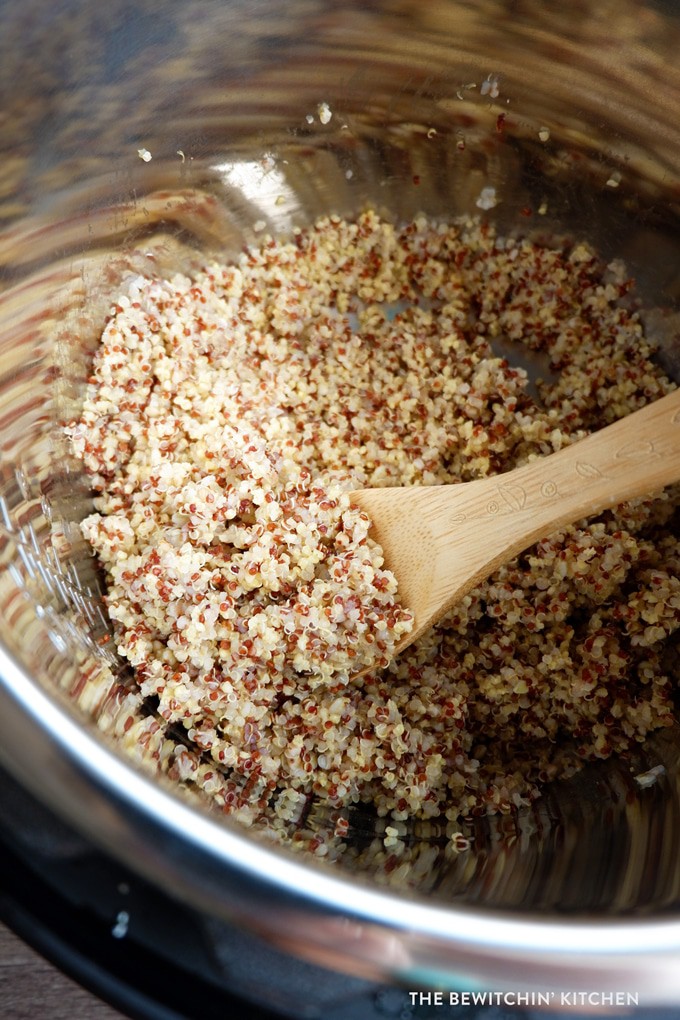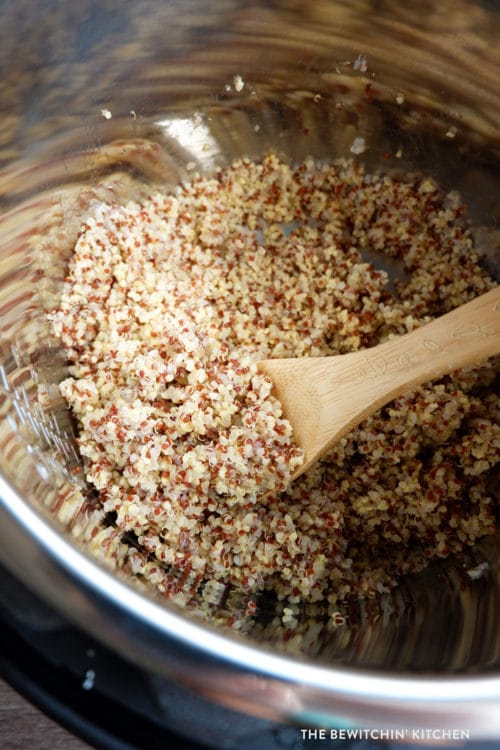 Instant Pot recipes on The Bewitchin' Kitchen
How to make chicken stock in the Instant Pot (coming soon)
Instant Pot Korean Chicken Meatballs (coming soon)
On the fence about purchasing an Instant Pot? Just do it! Want another reason to buy one? You can cook chicken breasts from frozen in fifteen minutes time. It's perfect for those moments where you forgot about dinner or if you want a quick meal prep.
Buy the Instant Pot from Amazon. I'm an affiliate, which means that I get a small commission at no added cost to you.
TBK's Pro Tip: For added flavor, use chicken broth instead of water.
How To Cook Quinoa In an Instant Pot
How to cook quinoa in an Instant Pot. Shave down the cook time for this gluten free dish by using my favorite pressure cooker and save this to your Instant Pot Recipes!
Servings 3 cups
Calories 109kcal
Ingredients
1 cup quinoa rinsed
2 cups  chicken broth
Instructions
Add both the quinoa and chicken broth to the

Instant Pot

.

Turn the vent to sealed.

Hit the rice button.

When it beeps, turn the trigger to venting.

Fluff up and serve.
Nutrition
Serving: 1g | Calories: 109kcal | Carbohydrates: 18.5g | Protein: 4.5g | Fat: 1.9g | Saturated Fat: 0.2g | Cholesterol: 1.7mg | Sodium: 309.3mg | Fiber: 2g | Sugar: 0.4g
Follow On Pinterest
Follow @bewitchinkitchen On Pinterest for more delicious recipes!
Do you have an Instant Pot? Leave me a comment with your favorite way to use it!