Crockpot Ribs
I have made this recipe for Crockpot Ribs many times since it was first published in 2011. Each time, I changed the sauce ever so slightly and now I'm finally ready to reshoot it and reshare, okay less talking and more crock pot ribs.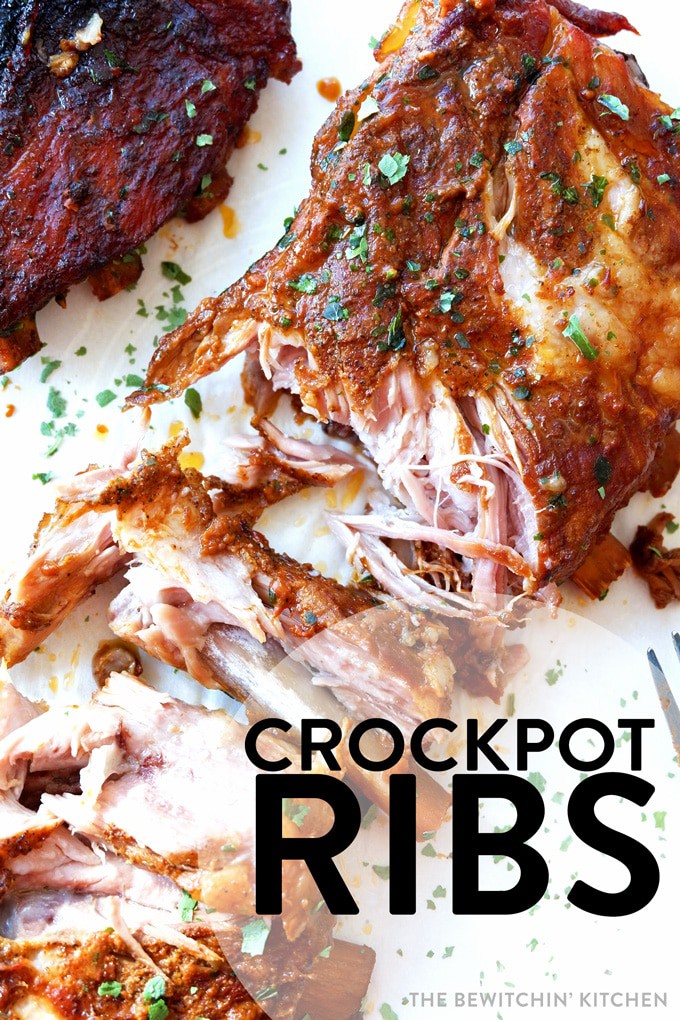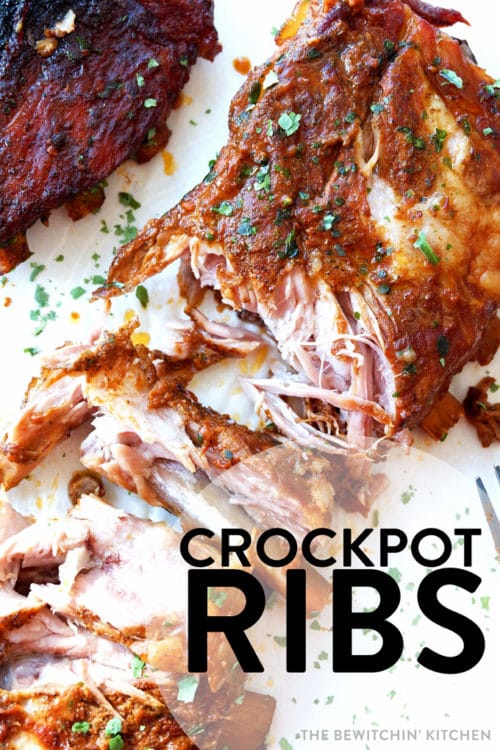 Crockpot Ribs
I never really liked ribs until about a year ago and now that I'm pregnant they are one of my biggest cravings. After a recent (and major disappointing) trip to Montana's, my husband I came to the conclusion that my recipe tastes so much better. I made them tonight and wanted to share. This is from 2011, no – I'm not pregnant. I'll be republishing the Crockpot Ribs and I wanted to tell you all to not get all excited over that (haha).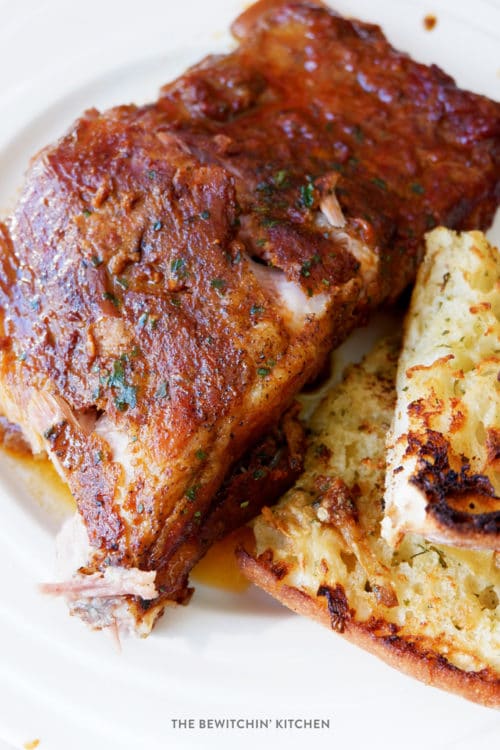 Throughout my adult life, I have never had any other style of ribs aside from this recipe with ribs in the Crockpot. However, growing up it was a different story. My mom always boiled ribs first (as of most people I know of) and then baked them.
How this recipe from crockpot ribs came to be was that I had no idea what I was doing. I rubbed the ribs with a rib rub and chucked them in the oven, after an hour I realized I missed a step. I was worried that the ribs wouldn't be tender and fall off the bone, so I tossed them in the Crockpot and hoped for the best.
They turned out great!
How to Cook Ribs in The Crockpot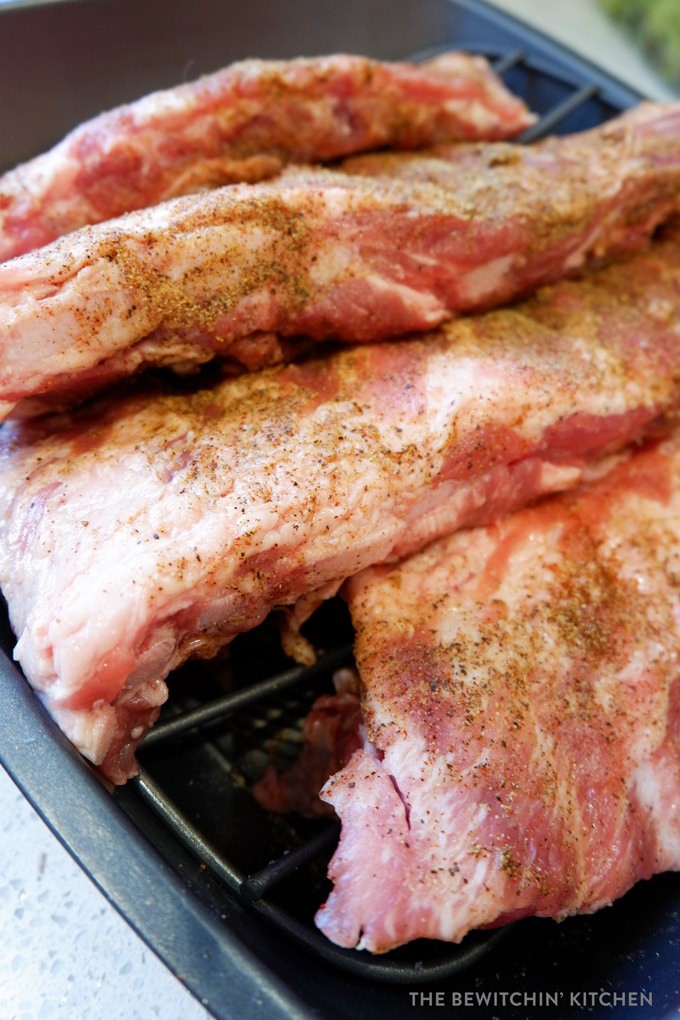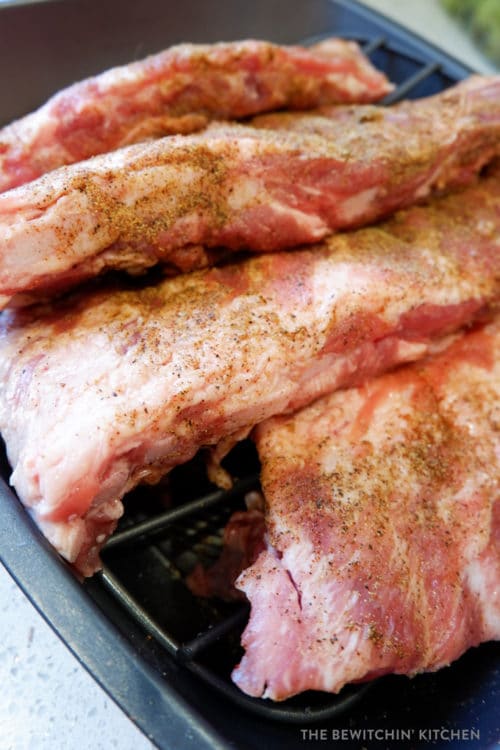 Rub the pork ribs with a rib rub (I suggest this rib rub, which is delicious on both chicken and ribs) and line on a roasting pan. Roast for roughly 60 minutes.
Note: The amount of rib rub is totally up to you. I like to cover the meat and rub it in good.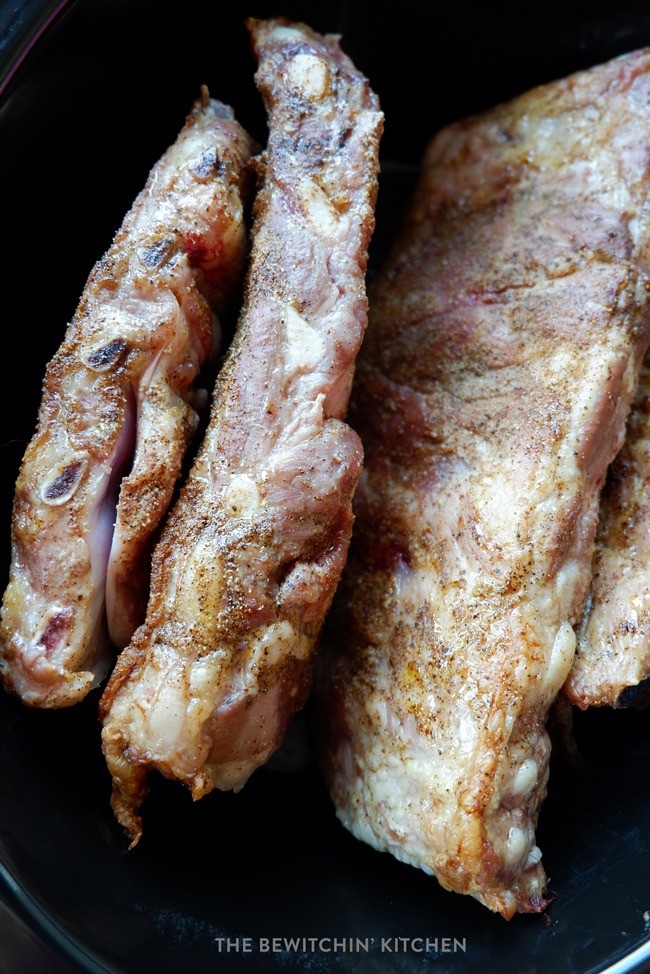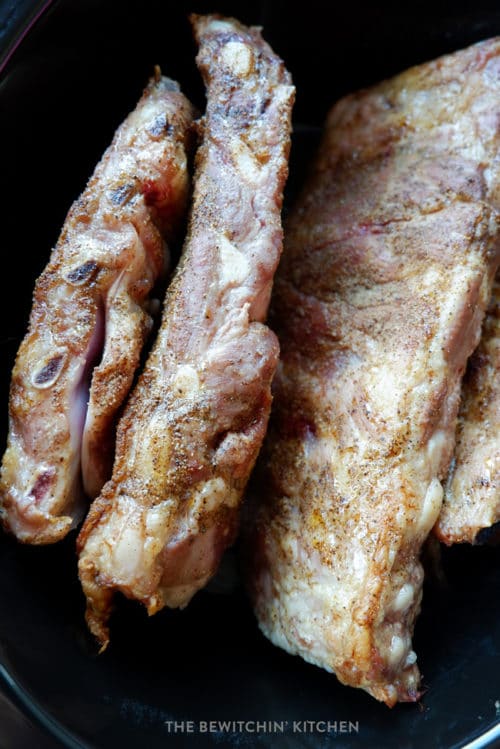 They're not the prettiest things when they come out of the oven, but lay them in the Crockpot and pour the sauce over them (which you would have whipped up while the ribs were in the oven).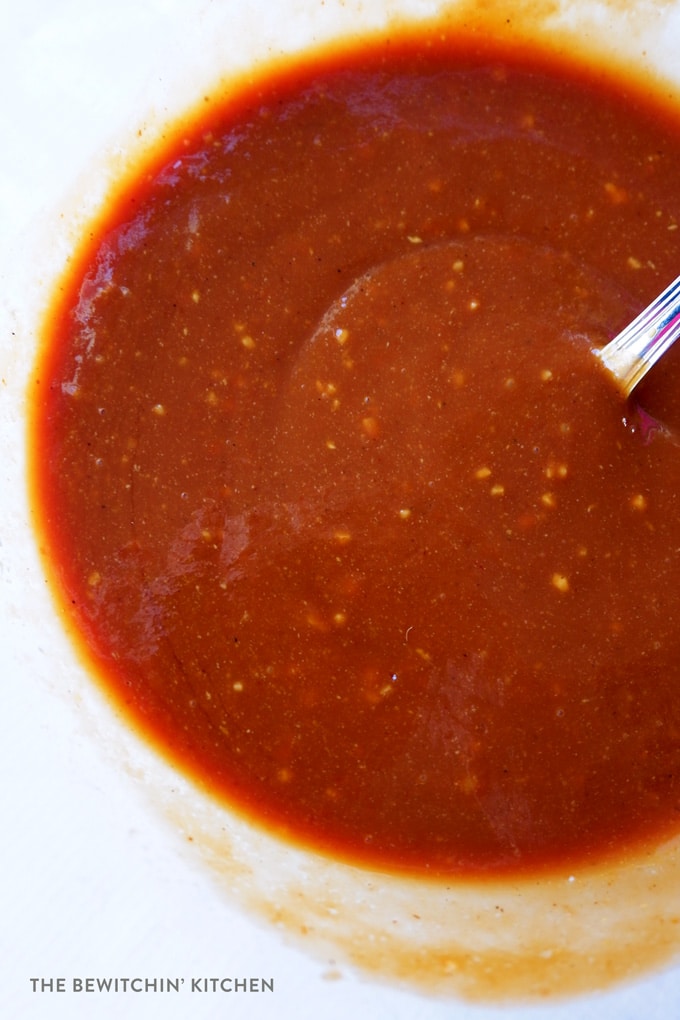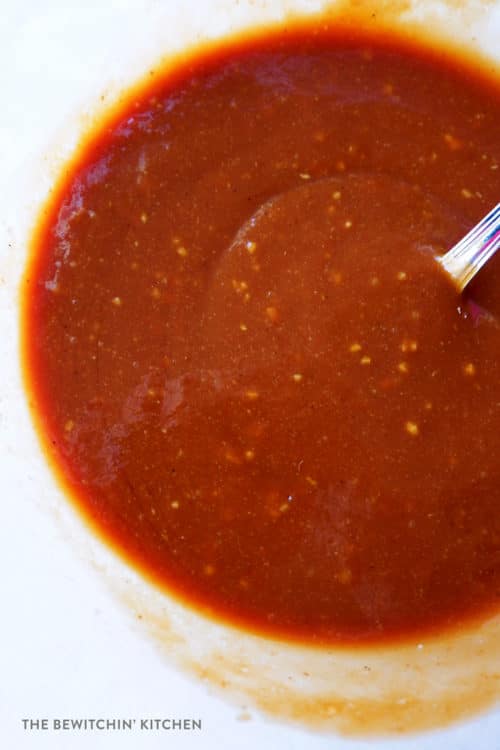 That's it, they're super easy.
In all honesty, you could probably just chuck them in the slow cooker without roasting first but I have never tried. They turned out good the first time that I always continued it that way. Something roasting it does do is get some of the fat out so they're not as greasy in the Crockpot (please note, they will not be grease free there is still the pork "juices" that it simmers in as it cooks).
Slow Cooker Ribs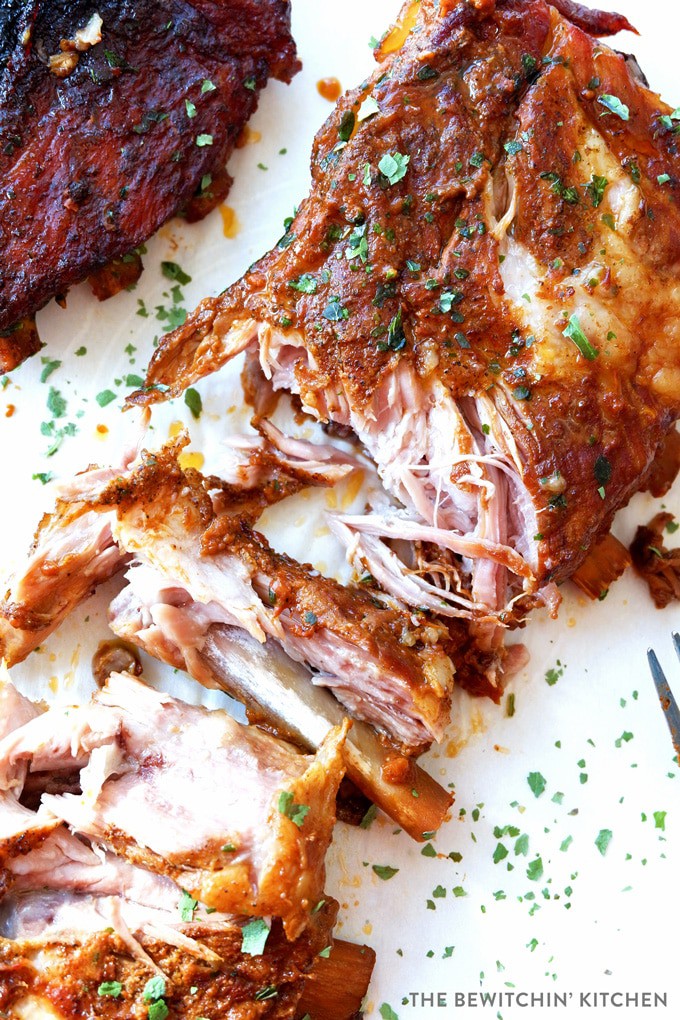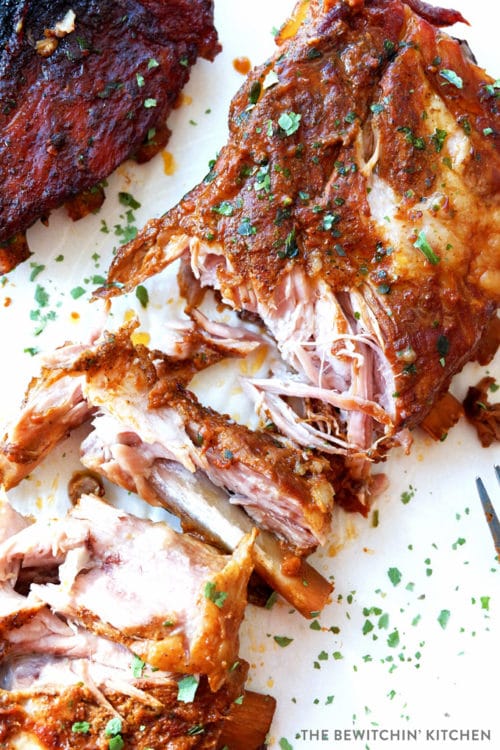 TBK's Pro Tip: Double the sauce recipe and coat the ribs with the homemade bbq sauce right before serving for a saucier experience.
Supplies used to make Crockpot Ribs:
Crock Pot Ribs meal ideas:
Add these delicious sides to complete this faux bbq meal:
PS: If you don't want to make your own rib rub, I've been told that this one
is really good.
Crockpot Ribs
These crock pot ribs are a delicious way to enjoy fall off the bone ribs with the convenience of a slow cooker!
Servings 4
Calories 460kcal
Ingredients
2 racks pork ribs
1/4 cup Rib Rub
1 batch sweet and smoky BBQ sauce recipe below
Sweet and Smoky BBQ Sauce
1 cup Bold BBQ Sauce
1/4 cup ketchup
4 tablespoons Worcestershire sauce
2 tablespoons + 1 tsp Dijon mustard
3 garlic cloves minced
1 tablespoon brown sugar
1 tsp liquid smoke
Instructions
Preheat oven to 350
Massage ribs with rib rub. Roast for 60 minutes, flipping in between.

While the ribs are cooking, whisk together the BBQ sauce together in a small bowl.

Arrange ribs in a Crockpot and smother ribs in sauce. I layer rib, sauce, rib, sauce. Cook on low for 6-8 hours

Suggestion: Double the sauce recipe and brush on the ribs before serving for an extra saucy experience.
Nutrition
Serving: 0.5rack | Calories: 460kcal | Carbohydrates: 47.3g | Protein: 31.4g | Fat: 15.6g | Saturated Fat: 5g | Cholesterol: 110.1mg | Sodium: 1247.4mg | Fiber: 1.6g | Sugar: 35.8g
Follow On Pinterest
Follow @bewitchinkitchen On Pinterest for more delicious recipes!
Have you ever made ribs in the slow cooker?