Healthy Toddler Muffins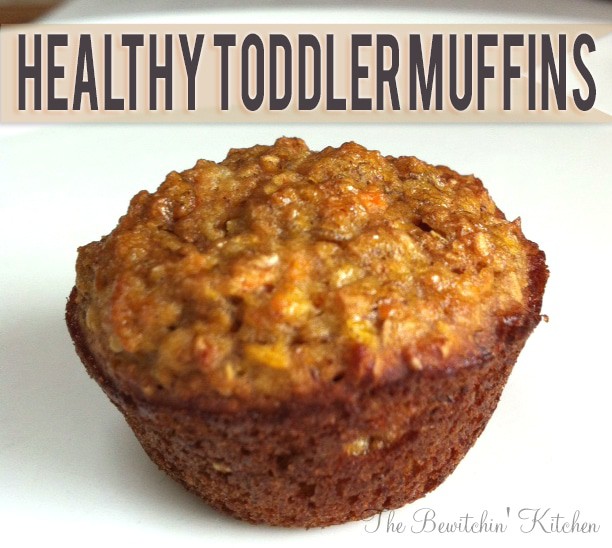 I'm fairly cautious when it comes to what I feed Carter. I have been trying my best to stay away from chemical laden and empty caloric snacks and to feed him whole, nutritious foods. I never thought that it would actually be a challenge. I'm having a problem with food in general when it comes to my son. He will either refuse to eat it or only have a tiny amount and not be full. It's frustrating. When it comes to snacks: he won't let you feed him. He only wants to feed himself – but he can't live off of cheese and toddler snacks forever (I hate giving him those toddler snacks). I was inspired one day when I came across a muffin idea using jarred baby food from my mom. I never thought about baking with baby food. The particular recipe was loaded with butter, sugar and a lot of junk so today. Here is the recipe for Healthy Toddler Muffins.
This recipe isn't 100% clean, it does have some processed ingredients (brown sugar and the butter flavored cooking spray I used) but I'm okay with that. This is a lot better then the pre-packaged foods I can buy at the grocery store. As for the results – these muffins are amazing. Within minutes of having them in the oven my home was filling with the aroma of home baked goodness (the pumpkin pie spice was a brilliant addition). I was really concerned about the squash, but you don't even notice it when you taste it. Carter loved them and ate three right away, I did something right.
This is a fairly basic recipe and the addition of apples, pecans, quinoa or whatever other ingredients and flavors will only enhance it. I plan on trying all three next time around and I encourage all of you to try it as well. If you have, please come back and leave me a comment of what you added.
Healthy Toddler Muffins
A great healthy treat for picky toddlers.
Servings 36 mini muffins
Calories 34kcal
Ingredients
1/4 cup brown sugar
1/4 cup unsweetened apple sauce
2 bananas mashed
2 handful of baby carrots grated
1 jar organic butternut squash baby food
2 eggs
1/2 cup whole wheat flour
1/2 cup all-purpose flour
1/2 cup oat bran flakes
1 tsp baking soda
1 tsp pumpkin pie spice
1/2 tsp sea salt
Instructions
Preheat oven to 375 F and spray mini muffin tins with non stick cooking spray (I used butter flavor).

Beat the brown sugar and apple sauce in your mixer until mixed well.

Add carrots to food processor (I used a Ninja blender) and pulse until they're grated. Add to mixer along with bananas and the jar of baby food. Mix until well combined.

One at a time add eggs, allowing time for the first egg to be incorporated before adding the second.

At this point you can add the dry ingredients and beat until it comes together.

Bake for 20-22 minutes, or until toothpick comes out clean.
Nutrition
Serving: 12g | Calories: 34kcal | Carbohydrates: 7g | Protein: 1g | Fat: 1g | Saturated Fat: 1g | Polyunsaturated Fat: 1g | Monounsaturated Fat: 1g | Trans Fat: 1g | Cholesterol: 9mg | Sodium: 67mg | Potassium: 63mg | Fiber: 1g | Sugar: 3g | Vitamin A: 508IU | Vitamin C: 1mg | Calcium: 7mg | Iron: 1mg
Follow On Pinterest
Follow @bewitchinkitchen On Pinterest for more delicious recipes!
I hope you and your family enjoy them as much as we do. Don't forget to Pin It!
*I have asked where the base of this recipe has come from, and the original recipe is from All Recipes I have added applesauce, fruit and I tend to vary my flours. Like with everything, it's a little different each time I bake it 😉