Korean BBQ Sauce
My version of Korean BBQ Sauce is a little sweet, a little spicy, and simply delicious. Not only is it a great way to dress up some chicken, but it works really well with steak too. A little goes a long way, as this Asian BBQ sauce packs some major flavor!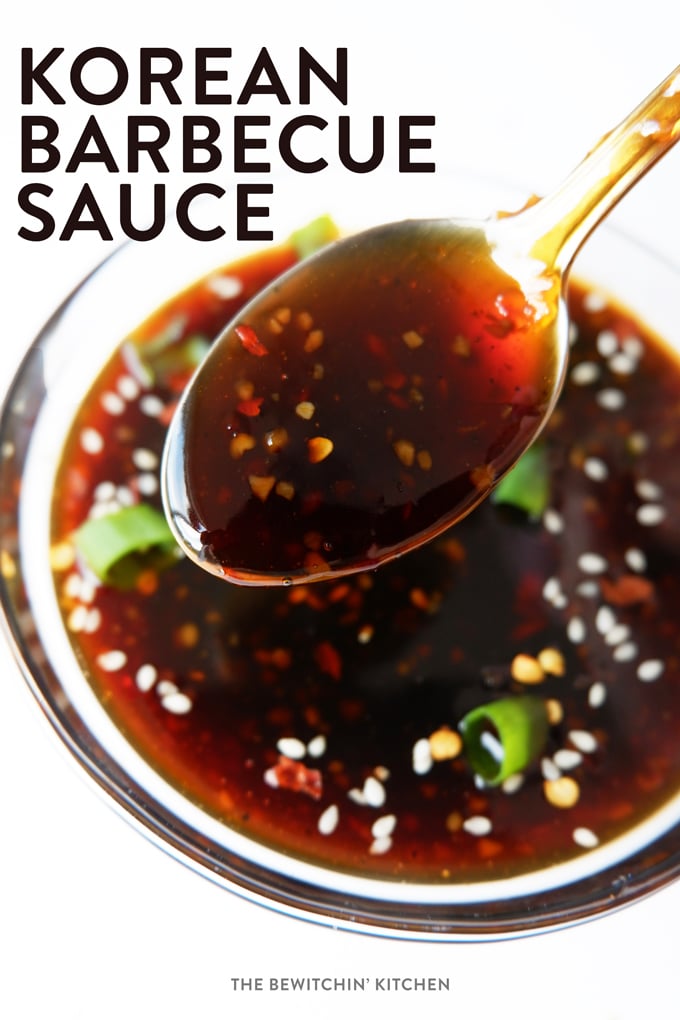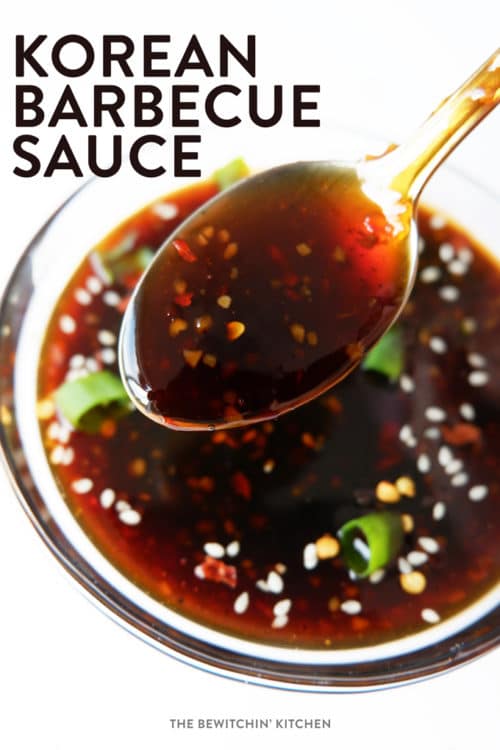 Sticky and Sweet Korean BBQ Sauce
This post contains affiliate links.
Rice wine vinegar and liquid aminos (or soy sauce) provide a tangy, umami base for this Korean bbq dipping sauce. Brown sugar adds a touch of caramelized sweetness, plus Sambal Oelek, garlic, and fresh ginger really kick up the heat! Don't forget the sesame oil — it wouldn't be Asian-inspired without it. In fact, I love tossing in some whole sesame seeds for extra flavor and crunch.
And remember, a little goes a long way! I found this Korean barbecue sauce to be really powerful, but I'm also sensitive to ginger. Start small and work your way up until it tastes just right.
The best part? It can be used as a marinade, a glaze, or a finishing touch. I've served this Korean bbq dipping sauce with chicken meatballs, chicken breasts, and I even added a little bit to my stir fry the next day. I also feel that this would be really yummy with steak too.
WHY YOU WILL LOVE THIS ASIAN BBQ SAUCE:
It's gluten free – use liquid aminos instead of soy sauce
It packs a lot of flavor – you really only need a little bit on whatever food it is you're cooking
It's quick and easy to whip up – ready in 15 minutes or less
It's versatile – delicious on chicken, steak, pork, and veggies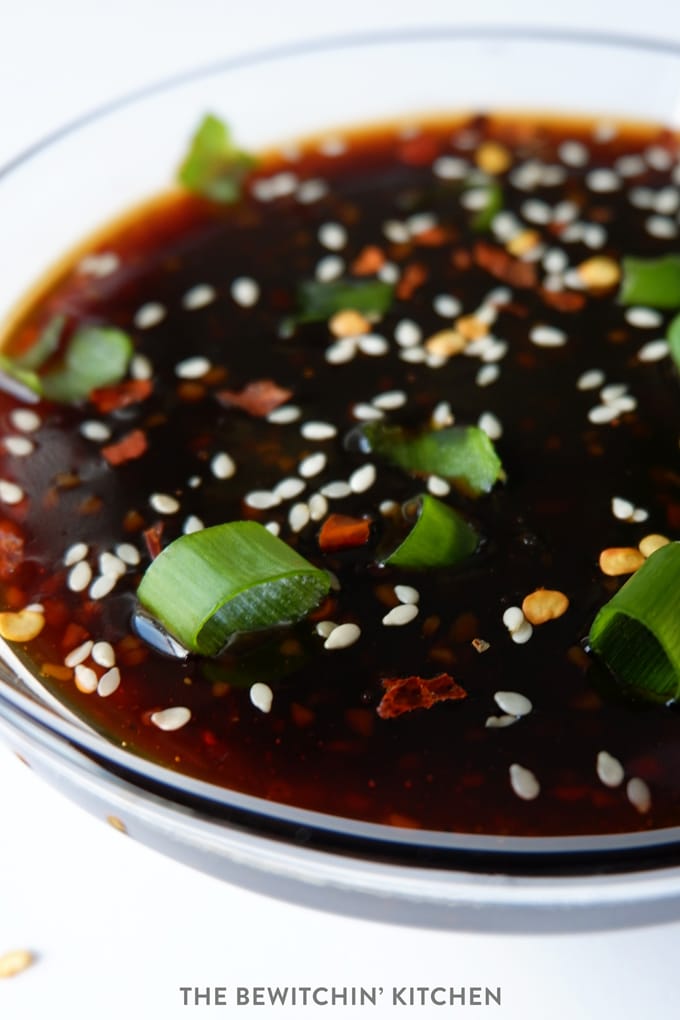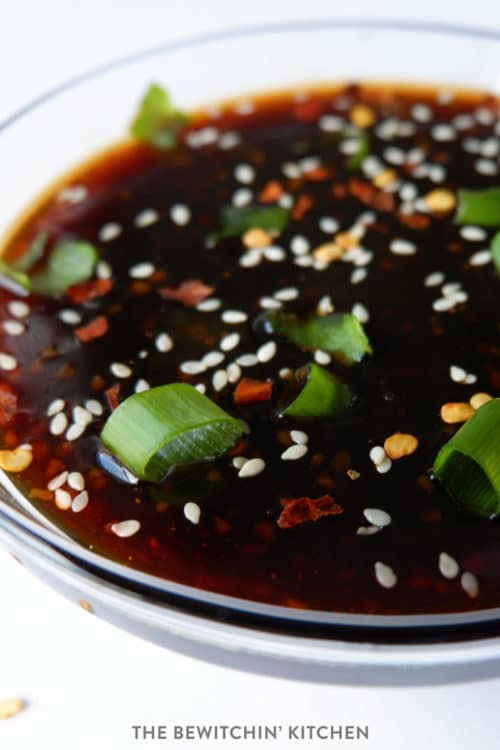 HOW TO MAKE EASY KOREAN BARBECUE SAUCE
The truth of the matter is, I've never had a Korean BBQ Sauce. So I jumped on my old friend Google, found a recipe from All Recipes, and changed the ingredients around to make it work for my family's taste and for the ingredients I had on hand. (I seriously JUST had enough liquid aminos and rice wine vinegar to make it work, I was shaking the bottles to get every last drop out.)
USE A CORNSTARCH SLURRY
Adding a cornstarch slurry to this Korean sauce (or any sauce, really) is an easy way to thicken it without losing a lot of volume. How to make a cornstarch slurry? Simply combine cornstarch with water until completely dissolved, then add the mixture to the saucepan. Whisk constantly as you simmer your Korean bbq sauce and watch it thicken in no time!
SWAP INGREDIENTS AS NEEDED
Here are some easy substitutions that will still get you close to the correct flavor of this Korean sauce:
Liquid Aminos – This is essentially a gluten free version of soy sauce, so feel free to use regular soy sauce or tamari instead.
Ginger – Instead of fresh ginger, use ginger paste! You can find this in the produce section of the grocery store. Be sure to check the back of the tube for the correct substitution amount.
Sambal Oelek – Gochujang really is the more traditional choice — I just happened to have a jar of this on hand. Because gochujang contains extra starches, you may not need the cornstarch slurry.
Rice Wine Vinegar – This really carries a unique flavor, but there are several alternatives that should work just fine for this Korean bbq sauce recipe. White wine vinegar is your best bet, with apple cider vinegar being a close second.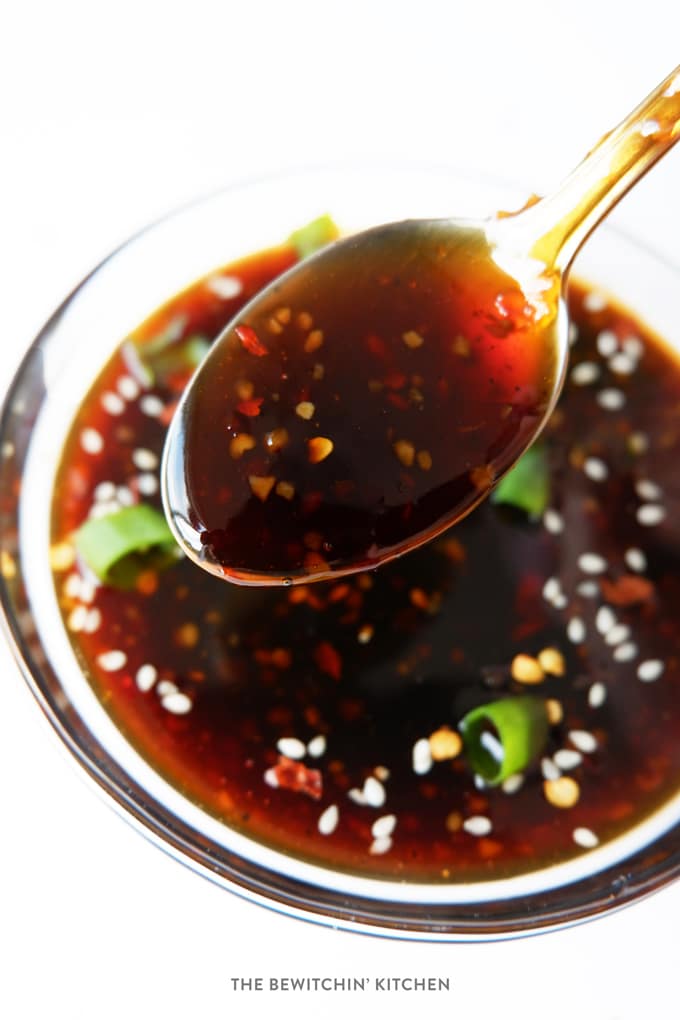 Frequently Asked Questions about Korean BBQ Dipping Sauce
What does Korean barbecue sauce taste like?
Korean barbecue sauce has a delicious combination of spicy, sweet, tangy, and umami flavors. It's very similar to teriyaki sauce, but with more heat and acidity.
Can I double this Korean bbq sauce recipe?
Absolutely! Leftovers will keep in the refrigerator for 1 to 2 weeks when stored in a jar or airtight container. Since you don't need much, I'd only recommend a larger batch if you use it every day or are planning for guests.
What's the difference between BBQ sauce and Asian BBQ sauce?
Simply put — the flavor! Just about every barbecue sauce starts with a base of brown sugar and acid (vinegar). American BBQ sauce often includes a tomato-based ingredient and a smoky flavor while really leaning into a vinegar base. On the other hand, Asian-inspired sauces are more savory-sweet and include lots of umami flavor with soy sauce, sesame oil, and even fish sauce!
You will also often see some kind of spicy chili paste, and the type of paste used is what sets each Asian bbq sauce apart.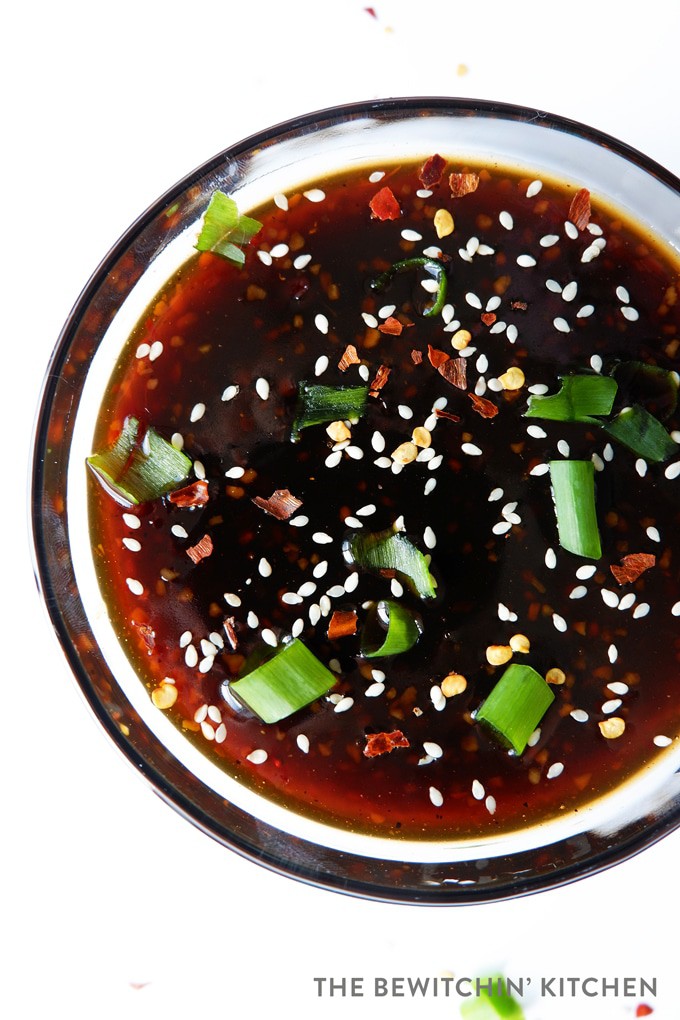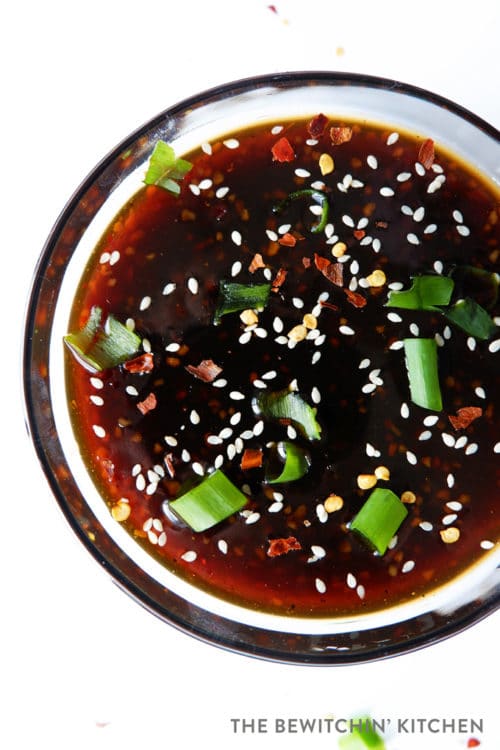 More BBQ Sauce recipes:
Paleo BBQ Sauce
Maple Whiskey BBQ Sauce
Korean BBQ Sauce
Korean BBQ Sauce is a yummy addition to chicken, steak, and stir fry. It's even an easy sauce to throw together for meatballs! Sweet, spicy, salty — this Asian bbq sauce has it all!
Servings 8 servings
Calories 75kcal
Ingredients
1/2 cup liquid aminos or soy sauce
1/3 cup brown sugar + 1/4 cup This is confusing but add both. It adds up to .58 o a cup which doesn't exist 😉
1 tbsp garlic minced
1 tbsp rice wine vinegar
2 tsps Sambal Oelek
1 tsp toasted sesame oil
1/2 tsp fresh ginger grated
1/4 tsp pepper
1 tbsp water
2 tsps  cornstarch
Instructions
Bring all the ingredients (except for the water and cornstarch) to a boil over medium heat in a small sauce pan.

In a small bowl, make a cornstarch slurry by mixing the cornstarch and water together until the cornstarch dissolves.

Add the cornstarch to pot and whiskey over medium-low for 5-10 minutes and it's rich and thick.

Store in a jar for up to a week.
Nutrition
Serving: 1g | Calories: 75kcal | Carbohydrates: 16.5g | Protein: 1.3g | Fat: 0.6g | Saturated Fat: 0.1g | Sodium: 447.3mg | Fiber: 0.1g | Sugar: 14.2g
Follow On Pinterest
Follow @bewitchinkitchen On Pinterest for more delicious recipes!