How To Build A Media Kit For Your Blog
Over a month ago I finally built my Media Kit. I started at 8/9 am and didn't finish until 10 o'clock that evening (of course there were scattered breaks in between), a lot of hard work went into it. I had no idea where to start, I couldn't find any information on building a Media Kit
that related to The Bewitchin' Kitchen's theme and what I wanted to show I offer. So that is why I am posting this. I had a hard time, so I know there are others having difficulty as well and I hope this post will help you.
Getting Started
This was my biggest challenge, I had no idea on how or where to start. So I flipped roles and looked at it from a company's perspective, what would I want to know? This is what I came up with:
Information about the blog and what their stats are
Experience and reputation
Policies and procedures (what to expect and what they expect from me)
How much is this going to cost me
Once I had an idea on what I thought I should be addressing, I had to figure out what I wanted to state in each section:
Information: Have information about the history of your blog, how did it start, when, what is it about? Include your blogging statistics: followers, subscribers, Facebook Fans, Twitter, Google Page Rank, Alexa rating, etc. Don't forget to write a little information about yourself and how the company can get in contact with you.
Experience and Reputation: List companies you have worked with (and include a link or two so the company can see what your style is). Every once in a while ask a company that you have worked with to write you a short testimonial and post them on your media kit, they're great references.
Policies and Procedures: It's great to be clear on what your expectations are from the beginning and what the company can expect from you, so there no surprises later on, which could hurt your relationship with the company you work with.
Costs: If you have advertising rates or charge for any service that you may provide. State it! Not only will this save you (and the person you are about to work with) time but there is also clarity from the beginning.
Putting It All Together
This is what took me the most time to do. You want your Media Kit to not only be eye catching and memorable but you want it to look professional as well.
Keep it organized: I think this is pretty self-explanatory.
Add your blog logo: Not only does this make your Media Kit visually stimulating, but it gives it a professional look.
Don't over do it: Keep it clean and simple. When you look it over, you want your eyes to glide smoothly over the document.
When it doubt, leave it out: If you're second guessing putting something in, just leave it out. It probably isn't important to the company
It's hard to put together a Media Kit for a blog without a visual guide. That is why after a lot of thought, I have decided to post samples of my Media Kit. I take a lot of pride in my Media Kit and was hesitant about post it at first, because of copyright reasons. I feel that my Media Kit is personal, and I would hate for it to be duplicated.
That's why before I share I would like to state that my Media Kit is copyrighted and if you would like to share it or want to use it for your personal use that you
contact me first
. Unauthorized use of The Bewitchin' Kitchen's Media Kit is prohibited.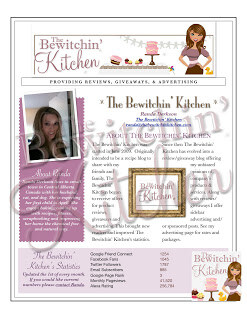 Page 1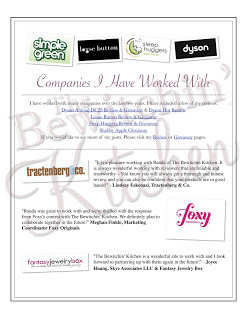 Page 2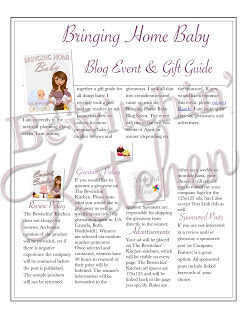 Page 3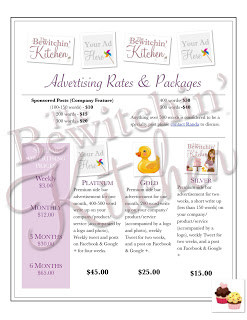 Page 4
Don't forget to update your Media Kit, as your blogging stats, events and even rates will change with time. I update my Media Kit the first of every month.
I hope this guide helped you, and if you liked it don't forget to share it. If you would like to feature this post on your blog (as a guest post) or you're interested in having me build your media kit for you, feel free to contact me