Dopplers To Diapers Canadian Doppler Rental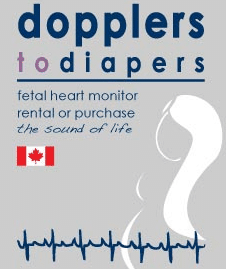 Dopplers to Diapers is a Canadian company started by two mothers, Norah Miner and Karla Swan. The company provides Fetal Doppler rental (or purchase) for mothers-to-be and families across Canada. Fetal Dopplers allow parents and siblings to listen to the sound of the unborn baby's heartbeat during pregnancy. Dopplers provide the opportunity for parents to connect with a new baby, to share the news and development with other children and family members, and provides assurance between visits with health care providers.
Norah and Karla decided to open this internet based business after using their own fetal dopplers to share the sounds of the new baby with their spouses, families and friends. They found the sound of the baby's heartbeat both exciting and reassuring during pregnancy and they wished to offer other mothers and families the opportunity of home doppler use.
Today, I am officially twenty two weeks pregnant and it brings many emotions to the surface. In July 2009 I had a stillborn. I was almost 7 months pregnant, but the baby was only 22 weeks and because of what happened I have been a little bit of a wreck this pregnancy. The doctors have ran special tests and have done a couple screenings (all leading to the fact that I have a normal, healthy baby in there) but it's Dopplers To Diapers that have kept me calm. 
I reviewed Dopplers to Diapers throughout November (and the beginning of December) and I am so thankful for that opportunity. Whenever I had a little bit (or a lot of) worry, my Canadian Doppler rental eased my mind. I would just check on the baby myself (not wait until I see my doctor once a month) and my worry would disappear as quickly as it showed up. That Doppler kept me sane.
It was so easy to use, I didn't bother reading the instructions (I'm THAT person). I used the sonogram jelly that was provided and guided the doppler until I heard a heartbeat. It was so simple. The heartbeat was crystal clear, I was even able to record it for you all to hear.
Here is a recording I took last week at 20 weeks, 6 days:
To find Dopplers To Diapers rates or information on how to order please visit their website. They ship anywhere in Canada. (Shipping only takes two business days, I was amazed with how fast I received my rental.) When your rental is up it's easy to ship the unit back, Dopplers To Diapers provides an Xpresspost envelope to make it easy and convenient.
Special Offer
10% off 1 or 2 month rental
OR
20% off 3 or more month rental
When you mention The Bewitchin' Kitchen or Randa when you place your order.
FREE Recipe Binder
Are you constantly wondering what's for dinner?
When I don't meal plan I feel behind, and we usually end up ordering take out. This recipe binder will keep you organized and make life a little bit easier.