Jake and The Neverland Pirates Cake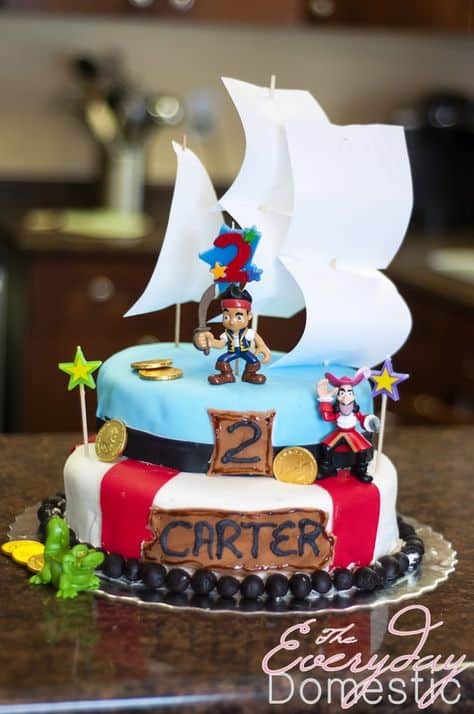 This year for my son's second birthday I decided that I was going to make a Jake and The Neverland Pirates cake. I wanted something that wouldn't leave me in a pile of cake with tears, but still wanted it to be eye appealing and something I could be proud of.
Update: I lost all my images as I merged blogs, so please be patient as I update this and a few other posts.
The Jake and The Neverland Pirates cake above was the original cake I was inspired by. I was all fired up to do it and then I realized something, there was no way I was going to make  the map, the treasure chest and the face without tears. It just wasn't going to happen. I learned last year while making a Vancouver Canucks cake that I don't like cake decorating, so I decided to move on.
Then I came across this cake. Now this was something I could do! Easy decorating and it uses figurines. Perfect.
Two days before Carter's birthday I got to work. For the bottom layer I used this
vanilla cake recipe
and doubled it. This cake recipe claims to be the ultimate recipe for cupcakes (over fifty bakers tested it out) and I agree. I used two vanilla beans and FOUR tablespoons of vanilla extract and it tasted delicious. It made a lot of cake, two 10″ pans for the bottom tier. For the top tier I used My Baking Addictions's
Black Magic cake recipe
. Very moist, and very fudgey. I'm happy I used that as the top tier as the vanilla cake was heavier so I wouldn't think the moist, Black Magic cake would hold up the weight if the tiers were reversed.
Once the cakes were completely cool, I wrapped them up with a few layers of saran wrap and stuck them in the fridge. The next day is when I started to decorate.
I made two and a half batches of my favorite buttercream recipe, but I left out the white chocolate. I added a little bit more powdered sugar to get to the consistency that I desired.
I did a crumb coat and then added a thick layer on top of that. Personally, I'm not a huge fan of fondant so I wanted to make sure there was lots of buttercream underneath.

I was having a lot of frustration with the fondant overlapping, so I stretched it the best I could and smoothed it out with a spoon (my fondant smoother wasn't with me). I was planning on covering the bottom anyway. It wasn't perfect but it worked.I then used a Wilton Sugar Sheet
in the color red as the stripes. I made it stick with the buttercream. Note: I didn't have time to make fondant, so I purchased two boxes of the Wilton kind.
While I was adding blue food coloring to the fondant for the top tier, I set the cake in the fridge. It was warm in the house and I wanted everything to set up nice.
I was able to make the "signs" look dirty by kneading it in cocoa powder after coloring it with brown food coloring. I used another Wilton Sugar Sheet (this time in black) to trim the second tier. The bottom trim was rolled black fondant.
I took some wooden skewers and cut out a few sails from plain white printer paper, those made the sails. I bought chocolate coins for the "gold doubloons" and used character figurines (you can purchase them here
). Finally, I went around the edge of the brown "signs" with a brown food gel.
All in all it was pretty easy. However, I would like to thank Kristen from My 3 Little Kittens for all the advice she gave me.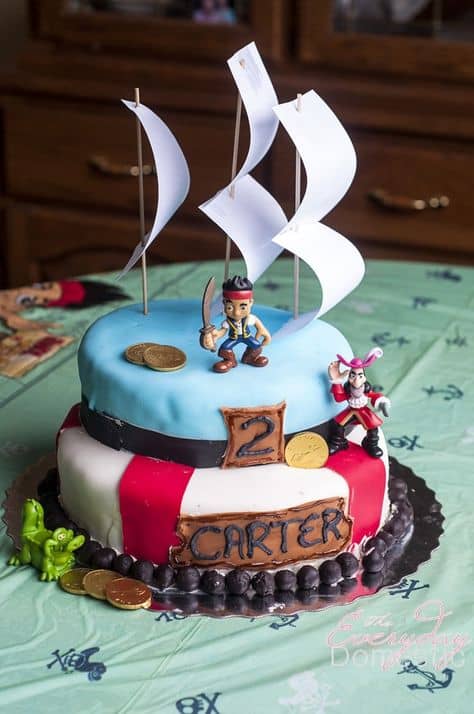 Looking for moe ideas? Check out these Birthday Cake Ideas for Boys from Stephanie at Spaceships and Laserbeams! She always has the best party inspiration.