Pineapple & Citrus Fruit Dip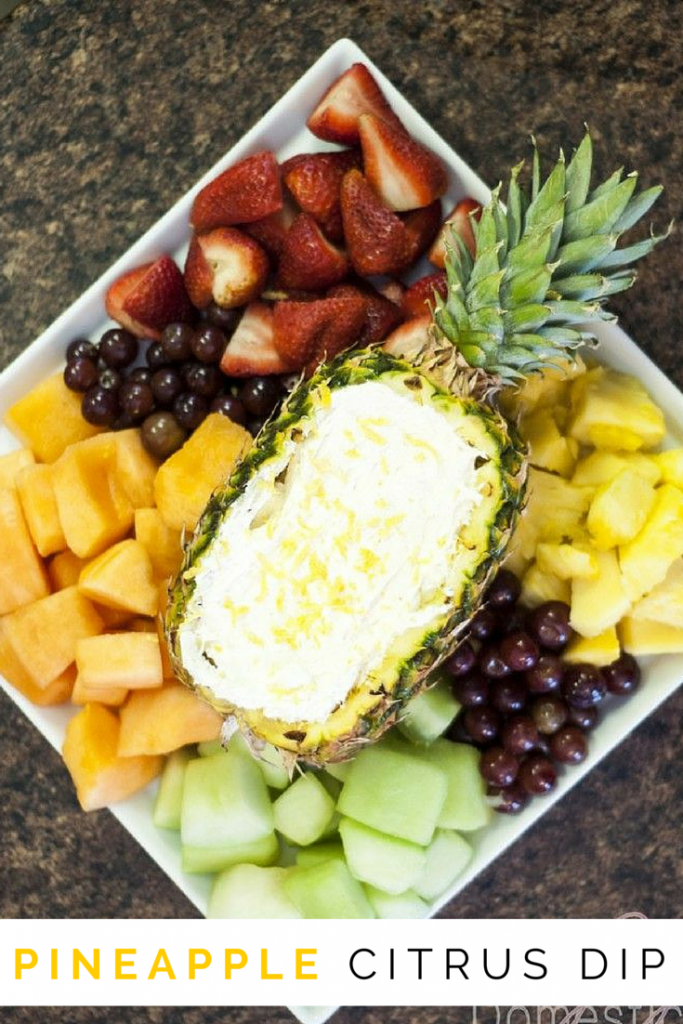 I love a good fruit dip! Whenever there is a fruit dip at a party, I am more inclined to eat more fruit. It's delicious. So for my son's second birthday, I wanted another dessert option other than cake. Fruit dip was a great choice.
Update: when I merged my two blogs, I lost a lot of the images. Please bear with me as I update the photos.
My son's birthday party theme was "Jake and The Neverland Pirates", I wanted something tropical to go along with all the food we made. For me when I think of tropical, a fruit that comes to mind is a pineapple.
So I started a Pinterest search and came across a post from Taste Of Home with a recipe that originally came from a magazine called Country Woman. The recipe itself isn't new, it was published in 1998 and if it's still a hit today I figured it must be good.
I was intrigued by the method of the recipe, I have never "cooked" a fruit dip before so I made it more because I was curious as what it would taste like.
It tastes amazing.
This is my new go to fruit dip recipe and it would be easy to make it work for you (strawberries and raspberries instead of citrus perhaps?).
The next time I make it, whether it's for another tropical themed party (this would be fantastic for a luau party) or just because, I am going to add some toasted coconut to the dip. It would go beautifully!
Something to take note of:
I made this the night before my party, I wanted the flavors to settle. If you do this, do not put it in the pineapple until just before serving. There is liquid still in the pineapple and it could affect your dip. Just place the dip in a bowl, wrap with saran wrap and chill in the fridge until you're ready.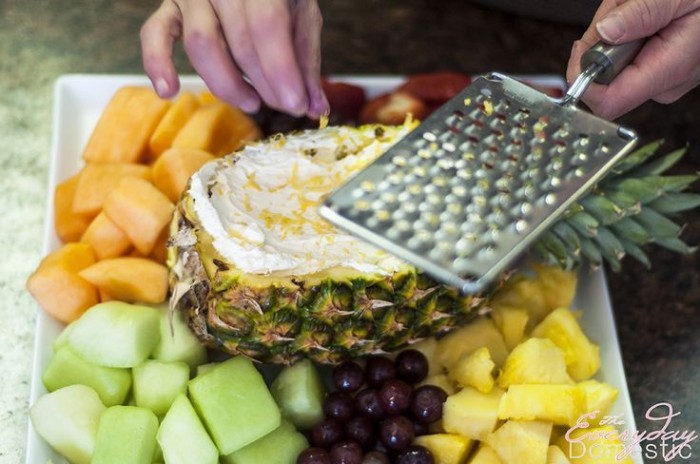 Pineapple Citrus Dip
I love a good fruit dip! Whenever there is a fruit dip at a party, I am more inclined to eat more fruit. It's delicious.
Servings 4 people
Calories 440kcal
Ingredients
1/2 cup sugar
1 lightly beaten egg
2 tbps orange juice
2 tsps FRESH lemon juice not the concentrated kind
2 tbsps orange zest
2 tsps lemon zest
1 package cream cheese softened
1/3 container light cool whip 12 ounces
Fruit of choice
Instructions
In a small saucepan add the sugar, beaten egg, fruit juices and zest. Stir over low heat and cook until a candy thermometer reaches 160 F. If you don't have a thermometer, you want to cook it so the egg becomes cooked. I simmered it for a few minutes. Let cool.

In a bowl, beat the cream cheese for 1-2 minutes, until it's lighter and somewhat fluffy. Once the sugar mixture is cool, slowly add it to the cream cheese mixture, beating in between adding more. At this point I tested the temperature. If it's a little warmer then room temperature, put it in the fridge for a while.

Fold in the cool whip. Taste and determine if it needs more. I used about 1/3 container.

Take a pineapple and cut vertically in front of the top stem. You only want to take off a little bit. Hollow it out (try to keep the pieces of pineapple in tact and not a mushy mess since you'll be serving it with the dip) and take a paper towel and dab out the excess liquid. Fill with the mixture and garnish with lemon zest.

Serve with your fruit of choice. We did melon, cantaloupe, strawberries, blueberries, grapes and pineapple.
Nutrition
Calories: 440kcal | Carbohydrates: 51g | Protein: 7g | Fat: 25g | Saturated Fat: 14g | Polyunsaturated Fat: 1g | Monounsaturated Fat: 6g | Trans Fat: 1g | Cholesterol: 117mg | Sodium: 259mg | Potassium: 213mg | Fiber: 1g | Sugar: 41g | Vitamin A: 997IU | Vitamin C: 11mg | Calcium: 161mg | Iron: 1mg
Follow On Pinterest
Follow @bewitchinkitchen On Pinterest for more delicious recipes!

What's your go to party dessert?
Like this recipe? Don't forget to pin it!