Iced Maple Pumpkin Spice Latte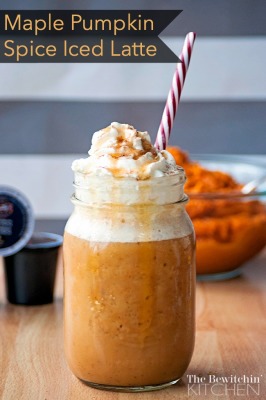 I love PSL's but after researching what is actually in those drinks I have decided to make homemade pumpkin spice lattes. The Keurig 2.0 has made it possible for me to do so – and it's a lot faster than the coffee shops.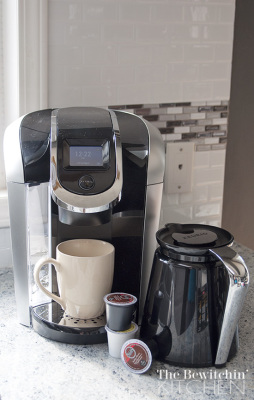 The new Keurig 2.0 was recently released, and it was something I was really excited about. I already own a Keurig and it's the small appliance we use the most. We use it multiple times a day but on the weekends my husband has been know to knock 4-5 cups back before noon. Which is why I'm so incredibly excited for the 2.0 because there is the option to brew 4-5 cups at once in the all new Keurig carafe!
KEURIG® 2.0 K400 BREWER FEATURES
70 oz Water Reservoir – this one is huge for me!
Colour Touch Display
Easy-fill Flip-top Reservoir Lid
Customizable User Interface Wallpaper
Programmable Controls

Auto ON and OFF
Auto Brew K-Carafe™ Packs
Customizable Clock
Favourite Settings
Illuminated Water Reservoir
For the first time ever you have a choice! You can brew a cup or a full carafe. The K-Carafes are a little larger then your standard K-Cups and gives you the following choice: 2-3 cups, 3-4 cups and 4-5 cups. It depends on the strength you like. It's totally customizable.
I'm really liking the new look that the Keurig 2.0 brings. It's sleeker, cleaner and more tech forward. Brewing is easy, as Keurig has designed a user-friendly way for you to get the perfect cup.

After placing the K-Cup in the holder you can select how strong you want your coffee and how many ounces you want (I have the 2.0 400 series and I was given the options of 4oz, 6oz, 8oz, and 10oz). Once the settings are set just hit the "KEURIG 2.0" button and you have a delicious cup of coffee – fast.
There is only one thing that I don't like about the Keurig 2.0 and that is the fact that you can only use Keurig K-Cups. If it doesn't have the Keurig logo on them, it won't brew.
Maple Pumpkin Spice Latte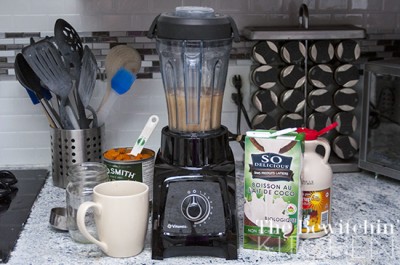 I wanted to show you guys that the Keurig 2.0 can do more than just brew a cup of coffee, hot chocolate or tea. With a little bit of creativity, you can make some of your favorite coffee shop drinks saving you calories, chemicals, and coin. I decided to make an Iced Pumpkin Spice Latte but I wanted to put a little twist on it and that's when I decided to use maple syrup as a sweetener. Mixing maple syrup and pumpkin makes this the ultimate fall drink. It can be enjoyed either hot or cold (in this case I made mine iced).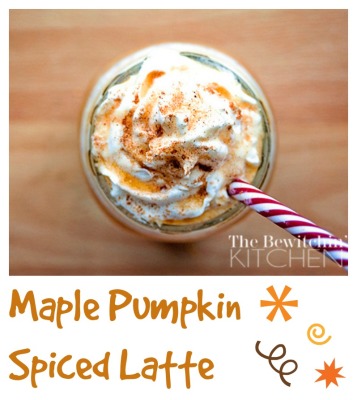 Iced Maple Pumpkin Spice Latte
Ingredients
1/2 cup coffee chilled
1/2 cup unsweetened coconut milk almond milk or skim works too
1/4 cup canned pumpkin puree or 3 tbsp if you're not overly excited about pumpkin like me
1/4 tsp pumpkin pie spice
1 tbsp pure maple syrup
1 - 1 1/2 cups ice
Topping:
Whipped Cream
Pumpkin Pie Spice
Maple Syrup
Instructions
Add all ingredients into a blender and blend until smooth.

Top with whopped cream, pumpkin pie spice and 1-2 tsp pure maple syrup.
Follow On Pinterest
Follow @randaderkson On Pinterest for more delicious recipes!
Are you a slave to the Pumpkin Spice Latte like I am? What's your favourite coffee house drink?
You can get the all new Keurig 2.0 and make your own "in house" lattes at Keurig.ca.
Also available at:
Keurig 2.0 at Amazon.ca

Keurig 2.0 at Amazon.com
Looking for more great ideas? Click here to follow me on Pinterest!
Visit Randa | The Bewitchin' Kitchen's profile on Pinterest.
Disclosure: I was provided with the Keurig 2.0. All opinions are my own.
FREE Recipe Binder
Are you constantly wondering what's for dinner?
When I don't meal plan I feel behind, and we usually end up ordering take out. This recipe binder will keep you organized and make life a little bit easier.