Turkey Vegetable Healing Soup

Thanksgiving here in Canada has come and gone and I was left with an abundance of turkey. So I did what many others do and made a few pots of turkey vegetable soup, which is one of the healthiest and most beneficial soups a person can make. It has special healing properties.
Turkey Vegetable Healing Soup
I'm currently going to school to become a Holistic Nutritionist and learning the value and importance of healing with food. I really enjoy learning about the health benefits of certain foods and why we should include them in our diets. A few weeks ago my son, my husband and I were laid up on the sofas with the awful flu and I was not prepared. We were both too ill to cook anything, and relied on Ichiban. It was not a healthy way to heal, and I made a mental note that I was going to make a massive amount of soup to freeze for next time.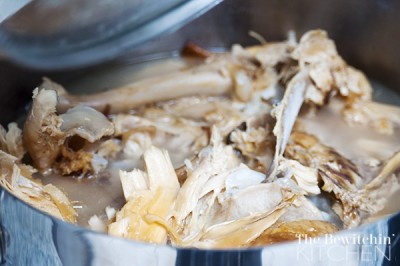 I can appreciate that nothing goes to waste when it comes to making turkey vegetable soup, even the turkey carcass. Boiling the bones, fat, and skin makes the deepest and richest broth possible. The longest you let it simmer, the better. The best broth I have ever made was when I boiled the bones for 12 hours, I had to add more water every once in a while but all the nutrients were incredibly concentrated in the turkey stock.
Boiling bones is incredibly healthy for you.
It helps heal (and in a sense) "seal" your gut. Digestion is the door to optimal health and repairing and restoring our digestive system is very important.
It reduces joint pain from the glucosamine extracted from the cartilage.
Extracts the magnesium and calcium from the bones of the turkey and replenishes your own body with those minerals.
It also helps with hair and nail health, fights infections and reduces inflammation.
Those are just a few of the medicinal qualities that bone broth has. It very healing. Let's not forget the smell and the warmth feels healing in itself.
On top of the bone broth,  you have your vegetables – which we all know are good for you. The fact that the veggies boil in the stock, means that the bone broth has even more minerals (depleted from the vegetables) and makes it that much more healing.
The choice of vegetables is really a personal preference. I love carrots in my soup (they add a sweetness) and are rich in vitamin A and beta-carotene, my son loves corn so I added some for him and some green beans to add a bit of color. I'm going to be honest here, my fridge and pantry were pretty bare so I grabbed what I could to add as "fillers". I had some lentils and quinoa,  more great sources of fiber and protein. Making this meal wholesome and healthy.
The best thing about turkey vegetable soup recipes is that it's versatile. Don't like the vegetables I used? Don't use them. Customize the recipe to what works best for your family.
If you like this, try this creamy turkey soup recipe.
Turkey Vegetable Soup
A delicious way to use up leftovers, this turkey vegetable soup has delicious health benefits.
Servings 8 people
Calories 82kcal
Ingredients
1 turkey carcass bones, skin, drumsticks, etc
8 cups water enough to cover the turkey parts
1 onion sliced in half
3-4 carrots diced
2 bay leaves
1/2 tsp pepper
1/2 tsp sea salt
2 garlic cloves minced
2 tsp ground sage
1 tsp thyme
chicken base to taste (you can also use boullion)
1/2 cup corn
1 cup green beans
1/4 cup lentils
1/4 cup quinoa
Instructions
For The Bone Broth:

Break apart your turkey carcass and place in soup pot (I had to use two). We don't eat dark meat, so I added the drumsticks in there as well. Fill with water. Chop an onion in half and add that if desired. Bring to a boil, then lower to a simmer, cover and let it do it's thing for a few hours (the longer the better) This time I did mine for roughly 12 hours, but in the past I have done a total of 24 (boiled for half a day, cooled and put in the fridge and then boiled the next). You may have to keep adding water.

Strain the broth and set aside. Pick through the meat and add to the broth.

For The Soup:

Add the rest of the ingredients to the soup pan (with the turkey meat and broth). You may have to add more water. The amount of bouillon is really up to you, as every batch needs a different amount. Taste and adjust seasonings.

Simmer for at least an hour.
Nutrition
Serving: 1g | Calories: 82kcal | Carbohydrates: 14g | Protein: 5g | Fat: 1g | Saturated Fat: 1g | Polyunsaturated Fat: 1g | Monounsaturated Fat: 1g | Trans Fat: 1g | Cholesterol: 5mg | Sodium: 303mg | Potassium: 249mg | Fiber: 4g | Sugar: 3g | Vitamin A: 3979IU | Vitamin C: 5mg | Calcium: 35mg | Iron: 1mg
Follow On Pinterest
Follow @bewitchinkitchen On Pinterest for more delicious recipes!
If you're planning on cooking up this turkey vegetable soup after a turkey dinner but you're not sure where to start, check out this guide to How To Cook a Turkey Like a Boss.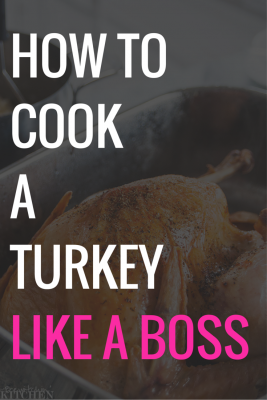 Looking for more great ideas? Click here to follow me on Pinterest!
Visit Randa | The Bewitchin' Kitchen's profile on Pinterest.