Mashed Potato Poppers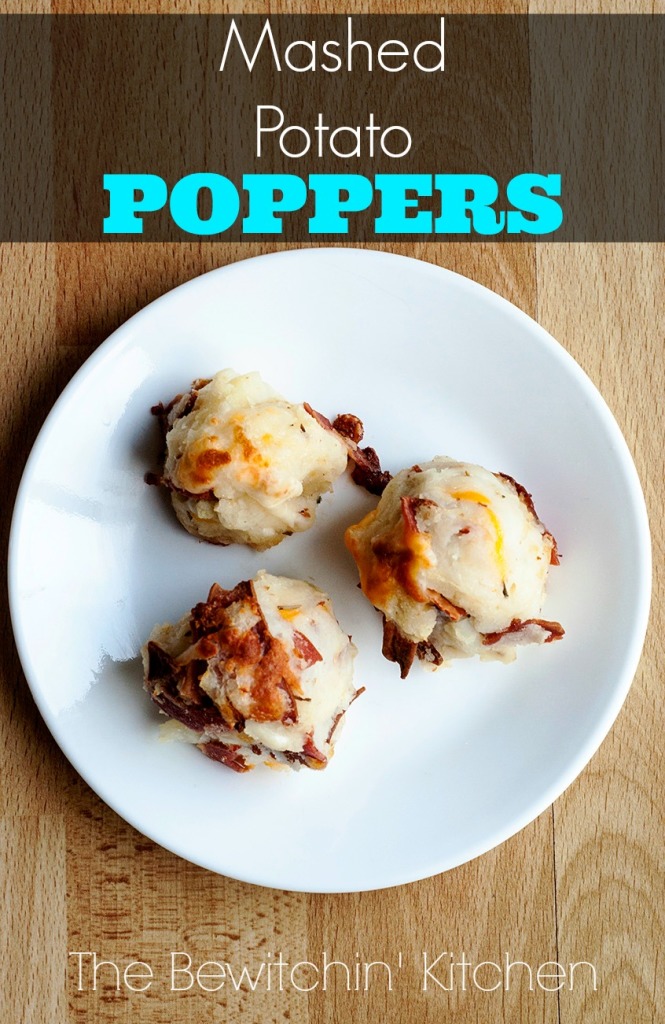 My husband came up with mashed potato poppers when I was having one of those nights where I just did not want to cook. (We all have those nights, and it's always nice to have someone take over.) I did my best to recreate his recipe in this post.
I love it when my husband does up dinner for two reasons:
It gives me a break and I don't have to do anything.
Calories don't count when he cooks.
I don't really want to admit this but my husband is a really good cook. His meals are always full of flavour (probably because with him, calories don't count) and different. I say different because it's not the typical thing I would create. Here are some of his past meals:
Mashed Potato Soup
Sweet Potato Shepard's Pie
Spinach & Garlic Burgers
and now Mashed Potato Poppers.
The recipe below isn't exact, as my husband never measures. I'm going to be honest, it frustrates me beyond belief.
Me: "I want to blog this recipe, how many potatoes were left?"
Hubby: "I don't know, a cup – maybe two." (I'm going with two.)
Me: "What about cheese?"
Hubby: "Like, a handful – I don't know."
Me: "Okay well, did you put anything else in them?"
Hubby: "I don't know, I don't think so."
How do you not think so? You are the one who made it.
I think this requires the hash tag #hesaman or #hesamanwhatdoiexpect.
It's frustrating on my part, because he makes AMAZING food and I want to share it, but it never works out. So I gathered as much information I could on the Mashed Potato Poppers and came up with the following recipe:
Mashed Potato Poppers
Ingredients
2 cups garlic mashed potatoes
3 strips cooked turkey bacon or regular bacon crumbled
1/4 cup part skim mozza/cheddar cheese plus some for topping
Instructions
In a bowl mix together all ingredients (except extra cheese for topping).

Shape into balls, put on a lined pan and top with the rest of the cheese.

Bake at 375 for 20 minutes.
Follow On Pinterest
Follow @randaderkson On Pinterest for more delicious recipes!
You can add whatever to this recipe, next time I'm looking at adding some broccoli, cheddar and more garlic.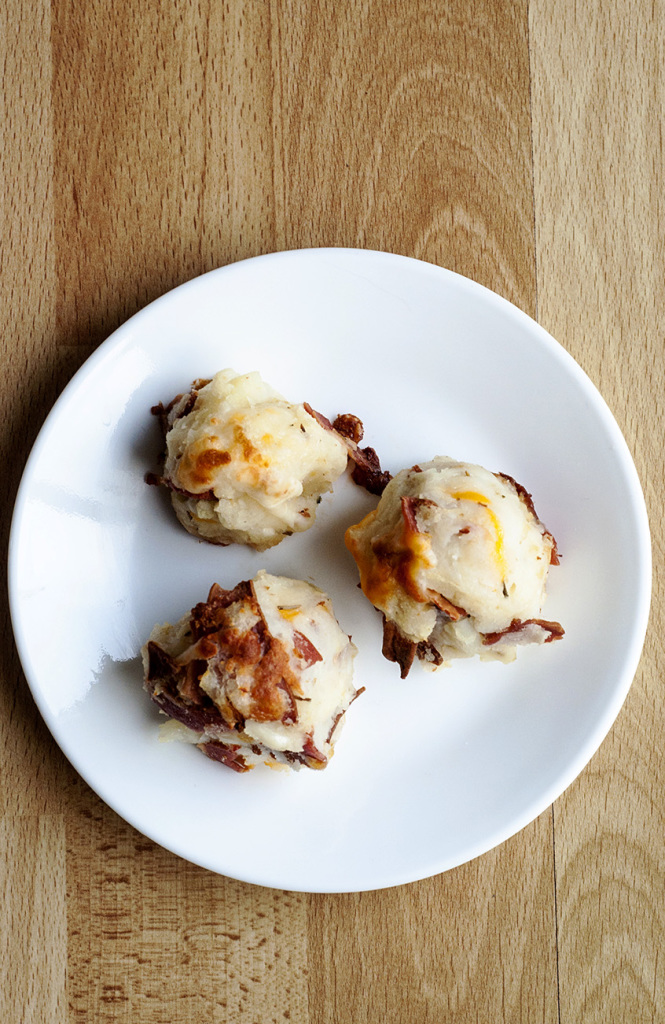 Do you have any "Leftover Busters?"
FREE Recipe Binder
Are you constantly wondering what's for dinner?
When I don't meal plan I feel behind, and we usually end up ordering take out. This recipe binder will keep you organized and make life a little bit easier.