21 Day Fix – What Is It?
It's been a while since I have posted anything fitness related, but that's about to change. On Thursday I received my 21 Day Fix, and I'm about to to undo the wrong doing.

21 Day Fix – What Is It?
The 21 Day Fix is a fitness and nutrition program for, you guessed it, 21 Days. The 21 Day Fix is designed by celebrity trainer, national bikini competitor and mom: Autumn Calabrese.
It's fitness and nutrition simplified: no counting calories, carbs and macros. It's done for you.
There is no deprivation.
On The 21 Day Fix, you can still have chocolate, wine, pizza, lasagna and all of your favorites.
It's about planning and making it work with your plan. The 21 Day Fix is about REAL LIFE, and changing your habits into healthy ones.
You will be given the following containers: green (vegetables), purple (fruit), red (proten), yellow (carbs), blue (healthy fat) and orange (dressings) and a tsp (you supply – for EVOO, coconut oil, etc). Once you figure out your calorie range (the only calorie figuring you have to do), you simply follow the guidelines and fill your containers as it suggests.
Eg: I am in the 1200-1499 calorie bracket, which means every day I must have:
3 Greens (vegetables)
2 purple (fruit)
4 red (protein)
2 yellow (carb)
1 blue (healthy fat)
1 orange (dressing, vinaigrette)
2 tsp (evoo, nut butters, etc).
Three times a week I can switch out a carb for 4 oz wine, some chocolate or other "treats", I really like how I am able to do this as it allows real life situations (unlike other nutrition plans). Birthdays happen, celebrations happen and there are simple just days where a glass of wine is needed!
Along with the nutrition plan you have a quick daily 30 minute workout (every day is different).
They say it takes 21 Days to start a new habit, and this is a great way to begin your new lifestyle change.
Why I Chose The 21 Day Fix
I consider myself to be quite knowledgeable when it comes to fitness and nutrition, but I have got off track and I need something to kick my butt into gear. I do well with plans and guidelines, and after a lot of reading I decided that The 21 Day Fix was for me. I guess a lot of other's thought the same because it was sold out on the third day of it's release! I waited two months for it to come to me (it was heavily back ordered) and it was worth the wait.
Before I ordered it, I read a ton of reviews and results from the coach test group and watched an hour long webinar. When I buy a product that is for my health and fitness I really look into it. I can't mess around with calorie deprivation or anything that could screw up my metabolism (I had my thyroid removed a few years ago and take Synthroid so my metabolism is messed up as it is). I was really excited with what I learned on the webinar.
I am so excited to start The 21 Day Fix.
I will post once a week for the three weeks I do it (I am also planning on doing a second round) and post my results, along with what I'm eating.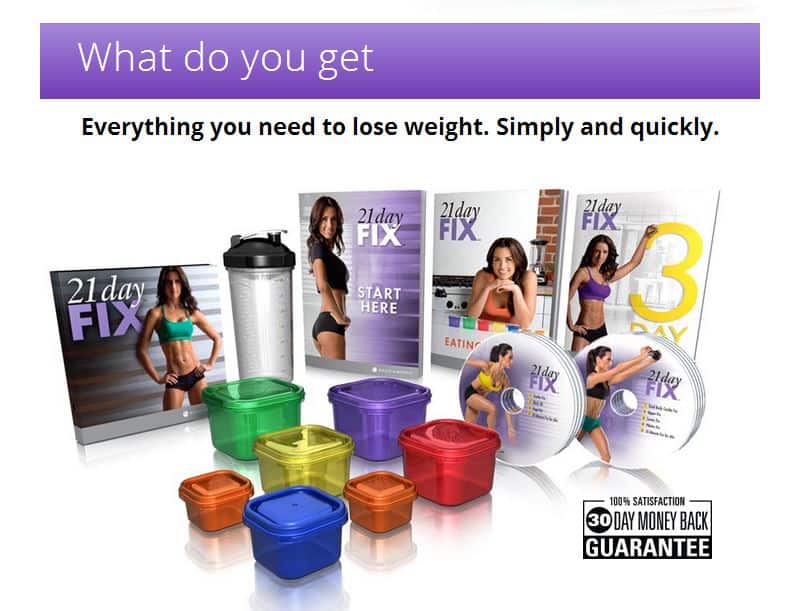 21 Day Fix Week 1 Review & Results
Options when ordering the 21 Day Fix:
21 Day Fix Challenge Pack (best value) $160
21 Day Fix Base Kit ($59.99)
Shakeology on Home Direct (value $129.99)
30 Day Free Trial To The Team Beachbody Club Membership)
Coach sign up fee waived, if you want to continue Shakeology and want a 25% discount (value $39.99).
21 Day Fix Base Kit $59.99
(Includes everything in the photo above)
If you are interested in learning more about The 21 Day Fix, please watch The Bewitchin' Kitchen for updates or if you want to order you can do so from my Team Beachbody Shop.
Follow my progress on Instagram.